Classic Soul: DOO WOP ON THE SOUL-PATROL, Black History Month, Persuasions, Kenny Vance & The Planotones, Larry Chance & The Earls, Brooklyn Bridge/Johnny Maestro, Barbara Harris & The Toys, The Encounters, Nicky Addeo & The Nite Owls, CAMEO-PARKWAY RECORDS REUNION SHOW, Charlie Gracie, Dee Dee Sharp, the Orlons, Tymes, Flamingos, Duprees, Jay and The Americans, Kid Kyle & The Kool Kats, Charles Wright, Nu Millennium, Twin Gold, Eugene Pitt & the Jive Five, Sonny Geraci, Chiffons, Mel Carter, Duprees, Lou Christie, Kenny Vance & the Planetones, BJ Thomas, Memory Lane Concert Cruises, The Velons, Jerry Lawson, Persuasions, Bill Pickney, Renaissance, Zola Taylor, Ruth Brown, Lenny Welch, Acappella Street Corner Vocal Groups, Clovers, The Flamingos, The Memories,The Dynamic Superiors, The Continentals, The Persians, The Legendary Orioles, The Winstons, Sir Joe & Free Soul, Skip Mahoney & The Casuals, The Shades of Blue, The Bleu Lights, The Jewels, Tuneweavers, Eddie Rich & The Swallows, Bru Plus One Band and Show, Lenny Welch, Pookie Hudson/Spaniels, Johnny Reed, Harptones, Earl Lewis and the Channels, Frankie Lymon, Chantels, Tommy Hunt, Dells, Flamingos, Moonglows, Eugene Pitt and The Jive Five, Falcons, Jimmy Charles, Adam Wade, Mel Carter, Willows, Fiestas, Impalas, Marcels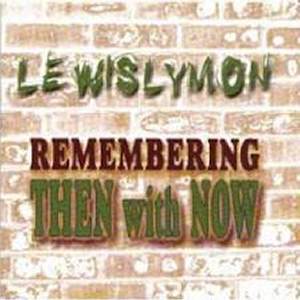 RIP Lewis Lymon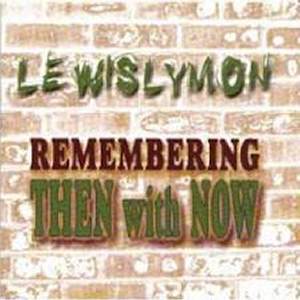 I just got an email stating that Lewis Lymon has passed away at his home in Las Vegas.
Some of you here probably know Lewis Lymon better than I did. I only met the man once. It was at a Doo Wop show here in New Jersey, back in the late 1990's.
One of the show promoters introduced me to him. He was at the event, sitting at a table near the front door. There was a sign on the table that said; "autographed pictures of Frankie Lymon For Sale."
And sure enough Louis Lyman had a stack of about 200 8×10 glossies of Frankie Lymon. They all looked like they had been "autographed by a zerox machine."
I shook his hand and smiled…
The person who introduced us says; "Louis, Mr. Davis here has an internet radio station…" And with that Louis Lymon looked at the business card that I gave him and told me that he would mail me a copy of his new CD…
"Mr. Davis you take this and if you can give me some airplay I sure would appreciate it…"
I said; "it would be my honor to do so…"
(And then he reached into the pile and gave me an "autographed picture of Frankie Lymon…")
I was quite honored to have met the brother of Frankie Lymon. Yet at the same time, I walked away from the encounter with the feeling that he was indeed a "troubled soul."
Below is the review that I wrote back in 1999 of Lewis Lymon's CD called "Remembering Then and Now."
CD REVIEW: LEWIS LYMON – "REMEMBERING THEN AND NOW"
I had a chance to meet Lewis Lymon at a Doo Wop show that I attended recently, we sat and talked for about 15 minutes. At the end of our conversation, I handed him my business card and he told me that he was working on a new CD and that he would send me a copy of it.
A lot of artists tell me that, some of them never follow through. Lewis Lymon did! I got this CD in the mail the other day and I wasn't quite sure what to expect. Needless to say, I was pleasantly surprised by this CD and I think that a whole lot of you out there in cyberspace would like it as well if you get a chance to pick up on this badd boy.
Of course Lewis Lymon is best known as the brother of the late superstar Frankie Lymon and also of the leader of his own group called Lewis Lymon and the Teenchords (which also included the GREAT Jimmie Castor as one of its members). I;m happy to report to you all that when I met Lewis Lymon that he was quite personable, friendly and quite honest in his overall assessment of how the NYC Black Doo Woppers have been treated by and exploited by the music industry. It was quite an honor for me on a personal level to meet him and have the chance to have a serious discussion about Black music history with him.
Im even happier to report to you that this CD is also pretty damn good.
All of these songs are new recordings of songs that Lewis Lymon and the Teenchords recorded over 40 years ago on the End labels. Some were hits, some were misses all are recorded in a doo wop style, with little attempt to modernize (except for the obvious improvements in sound quality).
One song that was truly a tasty little surprise to hear is track #4, Lewis Lymons cover of Marvin Gaye's "Wonderful One." The song really kicks in a way that's different than Marvin's original. Makes me wonder how Lewis Lymon might have fared as a solo act at Motown, Chess, Atlantic, etc during the 1960s had things worked out differently?
My original intent was to do my typical track by track review of this CD, however when I opened up the liner notes what I found was a track by track review of each song on the CD. I smiled when I saw that and I decided that I would use the (obviously biased) review that appears on the liner notes.
LOL
However I must say that even though the track by track review that appears in the CD liner notes is obviously biased, isn't far from the mark!
In my opinion this is an excellent CD that is well worth parting with a few of your hard earned dollars in order to own. If I had to describe the music contained, I would say that its an excellent representation of what DOO WOP might have sounded like in the 1960s had the art form been allowed to continue to mature.
That is to say that its comparable to what LPs from artists like Little Anthony and the Imperials produced in the 1960s sounded like. Another comparison would be to that of the Moonglows 2000 CD that we reviewed here last year.
In other words, its somewhere between 1950s DOO WOP and late 1960s/early 1970s SLOW JAMS (along with a few up tempo cuts). I think that quite a few of you would dig this CD strictly on its musical merit.
The rest of you should buy this disc because having a piece of Black music history, is something that you simply can't put a price tag on!
Here is the track listing along with the Track By Track Review from the liner notes!
1. I'M SO HAPPY
This was Lewey's first release on Fury Records, recorded in June of 1956. It was his first and biggest hit.
2. TELL ME LOVE
This was one of Lewey a final recordings, recorded for Gone Records, a subsidiary of End Records. Recorded in April of 1958 Tell Me Love" never measured up to "I'm So Happy" on the charts, but still remains one of Lewey a favorites
3. YOU'RE A WONDERFUL ONE
This is Leweys funky rendition of Marvin Gave a hit song, which we think could be a hit all over again.
4. PLEASE TELL THE ANGELS
This song was recorded on Fury Records in February, 1957, and was the "B" side to "Honey Honey". Lewey proved to some doubting fans that he could record a "Slow Jam".
5. HONEY HONEY
This was Lewey a follow up single to "I'm So Happy", but was never promoted properly by Fury, so it never received the airplay it should have. It was recorded in February 1957.
6. I FOUND OUT WHY
This was Lewey's answer to brother Frankie's musical question, "Why Do Fools Fall in Love?", but Lewey's fans didn't buy, literally, and the record bombed, but maybe the second time's the charm. It was recorded during Lewey's final sessions for Gone Records in 1958.
7. TOO YOUNG
This is Lewey's 90's interpretation of the classic Nat King Cole hit, which appears twice in this collection; the other being closer to the original "Nat feel". It was also recorded during the final sessions for Gone Records in 1958, and was the "B" side to "I Found Out Why".
8. LYDIA
This is one that Lewey co-wrote, and was the "B" side to "I'm So Happy, recorded in June of 1956. It remains one of Lewey's most popular tunes.
9. FALLING IN LOVE
This song was created on the spot" while Lewey and the boys were in session for Fury Records in February, 1957. There was extra time at session's end, so management decided to experiment, and, voila) It became the "B" side to "your Last Chance".
10. I'M NOT TOO YOUNG TO FALL IN LOVE –
This was the B side to Dance Girl basically a throw-away tune to get "Dance Girl" out quickly. It was also recorded in February 1957
11. TOO YOUNG
This version is arranged to be closer to Nat King Cole's original recording, and may yet become the definitive version
12. DANCE GIRL
Along with "your Last Chance", this was Lewey's "A" side hit recorded during the sessions of February of 1957 for Fury Records. Those sessions marked the end of Lewey's association with Fury, due to monetary differences.
13. YOUR LAST CHANCE
This recording didn't have the same production quality as "Dance Girl", and was never promoted the way it should have been. It was recorded during the final Fury Record sessions in February, 1957.
14. THEM THERE EYES
A classic song from 1928, Lewey recorded this song during his final sessions for Gone Records in April of 1958 and was the B side to "Tell Me Love".
RIP
MR. LEWIS LYMON
–Bob Davis
609-351-0154
earthjuice@prodigy.net
Co-Founder www.soul-patrol.com
Concert Review (sorta) – The Group Harmony Alley on WFDU-FM Fundraiser (4/19)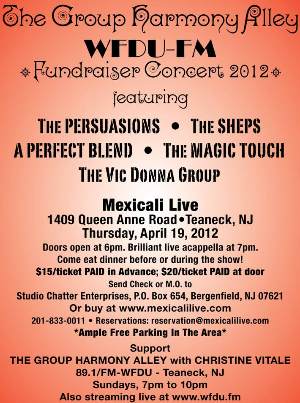 This past Thursday I had the chance to attend a rare event, in Northern New Jersey. It was the Group Harmony Alley on WFDU-FM fundraiser in Teaneck, NJ at a pretty nice club called Mexicali Live, featuring the following artists:
Persuasions
Sheps
A Perfect Blend
Magic Touch
The Vic Donna Group
One thing that all of these artists have in common is that they all represent a slice of the doo wop scene called Acapella. That means that even within what is an incredibly shinking Black music genre (doo wop,) what this scene represents is a sub genre of that.
In fact this "sub genre" is so small in 2010, one might even question the sanity of driving damn near 2 hours on the New Jersey Turnpike on a Thursday evening to go to the show.
Well I went because I knew that this event might just be one of the most exciting Black music events that I am going to attend in the year 2012.
That's because I knew that it was going to be an Acapella event and I know that Acapella is perhaps the most exciting kind of Black music that you could possibly choose to expose yourself to.
How come? (CUZ IT'S RAW)
In fact I wish that somehow a "branding expert" could come along and change the "branding" of Acapella to something along the lines of
"I like my MUSIC, the same way I like my SEX….I LIKE IT RAW, I LIKE IT WETT, & I LIKE IT OFTEN." (then maybe people would take more interest?)
You see Acapella represents BLACK MUSIC in all of its RAW & NAKED GLORY.
And it seems that today in 2012, we have gotten so far away from having an appreciation of the RAW & NAKED GLORY of BLACK MUSIC.
In 2012 we seem to want our music, in the same manner that we want our food: "ARTIFICIAL, PROCESSED, & UN-HEALTHY"
IMHO just as we need to be consuming natural, un-processed and healthier food, we need to be doing much the same with our musical consumption!!!
Or as the Persuasions have been telling us for about a half s century now: "WE DON'T NEED NO BAND"
So in essence, this event wasn't really just a fundraiser for the radio show The Group Harmony Alley on WFDU-FM. It was really (just as the radio show is): A CELEBRATION OF BLACK MUSIC IN ALL OF IT'S RAW & NAKED GLORY.
So now you know why it was quite worth a two hour drive for yours truly to attend on a Thursday evening….
Some of you may recall that I made a 3 hour appearance on The Group Harmony Alley on WFDU-FM, last summer courtesy of it's host, Ms. Christine Vitale. She quite literally turned over her broadcast to me for 3 hours to play music from artists associated with Soul-Patrol.com, and to discuss some of the issues associated with the music.
Christine was the host for this fundraiser as well, duly noting my late arrival, when she announced my name to the crowd of about 250 people in attendance at the club. As soon as she announced my name, several people who are members of Soul-Patrol came over to say hello.
Bad enough I was late, now I had to talk with the folks who came up to me, which isn't a bad thing, it just meant that I wasn't going to be able to write an actual full blown concert review……LOL
I spoke with Saundra Williams, who most of you know best as one of the vocalists with the Victor Wooten band. Saundra came up to me and told me how excited she was about Victor's upcoming album. She also told me that she was also now singing background with Sharon Jones & the Dap Kings as well. Next up was Keith Lewis, the producer of the excellent documentary called "A Lesson in A Capella," (http://www.aboutcvg.com/films.html) that I have mentioned here on Soul-Patrol many times in the past. Then I found my way into the dressing room in order to say hello to Tommie Shider, lead singer of the Sheps. If that name sounds familiar, it should. If you are a longtime reader you will remember several concert/album review we have done over the years of the Sheps. You will also recall that Tommie is the brother of the late Gary "Doo Wop" Shider, infamous "diaperman" of P-Funk.
I also spent some time with the members of the group "Choice – Jersey City's Bad Boys of Acappella," some of whom attended the 2011 Soul-Patrol Convention in Philly. They were actually handling the logistics of the show (door, backstage, etc.) and not scheduled to perform, but ended up doing a 60 second, impromptu performance of 60 Minute Man, from the audience, nice & RAW (just the way I like it.)
In the midst of all of this conversation going on there was plenty of live music going on, serving as the soundtrack for my conversations. Each of the artists were singing a mixture of both familiar/unfamiliar CLASSIC SOUL songs (see I'll bet ya thought I was gonna say doo wop songs, didn't cha?) One of the things that caught my ear was a group called "Magic Touch," who did a Chi-lites Medley, as a part of their performance and were pretty damn good. Funny thing about that was, I had just been on the phone with our friend Marshall Thompson of the Chi-Lites, during my drive up the NJ Turnpike….LOL
There was also at the same time, plenty of music going on right outside of the club. I got a telephone call that I had to take, so I ducked outside to take the call. When I got outside, there were members of the Persuasions, along with members of Magic Touch, singing songs under a street light (just like a scene from a movie…..LOL)
Obviously everyone is familiar with Persuasions, who were the headliners for this event. This was the only group that I was actually able to focus on enough to listen to their set…
One of the "myths" in the Black community about Black folks who are involved in this type of music are somehow "Uncle Toms." That "myth" somehow implies that because the modern day audience for the music is about 95 percent white, that the artists themselves are somehow "sellouts."
The reality is that Black folks need to be SPANKED for their own ignorance!!!
This performance of the Persuasions (a group I have seen many times, dating back to my teenage years sneaking in to clubs in Greenwich Village to see them) was about as FIERCE a display of BLACK PRIDE/BLACK HISTORY as you are likely to ever see on stage.
Starting with "Buffalo Solders," and giving that 95% white audience the TRUE story of "How The West Was Won," in a manner that even Gil Scott-Heron couldn't begin to approach to their defiant signature song "Still Aint Got No Band" to their Temptations Medley which started with the classic David Ruffin "Don't Look Back," flowed into tha FUNk with "Runaway Child Running Wild" & "Cloud Nine" then back to "Ain't Too Proud To Beg" next was "60 Minute Man", followed by the quite humorous "Can't Do 60 No More" then doing Beatles, Dylan & U2 covers in their own "Still Aint Got No Band" style, quite literally left me talking to myself.
They gave a hard core/serious Black History lesson and a music history lesson (and didn't need a band to do it either….LOL)
At the end of the event I thanked Christine for inviting me and made it back to my car for the long drive home.
As I drove back I found myself thinking about that moment in the year 2000, while I was covering the RRHOF Inductions, during the rehearsal of the Moonglows. They were singing the song "Sincerely," of course "without a band." They were completely killing the song, as one might have expected. It just so happened that Paul Simon (yes THAT Paul Simon) was standing next to me. He was focused intensely on the performance and was himself in a "zone." I overheard him talking to himself and saying "this is the f*ckin sh*t….this is how Rock n' Roll started and people don't have a clue…"
Paul Simon's a pretty smart guy, isn't he?
—————–
Bob Davis
earthjuice@prodigy.net
bobdavis@radioio.com
609-351-0154
——————
Co-Founder www.soul-patrol.comBlues, Hip Hop and Soul Music Director www.radioio.com
——————-
CONCERT REVIEW: TRENTON: The Patriot Theater, The War Memorial, April 10, 2010 Kenny Vance & The Planotones, Larry Chance & The Earls, Brooklyn Bridge/dedication to Johnny Maestro, Barbara Harris & The Toys, A ccappella by The Encounters, and Nicky Addeo & The Nite Owls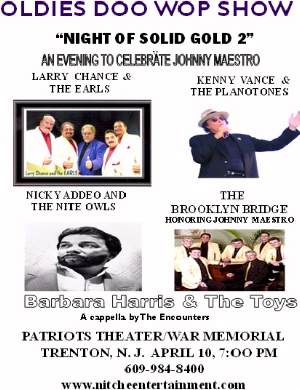 TRENTON: The Patriot Theater, The War Memorial, April 10, 2010 Kenny Vance & The Planotones, Larry Chance & The Earls, Brooklyn Bridge/dedication to Johnny Maestro, Barbara Harris & The Toys, A ccappella by The Encounters, and Nicky Addeo & The Nite Owls ….and the show was great!!! Great classic video of the late/great Johnny Maestro to start things off…. Then some GREAT A ccappella 1950's style doo wop featuring THE ENCOUNTERS, to kick things off and to remind us all that this sh*t all started off on the street corners with people who couldn't play any instruments (much like hip hop did) Up next was BARBARA HARRIS & THE TOYS, w/a FABULOUS 1950's & 1960's Girl Group Tribute (Supremes, Marvelettes, Chantels, Shirelles, Angels, Bobbetes, etc), that lasted for about 30 min followed by their own classic hit: LOVERS CONCERTO Nickey Adeno & the Night Owls were up next with a nice set, including off tha hook renditions of the Dominoes "60 Minute Man" and Billy Stewart's ""Sitting In The Park" (even including the "scatting" of Billy Stewart) Then it was time for intermission and I walked out into the hallway, where I met (among other folks) the son of the legendary NYC DJ "MURRY THE K". And that was a HUGE thrill for me…During the intermission I also spoke with Barbara Harris and her husband, longtime members of Soul-Patrol about some of their upcoming projects. The great guitarist/producer/etc. Johnny Gale of Kenny Vance & the Planetones was also in the lobby and of course we talked for quite a while as well. Johnny talked about his long relationship with Johnny Maestro and took me to school with respect to a lotta history. Up next were LARRY CHANCE & the EARLS. What an entertaining set, that not only included their old classics, new material from their new CD, but also the wit, humor and history of South Philly's very own Larry Chance Kenny Vance & the Planetones were up next, with a somewhat abbreviated set that nevertheless knocked the crowd off of their feet, including a gentleman sitting next to me who had never seen them before, who thought that they were simply outta this world Closing things out were THE BROOKLYN BRIDGE, who apparently have been renamed "JOHNNY MAESTRO'S BROOKLYN BRIDGE" in honor of the passing of Johnny Maestro. They delivered all of their hits, with Johnny being replaced on lead by Joel Katz. Overall it was both a sad & happy evening, big up's to the promoters (http://www.nitcheentertainment.com) for handleing things with such class. The music was a great celebration of a time gone by, but also a fantastic celebration of the life & career of Johnny Maestro. For me it all brought me back to 1969, as a young listener to AM Top 40 Radio in NYC (WMCA & WABC) and hearing the song "The Worst That Could Happen." I thought it was a great slow jam. Little did I know at that time that with that song becoming a huge hit Johnny Maestro perhaps single-handedly had been able to breathe new life into a long forgotten musical style? He had been one of the original artists from the doo wop era, modernized it and made it current. In retrospect it's the same feat that the Mighty Dells accomplished in the very same year with "Oh What a Night." It all goes to show that this artform will never die, you just have to keep watching it, because it's always going to re-appear. You just have to be aware of just how it might be disguised, or you may miss it…
–Bob Davis
–Bob Davis
609-351-0154
earthjuice@prodigy.net
CONCERT REVIEW: CAMEO-PARKWAY RECORDS REUNION SHOW, feat: Charlie Gracie, Dee Dee Sharp, the Orlons and Tymes @ Cannstatter's Crystal Ballroom. Sat. February 13th 8:00pm – 11:30pm
(Rock n' Roll)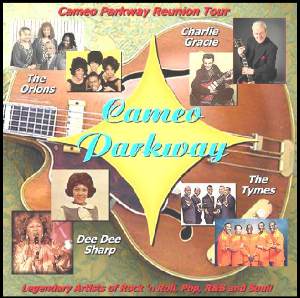 The first thing that I need to do is assure everyone reading this is that the show I attended at Cannstatter's Crystal Ballroom featuring Charlie Gracie, Dee Dee Sharp, the Orlons and Tymes, was seriously tight & on point. It was equal parts, night out on the town and sock hop featuring the REAL DEAL.
By that I mean the REAL ARTISTS, performing the REAL SONGS and doing them the RIGHT WAY. No fakes no make believe, it was a night of real/honest to goodness Philadelphia Rock n' Roll. I was singing & boppin the whole night and so was everyone else who was there.
All of the artists were in fine voice and I just simply felt that I had died and gone to musical heaven. The Orlons looked & sounded as smooth as any Motown group. Charlie Gracie looked & sounded a rock n' roll star on the Ed Sullivan show. The Tymes looked and sounded like the missing link between 1960's Rock/Soul to 1970's Funk/Disco. And Ms. Dee Dee Sharp looked and sounded like the timeless triple threat diva that she is as she sung, danced & played the keyboards……(review continued here

CONCERT REVIEW: The Patriot Theater, The War Memorial, Trenton, – Terry Johnson's Flamingos, The Fabulous Duprees, Jay and The Americans, Vito Picone & The Elegants, 14 year old singing sensation Kid Kyle & The Kool Kats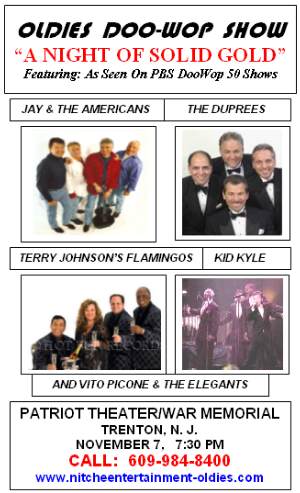 Nah, this posting isn't about a Lauren Hill song.
It's about how you create a culture of caring.
A culture that is built around music, that automatically creates not only nostalgia, but also a self-sustaining culture fully capable of extending it's values into the future, far beyond the lifetimes if it's original fans.
Doo Wop as a term describing a musical genre is woefully inadequate and perhaps even inaccurate. I suppose that the term "vocal group harmony" is more musically accurate and there are those who will argue to the death that the term "doo wop' shouldn't be used in any context whatsoever and they might be right.
However much like the term "old school" is musically incorrect as well, the term "doo wop" is absolutely "culturally correct." It really represents a frame of mind or a "world view" of the people who not only chose to participate, but who also see themselves as "activists" whose mission is to extend "doo wop" into the future. They don't make excuses, they don't blame others, they just do what they know in their hearts is the right thing. They take ownership in their culture and make certain that it gets passed along to the future, fully intact and with integrity.
Last night's show in Trenton, (in the shadow of what was formerly the empire of Jon Corzine) featuring Terry Johnson's Flamingos, The Fabulous Duprees, Jay and The Americans, 14 year old singing sensation Kid Kyle & The Kool Kats, Vito Picone & The Elegants was off the chain. The show was emceed by Vito Picone, who was most entertaining & funny thru the entire show.
Of course they did all of the old favorites and then some. During the show I was seated next to my new best friend "Barbara of Manahawkin, NJ" and Barbara did an excellent job of keepin my young azz straight…..LOL!! Most importantly for me was that as I snaked my way thru the large & enthusiastic crowd, there were lots of folks that seemed to know me, either thru email or by visiting Soul-Patrol's Doo Wop page and even a few from RadioIO.com. In other words, I have been accepted into a culture that I am actually far too young to have been an original participant. That made me smile…
http://www.soul-patrol.com/soul/doowop.html
– Kid Kyle started things off with a nice set that included his crowd favorite rendition of Frankie Lymon & the Teenagers "Why Do Fools Fall in Love." I took particular note that one of Kid Kyle's background singers was our own Bobby Jay, the legendary NYC disc jockey (WWRL & WCBS-FM).
http://www.kidkyle.net
– This was followed by Vito Picone & The Elegants doing a strange (but entertaining) kinda "Rat Pack" influenced set of comedy routines interspersed with covers of classic 50's & 60's rock, country & r&b songs, ending their set with of course their big hit "Little Star", quickly followed by a rendition of "America the Beautiful."
http://www.theelegants.net
– Jay & the Americans followed with a high octane countdown of their big hits "She Cried", "Only In America", "Cara Mia", "This Magic Moment," "Walkin' In The Rain," and others. The crowd went nuts and so did I, as soon as they started singing my mind went immediately back to the radio in my fathers car, tuned into WABC (770 AM). These guys despite their pop/rock legacy showed that their have doo wop roots by doing some acepela harmony as well. In between songs we get the history of the group from original member Sandy Deanne (who would later go on to produce Beatlemania), as well as original members Howard Kane, and Marty Sanders (who would later co-write the song "Bad Reputation"/Joan Jett). I can only describe the over all effect of their performance to be earth scorching and combined with their history makes me wonder why they aren't in the RRHOF?
http://www.jayandtheamericans.net
– Intermission I caught up with Bobby Jay, who informed me about the memorial service for Hank Spann this Tuesday @ the Abyssinian Baptist Church (yes I plan to be there). He also asked me about my daughter Rachel, a few of you may recall her meeting with her some years ago? He was surprised and pleased to hear that Rachel is soon to be college bound.
http://www.nydailynews.com/entertainment/tv/2009/10/20/2009-10-20_wwrl_disc_jockey_.html
– Terry Johnson's Flamingos led things off and brought a whole different flava to the proceedings. Super cool & suave Terry took complete command of the stage, cracking jokes, flirting with the women in the audience and turning in great performances singing lead on songs like "Till The End of Time", "Lovers Never Say Goodbye", "Kiss From Your Lips" and more. Of course the show ended with the great "I Only Have Eyes For You." Of course I am extremely biased when it comes to terry Johnson. He's a longtime member & supporter of the Soul-Patrol.com website and of course we were with him, along with Tommy Hunt & Johnny Carter when the Flamingos were inducted into the Rock n' Roll Hall of Fame. I caught up with him after the show, Terry hugged me and we looked at each other, wanted to talk about the late Johnnie Carter and instead said nothing because there was a huge crowd of people who wanted autographs, CD's, etc. Obviously I owe Terry a call…
http://www.terryjohnsonsflamingos.com
-The Duprees closed out the show with a mixture of their hits ("My Own True Love", "You Belong To Me") and some covers (ex: Jackie Wilson's Lonely Teardrops) and the crowd loved them.
http://www.duprees.com
At the end of the show, I finally caught up with Bill & Pearl Nitchie, longtime Soul-Patrollers who were the promoters of the concert. As usual, I always revel in meeting people that I have known for years online, in person…
http://www.nitcheentertainment-oldies.com
They have another show coming up in April in Asbury Park, that I am sure we will be a part of as well.
So it was a good night for the music, but more importantly for the culture.
Too bad Lauren Hill wasn't there…
DOO WOP AINT DEAD
–Bob Davis
609-351-0154
earthjuice@prodigy.net
PRESS RELEASE: Charles Wright – "My Love Affair With Doo Wop"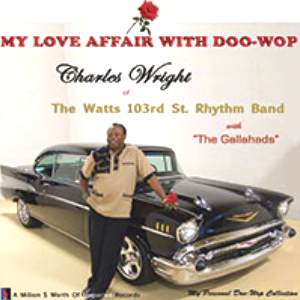 I have been listening to this new album for the past few days and I love it. Stay tuned for more, but in the meanwhile, check out the following Press Release. Then when you get done reading, just bop on over to Mr. Wright's website at the following link: http://www.expressyourself.net & say hello to him…
— Possessing one of the most distinctive voices in modern music history, renowned composer and multi-instrumentalist Charles Wright's moniker on the international music landscape is as deep as the Grand Canyon and is a true barometer for timeless music for future generations.
From a precocious youngster growing up in rural Mississippi to an avant-garde recording artist, Charles Wright's contribution to funk, R&B, and pop is incalculable. The sheer intensity of his soul and peerless vocal timbre are expressed through his classics and on his latest 14-track release My Love Affair With Doo-Wop, a throwback to his doo-wop group The Galahads.
It would take a city library to list all of Charles' compositions, and his affection for doo-wop is no secret. The first track on this bountiful disc, "Be Fair," is pure ear-candy; and "You Cheated," a monster hit for The Shields back in the day, will glaze you with nostalgia; "Good Night My Love," first recorded by Charles' mentor, Jessie Belvin, is one of the finest love-songs ever recorded and is resurrected on this disc with a superlative arrangement.
Charles' career began when he left his A&R post at Delphi Records and started the band Charles Wright and the Wright Sounds. The group then exploded onto the LA nightclub scene with a unique sound that grabbed the attention of industry movers-and-shakers.
Charles' innovative virtuosity on guitar was constantly showcased in LA recording studios. He quickly became one of LA's most sought after session musicians, backing up the likes of Bill Cosby. This association led to the band's 1967 deal with Warner Bros. Records as The Watts 103rd Street Rhythm Band. The band became the label's first successful R&B group.
Jessie Belvin, a songwriter and superb singer who set the tone for many aspiring LA artists, greatly influenced Charles' illustrious career. Belvin mentored the fledgling artist and supplied him with tools for success, and Charles listened like an honor student.
Charles' music has touched a chord with nearly everyone: Companies such as Chrysler, Nike, Hanes, and Burger King use "Express Yourself" to advertise their products. And TV, radio, film, and sports franchises borrow "Express Yourself" to promote their many events. Television shows like I Hate Chris and American Idol Rewind have anxiously showcased the tune to millions.
Charles' latest CD on A Million $ Worth of Memories Records label, My Love Affair With Doo-Wop, is a musical smorgasbord of new and classic numbers and a few surprises. Charles Wright's mark on music history and the rich legacy that he established is one that is time-tested and is one that will flourish indefinitely.
By Phil Brown
My Love Affair with Doo-Wop may be purchased at www.expressyourself.net or www.amazon.com For media interviews with Charles Wright, contact Phil Brown at plcharlesbrown@att.net or (817) 681-6068.
–Bob Davis
609-351-0154
earthjuice@prodigy.net
Concert Review: Richard Nader's Doo Wop Spectacular @ Medowlands/IZOD Arena (6/14/2008). Featuring; Nu Millennium, Twin Gold, Eugene Pitt & the Jive Five, Sonny Geraci, Chiffons, Mel Carter, Duprees, Lou Christie, Kenny Vance & the Planetones, BJ Thomas
(Top 40 Lives…)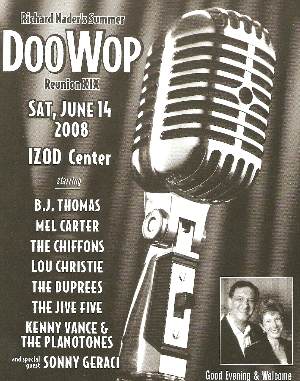 Dealing with the world that we live in today has become an exceedingly complex. That's because not only do all of our problems seem to be more and more difficult to solve, they are also increasingly inter-connected with each other.
One of the reasons we enjoy attending "oldies shows", isn't just for the music. It's also because they transport us back in time, even if only for a few hours to a time in our lives when every problem didn't seem to be insurmountable and could actually be fixed (often within the constraints of a 30 minute sitcom.)
Earlier this summer I had a chance to suspend my own reality for a couple of hours at a great "oldies show" here in New Jersey at the Meadowlands Arena, the very same basketball arena where the New Jersey Nets play.
This was a fantastic show; however, it's not really a "doo wop show", despite the presence of Eugene Pitt & the Jive Five, Kenny Vance & the Planetones and Soul-Patrol's own Nu Millennium. If you look at the lineup it's really a 60's/70's "Top 40" (remember that term???) show. I was cool with that, because although I was familiar with all of the hit songs by these artists I had only seen two of them perform live before. So I knew that I was going to be in for a treat, it was going to be like having my old am radio performing live right in front of me.
Here are the performers (and the songs that I can remember)
–Nu Millennium
–Twin Gold (Star Spangled Banner)
–Eugene Pitt & the Jive Five (My True Story, What Time Is It, I'm a Happy Man)
–Sonny Geraci (Time Won't Let Me, Precious & Few, Rock n' Roll Heaven)
–Chiffons (One Fine Day, Sweet Talking Guy, He's So Fine)
–Mel Carter (Hold me, Thrill Me Kiss Me)
–Duprees (My Own True Love, You Belong To me)
–Lou Christie (Love Is a Many Splendored Thing, Rhapsody In The Rain, Lightning Strikes)
–Kenny Vance & the Planetones (Come on and Go With Me, Angel Baby, Cara mia, Looking For an Echo)
–BJ Thomas (Hooked on a Feeling, I Just Can't Help Believing, Rain Drops Keep Falling on My Head)
Those of you out there who lived thru the era of "AM Top 40 Radio" will easily be able to understand my excitement, but for those of you who never experienced it, a quick history lesson is in order…(click here to continue the review)
Album Review: The Velons & their Divas
(Classic Soul/R&B/Doo Wop)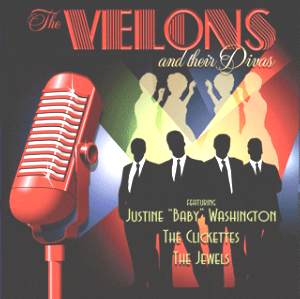 Watching some of the "tabloid" and what some may regard now as "Human Interest" pieces, I end up "having" to keep up with and acknowledge "American Idle". That coupled with some of the various music sources I stumble onto, I hear what is, now taken as normal, a lot of histrionic "singing". A lot of hollering, squeezing as many notes as one can in from two beats to a whole measure. Very athletic for sure. The "notes" and the amount of notes, apparently, have become more important than the words and the story the "singer" is telling. In the end, this "style" has rendered much of the music and the performers neutralized by the "sameness" in delivery. One has to go "off the grid",to get something that offers a total wall of music, where the music, the story and the performers are in concert; complimentary to one another. What a concept! A musical balance!!! OFF THE GRID….HERE'S ONE!!!!
THE VELONS and Their DIVAS is a collection of songs and stories done clean and polished with style and technique. Less is MORE!!! As one can expect from experienced performers, this is a project where there is a soothing balance of solid musical arrangements sitting beneath some "Classy" vocal performances. These are PROS in the true sense of the word, performance wise. The VELONS, the featured artists on this album, The JEWELS and The CLICKETTES demonstrate a dying art in American Pop music…..Group Harmony Singing. Not the presentations that managed to pop up over the last 10 or 20 years, where you have a lead and a background competing with that lead. NOT HERE! The "Lead" is the "LEAD" and the "Background" is the "BACKGROUND"!! WHAT A CONCEPT! You "get" the story/lyrics, and a support to that story/lyric where the background serves that "role" where an orchestra of horns and strings aren't necessary to fill the musical space…..(review continued here
–Earl Gregory
Look for these songs playing as as "buzz cuts" on Nu Soul @ RadioIO.com

Album Review: Renaissance – Meet Me on The Corner
(The Rebirth of Consciousness and the Revival of the Cool)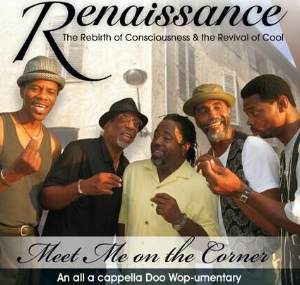 This is such an incredible album of recorded music that I need to dispense with my normal review methodology and speak directly to the villains. If you are programming a doowop, classic soul or acoustic music radio station and you aren't playing some of this music on your show, then you should be shot. If you have a "specialty show" and you aren't simply playing the ENTIRE ALBUM FROM END TO END for your listeners, then you don't really deserve to own your testicles anymore!!!
"Meet Me on The Corner" is an album of primarily "covers" of 1950's R&B hit songs and it's nothing short of pure magic. It's done 100 percent a cappela. It's got songs like "Sincerely" (Moonglows), "Money Honey" (Clyde McPhatter), "Chain Gang" (Sam Cooke) and many many more (hell there is even a cover of "The Stars" by the Occopellos Will Chill are you reading this?). Every song has a spoken word intro where various members of Renaissance, describe the historical importance of the upcoming song or the scene. They manage to do this in the same groove as either the preceding song or the upcoming song and there are 24 tracks in all.
The banter between these men on "Meet Me on The Corner", sounds like the kind of Black History lesson that is only possible coming from people who have first hand knowledge. The singing, the harmony, the production, the concept and the history is completely off tha hook. Everyone that is reading this review needs to hear this album.
However the ONLY way that could possibly happen would be if all of the DJ's who are reading this WILL PLAY THE DAMN THING. "Meet Me on The Corner" is truly compelling concept album, EVERY DAMN TRACK IS OFF THE CHAIN (that's right all 24 of them!!!!) and me writing any more words about it are truly a waste of my time (and yours), simply because I do have a Classic Soul radio show and what I should be doing right now is putting this stuff up for you to hear as opposed to writing about this. I don't care how old you are or what type of music you like, this album is just like CRACK, if you hear it once you will become addicted and need to own it. http://www.doowopaintdead.com
–Bob Davis
NEW BOOK: Yakety Yak, I Fought Back- My Life With The Coasters (by Carl Gardner)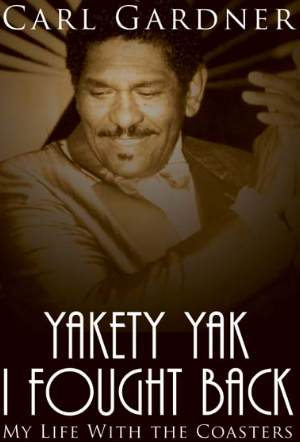 Carl Gardner's autobiography, Yakety Yak, I Fought Back- My Life With The Coasters, has just been released and is available for purchase. In the works for several years, this paperback book covers the life and career of the Rock and Roll Hall of Fame inductee from his boyhood days in Texas to his R&B origins with the Robins to a 50-year career with one of the most successful and beloved vocal groups of all time, the Coasters, the Clown Princes of Rock & Roll. The book is available for purchase at www.authorhouse.com for $18.70 a copy. Please show your support of Carl and Veta Gardner's efforts to chronicle the history of one of our true pioneers.
Go to the Official Coasters website at for more information.
New Release: Jerry Lawson – "Talk of the Town"
(Black American Standard Music)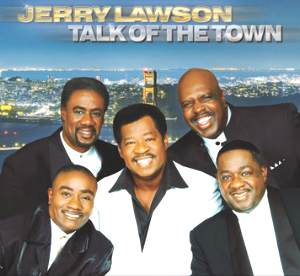 This album carries a warning label on the front of it. The warning label says "This compact disk contains no instruments other than the human voice". Jerry Lawson – "Talk of the Town" contains every single musical style that you could attribute as being created by Black Americans and it is truly an album that is on a mission. It's mission would seem to be to save Black music from itself. Jerry Lawson – "Talk of the Town" contains Accapella, Jazz, Pop, R&B, Gospel, Slow Jams, Rock n' Roll, Classic Soul and more.
It consists of 20 powerhouse songs performed by the vanishing species formerly known as the "Black Male Vocal Group". It's one of the very best releases that I have heard in the year 2007. Every song on the album is a winner, that's right ALL 20 of them!!! I'm not going to tell you any more about the songs, because this is a CD that literally reviews itself, because the excellent liner notes contains commentary about each song written by Jerry Lawson (a 40 year veteran of the Persuasions) himself. Are you a fan of Black music? Then my advice for you is to go to Jerry Lawson's website and immediately purchase not one, but two of these CD's. One for your own listening pleasure and one to place into a safety deposit box, for your grandchildren, so that they will know just what Black music was supposed to be all about in the first place.
The warning label that it should have on it is: "If you are a Black person, please don't play this album unless you want to learn the reasons why you should love the culture that your people created…."
jerrylawsontalkofthetown.com

Official Statement in Tribute to BILL PINKNEY, D.F.A. Hon.
(Bill Pickney @ the 2005 Vocal Group Harmony Awards)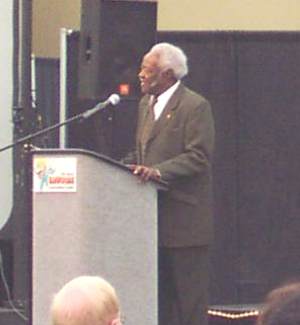 "Like fine art, great music stays with us through the years to enjoy and to share."
A Rock and Roll Hall of Fame Legend and Rhythm & Blues Foundation Pioneer, DR. BILL PINKNEY of The Original Drifters has joined the celestial choir. He was one of only a handful of Artists with a legitimate claim of helping to invent the Rock and Roll music genre.
From his work on seminal Atlantic sides starting in 1953 with "Money Honey", to his groundbreaking work as an advocate for Artists' rights and fair business practices, BILL PINKNEY has blazed one of the deepest and most unique trails in music history.
Generations recognize his basso profundo on the 1954 version of "White Christmas" used in "Home Alone". With PINKNEY on lead, it is the all time best selling Drifters' song. Music's Drifters represent more than the story of a single group's success. PINKNEY, honoring his promise to The Drifters' organizer Clyde McPhatter, kept alive with dignity the sounds of the 1950s for 54 rewarding years.
We also honor entertainment industry Living Legend PINKNEY as an American Treasure for his World War II service to our country, garnering him a Presidential Citation with five Bronze Stars, and as a Negro Baseball League sandlot pitcher.
As chronicled in "Drifters 1: Bill Pinkney", his truly was a full and blessed life, well-lived. We shall continue his great legacy with pride and respect. "It is well!"
Maxine Porter – Manager/Partner
www.originaldrifters.com
July 9, 2007
Family Press Release & Biography – Zola Taylor Passes
(Platters with Zola Taylor, Tony Williams, David Lynch, Paul Robi and Herb Reed)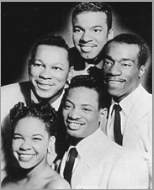 Dear Bob,
Thank you so much for your call in regards to the passing of our aunt. We, the family, truly extend our thanks for your call & thank you for the opportunity to be able to have a source to get this type of important information out to the public.
——————————————
The family of singer Zola Taylor announces the sad passing of the Hall of Fame recording artist. Ms Taylor was the original female member of the Los Angeles based group the Platters. With the group she recorded such hits as ONLY YOU, TWILIGHT TIME and SMOKE GETS IN YOUR EYES.
She passed Monday morning, April 30, at Parkview Community Hospital in Riverside, California. Ms. Taylor had been ill and had not performed for some years.
Funeral services are pending and donations in lieu of flowers are asked to be sent to Blanche McConnell at Angeles Funeral Home, 3875 South Crenshaw Boulevard, Los Angeles, CA 90008. The telephone number is (800) 348-3939.
Other Biography info. as follows:
Zola Taylor was born on March 18, 1938 in Los Angeles, CA. She was the youngest of 7 children born to George & Phedora Taylor. Zola was educated in Los Angeles & graduated from Centenniel High School located in the City of Compton, CA.
Zola began sanging at the tender age of 13. She initially began her career with the all female group called the Queens. While sanging with the Queens, she was spotted by Herb Reed who acknowledged her talent and signed her as the female artist with the group called the Platters.
The Platters was signed with the Mercury record label. Zola was 14 years old. The Platters went on the record such hits as Only You, Twilight Time, Smoke Gets In Your Eyes, Harbor Lights, You Never Know, Magic Touch and The Great Pretender, to name a few.
The group was the first Black group to cross the charts during this time. (While the singles hit the charts & starting climbing. Notarity increased…It was not known that the group was black until their first album was released). The group was inducted into the Hall of Fame in the year of 1990.
Ms. Taylor was married to the singer Frankie Lymon as a young adult. Later in life she was married again. She was widowed in 1981 by the passing of her late husband Bob Franklin. Ms. Taylor had no children.
Ms. Taylor had been ill for quite sometime and had not performed since approximately 1996.
She was a classy woman and will be deeply missed.
–Bob Davis
earthjuice@prodigy.net
Concert Review: Upper Marboro, MD: Memorial Tribute To Pookie Hudson. Performances By: The Clovers, The Velons, The Flamingos, The Memories,The Dynamic Superiors, The Continentals, The Persians, The Legendary Orioles, The Winstons, Sir Joe & Free Soul, Skip Mahoney & The Casuals, The Shades of Blue, The Bleu Lights, The Jewels, Tuneweavers, Eddie Rich & The Swallows, Bru Plus One Band and Show
The Late Pookie Hudson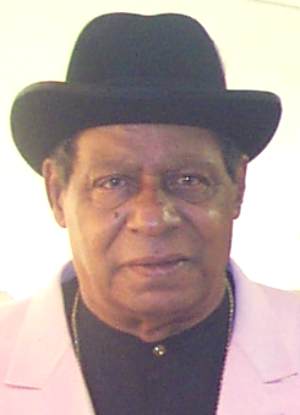 I just rolled in from DC. I attended a great Doo Wop tonight show featuring 18 artists in a tribute to the late Pookie Hudson.
I talked with The Clovers, The Velons, The Dynamic Superiors, The Continentals, The Legendary Orioles, The Winstons, Sir Joe & Free Soul, The Shades of Blue, The Bleu Lights, The Jewels prior to the show and got some great material, including a great "drop" for Soul-Patrol.Net Radio from "Sir" Joe Quartermaine (one of my heroes).
The turnout for the show was pretty good (bout 800) for a Wednesday night. The crowd was about 90 percent Black. In NYC, New Jersey or Philly you would NEVER get that many Black folks to come out and see a doo wop show. And of course the show was promoted by a brotha (Wlfproductions).
I had a BLAST, the music was off the hook and I even got my picture taken with the…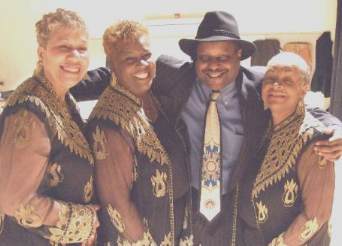 (so now I know that when I die, I will certainly go with a smile on my
face….lol)
I ran into a number of Soul-Patrollers at the show including Beverley Lindsey-Johnson (who will be presenting her documentary Dance Party: The Teenarama Story" at the 2007 Soul-Patrol Convention in Philly), Chip Davis, Milton Dugger (of The Bleu Lights), the Hardaway Connection was in the house and others…
There were also two other Black reporters there covering the event besides myself. Most of the time there are NEVER any reporters at Doo Wop shows that I cover (and certainly no other Black reporters). Tonight there was a lady from the Washington Informer and another lady from the Baltimore Afro-American interviewing the artists. The artists were "beaming", they had their chests stuck out. They aren't used to all the attention. God knows they deserve it given their enormous contributions to the development of Black music/culture. And most of all they deserve it from their own people…
I thought that was fantastic!!!
Yeah, everyone was there to give props to Pookie Hudson.
But to me it felt more like a celebration of US.
It was a great celebration of the "ANCIENT" part of: "Great Black Music From The Ancient To The Future"
What a great way to end Black History Month!!!!
With some living, breathing, walking, talking and SANGIN Black History.
I'm PROUD to have been invited to participate!!!!
NP: "Goodnight Sweetheat Goodnight"
–Pookie Hudson & the Spaniels
–Bob Davis
earthjuice@prodigy.net
Sad News: Ruth Brown Passes
The Late Ruth Brown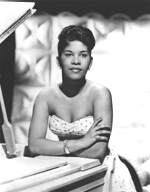 I just confirmed with Maxine Pickney via telephone that Ruth Brown passed today.
Ruth Brown is one of the pioneers of Black music. Her career has been so influential that Atlantic Records is sometimes referred to as the "House that Ruth Built" and for good reason. Her career started in the early 1950's with Atlantic as that fabled labels very first true superstar, preceding even Ray Charles. The is the founder of the R&B Foundation and she was THE LEADER in the battle for artist rights.
Today Maxine Pickney called Ruth Brown:
"THE FIRST GRAND DIVA"
"Remember that R&B stands for Rhythm and Blues, but it also stands for RUTH BROWN…"
–Ruth Brown
For more on Ruth Brown click here…
–Bob Davis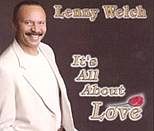 Lenny Welch – It's All About Love
(Romantic Pop)
This is a great CD. You should simply buy it on my say so. It's the type of album that doesn't get made anymore, because there aren't any radio outlets for it anymore. Now let me correct what a few of you might already be thinking and let you know that despite the fact that we are dealing with the legendary singer Mr. Lenny Welch, this ain't no "oldies album" or a "trip down memory lane. "It's All About Love" is an album of brand new pop music that 20 years ago would have been found easily on an "adult contemporary station" or perhaps even on a "quiet storm" radio format. It's not quite jazz, quite R&B thus rendering such labels irrelevant. It is however "grown folks music" and if you happen to be a "grown folk" who just wants to hear some nice romantic ballads, sung by one of the most legendary voices of his generation with some nice instrumental music playing in the background, then this album is your ticket. Don't worry about what station on the radio you are going to hear it on, I'm sure that the "experts" can't figure it out. And somewhere I suspect that Mr. Lenny Welch is grinning from ear to ear, because while the experts are busy trying to figure out what radio format to place this album into, lovers around the corner and around the world won't have a bit of trouble figuring out what to do with "It's All About Love"
Book Review: Acappella Street Corner Vocal Groups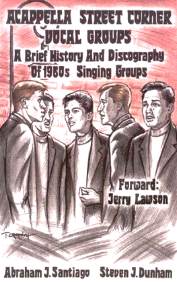 When I first got the review copy of this book in the a few months ago I was appalled…
The front cover of the book has a drawing of four clean cut young white men, standing under a street lamp singing. I thought to myself: "The people who wrote this book have the story completely wrong…".
After reading the book, I learned just how much there is about this topic for me to learn….
It's actually an excellent book that thoroughly documents the period of time between 1960 and the early 1970's when there was an active resurgence of "Acappella Street Corner Vocal Groups" primarily in NYC, NJ and Philadelphia. Based on the title, I had assumed that the book was going to be about the music of 1950's. Instead it deals with the period of time after what I always called "doo wop" had faded from the airways and had been left for dead. It's the story of the hundreds of acappella vocal groups Black, White, Hispanic & Integrated that came and went AFTER the height of 1950's doo wop. Most of these groups as it turned out were white (thus the drawing on the front cover of the book). None of these groups had lasting careers or hit recordings in the music business. In fact many of them never made a recording at all.
So if none of these groups ever "made it", then why should we care about them?
It's because these people were all about continuing and extending the vocal harmony tradition that had been established by the Black artists of the 1950's. You see these folks were preservationists of a great culture that Black people no longer seemed to have any use for. It's the story of the white kids who continued to sing without instruments on urban street corners during the age of Motown, the British Invasion, the age of Aquarius right up until the Disco era hit when these kids stopped singing on street corners and instead became the "Tony Manero's" of the world. Ironically it was at this same time (mid 1970's) when Black Americans invented another form of "street corner vocals" (hip hop), which today reigns supreme
The book tells the story of these groups, the tiny record labels they recorded for and goes into exhausting detail tracing the members, timeframes and discographies of these groups. Interestingly enough, the most famous of these groups is a Black group, the Persuasions and Jerry Lawson of the Persuasions writes the forward to the book.
Because of the exhaustive detail, pictures and discographies of groups that I had for the most part never heard of before, I think that this book is mostly useful as a reference book. However the story that it represents is an important one for people here to keep in mind:
1. Black Americans tend to create great culture and then throw it away.
2. Black Americans get mad when other people take the culture they no longer seem to want and then start making money from it.
3. History always has a way of repeating itself
QUESTION: At what point in time do we run out of great culture to create? Click here to purchase: Acappella Street Corner Vocal Groups
Bob Davis:
earthjuice@prodigy.net
New Year Celebration Doo Wop Show Coming to the Detroit Opera House on 1/7/2006!

Hosted by Robin Seymour, featuring: Harvey Fuqua/Moonglows, Falcons, Jimmy Charles, Adam Wade, Mel Carter, Willows, Fiestas, Impalas, Freddie Johonson and the Sounds of The Marcels!….Click here for more info

(NYC 10/21): DOO WOP VARIETY SHOW REVIEW

National Alliance of Native Americans.Inc. presents a Doo Wop and Variety Show featuring:

Doo Wop:
Tribute to Pookie Hudson and the Spaniels (Singing: Good Night Sweet Heart)
-Tony Del Vecchio and Yesterdays News
-Vito Balsamo and Golden Group Memories
-Earl Lewis and the Channels
-Eugene Pitt and The Jive Five
-Frankie Lyman's Legendary Teenagers
-Bobby Thomas Orioles
-A Tribute to The Late Johnny Reed

Variety:
-Frank Dell and The New York Connections (Blues)
-Young Redd Foxx (Comedian)
-J.W.Lance (Country)
-Susan Agin and All Tuned Up (Broadway)
-Keisha St Joan (Jazz Trio)
-The American Indian Dance Troupe

MR JAMES 'POOKIE' HUDSON


For those of you who may not be aware of this, our friend JAMES "POOKIE" HUDSON, founder and lead singer of the Spaniels, has been diagnosed with prostate cancer. Pookie found out about his diagnosis in June when he turned 70.

We are pleased to report that his cancer is today in remission and he is now performing shows all over the country!…

SOUL-PATROL: BEST DOO WOP CD RELEASE OF 2002: 'VOCAL MAGIC OF THE HARPTONES'

This is a wonderful collection of great love songs, about half of them written by Mr. Raoul Cita
For example…
Life Is But a Dream, Sunday Kind of Love, That's The Way It Goes and On a Sunday Afternoon are three songs which rank as the some of the best ever Doo Wop songs and they sound great on this CD….


DOO WOP CONCERT REVIEW

Frankie Lyman's Legendary Teenager's, Willie Wingfield & Harptones, Earl Lewis & The Channels, The Sheps…

STREET CORNER ESSENTIALS

Click here to listen to a Soul-Patrol.Net Radio WORLD PREMIERE of STREET CORNER ESSENTIALS


Featuring RARE DOO WOP like: The Eagles – Tryin' To Get To You, The Barons – My Baby's Gone, Four Tops – Woke Up This Morning, Jimmy Castor & The Juniors – I Promise To Remember, The Orbits – Sugar Mama, The Quintones – Ding Dong, Lee Scott & The Windsors – My Gloria, The Ocapellos – The Stars and more!

THE CHANTELS :

"Maybe", " He's Gone, My Plea,……Produced and managed by Richard Barrett, probably the best female group ever…. Lead singer Arlene Smith had a voice like an angel. incidentally Richard Barrett, who also song with "The Valentines, was also the Producer/Songwriter/Manager of "Little Anthony & The Imperials", and also produced Frankie Lymon. He was also the Manager of The Three Degrees.

TOMMY HUNT INTERVIEW :

Tommy Hunt Interview – Nightrain and Mike Boone interview Rock n' Roll Hall of Famer Tommy Hunt of the Flamingos, while backstage at the Rock n' Roll Hall of Fame induction cermony rehersals on topics ranging from the Flamingos, Tommy's solo career, doo wop music, hip hop music, the Soul music scene in the UK, the last 50 years of the history of Black music his induction into the Rock n Roll Hall of Fame and everything between! Check it out as someone from the REAL "old school" drops some SERIOUS knowlege on the Soul-Patrol! Click here to listen

THE CALVANES BIOGRAPHY :

Calvanes – In 1955, while still in high school, Stewart Crunk and Bobby Adams recruited Herman Pruitt-lead, Joe Hampton, 2nd Tenor, and Jack Harris, bass, to start another group. Stewart named the group, the 'Calvanes.' The meaningless name, according to Stewart, "just sounded good." Cornelius (Cornell) Gunter of the then popular group, 'Flairs,' later known as the "Coasters," was instrumental in preparing the 'Calvanes' musically for the next level in their R & B career. The group soon immigrated to 95th and Central Avenue (Watts) in Los Angeles, California to "Dootone" Records, owned and operated by Walter "Dootsie" Williams who had the hottest record label around, following the recording of the hottest record at that time, 'Earth Angel' by the group known as the 'Penguins'…

DOO WOP PERSPECTIVE :

The words and descriptions that you are about to read are not mine. During the heyday of DOO WOP music I hadn't even been born. However I did grow up with DOO WOP, growing up in NY it seemed that DOO WOP had never died and continues to exist right up until this day. During the 1980's when I first started to become aware of Blues music and it's impact, living in Texas, hanging out in Louisiana, people I met were quite surprised when i told them that I knew little about Blues. They would ask me, "Well didn't your parents listen to Blues and play it around the house while you were growing up?
My response was….."HELL NO, my parents were DOO WOPPERS, there were no blues played in my house… "
The material that appears on this page was written by a man who has probably forgotten more about DOO WOP, than I will ever learn, no matter how much I try. He was there on the scene as a member of one of the most famous DOO WOP groups of all time and one that still performs today. Although they are not generally thought of as a DOO WOP group, they had hit records back in the 1950's, still have hits today, and are probably the LAST of the DOO WOP groups who are still a force on the music scene today.
I have wanted to do something here on the Classic Soul site about DOO WOP for quite a while, but I didn't really know how to approach it, since my own first hand knowledge was severely limited at best. I knew that the impact of it on today's music was there but I couldn't quite put my finger on it untill reading the part where our special guest talks about the fact that DOO WOP was really started by people in the ghettoes of this country, who didn't have enough money to buy instruments, so they used their voices as substitutes for the instruments.

And armed with that information, doesn't the connection between DOO WOP and HIP HOP seem to be quite plausible?
Young Black inner city dwellers who couldn't afford instruments but figured out a way to make music just the same!
–Bob Davis