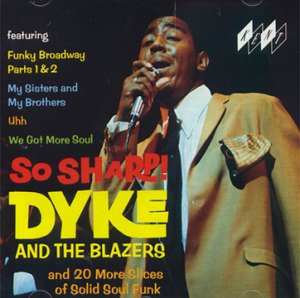 Subject: Dyke and the Blazers – So Sharp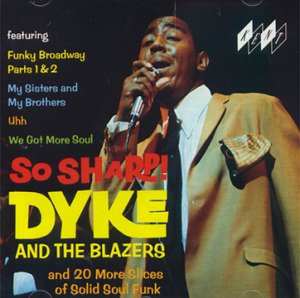 Dyke and the Blazers – So Sharp
1. So Sharp
2. Don't Bug Me
3. Funky Broadway (Part 1)
4. Funky Broadway (Part 2)
5. City Dump
6. My Sisters And My Brothers
7. Funky Walk (Part 1)
8. Funky Walk (Part 2)
9. Uhh (Part 1)
10. Uhh (Part 2)
11. It's Your Thing
12. You Are My Sunshine
13. Broadway Combination
14. Stuff
15. Funky Bull (Part 2)
16. Let A Woman Be A Woman-Let A Man Be A Man
17. We Got More Soul
18. Wobble, The
19. Uhh – (edit)
20. Wrong House, The
21. Runaway People
22. Funky Bull (Part 1)
23. I'm So All Alone
There's a group that had a sound very similar to the Godfather of Soul and even close to a margin for their syncopated rhythm compared to the Godfather's.
Out of Buffalo, NY came a man and his group called Dyke and The Blazers. I was jammin this CD I purchased over a year ago" Dyke and The Blazers, So Sharp!" and the music is so slammin' ,you can't sit down and take heed of the music, you got to get up and move!
This CD released by England's Kent label in 1991 establishes the talent of the man and his soulful band. Dyke's band originally backed up the O'Jays in 1965, but was stranded in Phoenix, Arizona because the O'Jays could not afford to bring them back to Buffalo
They began to come together as a group, with Dyke taking role as the lead singer. The group were discovered by local producers Art Barrett and Austin Coleman of Artco records. The label put out a tune that Dyke had written to go with a dance he had also created called "Funky Broadway". The record had a rapid play in South west and was licensed by DJ Art "Oldies But Goodies" Laboe for his Original Sounds label in Los Angeles in 1966. Of course you know the rest is history. Dyke signed with Original Records and churned out hit after hit on the label. Funky Broadway was so popular that even Wilson Pickett released a cover version of the song and took it straight to the R&B and Pop charts in the summer of 1967.
My favorites on this CD are of course Funky Broadway 1&2, So Sharp, Funky Walk 1&2, We Got More Soul, Let a Woman Be a Woman- Let a Man Be a Man, Shotgun Slim, UHN 1&2, Funky Bull 1&2.
Dyke was murdered on March,1971 in his hometown in Phoenix. His music will live on through all Boogaloo fans around the world including myself. It still gives me chills when I hear the opening of" We Got More Soul "and his tribute to the many soul singers in the grooves of the original 45 that I still own to this day. Purchase this CD and see what I mean because it definitely cause your hips to dip and put a slide in your glide
Sorry Frankie!
Enjoy!
Mike" Chancellor of Soul" Boone
CLICK HERE FOR MORE ON Dyke & The Blazers

Click here to enter your suggestions and feedback