Classic Soul: Five Stairsteps – First Family of Soul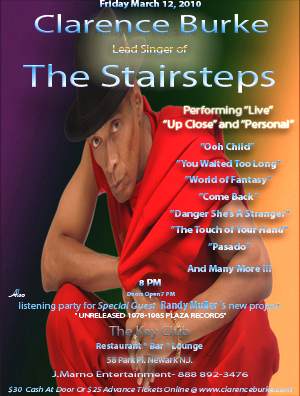 Classic Soul: Five Stairsteps – First Family of Soul
Concert Review: Newark, NJ: Clarence Burke Jr @ the Key Club (March 12 2010)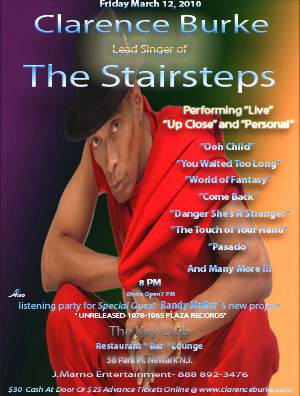 "One, two, three…Waiting on the dance, To get started. Hollywood stands, it's jammed down, OOH CHILD It's a party now…"
All i gotta say is that it was one of those rare times when ya get to experience pure musical genius on display. This was like seeing Prince, or Shuggie Otis, or John Lee Hooker or Curtis Mayfield or John Lennon. No I take that back, it was more like seeing them all rolled up into one at the same time!!
And really that should be enough. I really shouldn't have to write another word. But since I know that won't be enough for you and that you simply just won't take my word for it, now you are going to be subjected to the manifestation of some of my worst writing instincts.
This concert was nothing short of a dream come true. You see, not only was it a chance to experience a 40 + year nostalgic fantasy of mine, of actually hearing a voice that has been locked inside of my mind for 40+ years but it also gives me the opportunity to bear witness to having experienced the musical genius of one of the true "unsung heroes of Black music.
There is a music oriented TV show currently running on one of the cable TV kne-gro channels called "Unsung Heroes." The title of the show would lead one to believe that the show is about artists whose names we don't know and would tell us the reasons why we should know who they are based on their overall musical/cultural contributions. Instead the show tells us more details, then perhaps we need to know about artists who are already at least moderately famous, most of which could easily be obtained by going to that artist website and taking at least a few moments to actually read what is written there. That is not to say that the show itself is bad, it's actually pretty entertaining, but the title is misleading.
CLARENCE BURKE JR. IS A REAL "UNSUNG HERO" OF BLACK MUSIC.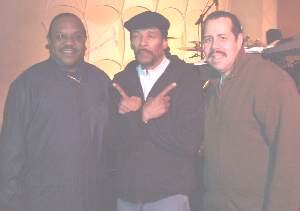 As the lead singer, lead guitarist and key songwriter of the Five Stairsteps, Clarence Burke jr's voice has been one that has been burned very deeply inside of the inner depths of the brain of this writer since he was a very young teenager. If you know ANYTHING about the history of the Five Stairsteps (which I will refrain from re-canting at this moment), you know that between 1966 – 1970 they released about 10 iconic slow jams. Not "ballads," I mean serious/hard core grind em down to the floor push em up against the wall basement blue light specials, dealing with everything from teen angst, somehow morphing into adult sexuality and back. Masterfully produced by Curtis Mayfield all of these songs are quite haunting and distinctive. These songs are all anchored by the angelic voice and super sweet/erotic funk guitar playing of a pre-pubescent young man out of Chicago named Clarence Burke Jr.
I was a HUGE fan of these iconic slow jams. So it should come as absolutely no surprise to anyone reading this that as a college student during the early – mid 1970's, I made a special "love tape." Once side was filled with songs from the Moments, Black Ivory, etc. The other side of the tape were those 10 iconic slow jams of the Five Stairsteps, featuring the voice of Clarence Burke jr. As you might also imagine, this tape served a very specific & strategic purpose in what was then my major lifestyle pursuit at that stage of my life. Needless to say, it is a fact of my life that the voice of Clarence Burke Jr. has helped me to obtain more p_____ than he (or you) can begin to imagine 🙂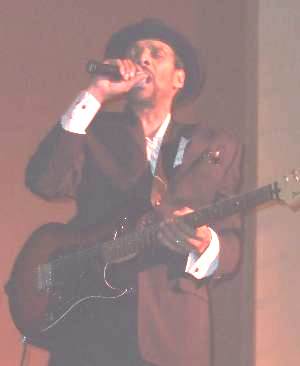 So on March 12th 2010 on a cold, windy & rainy night at the Key Club in Newark, New Jersey at approximately 8:30pm when Clarence Burke Jr. emerged thru the curtain, wearing a serious black on black on black "John Lee Hooker style suit, complete with bowler hat, guitar slung over his shoulder a' la Hendrix and started singing, most appropriately…"YOU WAITED TOO LONG", "WORLD OF FANTASY" , "COME BACK", and "DANGER SHE'S A STRANGER," I felt as if I had died and gone to heaven. After all these were but a few of those "10 iconic slow jams" from my long lost "love tape" and for the very first time I was hearing them being performed live and being performed live by the same person whose voice/guitar playing singing those songs was by now a permanent feature of the core of my 53 year old cerebellum. Of course I was singing along, just as I have done hundreds of times before, the lyrics of these songs are second nature to me.
To make a statement like "Clarence Burke Jr's still got it," is something of an understatement. The proof of that could be seen as my eyes started to wonder around the room and I saw most of the other members of the audience (which included more than a few Classic Soul artists like members of Blue Magic, the Persuaders, Brass Construction & Skyy and others) doing EXACTLY the same thing I was doing. I observed the audience members, both male & female mouthing/singing the lyrics of these great songs. I wondered to myself if perhaps these folks had also created a "love tape", featuring the Five Stairsteps like I had way back in what seems like another lifetime?
For some, that would have been quite enough, but that segment would prove to be just the beginning, because Clarence had plenty more in store for us. He completely changed gears by doing a great stank azz cover version of the Sly & the Family Stone classic "Somebody's Watching You." As I sat and listened to this classic song of paranoia/distrust it made me not only think of Sly Stone's misguided comeback of a couple of years ago, but also of how the musical career of the Stairsteps went thru a state of both transformation & confusion during the same early 1970's timeframe that the rest of our society did. At the same time that America was struggling in earnest to transform itself from and imperialistic & racist society (ie; Vietnam War, Civil Rights Movement, etc.), the Five Stairsteps were trying to transform themselves from a stand up vocal group artists into a fully realized singer/songwriter self-contained funk band. And although they were able to make that transformation both successful on artistic & commercial levels, they lost their identity and to most of their fans, seemingly just disappeared.
However, the Stairsteps didn't disappear, they just did what all "super heroes" did, they changed into another identity in order to "protect the innocent and fool the guilty."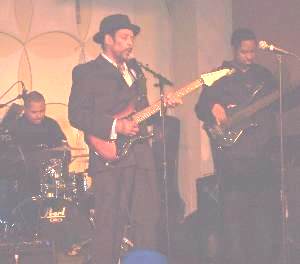 After Clarence Burke Jr. finished playing "Somebody's Watching You" he played the songs "NINE TIMES OUT OF TEN", "PASADO", and "ALL THE WAY." This grouping of beautiful songs in many ways represent a huge departure from the previous incarnation of the Stairsteps. You could hear jazz influences, you can hear the influence of the Beatles, you can hear the influence of all of the artists in the mid-1970's who made "music for the head" during the early to mid 1970's. Most importantly you can hear the struggle of talented young people who are growing older & wiser, trying to make certain that their new found wisdom is making its way into their music. However historically for Five Stairstep fans these songs represent the period of time when the Five Stairsteps literally "fell off of the face of the earth" and disappeared into the ether. This is during the same period of time when the artists that most of us fans considered to be the "competitors" of the Five Stairsteps (Jackson Five, Sylvers, etc) were at their height. Clarence Burke jr knows all of this and that is why he is now performing all of this beautiful music immediately following the song "Somebody's Watching You" . Without sounding too "biblical" this is what is known as the "second resurrection" period of the Five Stairsteps (also the name of their mostly unknown, highly sought after and long out of print album).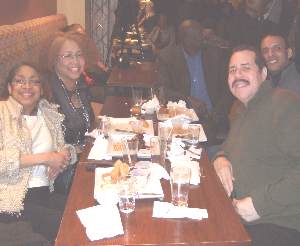 In between Clarence plays a fierce and poinent cover version of the classic song "People Get Ready,' which not only reminds us once again of Clarence's substantial guitar playing skills, but also reminds us of an important fact that we all know, but is seldom discussed. During their initial period, the music of the Five Stairsteps was produced by the legendary Curtis Mayfield and in fact were on Mayfield's label "Windy C." What is painfully obvious, yet understated when watching/listening to Clarence Burke Jr. playing and singing "PEOPLE GET READY" is the influence of Curtis Mayfield. It is indeed a joy & a pleasure to watch and serves as a perfect set up (get ready folks") for what is to come next….
THA
FUNK
BOMB

What most Five Stairsteps fans don't realize is that during the timeframe when they thought that the group had disappeared, the Five Stairsteps were actually right in front of their faces. You see, the Five Stairsteps had indeed made that successful transition from a stand up vocal group artists into a fully realized singer/songwriter self-contained funk band. However they did it in-cog-ne-gro, under a completely different name and persona, which bore absolutely no clues to their fans as to what had happened to them.
They did it with the incredibly funky and infectious song, "ALL NIGHT THANG," under the improbable name "THE INVISIBLE MAN'S BAND" in 1980, which to my knowledge has never been performed live. (dat's cuz you ain't supposed to see "the invisible man's band….lol
That is until March 12th, 2010 on a cold, windy & rainy night at the Key Club in Newark, New Jersey at approximately 9:30pm when Clarence Burke Jr. absolutely TORE THA ROOF OFF THA SUCKA when he played 10 minute or so rendition of "ALL NIGHT THING." Needless to say, the audience went absolutely nuts and Clarence absolutely ate it up. Now he was indeed "wielding his axe," as the crowd rose to it's feet, dancing & hollering as loud as they could for as long as they could.
For most artists, that would have been more than enough to end the show. Crowd on it's feed, everyone all sweaty and smiling. However everyone knew that the show wasn't over. Everyone knew that there was one more song that had to be performed in order to not only legitimize the show, but to also put the entire story that Clarence Burke Jr. had managed to musically tell on stage on this cold, windy & rainy night at the Key Club in Newark, New Jersey.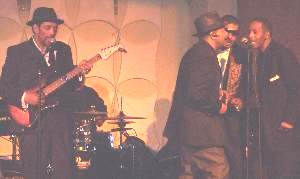 The song "OOH CHILD" reached #8 pop and #14 R&B way back in the year 1970. Not only is it the signature song of the Five Stairsteps, but it is also an anthem for anyone who grew up in the 1960's/1970's. It is an uplifting/message song which transcends race, gender, geography, etc. and over the years has become a staple of many movie/TV soundtracks which deal with people growing up in the 1960's/1970's. Clarence Burke Jr. knows that there is no way that he is going to leave the stage without singing "OOH CHILD," so he is gonna make it special.
As the band starts to play the song, Clarence informs us that there are only two people who have ever been allowed to replace any of is brothers onstage if they were ill or couldn't make a show. It just so happens that those two men today are members of a local New Jersey group called "A Touch of Class and since the "just so happen to be in the audience tonight,"can they join him on stage to sing"OOH CHILD. Of course "A Touch Of Class" joins Clarence on stage and together they all do a fabulous rendition of "OOH CHILD," to end the show.
I could probably write a whole lot more about what happened on this cold, windy & rainy night at the Key Club in Newark, New Jersey. However I'll save that for another time, because I suspect that your patience has already been worn thing, by what I have written thus far.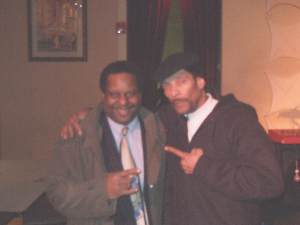 Instead I will simply leave you with the words of Clarence Burke Jr. himself as he said many times from the stage on a cold, windy & rainy night at the Key Club in Newark, New Jersey:
"I'm only one stairstep, in a minute there's gonna be two stairsteps and soon there will be three and before you know it, there will be five stairsteps on stage right in front of your eyes."
I have no idea when that is going to happen, but you can bet your bottom dolla that whenever it does happen, Bob Davis will be in the audience. That's because despite the fact that on a cold, windy & rainy night at the Key Club in Newark, New Jersey, Clarence Burke jr. delivered certainly the best show I have seen thus far in 2010, in fact it was one of the best shows I have ever seen period, this show can be characterized mostly by two things:
1. What was there (the best show that I have seen thus far in 2010)
2. What wasn't there (the voices of Alohe, Keni, Dennis, and James Burke)

"Some day, we'll get it together and we'll get it all done…."
–Bob Davis
–Bob Davis
609-351-0154
earthjuice@prodigy.net

'Danger She's A Stranger' –FIVE STAIRSTEPS
Whooo be do be do…… Whooo be do be do……Hey baybee..could you maybee, have some luvvvvv for me……..if ya think so…….when will I know ALL my possiblilities of lovin a stranger?


Click here and listen as, Soul-Patroller Gary Tyson takes us on a musical and educational journey thorough the career of the popular (yet mysterious) soul/funk group from Chicago known as the Five Stairsteps!.
Gary presents us the complete history of the group as it evolved from the 'First Family of Soul' and it's classic and rich Blue Light In The Basement Slow Jams of the late 1960's to the surprising DISCO FUNK of The Invisible Man's Band, to the solo career of JAZZ/SOUL/FUNK of singer/bassist/producer Kenni Burke into the 1980's.
In addition to learning everything you always wanted to know about the Five Stairsteps, Gary drops some of their 'prime cuts' such as Baby Makes Me Feel So Good, World of Fantasy, Danger (She's a Stranger) Ooo Child, From Us To You, All Night Thang, Rising To The Top and more
Click here and Listen To Soul-Patrol's FIVE STAIRSTEPS Special!
Click here and Pick Up the NEW FIVE STAIRSTEPS COMPILATION Called:
The First Family of Soul: The Best of the Five Stairsteps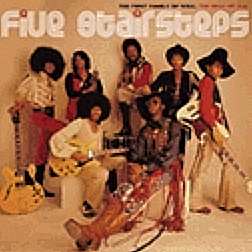 MORE ON THE FIVE STAIRSTEPS …
By Charles Duke
The main difference between the Stairsteps and the Jackson 5 was the Motown machine. For in my opinion, musically and "choreographically" speaking-no joke, the Stairsteps were better.
I have two very fond memories of the group performing.
One was on a local weekly African culture/music show that came on Thursday nights in New York City during the late 60s and early 70s called "Soul!", where they performed "Baby, Make Me Feel So Good," and perhaps another song that I don't remember.
Performances on this show, by the way, were live-and man, the 'Steps had the voices! Matched with extremely slick choreography (for a slow song, no less), this performance stands out in my mind as one of my favorites.
The second memory of the group was in a movie that was a concert/benefit filmed at Yankee Stadium called "Soul To Soul" (c. 1970). There was a matching soundtrack album of the same name, and it included Wilson Pickett, The Voices of East Harlem, and (I think) Roberta Flack. Perhaps because Flack and Pickett (not sure about The Voices…) were Atlantic Records artists, the album came out on that label-and I don't think the Stairsteps performing "Don't Change Your Love"-one of the greatest all-time soul music movie performances ever!-was placed on the album. We hear so much about the Stairsteps slow songs; this one proved they could burn with the best of them! I'll never forget the opening sequence of the song. For those familiar with the song, the group started with its backs to the front of the stage on the drumbeat intro. Papa Clarence, Sr. was conducting the orchestra. When the rest of the intro music dropped, the two outer members did some fancy foot shuffle, spinning to the front as the horns finished the first "dat dat da da." The inner two did the same following the second "dat dat da da" horn line. Joined by Alohe (the Burke sister) and facing the stage, all five did the same move, with "hand jive"-type movements this time, with a full 360 spin on the last "dat dat da da," and then finished the intro (with the horns hitting ba-ba, ba-ba) with some sort of backwards faint move that knocked everybody in the theater out! That was just the intro. I don't know who handled lead vocals (perhaps it was Dennis); but when he sang "Baby this year, I've been more than dear" (the song's opening lyrics), the girls in the theater went off! I could hardly hear the song for their screaming (and this was a movie). But when it came to the verse's last line ("But don't change your love; don't change"), the background Stairsteps hit that answering "Cha-a-ange" in a perfect four-part harmony-with a backwards slide that's reminiscent of the "2nd Resurrection" album cover picture (the mid-70s album without Alohe that had "From Us To You" and "Pasado"; the latter which received a lot of airplay in New York City.) One question I've had for anyone who may know:
Did members of the group convert to Islam (as did several members of Kool & The Gang) during the time between "Ooh Child" and the "2nd Resurrection" album? I ask this because "2nd Ressurection" contains several references to the religion. I invite your comments
Charles Duke


WORLD OF FANTASY

 

Do Do Do Do Do

It's a world of fantasy eyeyeye

It's a world where I'm NEVER alone

It's a world of sheer make believe

Where ALL young lovers have gone

To set their hearts at ease

It's a world of fantasy eyeyeye

 

I go there whenever I please

To make life have a new face

No one intrudes upon my privacy

To me it's a most wonderful place

 

Uhm yeah

It's a world of fantasy eyeyeye

 

Here is where no problems lie

And lovers we ALL become

We live with LOVE and never cry

Cause in love sum is 1+1

 

Soooo come on love and follow me….

…to my world of fantasy

Come my love ….to my world of fantasy

 

 

COME BACK

 

Come back…..Come back….Come back to me…

Where have you gone now?

Off with someone new?

If you really love me

Let me be your fool

Just come back…..to me

Come back to me

 

What have I done

To make you feel this way?

If I could stop crying

I would have to say..

….JUST COME BACK (to me)

Come back, to me

 

I'm so mad about you

Don't know what to do without you

Your always on my mind

I dream of you all the time

 

DON'T WASTE YOUR TIME

 

Don't waste your time

My love is taken

You'll easily find

There's none to spare

You'll find another somewhere

So DON'T WASTE YOUR TIME

Don't waste your time

 

Don't waste your tears

Your love has been shared

With others this year

Would be such a shame

To cry in vain

So don't waste your tears

DON'T WASTE YOUR TEARS

 

With respect my dear

I'm warning you

It's said for me

Your one love for you

But it's time my dear

That you discover

That I LOVE ANOTHER

And I tell you from the start now

 

Don't waste your time

My love is taken

You'll easily find

There's NONE to spare

So DON'T WASTE YOUR TIME

 

I see somewhere from round the station

That you DON'T understand the situation

Your VERY sweet

Yet I must confess

You would only be second best

 

 

 

Here is the track listing for "Five Stairsteps Greatest Hits, one of the all time greatest "make out" albums:

 

Remember any of these ?.Each one a three minute masterpiece:)

 

1 World Of Fantasy

2 Because I Love You

3 Come Back

4 Stay Close To Me

5 Touch Of Your Hand

6 We Must Be In Love

7 Danger! She's A Stranger

8 Ooh Child

9 Behind Curtains

10 Playgirl's Love

11 Ooh Baby Baby

12 Don't Waste Your Time

13 Baby Make Me Feel So Good

14 You Waited Too Long

 

 

Yes I have the CD….that song "Come Back" was the best "up against the wall" slow jam everrrrrrrrrrr!!!

 

Now this was a great group.one of my all time favorites anybody else ??
The Five Stairsteps were a Windy City family affair initially consisting of four brothers and a sister; later on, five-year-old Cubie Burke toddled aboard, and even mom and pop got into the act. Curtis Mayfield discovered the group at a talent contest, and they debuted in 1966 on his Windy C logo with the tender "You Waited Too Long," their first hit. Lead singer Clarence Burke, Jr. was only 15 years old in 1966, yet his attractive leads on "World of Fantasy" and "Come Back" displayed a wealth of emotion. The group enjoyed its biggest pop hit in 1970 with the classic "O-o-h Child" for Buddah. After a few years apart, the group re-formed and notched a final hit, "From Us to You," on George Harrison's Dark Horse label in 1976. Four of the Burkes recorded as the Invisible Man's Band, scoring a sizable seller in 1980 with "All Night Thing," and bassist Keni Burke has recorded as a solo artist.

 

(some of the BEST slow jams I have ever heard!)

 

 

Once you said the 5 Stairsteps, I immediately thought about the 5th Dimension, the Friends of Distinction and the Undisputed Truth. Ahh….. all great bands…. I have recently started to listen to the 5th Dimension, I love their music, even though they were considered "Black pop." Lots of great work from the ht Dimension written by Laura Nyro.

 

Now tell me what you know of the Five Stairsteps ??
I can remember grinding off of their SLOW JAMS at Jr High School dances I went to back in the day.

 

Their songs were the BOMB……..tales of woe & joy about teenage love. However their music is timeless, romantic & highly erotic. Songs like "World Of Fantasy" & "Danger She's A Stranger" are songs that could just as easily be about "adult love".
The Five Stairsteps are often lumped in with groups like the Jackson 5 & the Sylvers, because of their age. However the Five Stairsteps stand apart from those groups because of the depth of the lyrics in their music.

 

I really do not know too much about the group. Mostly remember that the group was composed of a family and "Ooo Child." I mean, this is a group that didn't release much material that stuck out.

  

If you get a chance pick up on their greatest hits CD. I'm sure that it's available for $9.99. It's basicly the "Stairsteps" album which I formerly had on vinyl. Great "make out" album. I had it on tape for many years & literally wore the damn grooves out listening to the hypnotic harmony of the singers in the Five Stairsteps. Very "lush music" serious bass playing and angelic strings are easily the highlights of these classic slow jams. I still use their music today to "make out" with……lol

 

"Come back…..oh come back…..my love….."

 

I agree, these were some of the best slow jams I have ever heard also……I had a big broken heart whent he song "Come Back" came out……..

 

hmm I don't believe I know this group….and i'm sure that I should………oh well…

 

They had a BIG Crossover hit in 1970 called "OOO CHILD". You may have heard it on one of the oldies stations!

 

"things are gonna get easier, things will be brighter…"

 

Ohhh yeah…I kinda remember that from the oldie station…..&amplt;smile&ampgt; see I know a lil sumthin' lol

 

One of the reasons why the Five Stairstep's music sounded so rich is because Curtis Mayfield, the man who 'discovered' them, also wrote also produced most of their hits!
Did you know that the main reason they changed their name to the Invisible Man's Band was because because they wanted to "go disco" and disassociate their new sound from their soulful history? Sister Aloha had gotten married and left the group, and Cubie didn't like the dance sound and refused to record with them. Ironically, on the R&B charts, "All Night Thing" (#9) was actually a bigger hit than "From Us To You" (#10) or "O-o-h" Child" (#14)!

 

&amplt;my turn to sit open mouthed&ampgt; you still make out? lucky lady heheheh,FUNK on bob.

 

I didn't know that's why they changed their name, sounds like they received some bad marketing advice. Whenever I mention the name "Five Stairseps" to music fans, a smile is usually their reaction

 

Of course i do 🙂 (doesn't everyone?)
& the music of the Five Staisteps is a good choice for those types of activities.

 

 

guess i better rifle through jon's albums and see if he has them…..i need to check this out….

 

Hey folks check this out…..A long time radio personality here in Pittsburgh was a member of their backup band, and he has a lot of information about the group, and the Impressions, who they would tour with. My buddy Del King states that things changed drastically after a tragic bus or automobile accident. (can't remember which)I have been trying for months to get him online so we could link up,but with no sucess.

 

"Up against the wall slow jam" hmmmmmm ……What's that all about ?

ok….THAT got my ATTENTION!!!!!!

 

 Now come, you remember the grinding going on up against the wall in those basement bluelight parties……now tell me you don't………cause I saw you.

 

Were the Five Stairsteps considered to be protege's of Curtis Mayfield ??

 

 Yes…you're right. He also produced them in the studio, and they toured with the Impressions.

 

 

Speak of the devil! I just saw this blurb in the current issue of the British music magazine "Blues and Soul":  

Keni Burke returns to centre stage spotlight with the release on April 1 of his new album "Nothin' But Love" on Expansion Records. A new single, "I Need Your Love" which also features Burke Jnr – Osaze, is released on March 2. Watch out also for some live appearances from Keni later this year.

 

  

Click here and listen as, Soul-Patroller Gary Tyson takes us on a musical and educational journey thorough the career of the popular (yet mysterious) soul/funk group from Chicago known as the Five Stairsteps!.

Gary presents us the complete history of the group as it evolved from the 'First Family of Soul' and it's classic and rich Blue Light In The Basement Slow Jams of the late 1960's to the surprising DISCO FUNK of The Invisible Man's Band, to the solo career of JAZZ/SOUL/FUNK of singer/bassist/producer Kenni Burke into the 1980's.

In addition to learning everything you always wanted to know about the Five Stairsteps, Gary drops some of their 'prime cuts' such as Baby Makes Me Feel So Good, World of Fantasy, Danger (She's a Stranger) Ooo Child, From Us To You, All Night Thang, Rising To The Top and more

Click here and Listen To Soul-Patrol's FIVE STAIRSTEPS Special!

Click here and Pick Up the NEW FIVE STAIRSTEPS COMPILATION Called:
The First Family of Soul: The Best of the Five Stairsteps

Click here to enter your suggestions and feedback