CLASSIC SOUL: Nolan Strong and The Diablos

Here's some info on Nolan Strong and The Diablos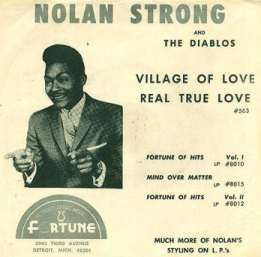 From Detroit, many say The Diablos were the originators of the Motown style.
Starting in 1954, they recorded on Fortune Records (Detroit's first black R&B label).
Their first song to gain notoriety "The Way You Dog Me Around" was actually their second release. The first release "The Wind" became an R&B classic only after the success " The Way…".
In 1962 "The Wind " was re-released and made a showing on the Billboard pop charts.
The lineup consisted of:
Juan Guiterriez, tenor vocals

William Hunter, baritone vocals

Quentin Eubanks, bass vocals

Chico Edwards, guitar;

and brothers Jimmy and Nolan Strong, on lead vocals.

Jimmy and Nolan were cousins of Barrett Strong — of Motown's "Money" fame and writer of many Motown classics.
Nolan's falsetto style of singing was probably a strong influence on the then teenagedSmokey Robinson
It all goes to show that you don't have to look very far into some of this music to see the "footprints" of Smokey Robinson!
–"T-Neck"
One More Note on Nolan Strong and The Diablos…
Gonna Take A Miracle", by Laura Nyro (backed by Labelle) is one of my altime favorite albums.
I try to "road test" it as frequently as I can 🙂
One of the best moments on the album is her rendition of "Wind", which was originally done by a Doo Wop group out of Detroit named Nolan Strong and the Diablos.
Anyway, it was Laura Nyro's version of the song that caused me to seek out the original by Nolan Strong and the Diablos.
Laura Nyro died 2 years ago from Ovairian Cancer 🙁
More on Smokey and Nolan Strong…
Hey Bob, Nolan Strong……….unreal…. I was over a friends house who has a collection of Nolan Strong & The Diablos. The song " The Wind", every Doo Wopper has sang at one time or another.
My friend had a recording of a 14 year old singer who sounded just like Nolan Strong. The young singer was singing " The Wind" . That young 14 year old happened to be " Smokey Robinson".

Click here to enter your suggestions and feedback
Click Here To Return To The Classic Soul Homepage