Classic Soul -Soul Babies: Black Popular Culture And The Post Soul Aesthetic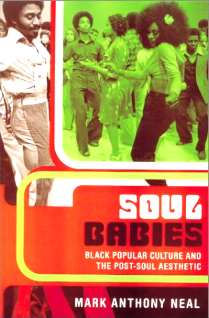 Book Review – Soul Babies: Black Popular Culture And The Post Soul Aesthetic
By: Bob Davis,
Here is what it says on the back cover of "Soul Babies: Black Popular Culture And The Post Soul Aesthetic"
"Mark Anthony Neal is Assistant Professor of English and Africana Studies at the State University of New York at Albany. He is the author of "What The Music Said: Black Popular Music and Black Popular Culture, also published by Rutledge"
Soul Babies: Black Popular Culture And The Post Soul Aesthetic
You all know Mark Anthony Neal because he is a member of Soul-Patrol.
In fact, he is one of the very first people to sign up as a member.
I first met Mark Anthony Neal here on the internet maybe about 5 years ago on an internet forum which purports to be a forum of "Black Intellectuals" and in fact is largely populated with folks who are in the world of academia, activist politics, media, etc. In fact at that time many of the people on the mailing list were some of the very same people that you see writing op-ed pieces and as "talking heads" on Sunday Morning news programs. Folks like Lannie Guineer, Ward Conerley, Harry Allen and others were a part of this forum.
In other words, it was comprised of both right wing/left wing "blowhards", who were all quite intense and opinionated.
LOL
Anyhow, there was a discussion about "Black Authors" and I mentioned that my favorite Black author was Ralph Wiley.
In this forum of "blowhards", nobody knew who Ralph Wiley was…lol
(except for Mark Anthony Neal)
Ralph Wiley is a writer/tv commentator who also explores pop culture and it's impact on Black people.
The name of his first book is "Why Black People Tend To Shout"
He also speaks with an honest voice about the things that Black people do to themselves that hold us back far more than anything that the KKK or the CIA is doing to us.
In Wiley's second book "What Black People Should Do Now", the first chapter is called "Why Black People Don't Buy Books".
In this chapter Wiley unfold the lament of the Black writer who is unable to get his book published, because book publishers contend that "Black People Don't Buy Books", and thus if "Black People Don't Buy Books", then there is NO NEED FOR BLACK WRITERS TO EXIST (and therefore no need for Ralph Wiley to exist).
I only bring up Wiley in this context because in his books, essays, magazine articles, television commentaries, etc Ralph Wiley makes it clear that he is a "stone cold funkateer", both literally and figuratively.
It really shouldn't come as any surprise that Ralph Wiley is my favorite author..
HE IS THE SAME EXACT AGE AS ME.
Therefore despite never having met, we have a "shared common experience", even if we may not always agree with each other, I always clearly understand where Ralph Wiley is coming from.
So what does this "mumbo jumbo" have to do with Mark Anthony Neal's new book entitled:
Soul Babies: Black Popular Culture And The Post Soul Aesthetic
Mark's basic premise in the book is that there is indeed something called "The Post Soul Aesthetic"!
He defines this as being a particular mindset of people ("Black intellectuals") who were born AFTER 1963 and who have NO DIRECT FIRSTHAND MEMORIES OF THE CIVIL RIGHTS MOVEMENT.
Thus these are a group of folks for whom the Civil Rights Movement itself, exists more as a set of images and icons, rather than as a "flesh & blood experience".
Mark is writing from the perspective of the next generation removed from the perspective of someone like Ralph Wiley
However, it's not quite simple enough to say that…
Mark also says that while these people have no direct firsthand memories of the Civil Rights Movement, they are completely infused with a direct firsthand memory of 1970's Black culture ("soul culture" if you will) and that it's impact completely dominates the Black culture of the 1980's/1990's ("post soul culture" if you will) in ways that are not immediately apparent.
Mark also states that because there is no overriding "movement" for people coming of age, in the 1980's/1990's to grab hold of, they grab hold of "hip hop" as a "movement" that defines much of the "who, what, when, why, where and why" of what Black culture has evolved into and where it is headed.
Roughly, Mark is talking about "Black intellectuals" between the ages of 28 – 38 years old.
Thus from a "funkateer's perspective" (mine), these would be "our younger brothers and sisters"!
He's talking about people such as Kevin Powell, Tricia Rose, Nelson George, Greg Tate, Vernon Reid and others who are attempting to define just what all of the past 20 years of Black culture or so have meant in a serious manner.
Interestingly enough, Mark DOES NOT include folks like Eddie Murphy & Spike Lee, they are of the "previous generation/mindset"!
(so there is a clear dividing line)
Mark also includes himself in this group (as well he should) and then proceeds to explore various aspects of Black culture, based on his experiences as both a Black studies professor and as a person who defines himself as "post soul" along with the many "connections & disconnections" that aren't always apparent!
The book itself is a series of long essays that are very detailed and well thought out.
For example, the two essays:
* "Sweetback's Revenge" (Gangsters, Blaxploitation, Black Middle Class Identity)
* "Baby Mama (drama) and Baby Daddy (trauma) (Post Soul Gender Politics)
Are nothing short of a brilliant analysis of the impact of 1970's Black popular culture on the mindset of the generation that came after.
(I dunno Mark, maybe a "PBS style documentary"?)
These are the two chapters in the book that will be of most interest to Soul-Patrollers (probably for their "nostalgia value).
I have never seen the culture of MY GENERATION (70's funkateers) explored in such a detailed and serious manner before.
I don't want to spoil this for anyone, but just as an example, Mark's analysis of the body of work done by John Amos and the REAL meaning of his work, is absolutly brilliant!
Other chapters focus on economics, and how for example this is the very first generation of Blacks who understand intuitively what the worldwide economic impact of Black culture is.
This generation of Blacks actually plan how to immediatly turn the culture into a markatable comodity (selling out?) before they even create the product.
Mark doesn't see that as being a bad thing at all.
Better to plan your "sell out" than have it imposed on you?
or as Hattie McDaniels said…
"Better to play a maid in the movies, than to be one in real life"
Anyhow…
There is a LOT of good "food for thought" in the book and I highly recommend it to everyone here on Soul-Patrol!
It explores a complex topic that is right here in front of us, and Mark provides some well needed clarity about 80's & 90's Black Culture and where it might be headed in the future!
You can order it online at the following link…
AOL Link: Soul Babies: Black Popular Culture And The Post Soul Aesthetic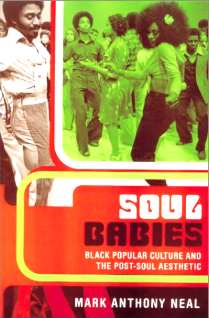 Go to the link and order it.
Support yet another Soul-Patroller who is out there telling the truth about OURstory!
I have no doubt that Ralph Wiley is smiling…
–Bob Davis