Classic Soul – Tammi Terrell,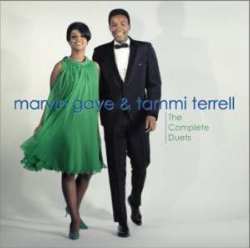 MARVIN GAYE AND TAMMI TERRELL 'COMPLETE DUETS'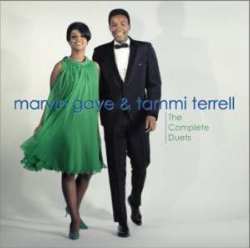 This double CD featuring 52 tracks was released on 11/20. It features all three duet Lp's plus 'undubbed' Solo Tammi tracks, studio chatter, two unreleased duet alternative takes & one previously unreleased duet 'We'll Be Satisfied', that's a knock-out! Marvin & Tammi Kick some A** on this track!
So you Marvin & Tammi fans need to pick this one up, you'll be in "Soul Heaven". This really makes me wonder if Miss Terrell had lived where her career would have taken her. Inside the CD booklet, there are quite a few wonderful photos. A wonderful package that is put together with a lot of Love and Respect.
The CD is dedicated to Marvin & Tammi. You know, whatever anyone says about Berry Gordy, the man sure gave us some endearing wonderful talented people. He should be thanked. Maybe some artists were not treated fairly at Motown but, he took raw talent & made them household names, anyway Soul Patroller's grab this cause "Ain't No Mountain High Enough' to not have this one!
Peace Randy
MARVIN GAYE & TAMMI TERRELL 'COMPLETE DUETS' CD!<?xml:namespace prefix = o ns = "urn:schemas-microsoft-com:office:office" /??>

 

DISC1

DISC1

1.Ain't No Mountain High Enough- Marvin Gaye & Tammi Terrell

1.Good Lovin' Ain't Easy To Come By- Marvin Gaye & Tammi Terrell

2.You Got What It Takes- Marvin Gaye & Tammi Terrell

2.California Soul- Marvin Gaye & Tammi Terrell

3.If I Could Build My World Around You

3.Love Woke Me Up This Morning- Marvin Gaye & Tammi Terrell

4.Somethin' Stupid- Marvin Gaye & Tammi Terrell

4.This Poor Heart Of Mine- Marvin Gaye & Tammi Terrell

5.Your Precious Love- Marvin Gaye & Tammi Terrell

5.I'm Your Puppet- Marvin Gaye & Tammi Terrell

6.Hold Me Oh My Darling

6.The Onion Song- Marvin Gaye &Tammi Terrell

7.Two Can Have A Party- Marvin Gaye & Tammi Terrell

7.What You Gave Me- Marvin Gaye & Tammi Terrell

8.Little Boy, Little Ole Girl- Marvin Gaye & Tammi Terrell

8.Baby I Need Your Loving- Marvin Gaye & Tammi Terrell

9.If This World Were Mine- Marvin Gaye &Tammi Terrell

9.I Can't Believe You Love Me- Marvin Gaye & Tammi Terrell

10.Sad Wedding- Marvin Gaye & Tammi Terrell

10.How You Gonna Keep It (After You Get It)- Marvin Gaye & Tammi Terrell

11.Give A Little Love- Marvin Gaye & Tammi Terrell

11.More,More,More- Marvin Gaye & Tammi Terrell

12.Oh How I'd Miss You- Marvin Gaye &Tammi Terrell

12.Satisfied Feelin'-Marvin Gaye& Tammi Terrell

13.Ain'tNothingLikeTheRealThing- Marvin Gaye & Tammi Terrell

13.I Can't Believe You Love Me-Tammi Terrell

14.Keep On Lovin' Me Honey- Marvin Gaye & Tammi Terrell

14.Hold Me Oh My Darling-Tammi Terrell

15.You're All I Need To Get By- Marvin Gaye & Tammi Terrell

15.Come On And See Me-Tammi Terrell

16.Baby Don't cha Worry- Marvin Gaye & Tammi Terrell

16.Baby Don't cha Worry(Non LPB-Side)-Tammi Terrell

17.You Ain't Livin Till You're Lovin'- Marvin Gaye & Tammi Terrell

17.Ain't No Mountain High Enough- Tammi Terrell

18.Give In, You Jus t Can't Win- Marvin Gaye & Tammi Terrell

18.Two Can Have A Party- Tammi Terrell

19.When Love Comes Knocking At My Heart- Marvin Gaye & Tammi Terrell

19.Oh How I'd Miss You (Demo)- Tammi Terrell

20.Come On And See Me- Marvin Gaye & Tammi Terrell

20.You Ain't Livin 'Till You're Lovin'- Tammi Terrell

21.I Can't Help But Love You- Marvin Gaye & Tammi Terrell

21.Give In You Just Can't Win-Tammi Terrell

22.That's How It Is (Since You've Been Gone)- Marvin Gaye & Tammi Terrell

22.When Love Comes Knocking At My Heart- TammiTerrell

23.I'll Never Stop Loving You Baby- Marvin Gaye & Tammi Terrell

23.Memory Chest- Tammi Terrell

24.Memory Chest- Marvin Gaye & Tammi Terrell

24.That's How It Is (Since You've Been Gone) – Tammi Terrell

25.Ain't Nothing Like The Real Thing (AlternateTake)- Marvin Gaye & Tammi Terrell

25.More, More, More- Tammi Terrell

26.Keep On Lovin' Me Honey (AlternateVocal)- Marvin Gaye & Tammi Terrell

 

27.We'llBeSatisfied- Marvin Gaye & Tammi Terrell