Classic Soul – Tyrone Davis

Classic Soul – Tyrone Davis

Bob,

When the news of Tyrone Davis' stroke September 9 th of last year it has been a prayerful time for those who loved this legend. But on the afternoon of Wednesday February 9 th the Lord called our beloved Tyrone home. While he slumbered he entered into his final rest and took his place at the feet of the master. He succumbed at Chicago area Hinsdale Hospital surrounded by family and friends. His wife Ann was an ever present force as she stood vigil by his side throughout the duration of his illness.
Funeral services will be held February 17th at the Living Word Church 1700 West Roosevelt Road Chicago IL. Fans will be able to pay their respects at 10 am and services will begin at 2 p.m.
Any fans wishing to send cards or letters of encouragement can be sent to the Tyrone Davis Fund C/O Ann Davis P. O Box 5459 Villa Park IL 60181 as well a fund has been set up for the family of Tyrone Davis and can be sent to Tyrone Davis Fund ( In Care of Ann Davis and Millie Norals ) Bank One 800 West Madison Oak Park IL 60304. Additional information will be forwarded accordingly.

–The Family



TYRONE DAVIS CHAT SESSION TRANSCRIPT:
Thursday evening October 4 at 9:00 pm est
In the Soul-Patrol Chat room


Tyrone TOOK US TO SCHOOL with his knowledge of the Classic Soul Music, past present and future

Mr. Tyrone Davis is best known his classic Pop and R&B hits from the early 1960's such as, such as,

Turn Back The Hands of Time,

A Woman Needs to Be Loved,

One-Way Ticket,

Can I Change My Mind?,

Is It Something You've Got?,

Without You in My Life,

So Good (To Be Home With You),
and more…

Tyrone is still on the scene recording NEW music and touring the country with his SUPER SOUL MUSIC REVIEW, so this chat session gave us all a chance to catch up with him and his continuing career!
Tyrone-Davis

has joined the SOUL-PATROL Chat Room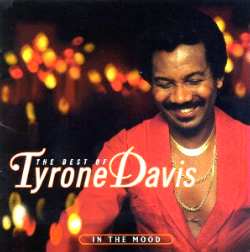 earthjuice Greetings Velvet…….say hello to our guest TYRONE DAVIS
earthjuice Mr. Tyrone Davis is best known his classic Pop 
and R&B hits from the early 1960's such as, such as, Turn Back The Hands of Time, A Woman Needs to Be Loved, One-Way Ticket, Can I Change My Mind?, Is It Something You've Got?, Without You in My Life, So Good (To Be Home With You),
Mike-Boone Hello everybody
Tyrone-Davis Hey Bob Davis and you Soul Patrollers
Half123 Hello Tyrone
Velvet has joined. (64.12.103.169) 
GTSoul have you ever heard "Turn Back the Hands of Time or Can I Change my Mind? Theses are legendary soul classics .
earthjuice Welcome Tyrone to the Soul-Patrol Chat Room
Velvet hi GT
GTSoul it's a pleasure to have you in the chat room Tyrone.
earthjuice Greetings Mike…….say hello to our guest TYRONE DAVIS
Tyrone-Davis Thank you GT ……
Velvet helloooo Mr. Davis!
Half123 Tyrone where are you from
LuvN Hello Mr Davis!!!
Tyrone-Davis I am from Mississippi but I live in Chicago by MMDELLS
Mike-Boone Tyrone, who were your major influences?
Tyrone-Davis my influences were Jackie Wilson, Bobby Blue Bland
GTSoul Who gave you the name "wonder boy" back in the day ?
Tyrone-Davis LOL ……. who told you about Wonder Boy? I got it from Old man Walter at Walter's Corner
GTSoul I'm a Chicagoan Tyrone. Plus, I do my research. (lol)
GTSoul how did you become Freddie King's valet? He was a badd guitarist.
earthjuice "There must be something that I'm missing or is it something that she's got…"
Tyrone-Davis LOL …… Bob can you sing?
Half123 A woman needs to be love is a great song, did you write it 
earthjuice , probably something that you are missing LOL
earthjuiceHere is a question from a Soul-Patroller who couldn't make it tonight……Does Tyrone Davis consider himself to be a Blues singer?
Mike-Boone Tyrone did the Chi-Lites and Barbara Acklin sing back up to" Turn Back the Hands of Time"?
Tyrone-Davis not the Chi-lites but my girl Barbara sang on it
GTSoul one of my favorites is the flipside to "turn Back the Hands of Time", "I Keep Coming Back". Who's playing guitar on the intro of that song ?
Half123 Mr. Davis did you write A woman needs to be love
Mike-Boone I agree GT that's a badddd B side and also "A Woman Needs To Be Loved"
Tyrone-Davis GT ican't remember the guitar player on that cut
Tyrone-Davis A Woman Needs To Be Loved is the only blues song I ever recorded
GTSoul you ought to have Herb Kent play it on his show.
Tyrone-Davis have any of you heard any of my new stuff
Mike-Boone Tyrone how long were you with ABC records??
Half123 Name some of your new stuff
earthjuice They don't play any of your new stuff on the radio around here Mr. Davis
GTSoul how ws your performance at the Regal on Sept 15 ? I didn't hear any reviews about it.
Velvet not yet Tyrone, looking forward to it
LuvN they dont play it here either
Tyrone-Davis Ladies check out Relaxin' With Tyrone "Let Me Be Your Sugar Daddy"
Half123 Mr. Davis you ever come to Detroit
Tyrone-Davis The Regal is home and my shows smoke at home baby
GTSoul do you know Arkansas Red? He plays your music on a regular basis.
Tyrone-Davis I know of him GTSoul
GTSoul I know you had your wonderful band to back you up, The Platinum Band. They'll badd !
Tyrone-Davis I wish more folks could hear my band ….. you are right … they are bad!
GTSoul didn't you have a club a few years ago in Chicago ?
Half123 Are you married, children, woman
earthjuice What cities are on your tour, Mr. Davis?
Tyrone-Davis I owned Tyrone Davis' Entertainment Center
Tyrone-Davis VERY MARRIED LOL
GTSoul well the people in Chicago knows about your band. Very tight musicians.
Velvet Tyrone, I had the pleasure of seeing you in concert on Atlantic City in the early 70's
earthjuice While you were at Brunswick Records, how were you treated by it's infamous owner, Nat Tarnopol?
GTSoul is it still in operation ?
Velvet and that bad was bad!! The musicians looked so young, especially the horns
Tyrone-Davis Nat Tarnopol is my man …… I loved him
Tyrone-Davis Brunswick Records was some happy years for me
earthjuice Did you know Jackie Wilson while you were there?
Tyrone-DavisVelvet my band will love you
Half123 What kind of music do you listen too
Tyrone-Davis Classic Soul 24/7
Tyrone-Davis and I love to listen to blues
earthjuice REAL BEGGING…."baby let me change my mind….I'd just like to start all over again…"
Tyrone-Davis Bob Jackie and I used to tour together
GTSoul are you by any chance familar with "the "dusties party" on whpk ? They play classic and rare soul on Thursdays.
earthjuice Really….what was it like working with Jackie Wilson?
Tyrone-Davis AAdamsRib told me about your radio program
Half123 What do you think of rap today
earthjuice Another Soul-Patroller asks: Have you ever worked with Garland Green?
Tyrone-Davis Jackie and I were singing and drinking buddies
GTSoul did she ? I played "I'll Be Right Here" last week on the show.
Tyrone-Davis I talked to Garland last week
Tyrone-Davis we grew up together in Mississippi
earthjuice ahhhhhhhh so then yall are tight?..very cool 🙂
GTSoul what is he up to these days?
LuvN LOL! drinking buds, imagine that!
earthjuice Mr. Davis, how old were you when you moved from Mississippi?
Tyrone-Davis Garland is singing and working hard
Tyrone-Davis I was just 14 years old ……
LuvN Mr. Davis, what do you think of the new talent today and who is the person to watch?
Half123 What do you think of rap music
Mike-Boone Tyrone did you know the singer Tony Drake?
Tyrone-Davis I love R Kelly and Joe
Mike-Boone Hey Dollar Bill
earthjuice Greetings BILL……say hello to out guest tonight, the LEGENDARY Mr. Tyrone Davis
21:34:06 GTSoul I remember your TV appearance on the show entitled "Soul', hosted by the late Ellis Hazlip. (great performance)
d-j–dollar-bill Hello all Mr.Davis's,Mike Gary and all y'all
Tyrone-Davis I watched Gerald Lavert grow up
LuvN I agree, Mr. Davis…what do you think of Alicia Keys?
Tyrone-Davis Ellis was a good guy …… way ahead of his time
d-j–dollar-bill just popped in to pay my respects.Off to do some music education at the nightclub
GTSoul wasn't he? Those were the days. I love that program.
earthjuice hmmmmm education, at a nightclub (I'll take that….lol)
Half123 What's your astrological sign
GTSoul what was it like to work with Freddie King ?
Tyrone-Davis Taurus …… I am 63 and going strong
Mike-Boone What's Barry Despenza doing these days ?
Tyrone-Davis Freddie King is so deep in my soul
Half123 I agree
Tyrone-Davis in 1961 he took me out on the road for first time in my life
GTSoul Freddie was a badd musician.
earthjuice "Though I played my game, many times before…"
GTSoul how did you become his valet?
Half123 Mr. Davis, did you ever do duets with famous females
Tyrone-Davis Freddie taught me about holding a band together on the road
Tyrone-Davis I never did any duets until my daughter and I recorded "You Got What It's Takes"
GTSoul did he teach you anything about the guitar ? Do you play any instruments by any chance?
Tyrone-Davis I am a singer Baby ……. LOL
earthjuice What female singer would you like to do a duet with that you haven't?
GTSoul i hear ya and a darn good one.(lol)
Tyrone-Davis Patti LaBelle and I are good friends
GTSoul really ?
Tyrone-Davis I wish I had recorded "On My Own" with her
GTSoul The two of you should make a recording together.
Tyrone-Davis we never had the chance
earthjuice Do you have a new CD coming out soon, and if so what type of music will be on it?
Half123 what did you drink(alcohol) back in the day, And what do you indulge in today
earthjuice What do you think of how the industry treats artists nowadays who are trying to do "Classic Soul" music?
Tyrone-Davis I am pulling together some material now
Tyrone-Davis earthjuice FM radio works against us
Tyrone-Davis They are afraid to play us or they act like they hate classic soul
Mike-Boone Good Bob, Gary and thanks Tyrone for a nice evening
Jag1 Mr. Davis, I have always loved your voice and music,
Tyrone-Davis I only record quality music …… I got a song called "I Wanna Kiss You Where I miss You"
LuvN Mercy!
Tyrone-Davis you like that title LuvN
Jag1 Mr. Davis, where do you see your career 5 yrs from now
earthjuice that song title sounds a bit "risque"?……lol
LuvN LOL!! Yes!
GTSoul I'm not afraid to play your music, and I think I cover a lot from the Dakar days, besides 'turn back the hands of time" and " can I change my mind".
Tyrone-Davis LOL ….. for some reason Ladies LOVE that song ……
Jag1 oh!!!! Luvn, classis you, and welcome
Tyrone-DavisLuvN that is off of "Relaxin' With Tyrone"
Jag1 Mr. Davis, you are Timeless!!!!!
earthjuice Greetings Lowsho……say hello to out guest tonight, the LEGENDARY Mr. Tyrone Davis
LuvN I need to check it OUT!
Tyrone-Davis my first big record was "Baby Can I Change My Mind"
21:52:48 Jag1 one of my favorites. Can I change my mind. I did a lot of dancing to that
Mike-Boone Tyrone before I go….How did your daughter hook up singing background with Sly Stone on his monster million seller "Family Affair"?
LuvN I was looking on the Internet and see you have a Quiet Collection coming out this month and 20 Greatest Hits
Jag1 Mr. Davis, will you be touring soon? Near Alabama, Birmingham?
Tyrone-Davis how could I sing "Family Affair" without my baby girl
Mike-Boone I hear you Tyrone lol
Tyrone-Davis LOL ….is that the Brunswick Record set
Jag1 Mr. Davis, your music makes me hold my husband and love him more
GTSoul Do you still perform "turning point" ? That's a blues/r&b standard, wouldn't you say ?
Tyrone-Davis Well, I am in the studio
Tyrone-Davis they are calling me back to work
Tyrone-Davis may GOD bless you all
Jag1 Do you know if you will tour this year or next year?
LuvN Quiet Storm is Bellmark and Greatest Hits is Brunswick
Mike-Boone Gotta run ……..good night Tyrone ………everyone ……enjoyed the evening
Jag1 God bless you and your family
GTSoul it was a pleasure talking to you Tyrone.
LuvN thank you!
Tyrone-Davis Thank you all so much
Half123 Thank you for your time
earthjuice Everone say goodnight to Mr. Davis
Jag1 Thank you so much Mr. Davis
Tyrone-Davis I am a lurker on your list so talk to me
GTSoul Goodnight and thanks again.
Jag1 Goodnight Mr. Davis
earthjuice Thank you Mr. Davis for taking the time to talk with us tonight, it's been an honor
Tyrone-Davis my band says "Hey Ya'll"
Half123 good night
GTSoul will do.
Tyrone-Davis Goodnite to all

JOIN stephanie has joined.
GTSoul tell them I said hello.
Jag1 Hi band, Touring????
Jag1 Is Mr. Davis gone?
stephanie i missed tyrone
LEAVE LuvN has left.
Jag1 Did he say whether he would be touring this year or next?
stephanie oh well
stephanie im sorry iwas late
earthjuice Thanks to everyone for coming out tonight…
GTSoul he recently did a show two weeks ago in Chicago with Bobby Bland, Otis Clay, and a tribute to Johnnie Taylor at the Regal Theater.
earthjuice he said that he would be touring
GTSoul I'm sure he'll be touring elsewhere.
GTSoul the late Barbara Acklin sang backup on "turn back the hands of time".
stephanie i guess tyrone davis liked Johnnie taylor didnt he
stephanie oh wow i didnt know barbara sang on that thanks
earthjuice They were friends, Stephanie
GTSoul they were friends.
stephanie thanks for letting me know I have a friend who eates and breathes Johnnie Taylor he will be gland to know this he loves Tyrone davis too
stephanie Im glad to see tyrone is still working
GTSoul Stephanie, check out Johnnie Taylor's song "Love Bones". Near the end of the song, he's calling out famous singers and he mentioned Tyrone's name. Tyrone ever recorded a version of "Love Jones" on one of his earlier recordings.
GTSoul and still recording.
stephanie thanks GT
stephanie well you all have a good nite and take care peace
GTSoul no problem. 🙂


Click here to enter your suggestions