Coming to the Ardmore Music Hall (Philly) – FISHBONE/Rk$tdy (8/13)
While the group rarely enjoyed massive mainstream success, they are widely heralded alongside James Brown, Sly Stone, and George Clinton's Parliament/Funkadelic as the founding fathers of funk.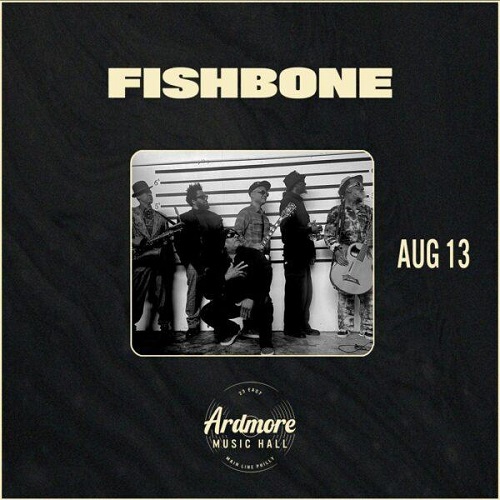 !
Event Details
Fishbone with Rk$tdy at Ardmore Music Hall
Sunday, August 13, 2023
Seated Doors: 5:45 PM | GA Doors: 6:15 PM | Show: 7:00 PM
21+ Unless with a Parent or Legal Guardian
MORE INFO, TICKETS: FISHBONE/Rk$tdy
———————————-
---
About Fishbone
Legendary in the history of American Ska, Rock Fusion, and (so-called) Black Rock, FISHBONE started their twenty-five-year professional career in Los Angeles' burgeoning, Alternative Rock music scene of the mid-1980s. Their sound has often been imitated but never duplicated. They have toured worldwide with such bands as the Beastie Boys, Red Hot Chili Peppers, The Roots, Les Claypool/Primus, Fela Kuti, The Dead Kennedys, and many more. Angelo Moore's ability to combine thought-provoking, humorous social commentary with Fishbone brethren's frenzied, up-tempo music and frantic, euphorically entertaining stage show has cultivated their undisputed reputation as one of the best live acts in music history. Moore himself is renowned as one of the very best live showmen; Gwen Stefani of platinum-selling Ska/Pop band No Doubt cites Moore as her idol.
Composing, creating, recording, releasing, and performing original music for over two decades now Fishbone and their music have been featured in numerous films, commercials, and TV programs. Their catalogue has sold over 750,000 records worldwide, solidifying their rock n' roll legacy as one of the most influential alternative rock bands in music history.
MORE INFO, TICKETS: FISHBONE/Rk$tdy
---
About Rk$tdy
Philly's all-star ska, reggae, and jazz musicians playing '60s-style traditional ska, soul and Jazz
MORE INFO, TICKETS: FISHBONE/Rk$tdy