Concert Review: Jimi Hendrix Tribute (NYC 11/27/2006)
as I left the show and walked towards the subway on 8th Avenue, I ran into the Ghetto Fighters. I spoke with them and told them just how awe inspiring the show had been and how glad I was, that I was able to be a part of the proceedings. And they said, "you don't know how happy Jimi would be to know that you were here tonight." I smiled and said, he knows…

By Bob Davis
FEATURING: Jose Feliciano, Buddy Miles, Ghetto Fighters, Dave Honeyboy Edwards, Curtis Knights Squires, King Curtis Kingpins, Johnny Winter, Cornell Dupree, Chuck Rainey, George Bragg, Harry Jensen, Commander Cody, Larry Coryell, Lenny White, and Victor Bailey, David Kramer, Leon Hendrix, Burr Johnson Band, Ducks Chn Groove
I didn't forget the 64th Birthday of Jimi Hendrix. In fact I celebrated it in GRAND STYLE on 11/27 in NYC at a local Times Square "tourist trap", filled to capacity @ the Jimi Hendrix Birthday Tribute Show.
I keep telling myself that with all I have writen about Jimi Hendrix and his impact on my life, that I couldn't possibly have anything else to say. Yet here I find myself with more to say about the music of James Marshall Hendrix, an artist who only had one song that cracked the US Top 20 Pop Music Charts. And I know that before I even get started with this review, that I can't possibly do this event justice. It was indeed a mind blowing experience for me, musically, culturally and spiritually.
I'm pleased to report that this show was a MONSTER wall to wall FIVE HOUR FUNK/ROCK/BLUES MUSIC SPECTACULAR.
The show started with legendary bluesman Dave "Honeyboy" Edwards doing a Chicago blues set, followed by videotaped birthday greetings for Jimi from BB King, Bo Diddley, Little Richard and Buddy Guy.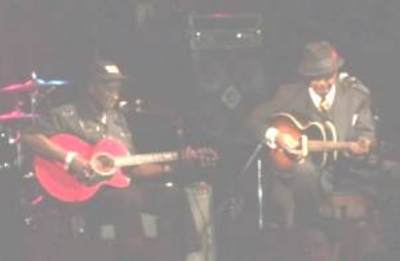 Next up were the Ghetto Fighters (Aleem Twins) doing "Dolly Dagger", when they introduced the song, they reminded the audience that they had sung background on the original version of Dolly Dagger and figured that they should learn the whole song. With that the Ghetto Fighters played what sounded to my ears like a "note for note cover" of Dolly Dagger that got me remembering how we used to party to the song "Dolly Dagger" at the University of Pittsburgh in 1973 and up out of my seat dancing. The Ghetto Fighters ended their set with a very nice version of "My Friend". The Aleem Twins also told the story of how they met Jimi Hendrix on the streets of NYC and how he gave them the name "Ghetto Fighters".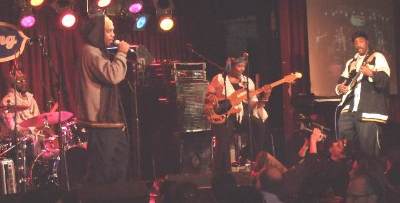 Next up was Leon Hendrix. His set consisted of a medley of Jimi Hendrix songs (ex: "Hey Joe", "Foxy Lady", etc.) with new lyrics. Although the guitar playing and singing of Leon Hendrix is questionable (at best), I enjoyed his presence at the show because he brought the spirit of Jimi Hendrix to the proceedings and for me that was what the evening was all about.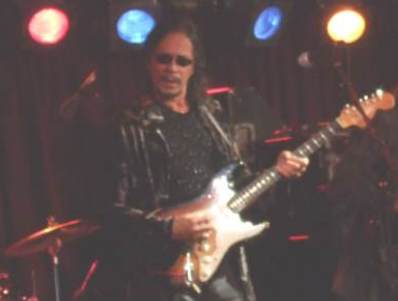 After Leon Hendrix left the stage there was no way that I could have been prepared for what happened next. The "pre-experience" portion of Jimi Hendrix's career is usually stated something like this by entities like Rolling Stone Magazine: "He played with a variety of Chitlin Circuit Bands". What a huge understatement!!!! What came next were members of Curtis Knights Squires and King Curtis Kingpins (two of the bands that Hendrix played with in his "pre-experience" days). When Cornell Dupree, Chuck Rainey (from the Kingpins) and George Bragg, Harry Jensen (from the Squires), along with Commander Cody hit the first note, I was in FUNK HEAVEN. I mean, this was tha REAL DEAL, FROM THE REAL FUNKMASTERS. I mean this was that serious "10FootHighAfroChickenFatBurntHairOnTheStoveBBQSauceDrippin
DownYourArmsAllTheWayToYourArmPitsProjectApt#2C FUNK". Starting with Jimi's cover version of Ray Charles "What I Say" to "Peoples, Peoples, Peoples", their set blew my mind and gave me greater insight into just how talented Jimi Hendrix must have been in order to keep up with these FUNKMASTERS!!!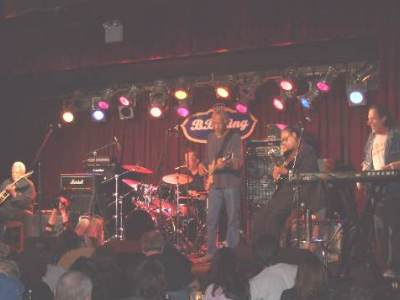 Next up was the legendary blues/rock guitarist Johnny Winter (he truly looked like "death warmed over..lol), who played a fast & furious blues/rock set containing songs like "Mojo Boggie", "Highway 61" (which I liked better than Bob Dylan's original), etc. However despite the blistering set by Johnny Winter I wondered why he didn't play any Jimi Hendrix songs?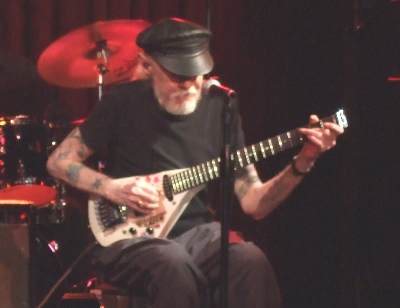 Then Larry Coryell, Lenny White, and Victor Bailey came on with a Miles Davis inspired "JIMI JAZZ-FUNK" set. I mean everybody knows that Jimi was gonna eventually hook up with Miles Davis, so what we got here was just a taste of what that combination might have sounded like. Taking cues from Miles Davis – "Jack Johnson" and Jimi Hendrix – "South Saturn Delta", this set was some of the FIERCEST JAZZ-FUNK-FUSION that I have heard in a long time. Oddly enough the two songs they played (Jimi's "Manic Deppresion and Led Zeppelin's "Black Dog") aren't really Jazz Fusion songs. But they sounded like it tonight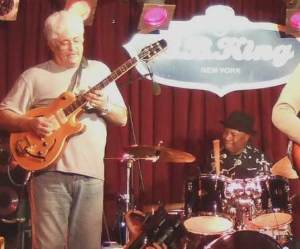 Then two bands (Burr Johnson Band & Ducks Chn Groove) I never heard of before took the stage and TORE UP songs like "3rd Stone From the Sun", "Tax Free", "Nightbird" and "Room Full of Mirrors". The crowd went NUTS over these two bands because these wre some stank azz nasty Hendrix covers!
Then to close out the show, the legendary Jose Feliciano joined Buddy Miles on stage for a rousing version of "Chitlins Con Carne", which sounded like 1972 era Funkadelic playing the damn song. Buddy then ended the show with a inspired version of the classic Band of Gypsy's song "Them Changes", mixed in with a little bit of "Who Knows" for bout 20 minutes.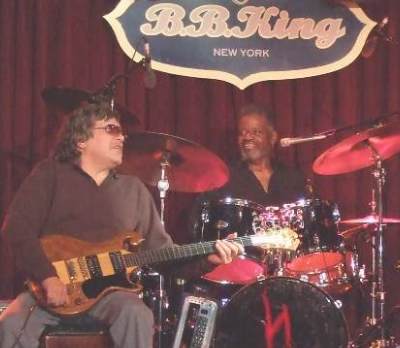 Oh….in between each one of the set's, portions of an unreleased Jimi Hendrix documentary by David Kramer were shown up on the screen.
At the end of the FIVE HOUR SHOW, I was drained. I think that this may have been the best concert I saw in 2006! The music of Jimi Hendrix has always been such a big inspiration to me on a personal level, that it felt so good to be in the company of so many other people for whom his music has a similar impact on. The whole vibe inside of the room was incredible. In fact for that entire 5 hour period of time, it felt like all of the things that his music represented both on a tangible and an intangible level were possible. I walked out of the club feeling more optimistic about my own life and my own future than I have felt in a long time. That is the kind of feeling my friends that money can't buy and for me it's worth just about anything to get. That is how powerful a force the music of Jimi Hendrix has been for me since I first started listening to it when I was 11 years old, back in 1968. To know that here in the year 2006 there are a whole bunch of other people who's lives have also been similarly impacted by the music of a man who passed from the scene at the age of 27 over 25 years ago is both amazing and quite comforting.
On second thought maybe it wasn't really a concert at all. Maybe it was really a once in a lifetime event (a convergence?) that at least for one night captured the spirit of James Marshall Hendrix on stage. As a Hendrix fan, what more could I have possibly asked for? I wish that I could put the music & the vibe into a bottle and let all of the angry, disgusting and vile people in the world take a drink from that bottle in order to give those people a chance to redeem their own miserable existence. It would do them and the rest of the world a huge favor.
And as I left the show and walked towards the subway on 8th Avenue, I ran into the Ghetto Fighters. I spoke with them and told them just how awe inspiring the show had been and how glad I was, that I was able to be a part of the proceedings. And they said, "you don't know how happy Jimi would be to know that you were here tonight." I smiled and said, he knows…