Joey Reynolds & "ANTI RACISM" @ Nader Doo Wop Show (6/14/2008)
Joey Reynolds, I just wanted to take a moment to thank you publicly. You did one of the most totally "ANTI RACIST ACTS," I have ever personally witnessed a public figure do.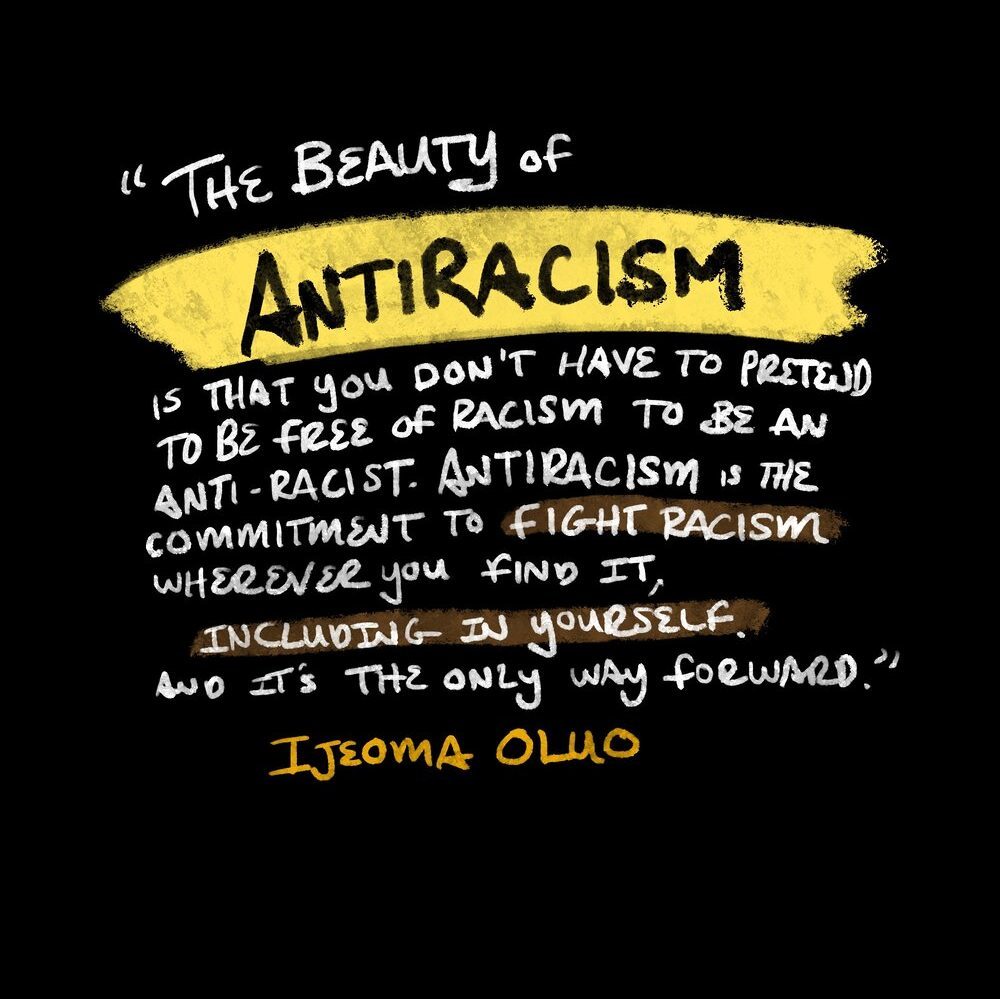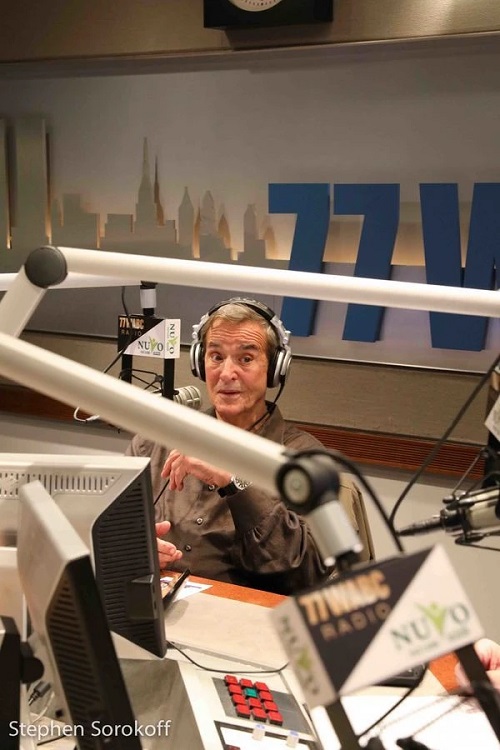 EDITOR'S NOTE: An Update to the original review (Some props for Joey Reynolds!
Hi
Joey Reynolds
, I just wanted to take a moment to thank you publicly. You did one of the most totally "ANTI RACIST ACTS," I have ever personally witnessed a public figure do.
I believe that white folks who go around committing acts of ANTI RACISM are to be commended!
It was at the Debra Nader (RIP) "Doo Wop" Show (not really a Doo Wop show, really a 1960's Oldies show) at the IZOD arena in North Jersey. I have written about the incident before and now I want to take this opportunity to thank you and to do so in public.
Folks, to make a a long story short,
Joey Reynolds
was one of multiple emcees at this show. There were about 15,000 people in the audience. The concert was also combined with a car show and was promoted by the famous Debra Nader (RIP.)
I was there to review the show and my review is still up on the Soul-Patrol website, at the following link:
But this story isn't really about the concert, the artists or the songs.
It's about what I DID NOT include in my review….
(let me set the stage…)
1. This show took place on June 14, 2008. In other words, the Democratic Presidential Primaries were over. Obama had won the lion share of the delegates and was about to make history at the Democratic Convention in August. However, Hillary Clinton, had refused to concede. When asked why she wasn't conceding she replied, "Because anything can happen, remember what happened in 1968 with RFK?
2. The audience at the show was what I will call a "Stereotypical North Jersey Doo Wop Crowd." Which means it was full of the characters from all of the organized crime movies you ever saw and their children.
3. In the section of the arena where I was sitting, I was the only Black person there, which isn't ordinarily a problem for me. But this time it would be different.
With this as a backdrop, and in the interest of time, let me cut to the chase…
There were so many artists on the show, there were 3 separate intermissions. Joey Reynolds did the stage announcing for one of those intermissions. He came out, greeted the audience, thanked them for coming to the show and then said:
"ON THIS DAY, I AM VERY PROUD TO BE AN AMERICAN. I'M PROUD TO LIVE IN A COUNTRY WHERE WE CAN ELECT SOMEONE LIKE BARRACK OBAMA AS PRESIDENT OF THE UNITED STATES."
(Probably not an exact quote, but close enough!)
Then there was about 10 seconds of silence.
That silence ended and was followed by 10 minutes of a combination of VERY LOUD BOOS combined with EVERY IMAGINABLE RACIAL EPITATH FOR BLACK PEOPLE THAT YOU HAVE EVER HEARD IN YOUR LIFE. & a few you probably haven't heard
(For a few moments I pondered, getting up from my seat and leaving. It was the first time I have ever been genuinely scared at a concert. I also figured that if I stood up, I'd get "bum rushed," thrown to the ground and beaten to a pulp. So I stayed where I was.)
Debra Nader grabbed the microphone and told the audience; "My apologies folks, that will never happen again, we don't believe in mixing music & politics."
(Probably not an exact quote, but close enough!)
Soon the show itself would resume, but before that would happen Lou Christie ("Mr. Lightning Strikes,") grabbed the microphone and said, "our kind of people don't support what's going on in our country these days." The crowd roared with approval.
(Probably not an exact quote, but close enough!)
I am still a fan of the song; "Lightning Strikes." But sadly, I am no longer a fan of the artist Lou Christie.
The show resumed and the music was great.
However, I wanted to shake his hand & personally thank Joey Reynolds for what he had done that day. When I went backstage after the show, I looked for him and was told that he had left.
I found Debra Nader and told her that I came within inches of getting my azz kicked, and while I don't condone what Joey Reynolds did, I can't condemn it either. That's because I understand why he did it. He did it so that all of those azzholes could make it clear and identify exactly who they were.
Of course, Debra disagreed, but said; "Bob we will have to agree to disagree, I don't think that politics should be a part of our shows."
I said "Saying that you are proud of one of the Presidential candidates isn't really making politics part of the show. But maybe a part of the show needs to be a little education for the audience on exactly who an where the music they came to see performed tonight actually comes from?"
(Note: you may recall that on election night, John McCain said basicly the same thing as Joey Reynolds as part of his concession speech.)
The evening ended with me having a most wonderful conversation with Mrs. Elston Howard (yes, the widow of the Yankee great,) and her daughter, introduced to me by none other than our friend, the late/great
Angel Rissoff
! When we talked about the crowd reaction, after Joey Reynolds made his statement, she said….
"Bob I've been coming to North Jersey Doo Wop Shows, since the 1950's. These people's bark is worse than their bite. You were probably safe where you were and honestly, once Obama becomes President, their attitude towards him will change for the better. That's how it always is!
Anyhow, I just wanted to publicly thank Joey Reynolds for having the courage of his convictions on that particular day and "get caught" being an "anti-racist!"
–Bob Davis
——-
Concert Review: Richard Nader's Doo Wop Spectacular @ Medowlands/IZOD Arena (6/14/2008)-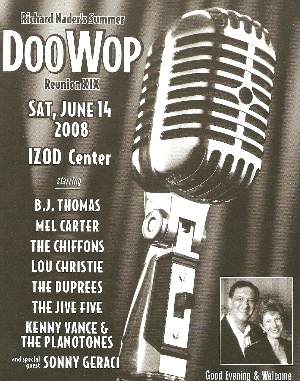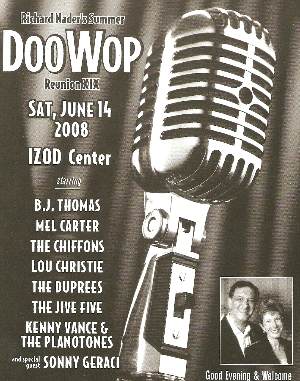 Dealing with the world that we live in today has become an exceedingly complex. That's because not only do all of our problems seem to be more and more difficult to solve, they are also increasingly inter-connected with each other.
One of the reasons we enjoy attending "oldies shows", isn't just for the music. It's also because they transport us back in time, even if only for a few hours to a time in our lives when every problem didn't seem to be insurmountable and could actually be fixed (often within the constraints of a 30 minute sitcom.)
Earlier this summer I had a chance to suspend my own reality for a couple of hours at a great "oldies show" here in New Jersey at the Meadowlands Arena, the very same basketball arena where the New Jersey Nets play.
This was a fantastic show; however, it's not really a "doo wop show", despite the presence of Eugene Pitt & the Jive Five, Kenny Vance & the Planetones and Soul-Patrol's own Nu Millennium. If you look at the lineup it's really a 60's/70's "Top 40" (remember that term???) show. I was cool with that, because although I was familiar with all of the hit songs by these artists I had only seen two of them perform live before. So I knew that I was going to be in for a treat, it was going to be like having my old am radio performing live right in front of me.
Here are the performers (and the songs that I can remember)
–Nu Millennium
–Twin Gold (Star Spangled Banner)
–Eugene Pitt & the Jive Five (My True Story, What Time Is It, I'm a Happy Man)
–Sonny Geraci (Time Won't Let Me, Precious & Few, Rock n' Roll Heaven)
–Chiffons (One Fine Day, Sweet Talking Guy, He's So Fine)
–Mel Carter (Hold me, Thrill Me Kiss Me)
–Duprees (My Own True Love, You Belong To me)
–Lou Christie (Love Is a Many Splendored Thing, Rhapsody In The Rain, Lightning Strikes)
–Kenny Vance & the Planetones (Come on and Go With Me, Angel Baby, Cara mia, Looking For an Echo)
–BJ Thomas (Hooked on a Feeling, I Just Can't Help Believing, Rain Drops Keep Falling on My Head)
Those of you out there who lived thru the era of "AM Top 40 Radio" will easily be able to understand my excitement, but for those of you who never experienced it, a quick history lesson is in order.
AM Top 40 Radio was probably the greatest radio format of all time. It took the very best songs from pop, rock, r&b, country, middle of the road, jazz, etc. and played them all on the same radio station, in between motormouth jocks, commercials & news. In other words you could hear Frank Sinatra, followed by Led Zepplin, followed by Marvin Gaye, followed by Bob Dylan, followed by Otis Redding, followed by Johnny Cash, followed by the Beatles, followed by the Temptations, followed by the Doors, followed by Louis Armstrong, followed by the Jackson Five, etc. If that sounds bizarre to you, trust me it wasn't, it worked. In the city where I grew up, there were two stations that had this format (WMCA & WABC) and these two stations were the most popular in the city across all demographics. If you remember these stations, they were probably the most popular ones in your city as well. You could hear them playing everywhere. Today you can get a taste of what AM Top 40 Radio was like by listening to "oldies stations" like WCBS-FM in NYC, WOGL-FM in Philly, but it's really only a "taste", because these modern day approximations really don't have the kind of "wide playlists" that the original AM Top 40 Radio stations did, and I suppose that there are reasons why they can't.
In retrospect, these AM Top 40 Radio could have ONLY really existed during the 1960's & the first part of the 1970's, because the type of wide ranging playlists they had were truly a product of their time, a time that we as Americans don't really give ourselves enough credit for. Many times when we look back at that period, we remember the strife of the Vietnam War, the Civil Rights Movement and more. One of the by products of all of that strife was that very quietly in almost a sub conscious manner, the very objectives of the folks who were protesting in the streets, was being implemented on AM radio stations around the country. These stations existed during a period of time when younger Americans were earnestly trying to bring the country together.
Fast forward to 2008, some of the most enjoyable conversations that I have with people my own age, who are from other ethnic groups when we discover that we like a whole lot of the same songs. It makes me smile when I discover that these people don't have superficial knowledge of artists/songs that I had previously imagined that they had never heard of. And conversely I can also see them smile when they discover that I don't have superficial knowledge of artists/songs that they had previously imagined that they had never heard of. It's kinda like you both smile, and think; "this is the way it's supposed to be." Well it's "that way", because of the residual power of AM Top 40 Radio.
All of which has nothing to do with the show on one level (yet on another level it has EVERYTHING to do with the show!!!)
These artists went thru a 3 hour show, performing hit after hit to perfection (it sounded just like the radio…..loll). I knew every song, I knew every lyric, I knew every turn the band would make. The crowd went nuts and every single person who walked out of the New Jersey Nets basketball arena at the end of that show, did so with a huge smile on their face.
I thought to myself, "this is the way it's supposed to be", and smiled…
Group finale….everybody on stage…together and on the one; Twin Gold, Eugene Pitt & the Jive Five, Sonny Geraci, Chiffons, Mel Carter, Duprees, Lou Christie, Kenny Vance & the Planetones, BJ Thomas and Debra Nader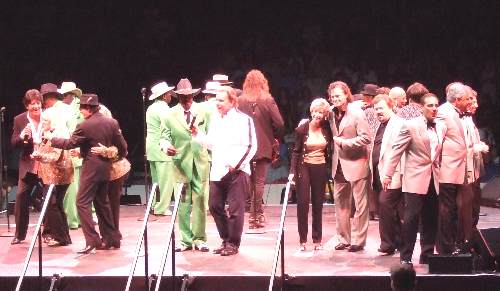 And then I thought about why it wasn't like this anymore. Today there are separate radio station for every imaginable genre, sub genre and trend. I guess that part is easy to understand. It's all about "divide and conquer", as a methodology to maximize profits for record labels & radio networks. While that may be good for the big corporations, the kind of "cultural segregation" that results from it has not been a good thing for the United States.
"The Residual Power of AM Top 40 Radio"
This concert took place on June 14, 2008 and today is August 31, 2008. I have delayed writing this review because I didn't want what I observed and felt that evening to get "lost in the sauce." Besides seeing 3 hours of great live performances, I had also been witness to the "residual power of AM Top 40 Radio." That music had the power to bring people together during a period of American history when the people at the fringes didn't want it, but the "young kids" tried it anyhow and they did it with their music.
Today we are at a point when most of those "young kids" are now in their 40's, 50's & 60's and they have the power to do the right thing. And doing the "right thing", might just be a way to get us out of the current "mess" that we find ourselves in. And if you think that this is the part of the story where I say "AM Top 40 Radio" is gonna make a comeback, that isn't where I'm going (although clearly 1960's R&B music is today the most popular music in the world, thanks to Amy Winehouse)
As I am writing this review, the TV news is warning of yet another killer storm getting ready to bash the Louisiana coast. A few hours ago an amazing thing happened. The Republican nominee announced that the Republican Convention would have to take a back seat to helping the people who were going to become victims of the storm. This is on top of the amazing scene last week at the Democratic convention, where the Democrats seemed like they re-committed themselves to implementing the objectives of the 1960's & 1970's in a real sense. Whoever wins the election; there will for the very first time either Black men or a white woman in the very same halls of power that less than 100 years ago wouldn't have let either vote in an election. As we sit here in 2008, clearly our society has reached a crossroads and decided that it now wants to "do the right thing."
It would seem that 40 years after the heyday of AM Top 40 radio the United States has made a conscious descion to finally implement the objectives of those young protesters of the 1960's & 1970's. Perhaps the enormity/complexity of our current set of problems, has finally made us come to understand that just like AM Top 40 radio that our strength as a country is truly born out of our diversity? And once we understand that statement to be true, then we are FORCED TO WORK TOGETHER in order to solve the complex set of issues that lay before us.
I dunno about yall, but I am excited and inspired by all of this. How about you???
NP: "The Best is Yet To Come"
–Frank Sinatra
—————————————-
Bob Davis
earthjuice@prodigy.net
—————————————-
SOUL-PATROL.COM WEBSITE soul-patrol.com
CLASSIC RnB @ RadioIo.com
Classic HipHop @ RadioIo.com
RnB Mix @ RadioIo.com
NU SOUL @ RadioIo.com
FREE BI-WEEKLY: SOUL-PATROL NEWSLETTER soul-patrol.com/newsletter
SOUL-PATROL.NET RADIO soul-patrol.net
SOUL-PATROL TIMES ANNOUNCEMENTS davisind.com/wc
—————————————-

Click here to enter your suggestions and feedback