Concert Review: Soul-Patrol Live at the Keswick, Temptations, Four Tops, Tower of Power, Average White Band, BB King, Stanley Clarke, Mint Condition, Ledisi, Angie Stone, P-Funk, Charlie Wilson, Dwele, Leela James, Anthony David, Neville Brothers, Dr John, Joe, Chico DeBarge, Bobby Brown, Ralph Tresvant, Johnny Gill,SMV, Stanley Clarke, Marcus Miller, Victor Wooten, Keb Mo, Robert Cray, Rick Braun, Richard Elliot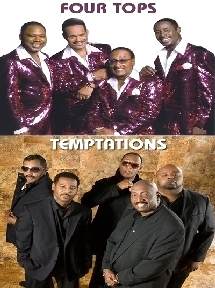 Concert Review: Soul-Patrol Live at the Keswick, Temptations, Four Tops, Tower of Power, Average White Band, BB King, Stanley Clarke, Mint Condition, Ledisi, Angie Stone, P-Funk, Charlie Wilson, Dwele, Leela James, Anthony David, Neville Brothers, Dr John, Joe, Chico DeBarge, Bobby Brown, Ralph Tresvant, Johnny Gill,SMV, Stanley Clarke, Marcus Miller, Victor Wooten, Keb Mo, Robert Cray, Rick Braun, Richard Elliot
Concert Review: The Temptations & The Four Tops @ Keswick Theatre, Glenside, PA (5/10/2012)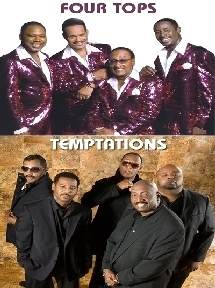 As spring continues to alternately rain, chill and erupt in lovely sunshine and warmth upon all of us I still have the opportunity to see and review concerts of note in my area.
This particular show is a familiar one and comes to us straight out of the glory days of one of black music's mightiest cultural factories of entertainment: Motown. We had the 4 Tops and The Temptations at The Keswick last Thursday night May 10, 2012.
Americana encapsulates all that is particular to it's culture. One of the hugest contributors of that culture is the music as well as the presentation of same from black people. So much so that I feel there are (or should be) exhibits of these contributions. For instance JB probably needs a whole building. Maybe the same can be said for Elvis. Certainly Motown is worthy. If anything The Temptations, Four Tops, Supremes, Stevie Wonder, Smokey and the Miracles and Marvin Gaye all need a wing for their efforts.
Four Tops
On this night The Four Top exhibit was the opening act and believe me they were in full effect!!!! You see when we talk exhibit we're talking a standard of excellence that is predicated upon fine quality entertainment, presentation, musicality and qualified personnel. The Four Tops had ALL of the above in perfect measure. They had a Vegas style orchestra. This means a tight rhythm section and a horn section of good-to-excellent ability. There were no strings present. This level of entertainment must be superlative or it just wont cut it. In America music this good has to be such that you almost don't notice it. Isn't that a shame?
The BEST backup band has to be so good as to not take away from whom they accompany but also good enough to hold it's own at any given moment. This orchestra for the Tops was waaay beyond any possible expectation. Tight professional and virtually flawless you knew that this was the ultimate in entertainment perfection
They were so tight that you couldn't get a pinky in the fist of it all! They played an overture of Tops hits and then they brought out the 4 Tops. I'm telling you all that these cats tore through their opening salvo of tunes like a hot knife through butter.
Only recognizable face obviously was Abdul Duke Fakir. Either because of his age and experience or simply from his being the only surviving Top, Duke served as the group's MC for the evening.
– Bernadette
– Same Old Song
– Walk Away Renee
– Shake Me, Wake Me
– Something About You Baby
At this point I knew that this was The Motown exhibit should look like. I knew that those in attendance who grew up on this music would not be disappointed in its representation today. I knew that they could reminisce safely without fakers or frauds tainting an already beautiful tradition in our culture. Unfortunately what I mentioned about the band can almost be said about the Tops themselves. Without a true Levi Stubbs in attendance (and my persnickety tastes for at least a suitable replacement) it's hard to really make note of those performing. As long as it's good-damned near perfect- I took no notice to whom sang what. With that we went into a portion of the show that featured individual performances by the various Tops. A point of interest here is that I've only seen the 4 Tops maybe once when I was younger. They never did anything but sing their hits with 99% of the leads being done by Levi Stubbs so this was quite the unexpected treat.
– What's Goin On- whomever the young man that stood in for Mr. Stubbs sang this lil Marvin tribute. Another point of interest- this was a band-led version. This means that it was closer to Donnie Hathaway's version (the superior version IMHO…kill me lata) than Marvin's. The band just soared on this tune.
– Dance With My Father- THE highlight of this show!!!! This song was sung by Lawrence Payton Jr. the son of the late great Lawrence Payton . WHO KNEW THIS BOAH SANG LIKE THIS?????? This cat unfurled a Luther Vandross-like authenticity that made one wonder if Luther himself resurrected and was performing tonight!!! What made him sooo good was his sincerity, musicality and loyalty to his song and his instrument. It made us not only miss Luther more than ever but it also made one love this guy even more because of the utter loveliness of his voice. He interjected j-u-u-u-s-s-t enough of self to individualize his performance while remaining true to the original. Great job!
– My Way- Abdul Duke Fakir- partially talk-sung and partially sung this was an almost melancholy portion of the show as Duke did it in a very reflective last-days-of-Sinatra-esque way. This ballad gave the rest of the members a rest and let Duke fondly recall Obie, Levi and Lawrence. A nice touch.
Here's where I get to say that the MD for this evening's proceedings was none other than former Funk Brother legend's son Mr. Earl Van Dyke Jr. Maybe this was why the band was smokin so well. He did a HELLUVA job! That H-D-H/ Motown-Jamerson-Benjamin-White bam,bam,bam groove was alive and well for this entire set! Another point of interest was that the lead and backing vocals throughout were pristine and crystal clear. Even though the Tops were never big steppers these cats sang and danced like there was no tomorrow.
– She Was My Girl
– Aint No Woman
– Reach Out
– Standing In The Shadows
– Can't Help Myself
– Encore: Feelin, Feelin (Got me Rockin and Reelin)
Absolute killer set!
Temptations:
That Otis Williams helms this only arguably REAL Temptations act is probably the real sin and shame here. All that I explained about 'exhibits' and such proves that this exhibit is closed and under renovation until further notice. The harmonies, STRONG multi-leads and incredible dance steps were basically non-existent tonight.
There was a change in rhythm section and the horns were different or they simply lost the direction of Mr. Van Dyke. Whatever the difference was glaringly noticeable. I'm sure this is a tour. Maybe the renovations will be completed by time it gets to your town?
Set list
– Hello Young Lovers- signature show opener back in the day fell flat on it's face tonight
– Glass House
– I'm Gonna Make You Love Me- why do a duet tune w/out even a hint of a female supporting the lead? Surely they've got enough hits….but…that's another story for another day
– The Way You Do The Things You Do- missing background vocals and harmonies. It seemed to me that maybe the old time steps (what little that were actually done) may have been too much for these cats. No five man mic either.
– Aint Too Proud
– Ball Of Confusion
– I Wish It Would Rain
– Just my Imagination
– Papa Was A Rolling Stone w-Message To The Black Man cleverly hidden in the coda
– Can't Get Next To You
– For Your Love- the beautiful Ed Townsend classic inserted here. I know of Ed Townsend's place as Motown writer and producer but again WHY??? Sang here by Otis Williams. Representing the only real multi-lead outside of Ron Tyson's falsetto and whomever was singing most of the other leads
– Get Ready
– Stay- from Phoenix Rising….just forget this even happened. In the band the only real notable was Philly's own Vic Carstarphen on keys. You may remember him as co-author of many, many PI hits
– Cloud Nine
– Runaway Child -not bad job
– Psychedelic Shack
– My Girl
– Losin You
Good night my brothers. Le us know when they remove the tarp and wash n wax the floors and vacuum the carpets from all of the workers materials. Right now it's just too dusty and full of equipment to let folk in. Change those lights while you're at it.
Hire A Band
Peace
LP
CONCERT REVIEW: TOWER OF POWER + AWB (4/16/2012) @ THE KESWICK THEATRE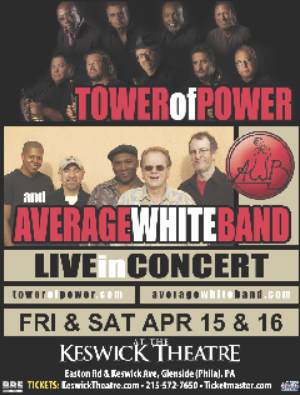 Every year I'm beginning to see certain patterns and traditions being etched into our culture right before my eyes. I guess in that way it's like seeing the birth (and bastardization) of things like Kwanzaa, Odunde (in Philly), The West Indian Day Parade (in Brooklyn-might not be called dat anymo') and things like that. The first thaw of winter as I like to call February is celebrated with a yearly Funkadelic Concert at Glenside Pa.'s (right outside of Philly) Keswick Theater.
Well on a similar note we have our Rite Of Spring concert at the same venue: AWB and the Tower Of Power. It's usually a Friday and Saturday two-night affair and it almost always comes as we turn the corner into the meat of the Spring season. This year, an upcoming election year full of controversy, heightened political and economic awareness as well as warmer-than-usual atmospheric conditions brought out the usual packed BUT unruly house.
Most of these folk come here every year to enjoy the Soul, R&B and Funk that is supplied by these two excellent bands. The unruliness of which I speak was not of the sloshing barroom brawl variety. No this crowd was more like feisty and rambunctious teens on their way to a house party. Folks had a twinkle in their eye and they were all very seriously getting F***** UP!!!!!!
Any dynamically quiet moments onstage heard consistently buzzing chatter from the audience side. They were paying attention but this night had a similar edge as reported from the P-Funk concert earlier this year. Normally on a rainy night folk are somewhat subdued. Not tonight! While raining outside it was clear that this crowd wanted a party. It felt and seemed more like a club than a concert and why not? These folk meet every year at virtually the same time and place to raise hell in the name of AWB and Tower of Power. Neither disappointed.
Average White Band (AWB)
So tonight was a night of the hits and the heavies. Nothing for the faint or weary of heart or spirit. I'll say right here and now that the little engine that could that is AWB almost smoked dat huge TOP locomotive. Almost. Cats came out all rip snortin and rarin ta GO! They had an unusually high 'swerve' n 'swagga' tanawt!!!! Here's the set list which includes some RARELY if ever played gems:
Got the Love- from this opener I knew we'd be in fo' something…not sure what but I knew
Queen Of My Soul- just a lovely rendering of a more samba-like version than the record. Nicely done and not seen at least for me live since the 70's
School Boy Crush- if you're an AWB 'head' (deeper level fan) THIS is what you want. In fact the first three tunes are what AWB might mean to you.
Unnamed funk instrumental interlude that cooked like somebody was frying fish in the back. Almost expected to hear somebody holler: "whatchoo want own dis platta baby"?
The hits are ROLLIN at this point. Hit after stone cold hit, smash after smash!
Cut The Cake- nice guitar work
Cloudy- crowd fave
Put It Where You Want It- anotha AWB 'head' tune. This was a very Crusaders-sounding jam that brought this band out and to the forefront in the early 70's
Person To Person show closer
Encore: Pick Up The Pieces
All in all a nice show from these cats. A little more energy and piss and vinegar than usual but that was just fine with me. They've supplemented the band with a nice vocalist whose name I don't recall being announced. I guess it's of note because he's black.
So now the drummer, keyboardist and vocalist are black. I guess they're the Average not-so-White Band now.
Tower Of Power
What can be said of a band such as this that hasn't been said at some point already? I thought they were actually a little subdued. Maybe it was the preceding band's energy.
It's hard to tell what's up on a two-nighter unless you were there the night before.
Let it be said though that a subdued TOP is like saying it took Mike Tyson 10 rounds to annihilate somebody instead of maybe 4 or 5…or 1! This band are such veterans and so adept at what they do that it's hard to not be pleased by their output under any circumstance. Here's the playlist:
Soul Vaccination
Stroke 76
Aint Nuthin Stoppin Us Now
You Outta Be Havin Fun
Only So Much Oil In The Ground…all of these were segued in some way one tune to another efficiently and precisely.
This was a perfectly executed 5-song medley that could be a telling knockout blow on another night but tonight there needs be more. By the way these 5 songs are generally different types of tunes. Different keys, different tempos and grooves.
Vaccination is very syncopated and almost Latin-bouncy.
Stroke 76 (an offshoot/follow up to Oakland Stroke) is more of a driving funk oriented syncopation while Aint Nuthin is a hardcore classic R&B in the spirit of Papa's Got A Brand New Bag.
You Outta is pop inflected Tower of Power inspired light funk and Only So Much Oil is another of those hard-driving tunes for which this band is so known.
My Main Nerve- catchy cut time tune
Just Enough But Too Much anotha classic R&B type tune with a nice guitar break/solo from guitarist Jerry Cortez
Come Back Baby- from the Urban Renewal album this tune is rarely performed but they tore it up tonight. Isn't it nice to have such a catalogue of tunes that one could see you
one, two or three nights and still j-u-u-s-t come close to hearing all you've got?
I can tell you they did NOT play SquibCakes, Don't Change Horses In The Middle Of The Stream, It'll Never Be The Same, Knock Yourself Out, Down To The Nightclub, Just When You Start Makin It, So Nice, Walkin Up Hip Street and many, many more and still nuked the house.
To Say The Least You're The Most- straight funk
Below Us All The City Lights- beautiful ballad that closes the Back To Oakland album. Now this one suffered a lil bit because there were no strings and other philharmonic instruments that are on the record. The keyboard player while an excellent B3/pianist doesn't seem to be of the chord/patch/synth/sequence variety. I'm sure he does ALL of that on his own solo project however his string patch here was a bit weak.
Maybe It'll Rub Off- funk with a capital 'F'. So here the prestigious law firm of Prestia, Smith and Garibaldi are hard at work pleading the case for the defense of Funk n R&B. Francis Rocco Prestia STILL plays a four string bass which is virtually unheard of today. In so doing his playing displays the useful efficiency of that instrument. He plays very Jamerson-like which is to say he never leaves the 'room' allotted for the bass player with flights of fancy to God-knows-where-showiness. Instead he nails every wall,window and floorboard of that room and his is a job well done.
David Garibaldi at this point just sounds like a subway working the kit with industrial jackhammer-like combinations of pocket, accents and DRIVE! When the subway is really rolling it feels as if the wheels aren't even touching the tracks. The rhythm is so IN that you barely feel you're on a train. It feels like you're floating. This then is David Garibaldi. The perfect drummer for the perfect powerhouse band. Without him it may very well roll but I doubt seriously if you'll actually GET anywhere.
Roger Smith has the unenviable task of approximating Chester Thompson (which he handles pretty well thank you), singing and playing both the keys AND those interminable bass pedals.
Again under normal circumstances this might not be so deep but this is TOP. So he's gotta lay down that percolating straight-laced bass pedal thing. He's also gotta get in between the toes of both Garibaldi AND Prestia's syncopated asses without getting hit. He does this with style, musicality and aplomb.
This Time Is Real- mo Count Basie-ish than anything but this is more Classic R&B 'beach' music stuff. Nice horn soli section at the end.
Me And Mrs. Jones- evidently a crowd pleaser because it's a holdover from last year's show and seemingly has been inserted on the east coast part of their run.
All I can say here is Larry Braggs, Larry Braggs, Larry BRAGGS!!!!!!! Damn this man can SING!!!!! He squeezes every pissy droplet of juice from a lemon all while making the sweetest lemonade you've ever tasted. By the way- this man easily hails from the Carlton J. Smith tribe of brothas. His mannerisms, stage presence/awareness and overall performance aptitude are all right there for the world to see. Good stuff Carlt- uh Larry. In fact Carlton has more control of his musicians because, well, they're HIS and that wouldn't be the case for Mr. Braggs.Carlton also probably dresses a lil bit mo' SHOWTIME and personality-like, But my man more than makes up for it with hard-working cutting edge vocal ability and execution.
Band intros and then: the James Brown tribute of the show. The opening of this tribute is the tune Still Diggin On James Brown
EVERY BAND SHOULD HAVE ONE OF THIS SOMEWHERE IN THEIR SHOW!!!! ESPECIALLY IF THEY'RE PLAYING ANYTHING EVEN RESEMBLING FUNK, R&B OR SOUL.
Parliament does it as well. Either JB or MJ but cats need to stop playing around with culture and tradition. This tribute included Papa's Got A Brand New Bag, I Got The Feelin, It's A New Day and There It Is and then back into Diggin on JB.
What Is Hip- included even MO' JB with Soul Power right smack dab in the middle- this was the show closer.
Encore: is and always will be dedicated to the 'friends of Bill W' (Alcoholics Anonymous/ Narcotics Anonymous-which he's not even supposed to say what he says because it violates tradition but we'll forgive him) The tune? You're Still A Young Man- again Larry Braggs does things to this tune that might get him locked up for indecent exposure or something. It's just that orgasmic.
I Like Your Style – sort of a tribute and farewell kiss to the audience
In closing if I were king of the world and had at least half as much money I'd put together, promote and pay for a night with Kool and the Gang, Tower Of Power, Chicago Transit Authority and Earth Wind and Fire. Most of these cats are alive and well. My only stipulation would be that all of their recorded sappy ass corny ass shit HAS to be left home.
I'd start this show around 6 pm. They could duke it out, play on each other's sets and overall have their way with the stage. I'd love this with all my heart. THAT my friends would be a true (and probably the last for a loooong time to come) BATTLE OF THE BANDS!!!!! It would attract thousands? (well you know how y'all come out so…)
Hire A Band
Peace
LP
Concert Review: BB King @ Keswick in Philly (July 5th, 2010)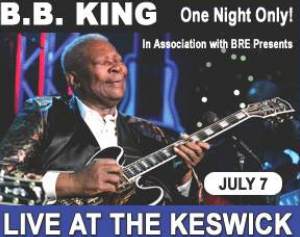 Due to various technical difficulties I haven't been as involved with the Soul Patrol lovefest called 'the mailing list'. I've seen some interesting topics and have been technically hamstrung as to my own participation.
At any rate, at a day late and a dollar short I'm here to review the B.B. King concert of July 5th, 2010 @ The Keswick Theatre in Glenside, Pa.. The Keswick is fast becoming the venue for seeing a concert featuring a wide, almost Ed Sullivanian array of artists.
The crowd, their antics and opinions often equal the main attraction for provocative ness and entertainment value. More about that later.
The opening act for Mr. King was a band named for it's leader: Lukas Nelson. The irony is not lost on me that as Willie Nelson's cousin, Lukas and band represent a new generation of blues. As representative of his family we all know how famously Willie loves to straddle that thinnest of lines that exists between bluegrass/C&W/Country-Rock and the blues and rhythm and blues.
Willie Nelson's recordings with Ray Charles are legendary and Ray himself made a short but prosperous living dabbling in C&W. Lukas Nelson did not disappoint as he and his four band mates (drums, percussion, bass and keys) tore through a set that was reminiscent of the Big Brother and the Holding Company/Elvin Bishop/Hot Tuna sort of sound as well as the percussive Latin tinged rhythms of Carlos Santana.
You see if you don't know now you know. ALL IS THE BLUES! Everything or mostly everything you hear and dig has some sort of connection no matter how oblique to the blues. The fact that Lukas Nelson learned his lessons well and applied his teachings appropriately with such a young group of cats indicates that there IS hope!
Now if some of my more melanin enhanced brethren could turn away from the pro-tools, vocoders, autotunes and other various 'perfect-beat providers' and pick up and instrument we might really see some hell raised but for now we have Lukas Nelson and band to provide for us the very best in diverse blues.
The main act Mr. B.B. King himself came on after a brief intermission. At 84 years old Mr. King eased onto the stage after the band- review-style- tore up a couple of unidentifiable but really funky tunes. At this point folk like B.B King, Herbie Hancock, Willie Nelson, Madonna, Stevie Wonder and Aretha Franklin are slices of what is called Americana. They are icons and it really doesn't matter what they do, sing or perform as long as (thanks RuPaul) they don't fuck it up! Then y'all will talk about em endlessly.
This could easily be a Disney themed park as it could be Madame Tussaud's where people marvel and pay homage to their heroes and icons. The band was excellent but what could one expect? All of the above-mentioned acts as well as their contemporaries have the same. Mr. King sat down and played his ass off. End of story. The drummer as well as the rest of this orchestra minus strings gave him all of the support that was needed and then some. Family members abounded here and there inside of the band to remind you of the aforementioned hope that DOES exist if only minimally.
There was even an unplugged moment blues style where only the rhythm section got raw and lowdown and played some really nice down-home blues. When someone today thinks the blues they immediately think B.B. King FIRST. This is mostly because he is arguably the last living blues legend holding things down. He plays what folk stereotypically think of as the blues. Not as down and dirty as Mud or Willie or Wolf and em but we all know that one day he did. He has evolved his act so that the blues becomes more palatable and less introspective than it could be. If this man comes to your town please check him out so that you can say you actually were witness to the last but certainly not the least of Classic Black American musical genius, this time under the guise of the blues. He closed with The Thrill Is Gone (which went on for some 10 minutes or so and was kickin much ass)!
Blacks & Blues Sidebars (a few observations from the lobby)
THE PROBLEM:
Sidebar #1: A middle aged black woman mid to late 60's came out of the auditorium and was apparently waiting for her hubby. We inquired if she enjoyed the show. She scrunched up her face and reluctantly gave the comsi-comsa motion with her hands. Like she wanted to say yes but no.
At this point we asked what did she find that wasn't up to par and she said it might've been because she just saw Gladys Knight a few nights (no pun intended) ago at a casino in A.C. I then asked her if she knew B.B. King's discography as well as she knew Gladys Knight's since she felt that Ms. Knight evidently sang more. She replied 'no'. We both agreed that that might be a part of it. Now that I think of it I don't anything about B. B. King's music either.
Partially because like many black folk my age we avoided the blues like the plague and B.B. was no better than Hooker, Waters or Wolf. We all thought the blues was some sort of derogatory, backward or country post-slave-deep-south-Jim-Crow music. While it was to some degree it was and has been revealed to be so much more. I don't think I'm as bad as this lady because if I saw a list of his hits written down I'm sure I could identify them. However the point was not lost on me. We've got to educate, y'all that's all there is to it.
THE CAUSE:
Sidebar #2: A middle aged white woman approached me at the Soul Patrol table and asked if Soul Patrol is going to come out and sign autographs etc. after the show. Never mind that the Soul Patrol band wasn't on the bill for the night, this woman swore she saw a band of that name arrive at Phila. International Airport earlier that day. (I didn't even know there was a Soul Patrol Band!) After much banter and explanation that no band of that name exists to my knowledge and that Listmeister and myself were certainly not part of it if it did, she asked what was Soul Patrol all about. I told her that Soul Patrol was all about Black Music past, present and into the future (i.e. it's influences, derivatives, spinoffs, progression, marketing and any and everything else you want to include under such a heading). Not completely satisfied with that she began to go away but before she did she turned to me and said that she don't care bout black, white, red or brown as it relates to music. There is no color-there's only blue (i.e. the blues). She then turned to my erstwhile cohort in all of this and began a similar diatribe but for him she concluded with:" black people got all of their musical influences from the Irish". Go figga.
THE SOLUTION:
Sidebar #3:. As we were breaking things down and preparing to get in the mugginess that is summer in the city, I spied what had to be one of the most beautiful young black women I've ever seen in my life. Black as the night that we were preparing to enter with skin silky smooth and an athletic build that was rivaled only by the likes of Serena Williams. She had two children in tow whom appeared to be around 10 and 8. The boy was the eldest and he proudly clutched one of the drummer's sticks. Apparently the youngun approached the stage after the show and the drummer (Tony Coleman), kind and magnanimous individual that he is gave my man a drumstick.
The boy's eyes were still twinkling with awe, respect and wonder. You see his mother MADE SURE that this lil slice of Americana that is Black Classical Music would NOT escape this town without her children experiencing it all first hand. This woman realized that this musical giant may not ever pass this way again and the importance and significance of it all MUST be impressed upon these two lil black babies! Besides if memory serves me correctly, the boy is a budding pianist and takes lessons and such to that effect. This gorgeous lady , whose kids were NOT Bebe's kids in the least let me know that the hope of which I lament about so sadly is alive and well in this lovely family and by dint of association our community. Birds of a feather…..
For a moment I'll suspend my 'hire a band' closing for one more poignant for the times in which we live.
To the Tea Party and all like-minded individuals:
"While you're taking America back, make sure you leave what don't belong to you!"
Peace
LP
Concert Review: Stanley Clarke Band (w/Hiromi Uehara) @ Keswick in Philly (6/21/2010)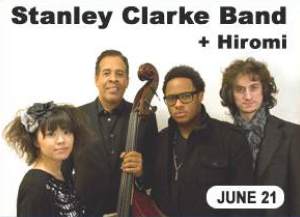 Stanley Clarke Band (w/Hiromi Uehara) @ Keswick in Philly
In the dictionary (online of course), next to the word "concert" they should have a recording of this show playing. This show is the reason we all started going to concerts in the first place. (we go in order to have our minds blown by some amazing sh*t & to leave the venue mumbling to ourselves)
Last night at the Keswick Theater in Philly, the Stanley Clarke Band w/ Stanley Clarke (Bass), Hiromi Uehara (Piano), Ruslan Sirota (keyboardist), Ronald Bruner Jr (drummer) absolutely DESTROYED the Keswick.
Everyone here knows that Return To Forever (Stanley Clarke, Chick Corea, Lenny White, Al DiMeola) was/is one of my favorite groups of all time. I saw them perform live many times, when they were at their peak, back in the 1970's. Hell my email address ("earthjuice") is taken from the name of a Return To Forever song.
Last night's show made me forget that a group called "Return To Forever" had ever even existed. Going to se the Stanley Clarke Band is like going to see Return To Forever on steroids (or something, maybe "space dust.")
Musically it was something like seeing Return To Forever (acoustic/electric virtuoso instrumental playing.)
(only better)
(MUCH BETTER)
Of course Stanley completely OWNS both the electric bass and the acoustic bass. We have had many arguments over the years about who is better; Larry Graham, Victor Wooten, Marcus Miller, Michael Henderson, James Jamerson, Bootsy Collins, Paul McCartney, etc. Maybe it doesn't matter who is better? Maybe it does? However the reality is that after seeing SMV (Stanley Clarke, Victor Wooten & Marcus Miller), it is quite clear who is the best. Please let us not ever have THIS discussion again. Last night Stanley proved it once again (not that he has to) on BOTH electric & acoustic, in a manner that simply can not be described in words.
Watching/hearing virtuoso pianist Hiromi Uehara was like watching/hearing Van Clyburn or Liberace invaded by the spirit of Jerry Lee Lewis/Little Richard inside of the body of a tiny Japanese woman. This tiny woman doesn't just play the piano, she physically attacks it. This woman not only plays like a virtuoso she is entertaining in a way that I have never seen a so called "jazz pianist" before. It's no wonder that she is "featured."
There were points in time during the show when drummer Ronald Bruner Jr sounded like Art Blakely (1962), Buddy Rich (1941), Billy Cobham (1972), Tony Williams (1966). In other words Ronald Bruner Jr will give you the entire history of Jazz drumming during a single concert.
Meanwhile Ruslan Sirota on electric keyboards sounds like Chick Corea on his BEST DAYS.
I didn't know a single song that they played.
It didn't matter…
This was one of the best shows that I have ever attended.
I left the theater literally talking to myself.
All I can really say is that if you are a person who dug "Return To Forever"…..
………..(YOU WILL LIKE THE STANLEY CLARKE BAND EVEN MORE)

–Bob Davis
609-351-0154
earthjuice@prodigy.net
CONCERT REVIEW: Philly – Angie Stone + Leela James @ Keswick – 4/16 (Is This How Soul Music Is Supposed to Sound)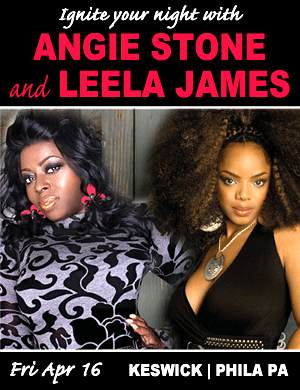 EDITOR'S NOTE: It's not exactly a secret that I am a HUGE fan of Leela James, most especially her live performances. So I thought that this time out instead of you reading the same old glowing review of her performance from me, that you might like to read someone else's opinion about Leela James. Since I knew that our friend Donnie C would be at the show also, I asked him to do the review (which you are about to read.) Little did I know that Leela James was going to put on such a horrible show, but that Angie Stone would save the day. It was embarrasing, as person after person came up to the Soul-Patrol table that night and talked sh*t to me about how terrible Leela James was. IMHO whatever Leela was paid, she should either give it back or donate it to charity. If I wanted to watch somebody stand on stage, spin old records and sing along to them, I could have done that at home.
(Bob Davis)
On a raining night In Philadelphia., My son, Andrew and I entered into the Keswick Theater to go and see the Angie Stone and Leela James concert. My hopes are high and my ears are tuned, ready to hear what Angie and Leela has in stored for us. As I looked around to scope out my surroundings and just spec Tate the target audience, see how energies where flowing, the first thought to come to mind is SOUL MUSIC! Instantly I am ecstatic and rushing to get to my seat. As we all know I am a soul music junky.
Being a huge fan of these two artist, this was a must see show for me. This particular show was added to my things to do, places to go list. My hopes remained high and my ears remained tuned, ready to hear great music and see great performances. Question? Is this how Soul Music supposed to Sound………….
Leela James – By far Leela has been one of the soul music artists that had to grow on me. A few years back I fell in love with Leela's style and energy. Tonight Ms Leela's approach was just a little different and awkward for me. Ms Leela Came out on stage with the in fact familiar energy I knew all to well. Leela came out singing a couple of songs from her new project. They weren't that memorable for me to site the titles. As her set progress I begun to feel a little confused and disconnected. She yelled, "are yall wit me!" At that point I was just reserved. She started to carry us on a journey for the four acres and a mewl, a journey to liberation to being down home southern. Immediately I was lost. The DJ started playing actual artist tracks on stage such as, Frankie Beverly and Maze Before I let go, like was at our Aunt Mary's cook out in her back yard. She really got carried away and started calling people from the audience to come party with her. This was more like come help me finish screwing this set up, while all this commotion was going on, the mewls ran on stage. ( I chuckled ) "Okay, I said that – maybe not cool, but in my opinion that is what it looked like, a herd of mewls. I didn't see Leela any more. She was lost in the herd. I guess they trampled over her. No doubt in my mine, she was lost in her own performance. It was as if we left the Keswick Theater and went to a Philadelphia Pub for Karaoke. So the Question comes to mind is this really how soul music supposed to sound? Don't get me wrong I am still a fan of Leela James, just not opening for Angie Stone! So if someone where to ask me what songs did Leela sing, I would tell him or her A Change Gone Come, because at that time she bought us back to the Keswick Theater. This song to me was the only song that stood out. Leela has a great powerhouse sound it just wasn't working for her with the musician set up, one keyboardist, one guitar and a DJ. "Oh I can't forget the back ground singer, what in the hell was she doing, "someone behind me yelled". I don't know if Ms James didn't really want that gig, or if she had, had it out with her band, but it was a very distasteful performance.
Angie Stone – "Angie Stone "Her name alone gives me chills. All I think about is her melodies, her honesty in lyrics and the way she delivers vocally. I would have to say that, Angie has been the most stabled and grounded soul artist in the business today. That is why she has been blessed to be in the business long as she has. As Angie approach the stage singing Stone Love, I instantly dropped my ink pen and note pad to the floor, in aw of her new image. As the Show went on my confusion after Leela James set begin to dissolve and I knew I was there for. Angie took us to the Black Diamond Album singing, "Everyday" delivering it as I f I was in my car listening to the CD. OK, now my ears are back in tune and my hope had been re born again. I took a deep breath and my son looked at me say dad their goes your girl! I smiled; Angie Stone saved the night as expected. Although I liked everything about Angie's new look and some of her new music, I still wanted more of the Mahogany Soul sound. Unexpected was all right her singing "I Ain't Hearin U", followed by "Why is It" than "Maybe." Maybe she should have left
"I Ain't Hearin U" out because it was like to much of a Pop sound and it seemed as if Philadelphia wasn't hearin her sing it!
So the classy and sexy Angie comes back around with her anthem to all the brothers, I stood in fellowship to acknowledge that I love the song like all the brothers over the whole building. God I was so happy for her to go back to Mahogany soul! This album by far was the best one in my opinion. Yes Yes Yes! Angie just seduced us with the Curtis Mayfield, "The Makings of You." Delivering her sultry sexy notes in the falsetto pitch she is known for. Angie asked were we ready for a vacation, "hell if she was paying, yea" I love how her band took us to Jamaica doing their thing on those instruments, to the song I wish I didn't miss you any More. Now my question, is this how soul music suppose to sound?
You tell me?
Donnie C (Neo-Soul Recording Artist)
http://www.myspace.com/donniecsoul
MINT CONDITION + LEDISI (3/26) @ the Keswick Theatre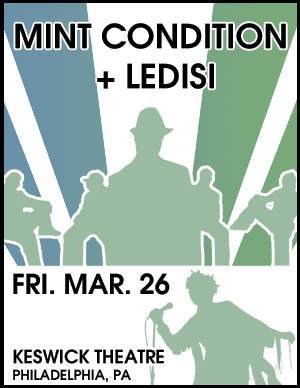 Once again … you did it!!! May Allah forever Bless you, and thank you!!! The Keswick Theater in Glenside, PA was LEANING SIDEWAYS & ROCKIN'!!! WHAT???!!!!! These performers were OFF THE CHAIN this evening! You know that I'm a Ledisi supporter, but I'd yet to see Mint Condition. I've loved their music, but I'd not had the chance to see them live. They were TIGHT!!! This show had so much vapor, it filled in the spaces that steam didn't cover!!! Ya know what I'm talkin' about???!!! They took a serious bite outta life, and shook it around 'til it was ripe, tender & ready! The crowd was off their seats, and clamoring for more once their individual sets were complete!!! They showed no signs of tiring on either side, the audience nor the entertainers. Their opening songs were just as exuberant as their last, and vice versa! This was a "power punchin' " show!
At first I'd wondered if the show's coordinator knew what the juice he/she was doing! Having Ledisi on first just wasn't computing with me. I knew this Sistah was a headliner, so what was she doing opening the show? I mean . . . her performance, her band, her presentation filled the stage with sound, and with presence! There was no void/room available! When Mint Condition entered, I thought, "It's looking a little sparse up there!", because there were fewer personnel. I grew up in the entertainment industry, so I know the stage. If you can work it, it'll seem like it's hard put to find a baby roach with enough room to live! Well, my proverbial "hat's off" to the coordinator! I don't believe I'd be able to decide who would appear first (not unless they did a "ladies before gentleman" thing, or an "L before M" situation! They're both power house entertainers! I was more than elated from the energies shared at this show!
Both Mint Condition and Ledisi fuse Spiritual, R&B, and some serious Funk, and the results are polished like fine Black Marble!!! Ledisi rang out a message from The Creator, "Put Me First"! How appropriate! This is something that we ALL need reiterated on a constant basis! She satisfied the audience's booming request by liquidly shelling out "In the Morning" and "It's Alright". Each of them using the back and forth "feed back" by having the audience as participants with the background. She humbly announced that she was a Grammy nominee for her astounding music! What a phenomenal accomplishment, Sistah!!! CONGRATULATIONS!!! You've done us proud!!! During each selection, either those posted here or any others, Ledisi embraced the entire crowd, and made sure they felt included, and weren't just spectators! And the warmth continuuuuues!!!
A half an hour intermission (where more people were rehashing the recent stimulation Ledisi offered with her solid tones, and resonating voice), and a silent roar grew to jubilation when Ledisi was making her way through the audience & waving — this being her exit from the theater . . . her last moment of touching, and showing that she cares in more ways than one!
Now a new kinda kick (for me, that is)! Mint Condition!!! Mint Condition!!! Mint Condition!!!!!!! Being analytical, I thought I was about to experience the kind of boring show I had witnessed when I saw John Legend (Ooooops!!! Did I say that?!? I tried to be diplomatic when I wrote the review for that brother's show, but MERCY!!! Well, back to the show at hand!) Shock doesn't even describe my reaction to the rocket that hit the stage when Stokley Williams started dealing his spread alllllll over the theater (No! I am not stutterin'!!!) He is so totally engrossed in every note, every beat!!! His body reminded me of electrons firing in the brain . . . he was all over the place!!! He missed NO NOTES, he was soulful, he wasn't breathless, the brotha was just BAAAAAD!!! The band was fantastic!!! Jeffrey Allen – Ricky Kinchen – Homer O'Dell – Lawrence Waddell — together these brothers took it to another dimension! Music felt like a huge vibratin' rubber band . . . Bouncin' back in time, jumpin' into tomorrow, scoopin' ya up today! Yaaya!!! They were jammin'!!! They kicked out "If You Need Someone to Love", "I'll Be What You're Lookin' For", "Nothin' Left to Say", and a dynamic tribute to the king, Michael Jackson—"Heartbreak Hotel" —that would've made the whole Jackson family stand up and JAM!!! "What Kind of Man", was like ringing the washcloth, and shakin' it out, giving it all that pound of refreshing air!
Fulfilled and satisfied, yet sad that it was over, everyone was bubblin'!!! Effervescence was everywhere from the night's experience! Brother Bashir said, "They should find a way to put both Ledisi & Mint Condition on stage to perform together! Now that's a thought!!!
Sistah Habibah Abdul-Shaheed

Concert Review: George Clinton & Parliament-Funkadelic @ the Keswick Theatre (Feb/2010)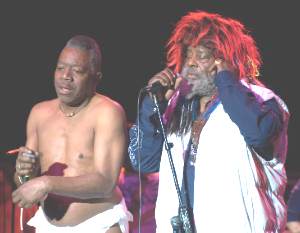 On the weekend of February 20th there was a lot hopping. Black history month was in full swing and some very interesting things happened. On TV the cable's Comedy Channel essentially turned over the glut of their programming to all black comedic broadcasting. Everything from Richard Pryor live concerts to Kat Williams and Eddie Murphy flicks in-between. It all culminated with the debut of a new Sinbad concert.
Why am I mentioning this? Read on dear Soul Patroller.
During his monologue, Sinbad asked the audience how many of them were 'young people'? By that I assumed he meant how many of them were between 18 and 35. This being a Sinbad show it was clear that demographic was in the minority. He then went on to ask:" What y'all gon do for music when you turn 50″?
I'm not going to get into the specifics of the answers and his responses because suffice to say he and I agree totally on this issue. The point here is that there is a serious glut in quality r&b/soul/funk music on the popular scene. It's that way today and has been for at least the last twenty years.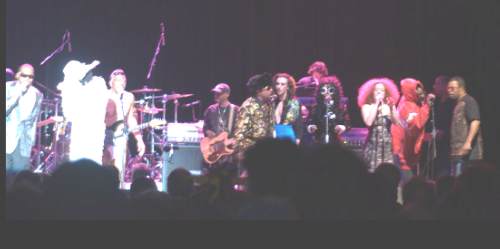 Then I began to think. James Brown was a alive, grown and kicking when I was a child over 50 years ago. The fact that he maintained the level of excellence throughout his life is amazing. Arguably his career effectively ended when they needlessly and stupidly jailed him. Essentially when he was released, the last 10 years of his life/career were just a shell of what we know to be The Hardest Working Man in Show Business. Even then his practices of maintaining the best band and live show out there NEVER EVER stopped. He passed 4 years ago at the approximate age of 72 in 2006.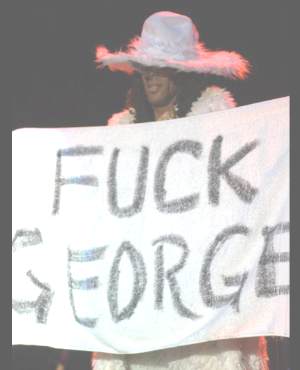 Likewise once I became a teenager, George Clinton came into my consciousness. Unlike James Brown Mr. Clinton is still crazy and going strong after all of these 50 some odd years. The voice has diminished to be sure but the overall presentation has actually improved if not held up. I can safely say that what you know as the Parliafunkadelicment Thang is as great as it ever was.
Maybe the recent demise of George's son as well as that of Ms. Mallia Franklin had some influence. I don't know but these cats dropped a show unlike anything we've seen in a long time!
The concert began on a somber note as drummer Frankie 'Kash' Waddy walked onstage and dedicated the show to Ms. Franklin and George's son (regrettably I don't know his name…forgive me y'all). From there all HELL broke loose.
1- Pinnochio Theory
2- Bop Gun
3- Gamin On Ya.
All of this is Funkadelic musicians playing Parliament/Bootsy hits. In other words there were few if any of the gazillion vocalists even onstage yet. That included George Clinton. They were smokin and it was clear that no prisoners would be taken tonight. These cats were on a mission to drop the BOMB on the Keswick, annihilating any and everything in sight.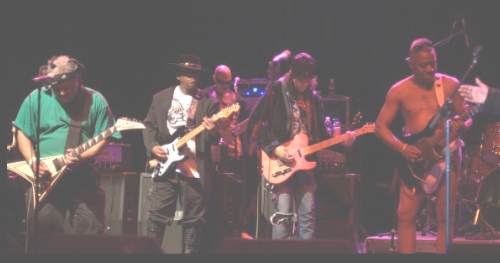 4- Undisco Kidd- enter Belita Woods. I love this woman and the Billie Holiday-esque-snazzy-jazzy-sometimes-seemingly-'off'-things-she does with her voice. On the All Live CD she brought this out to perfection on this tune which takes us to Nickel Bag of Solos.
5- Cosmic Slop- enter Dr. Funkenstein!
Take note. Often when George graces the stage, things often slog down to an almost unintelligible-duji-nodding-mess. NOT TONIGHT!!!!!! Even Frankie wasn't just keeping time. Dude was playing with the fire of his Bootsy's Rubber Band days! The stage sounded like a thunder storm with flashes of lightening and plenty of rain! Raining FUNK that is!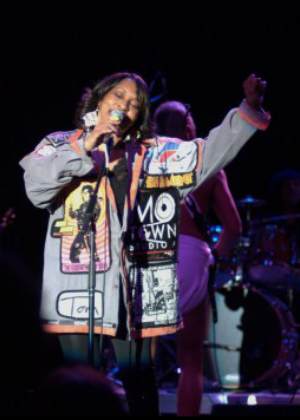 6- Flashlight- normally this is a deadspot of the show for me because while funky, Flashlight was never 'all that' for me. Again-NOT TONIGHT!!!! The house mix, particularly the bass drum was at this point driving my nose through my skull. There's no other way to say that this shit was THROBBING! The carnival has arrived officially as the stage has all of the usual suspects. Doo Wop Shider, P-Nutt and some old and new characters were now present and accounted for. The band then segued from Flashlight perfectly into:
7- Not Just Knee Deep- tears were welling up in my eyes now as they began to weave their way through ALL of the changes from the LONG version of this tune. This was the highlight of the night and did not disappoint. Everything from Gospel to Opera, the vocals invoked vintage Parliament as if Fuzzy, Calvin, Grady and all the rest were there. Kidd Funkadelic (Mike Hampton) and a cat I don't know much about named Rick Ross did the dueling guitar thing. The sax player, a diminutive cat, then steps forward and proceeds to take the Phillipe Wynne sequence to a whole NOTHA level! Scatting and imploring the audience to stand and dance. Belita Woods comes back and puts a cherry on top of that. Then they go into the Rubber Duckie pre-coda and of course closing with the actual outro from Disco-To-Go. Mallia Franklin had to be funkin for fun with a great big smile on her face. I'm not finished yet!
8- Tear The Roof Off/ Stretchin Out -see Knee Deep
9- Up for The Downstroke- At this point the crowd is in a trance. Maybe they're on Jupiter or maybe Saturn. It's a cult-like vibe as we channel Sun Ra or Coltrane or The Dead. There's only two (Sly Stone type) horns: a trumpet and a tenor sax. It sounded like Tower of Power was up there. Belita Woods is back and she's urging every drop of funk from her soul. Her bluesy improvisations are fast becoming the signature of the evening. Erykah Badu WISHED she could be this funky. Now the whole band drops down sonically to the level of a whisper. So soft that you and I could sit in the front row and have a full conversation in our normal voices. Dynamically, I've never seen them better.
At this level the whole band segues seamlessly into something that only P-Funk could do (since the JB's aint really around anymore): Pass The Peas/Superbad. Did y'all read dat? PASS THE PEAS/SUPERBAD!!!!! They CRUSHED it. Oh did I tell you that they're on their 3rd drummer now? Like Charlie Wilson and so many others have done, George has taken the considerable chop-laden talents of young boys and turned them into inspired yet controlled gold. This drummer is one of those ass kicking church/contemporary gospel playas. Now he's on the ONE.
10- Motorbooty Affair- with a gunnin,drivin Maceo/King Curtis-like nasty ass sax solo. The rhythm section is just nukin da house!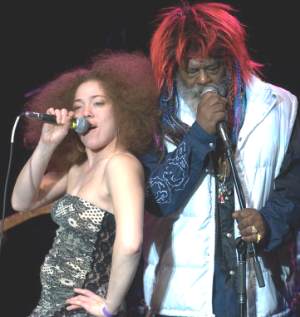 11-Bounce To This- Kendra Wilson does a slow gospel-y version of this one
12- Dr. Feelgood-that's right Dr. Feelgood and it was the best damned Dr. Feelgood I've ever heard this side of Aretha Franklin. I thought I'd never live to tell that tale but it was true on Feb.20th. This was mud-dirt-stormy-monday-cadillac-records blues. Aint the blues the seat of virtually all American music? Rick Ross does a screaming fire breathing guitar solo.
13- Maggot Brain-Funkadelic national anthem-Rick Ross and Mike Hampton destroy what's left of the house.
14- Red Hot Momma
15- Atomic Dog-show closer.
Let me close this review by saying that this entire band played their natural black asses off!!! I'm even going to go out on a limb and say they might've even actually rehearsed because the changes, segues and overall musical execution, dynamics and presentation can only be the result of hard, HARD work.
By de way…They didn't even play P-Funk, One Nation, Mothership Connection, Do Dat Stuff, Aqua Boogie, Dr. Funkenstein, Get Off Yo Ass And Jam or even Standin On The Verge!!!!
They still dropped science not seen and (if you don't go when they next come to your town) not to be seen anytime in the future. I believe that over the next 5 years everything that we have known as music from the last 40-50 years or so will forever be extinguished. Get it while you can. We sure didn't that Saturday night because that crowd was 85% white.
When did we stop goin to Funkadelic concerts? Best to git yo IT tagetha people because the reign of funk will soon be gone forever.
Hire A Band (it keeps this type of funk hope alive)
Peace,
LP
NOTE: Mike took a whole lotta pictures that night and he posted them at the following link for you to check out:
http://davisind.com/development/photo/?p=5
Concert Review: Charlie Wilson @ The Keswick Theatre- 7-26-09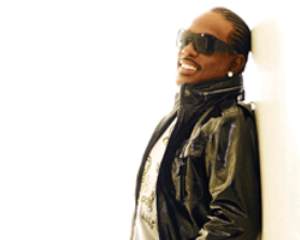 I just wanted to add to this excellent review by ELP two points:
1. It's been a LONG time since I observed the patrons at a show literally on a cloud when it was over. The 1,200 or so folks all left the theatre slidin' & glidin' as the strutted out the Keswick and singing "There Goes My Baby."
2. ELP makes at point in his review to call the Keswick "The New Uptown." He just might be right about that, based on the high quality of the shows and artists that the Keswick has blessed us with this summer…
—–
Having just posted about live funk performances of the bands of the late seventies and eighties, one of the bands mentioned in prominence was The GAP Band. Their shows were always well-rehearsed, carefully thought out affairs. As a solo act Charlie Wilson (the lead singer and essentially THE voice of the GAP band) was no different and did not disappoint.
An orderly African American crowd filed in to see their 'Uncle Charlie' and filled the house approximately 75% to capacity. Let me correct that. To US (adults of a certain age over 45 or so) he's Charlie Wilson the lead singer of the GAP Band.
To the younguns that have newly received Mr.Wilson on the strength of I Can Do Magic, My Name Is Charlie and There Goes My Baby, he's Uncle Charlie (much like Ron Isely is Mr Biggs). Interestingly enough if there were 10 of those younguns in the house we'd have been lucky.
The venue was the Keswick Theater, the new 'Uptown' located in the Philly suburb of Glenside, Pa.
The first thing that struck me about Charlie Wilson and his band was that the entire company (i.e. band, dancers and bkgrnd vocalists) couldn't have been more than 30 yrs. old. This is impressive because this raphic of musicians usually plays funk-gospel or neo-soul/hip-hop that is very heavily laden with riffs, chops and much overplaying. As they say, if they got em then by golly they're going to play em! Nothing could be further from the truth as this spirited bunch of younguns played completely and totally under control.
The pocket created was deep and the grooves were ALL infectious. Mr. Wilson should be commended because he is preparing these cats to assume the mantle of funk so often misguided today by getting these kids to 'play the right way'.
The only minor complaints that I did have was that for some reason (maybe Cholly wasn't as trusting of his young understudies as one might think) there was much sampling and sequencing and the like. As has become commonplace amongst the younger live performing set, there was a DJ onboard but I really couldn't see his purpose other than as one to provide trax for the band to groove along with and punctuate the proceedings with grunts,unghs and other DJ'isms. Like training wheels on a two wheeler these sonic additions actually subtracted from their addition what was very competent playing by all involved.
The other of the less than brilliant moves was this addition of 'dancers'. Now being a brotha that appreciates a foine-ass woman, let it be said here that these leggy beauties were nothing if not well-toned brickhouses
brought along to create the atmosphere of Vegas-showgirl-meets-hip-hop-dancing-queen. While enhancing some of Charlie Wilson's stage antics they were nothing more than glorified props after all was said and done. Their dance was less that than it was more Jackie-Gleason-June-Taylor-dancers-making things all sultry for their leading man. I guess the ultimate in the folly of their presence was to outfit them with violins and present them as a string section (that was sequenced by the way) for his new signature hit There Goes My Baby.
Be all of that as it may, Mr. Wilson (a Prostate Cancer survivor) jumped, pranced, slipped, slid and did about as much energetic moves as he's ever done with the Gap Band.
Another key ingredient was that the band were all outfitted in nice crisp white outfits nicely accentuated with white stingy brims designed by Charlie Wilson (emblazoned with his initials on the side in glitter). The nicest of nice touches was the fact that these hats were being sold in the lobby and the proceeds went for Prostate Cancer research. Mr. Wilson himself wore various outfits of different color and each was accompanied by a matching 'CW' hat.
The show had an uptempo Gap Band section. Followed by a more slow-to-mid-tempo funk and broken up slickly in the middle with a tribute of sorts to Prince as the entire company tore into a medley of The Bird and Baby I'm A Star, complete with all of the Time-Morris-Day-Jerome-Benton dance steps. Maybe they did this because this is the 25th (?) anniversary of Purple Rain. He never mentioned this but it would've been a stroke of genius if this was the reason that those tunes were added to the show.
Lastly it was The Charlie Wilson show as he showcased I Can Do Magic, My Name Is Charlie Last Name Wilson and the ever-popular There Goes My Baby. Sales of that single, his new CD as well as all of the Charlie Wilson gear moved briskly and a GREAT time was had by all.
The set list was something like this:
1-Slammin funk intro.
2- Early In The Morning
3-Let's Chill
4- Burn Rubber
5-Baby I'm A Star
6-Runnin In And Out Of My Life
7- a preachy interlude full of gospel-choir fervor regarding his cancer survival and the greatness of the Lord.Much shouting and emotion here followed by…
8- Outstanding- significant highpoint for me because the highest praise for God and His mercy and love is to sing Outstanding in deference to all one has been through and how OUTSTANDING the love of God really is. nicely
done.
9- This was all (for me at least) further exemplified and amplified by a really hellacious if not showy drum solo. Nice bass drum work by someone who's name I was not able to get. During this time there was a last costume change and then Uncle Charlie came out in the same white that the rest of the band was wearing. A sort of final show of unity for the coda of the show.
10- I Can Do Magic
11- My Name Is Charlie
12- There Goes My Baby.
This last tune was played twice…almost like it was a rehearsal but I digress. The point here is that this even turned out to be a brilliant move. You see the tune There Goes My Baby sounds like something Alicia Keys or Raphael Saadiq might do as tribute to 'back in the day'. It has a lovely string section old slow jam sort of intro and the hook itself is imminently hummable and difficult to get out of your head.
Add to that a nice strutting groove and EVRYBODY walked out of the house literally singing this tune right out the door and into the muggy summer night. Some sang it right on over to the merchandising table but the point is
they left the show with a smile on their face and a song in their hearts. Now come on, is there a better way to do it?
Hire A Band (Uncle Cholly and 'em would be nice)
Peace
LP
–Bob Davis
609-351-0154
earthjuice@prodigy.net
RIP Walter Cronkite…(Joe and Chico DeBarge Concert Review???)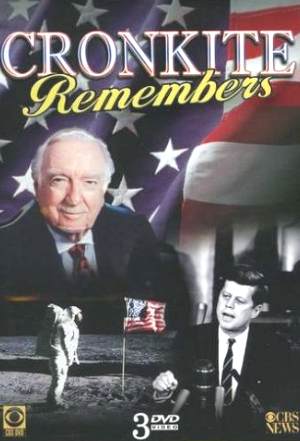 Where else could you possibly read an article that combines an obituary to someone like Walter Cronkite with a concert review of two of the hippest/slickest performers on today's Black Music scene (and have it all make sense???)
Who would ever have predicted back in 1969, that Walter Cronkite would have outlived Michael Jackson?
Last Saturday night when I came in from the Chico DeBarge & Joe show @ the Keswick in Philly (Chico Debarge was off the chain btw, serious hard core combo Marvin Gaye/D'Angelo ultra phunky neo soul action), I flipped on CNN. And it was wall to wall Walter Cronkite as I sat & watched, I thought about several things…
1. How many people under the age of 40 even know who/what/why Walter Cronkite?
2. The time I met Walter Cronkite (when I attended the Ed Bradley Memorial Service a few years ago) and how he seemed like such a tiny person.
3. Telling the "truth"
I also thought about a research paper that I had done for my High School AP Amerikan History class. We were studying the Army McCarthy Hearings. We did it "Our Town" style where we were given roles and had to act out each person. In order to be able to accurately "act out each person," we were also required to write a 10 page research paper on the person.
I was assigned to do Edward R. Murrow and I was pretty happy about that, since Edward R. Murrow was kinda the "darling of the liberal media," since he was a journalist who was seen as a crusader because he did things like take on the evil Senator McCarthy and fight for humanitarian treatment for migrant farm workers and more. Murrow was a dashing figure who could also just as easily be seen on TV doing a fluff interview with Marylyn Monroe as challenging the evil Senator McCarthy.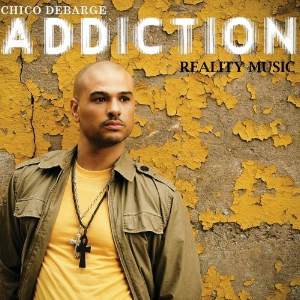 In the course of my extensive research on Edward R. Murrow, I learned that Walter Cronkite was none of these things. Although Walter Cronkite had been a contemporary/colleague of Edward R. Murrow at CBS News he was the complete and total antithesis. Walter Cronkite gave you the news straight, he seemingly had no opinions on anything. I had no idea if Cronkite was a Democrat, Republican, Liberal, Conservative, Straight, Gay, Anti this or Pro that. The only thing that I can remember Walter Cronkite being in favor of was the Space Program.
I mean, with Cronkite you just didn't know what he thought about anything. But you could pretty much be assured that he was giving you the "truth." And therein was the power that Walter Cronkite wielded on our society.
People want the "truth," to help them to shape their own "opinions."
That is far different from today's world where it doesn't seem to matter what news outlet or who the reporter is, you will always get the news, but it is always filtered thru the "opinion" of the reporter. Which means that "the truth' is always elusive. All of the TV news reporters of today are more like descendants of Edward R. Murrow, because we know what their opinions are about most everything. None are like Walter Cronkite, whose opinions we never knew. BTW….I have no problem with news people giving their opinions on things, just as long as I don't think that their opinions aren't "brought & paid" for by some corporation. In other words, I even want their opinions to be the "truth" (i.e.; what they really think)
People want the "truth," to help them to shape their own "opinions."
And once they become convinced that you are potentially a source for the "truth," that is trust that will remain forever, as long as you ever become perceived as being a "sell out."
And that was & is the perception of Cronkite, whatever he said was the "truth."
That point was driven home to me last night during the Chico DeBarge/Joe concert @ the Keswick. At the concert, a dozen or more people came up to me @ the Soul-Patrol table, many of them brand new subscribers to the Soul-Patrol Newsletter who said to me; "Mr. Davis I just wanted to let you know just how much I appreciated you telling the truth in your review of last week's concert @ the Keswick. Dwele wasn't worth sh*t and you told it like it was. I agreed with every word that you said."
Earlier this week there were a number of people who were in "mourning" because of the announcement that VIBE magazine was going to be shut down.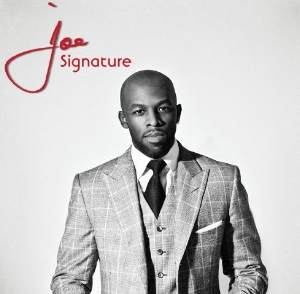 I wasn't one of those people, mourning the passing of VIBE magazine.
Personally I wondered how VIBE could have possibly lasted this long? I had long ago stopped reading VIBE, in any form (with the exception of Mark Anthony Neal's blog), simply because as far as I was concerned, VIBE had long ago stopped "telling the truth." In my opinion they had "sold out" to the very same people who had destroyed Black culture and had in fact become "part of the problem," not "part of the solution." Their financial support was coming from the very same people that we as readers were looking to VIBE to provide honest commentary about. As a result even their opinions couldn't be trusted.
When I attended the memorial service for Ed Bradley at Riverside Church a few years ago, someone introduced me to CBS newsman Randall Pinkston and he in turn introduced me to NBC newsman Lester Holt. They introduced me to CBS newsman Steve Kroft, who in turn introduced me to Walter Cronkite
I am only 5'9″ so you can imagine my surprise when Walter Cronkite extended his hand to me and I saw that he was several inches shorter than me. We shook hands and all I could think of was how it doesn't matter how tall you are if you are a badd mf and tell the truth, you are a giant!!
I don't think that there are many folks under the age of 40 who know or care about Walter Cronkite. If someone is 40 years old today, then they were about ten years old in the early 1980's when Walter Cronkite retired from the CBS Evening News. I wonder if they think that "AndersonCooperBillO'ReileyChrisMatthews" are telling them the "truth?" Can their "opinions even be trusted, not to be "brought & paid" for by some corporation?
Anyhow….both Joe and Chico DeBarge gave very good performances at the Keswick last night. Chico DeBarge in a "black bohemian, I just got outta jail but don't worry cuz I still got it like that cuz i got motown in mah blood kinda way & btw I got a new CD" and Joe in a "vegas/sinatra/ghetto ya may not like it but I'm just about as good as it gets for mainstream R&B in 2009 kinda way."
(& That's The Way It Was)
–Bob Davis
609-351-0154
earthjuice@prodigy.net
Concert Review: BOBBY BROWN,RALPH TRESVANT & JOHNNY GILL – GLENSIDE,PA @ The Keswick Theatre- 2-14-09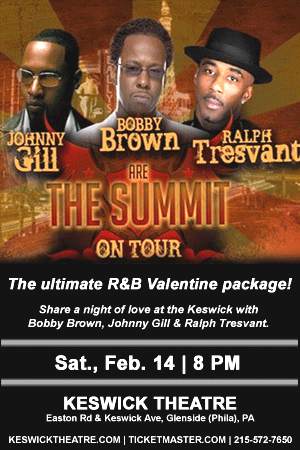 Let me say that this was the first time that I ever seen the Keswick Theatre TOTALLY SOLD OUT….people came in large numbers to check out New Edition vocalists Ralph Tresvant, Johnny Gill, and Bobby Brown! Also, the women in the audience were ALL screaming for the 3 singers and singing EVERY WORD of almost EVERY SONG!! In addition, this event drew about 95% black people (a lot of middle-aged people, as well as the younger and older folks).
The show started at 8:15pm with a comedian (whose name escapes me), but his act really didn't leave an impression on me. He finished his set around 8:45pm.
At 9:05pm, Ralph, Johnny & Bobby came out with their backing band and began performing most of their solo hits and New Edition hits….each singer took turns doing the lead vocals for his songs with the other two guys doing backing vocals. Also, the songs were pretty short (most were no more than 3 minutes long)…
Starting off the set was Bobby Brown showing us that we're "On Our Own" (from the movie GHOSTBUSTERS). Bobby's vocals sounded a little rusty, in contrast to the well-polished vocals of Ralph and Johnny. Ralph was next, showing the ladies that he's a "Stone Cold Gentleman", followed by Johnny Gill being a "Fairweather Friend" (from his self-titled album). Ralph claims "Money Can't Buy You Love" (from the MO' MONEY soundtrack…[but it can buy some expensive tickets and $9 drinks at the Keswick….lol! just jokin'], followed by Bobby takin' "Every Little Step"…the slammin' uptempo cut that got everyone on their feet dancin'! The guys asked the question "Can You Stand the Rain?" (with all 3 doing lead vocals) featured some very nice acoustic guitar riffing by Mr. Johnny Gill and a moment of some funky bass. Ralph was "Helplessly in Love" while Bobby claims that there is a "Jealous Girl" in our town, but the highlight was watching Johnny show off on acoustic guitar! Ralph assured the ladies that he's "With You All the Way", followed by Johnny showing the fans that he's "Half Crazy" (LOL!)
The guys took a tiny break and began chatting….they even mentioned that their designated driver for their tour was Bobby Brown (I assumed that Bobby is trying to get himself clean from alcohol abuse).
Back to the music…Ralph showed us that he's "Lost in Love", and Bobby's in need of a "Girlfriend". At that point, Lil' Bobby came out and greeted the audience (at the request of his dad). The females were in Bobby heaven when Bobby defines a "Roni", followed by Johnny's "There You Go". Ralph said that he'll "Do What I Gotta Do", to the point of exposing his abs to all the now-screaming ladies. Johnny upped the ante by promising the ladies that he'll "Rub You the Right Way"…interesting enough, the keyboardist played some slammin' snyth riffs to the tune of The Gap Band's "You Dropped on Bomb on Me"…also interesting was the audience chant "I – I, I – I, I, I won't forget it!" Ralph fired back, promising the ladies more "Sensitivity"….slightly interesting part was Ralph's chanting from the Suzanne Vega song "Tom's Diner"….more interesting was the beatboxing of Bobby.
Johnny exclaimed "My, My, My" (sure look good tonight)….and yes, the ladies did look good….very interesting part was listening to Bobby trying to imitate Johnny's singing style. Bobby exclaimed to the ladies, "(I Wanna) Rock Witcha", with Ralph whispering 'Get up, get up, get up, get up' at the point where Bobby talked about sexual healing". Before ending the show, the fellas agreed to do one more song and it was up to Bobby…..why Bobby?….well, Bobby would say, It's "My Prerogative"…the nasty New Jack Swing sound filled the air as Lil' Bobby came out and pop-locked for the audience…and then his dad followed suit.
The show was over too soon at 10:20pm.
–Dr Brookenstien
Quickie Concert Review: Leela James, Dwele & Anthony David @ The Keswick Theatre (7/10/2009)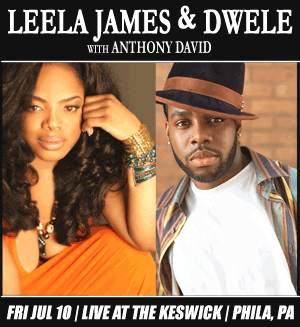 And this really will be a "quickie." It was another great night for live music at the incredible Keswick Theatre, right outside of Philadelphia. The sound is is so fantastic in that place, that when an artist brings their "a game", you can really hear them. And on the flip side, when an artist brings something less than an "a game", you can really hear that as well…
ANTHONY DAVID – Great stuff as usual, great acoustic set (w/electric
guitar) of originals & covers, channeling Ritchie Havens, Bill Withers & Leadbelly. This is the second time that I have seen him live and his ability to get up on stage and do a truly organic presentation of multi-genre Black music (neo soul, classic soul, jazz, blues, etc) will enable him to have a long career that will extend far into the future and leave his peers coughing in the dust & fumes that he leaves behind. There is little doubt in my mind, that in 20 years (when I am 72 years old) I will still be attending Anthony David concerts and loving them.
DWELE – I realize that he is a popular "kneegro/urban radio" artist, however his show last night was a complete waste of time IMHO. The highlights included him performing the song from his McDonalds commercial and a lame 30 second cover of Michael Jackson's "Heartbreak Hotel." He mixed his lame attempts at singing combined with some pretty lame rapping. More posturing on stage than any sort of an actual musical performance. It's kinda like he wants to be part Marvin Gaye + part D'Angelo + part Mos Def, but can't quite pull it off musically, so he "poses" like them instead? Perhaps his show is best compared to a "performance artist" (like Patti Smith) than any type of straight up "musical performance?" So maybe if I view Dwele as a "performance artist" (like Patti Smith) instead of a "musical artist", then perhaps he brings more value to his audience? Perhaps his live show is "still evolving?" But for my money (and perhaps yours?) I wouldn't pay any of my hard earned money to see him perform live.
LEELA JAMES – I have now seen Leela James perform live three times in the last six months. I dunno what else to write about her any more. From the opening moments when she sits down on the stage and says "I am here tonight to partaaaay with mah people, and if you ain't here to partaaaay with me that maybe you should be somewhere else right about now…" Leela James is a the absolute definition of the term "great black music from the ancient to the future." With Leela James, you feel like you are at a house party. She channels James Brown, Chaka Khan, Betty Wright, Rick James, Bessie Smith & Moms Mabley all at the same time!!! For my money (and perhaps yours?) if you are reading this, then you should feel comfortable spending your hard earned money going to see Leela James perform live (again and again and again). For my money (and perhaps yours) "pound for pound" she gives one of the best live performances available to you as a music fan in 2009. In other words, "pound for pound", she is the "Rickey Henderson of Black music." Or perhaps as the late Michael Jackson might say…."LEELA JAMES IS……OFF THE WALL"
–Bob Davis
–Bob Davis
609-351-0154
earthjuice@prodigy.net
Concert Review: LEDISI @ the Keswick Theatre w/NOEL GOURDIN on Sat., Dec. 20 – 8:00 PM
(A Beautiful Day In Mr. Davis Neighborhood (Ledisi Makes Philadelphia Bust a Knutt))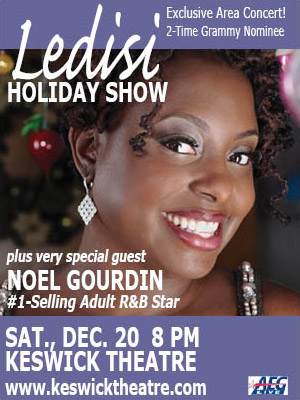 There are a whole lotta reasons in December of 2008 to be "down on the upstroke" instead of being "up on the downstroke." You see, here in the United States, we are currently faced with an avalanche of problems. With two wars, a crumbling economy, a sea of corrupt government & business leaders, etc. we face an uncertain future for sure.
Last night at the Keswick Theatre in Philadelphia featuring LEDISI it was proven to me beyond a shadow of a doubt that Stevie Wonder was dead on when he told us that MUSIC is indeed the "Key of Life." For me, last night was a whole bunch of "small miracles", that all came together in a way that reinforces those 35 year old words of Stevie Wonder.
LEDISI – I'm not going to review the actual performance here; I'll leave that to Philly Soul-Patrol Coordinator David Brooks ("Dr. Brookenstien") to do. However there was a point during the show where LEDISI said, "yall did the right thing, yall came out here to-night." Her words could not have been more appropriate. We have been with LEDISI at small clubs in NYC long before her current status as a major headliner at venues around the country, on TV and Grammy Award nomeniee. And of course she turned in a GREAT performance for a crowd that in my observation to "Dr. Brookenstien" seemed "subdued", as they walked in to the Keswick. Philadelphia is a tough town perhaps best known for booing Sata Claus at football games. So LEDISI had a tough task in front of her, however she was more than up to that task. In fact I would say that LEDISI made Philadelphia "bust a knutt." And yall know how good it feels to "bust a knutt", when you really need it 🙂
JUDITH HERBST & THE KESWICK THEATRE – Built in 1928, the Keswick Theatre was placed on the National Register of Historic Places in 1983. It reminds me a great deal of the Apollo in NYC, although the physical configuration is a bit different, the Keswick & the Apollo are about the same size. However the most important thing about the Keswick is that the folks who run it understand not only their importance to the music community, but also to the greater community. There was a whole lotta activity going on at the Keswick last night, all of it magnificently coordinated by Judith Herbst. Soul-Patrol has now done 5 events at the Keswick and the staff couldn't be nicer or more helpful in assisting us. We have had both local folks from the Philadelphia area as well as those who have traveled from far away to attend the shows there and all walk away with the same impression. "This is such a nice place for a concert and the people here are so nice." Those two impressions aren't created by accident. That is by design and the person responsible for that design is Judith Herbst. Reading this I am all but certain that Judith is quite embarrassed, but that's just too bad 🙂
LARRY RICHARDSON – I have known Larry for a number of years. He is one of these people that are on the music scene in every city. He would never be described as a "big time playa", however Larry always has "bigtime ideas." He is a really nice guy, who is a part of the "old school" Philadelphia musical infrastructure but when you see Larry coming, you know that he is gonna have "an idea for you." Last night Larry did something that was a whole lot bigger than any "idea" that he could have proposed, he actually delivered several car loads of children's books to the U.S. – Africa Children's Fellowship, Inc. Of course Larry had some ideas for me last night as well, along with a whole stack of CD's of new music for me to listen to as well, but none of those ideas or music will be as important as the ACTION that Larry & his wife took last night in making the donation.
SOUL-PATROL'S MEET & GREET WITH LEDISI – During the show I had been busy along with David Brooks "working" the Soul-Patrol table in the lobby, passing out information and engaging in dialogue with folks as they came by, some of whom I knew and some that I didn't know. I was also running around handling various tasks related to doing the "meet & greet." One would think that doing a "meet & greet" with LEDISI for Soul-Patrol would be a "no brainer", after all we have done many "meet & greets" with LEDISI over the years in NYC, Chicago & elsewhere. We were one of her earliest supporters, going back nearly a decade. However things are different now then they were when LEDISI was an "unknown indy soul artist." She's now a "major label artist" and as such LEDISI has got a "multi layered management team" in place to handle her business. As we all know from watching the US financial meltdown unfold, a "multi layered management team" isn't always good with communications. As a result, walking into the Keswick last night, I had not gotten 100 percent confirmation via the "management chain" that our advertised "meet & greet" was going to take place. Since I didn't have that confirmation, I told the Soul-Patrollers as they stopped by our table before the show, that the "meet & greet" wouldn't be taking place, because I hadn't worked out all of the "logistics." These folks were disappointed, but they understood. You can imagine my surprise when two members of LEDISI'S management team came up to me at the halfway point of LEDISI'S performance and said "we are all set to do the meet & greet right after the show, just bring your people down to the stage and LEDISI will spend some time with them before meeting the general public." I said 'it's too late, I already told the people that the "meet & greet" was off. Frank Sheffield (a longtime Soul-Patroller) of LEDISI'S team says to me; "Bob let's not be silly, you know damn well that LEDISI wants to meet with your folks, just get your people together and lets do it." Of course "Dr Brookenstien" & I had to scramble to notify people, but all went well we gathered up about 30 of "our people." LEDISI came out, took pictures with everyone who wanted to, and talked about how much Soul-Patrol's support has meant to her over the years. The "meet & greet" actually worked out better than I could have imagined. I smiled, beaming with pride while at the same time realizing that this whole "meet & greet" might not have happened at all. Yes indeed another one of those "small miracles" had just taken place and I have LEDISI'S management team along with Judith Herbst to thank for that.
PHIL SUMPTER & RANDALL GRASS (think global, act local) – Phil Sumpter of the Mann Music Center and Randall Grass of Shanachie Entertainment both attended the show last night along with their wives/significant others. Although these are names that you may not know, both have been big supporters of Soul-Patrol as well as other endeavors of mine and have become friends. They are also pragmatic businessmen in the world of music, who realize that it's not always about "the show." Well after the concert, both of them had "that look in their eyes." I know all too well what "that look is", it's that look that says "I have had a great night, the music was off the hook, the crowd here was much larger than I would have expected, everyone here is enthusiastic, I am here tonight with the most important person in my life and they had a great time." Since I was also there with my family, I knew EXACTLY how they felt. They both told me that I had done a good job in promoting the show online and that coming from two guys who count things like record sales & concert attendance in their sleep was important & humbling to me.
DONNIE C. – Donnie C is an emerging artist, from North Carolina who is a member of Soul-Patrol. Some of you may recall a concert review of a show that Donnie C did in last summer, where he turned in a magnificent marvin gaye/donny hathaway/marlon saunders" type performance, to a crowd of about 30 people at a small "hole in the wall" club in Brooklyn. What neither Donnie C nor I knew at that time was that before the end of the summer, I would lose my father and that he would also lose his mother. Both Donnie C and I have seen our lives change because of these events and I suspect that because we have this in common, we will forever be linked. Well as it turns out, Donnie C has relocated to Philadelphia and of course he was at the Keswick last night to see LEDISI. Before the show, Donnie had a different kind of look in his face, then he had on that summer night last summer in Brooklyn. It is a look that I know quite well from seeing it in my own face in the mirror since my father passed away. It's a look that tells you that a piece of that person is missing and that they are in pain. After the show, Donnie C had a different look on his face. He was smiling and nothing could have pleased me more to see that because you could see that LEDISI had inspired him. I have no doubt that one of these days Donnie C will have nearly 1,000 people come out just to see him perform, just like he saw LEDISI do last night, he is certainly talented enough. But even if it never happens for him, it doesn't matter. What matters is that at least for one night that "empty look" wasn't on his face and today that "empty look" isn't on my face either.
RACHEL DAVIS – Of course Larry Richardson wasn't the only Soul-Patroller who donated to the U.S. – Africa Children's Fellowship, Inc last night, so did my 15 year old Rachel. About a week ago I had informed Rachel that she was going to go thru her old books to see if there were any books that she no longer needed and would willing to donate to the cause. I also informed her that she was going to deliver these books in person at the concert. As a parent as most of you know, whenever you "force a child to do something", you know that there is a certain amount of "risk" involved. You know that the net effect may not always be what you want it to be, so therefore you have to carefully weigh that risk. As soon as the show ended I asked Rachel with some trepidation, what she thought and she said; "DAD I REALLY LIKED THE SHOW, I DIDN'T THINK THAT I WOULD, BUT I'M REALLY GLAD THAT I CAME", I smiled and said; "how would you like to meet LEDISI IN PERSON?" And of course Rachel got to meet LEDISI in person and of course Rachel talked about how great LEDISI was in the car on the way back home. When we got home she asked me for LEDISI'S albums and promptly "ripped them into mp3's" to load into her iPod.
….and then I wake up this morning, open my email and there is a letter from someone who discovered Nu Soul@ RadioIO, via the Flycast Mobile network, via their Blackberry telling me how much they are enjoying the musical presentation. Of course it is the music of LEDISI that is one of the hallmarks & inspiration for the programming of the station. Her music that connects with all demographics, it's the kind of music that Black America used to produce in mass quantities, that seemingly over the past 15 years has forgotten how to produce (at least in the commercial sphere.) "Nu Soul", isn't the "sometimes elitist/wanna be bohemian neo-soul scene", it's REAL SOUL MUSIC, the kind that we thought that we had pushed all the way to the back of the closet and had allowed cobwebs to cover it.
So on today, December 21, 2008 it's a beautiful day in MY neighborhood and all is well with the world.
On some days I don't know if I am a writer, a promoter, a social activist, a technologist, an educator or a broadcaster. On some days it feels like I am all five at the same time. On other days it feels like I am "none of the above."
On this day I feel very much like the character played by James Stewart in the movie "It's a Wonderful Life" and all I can tell you is that it's a great feeling and one that I will cherish.
Next up for Soul-Patrol is the FATBACK BAND in NYC on 12/27 where will will find out if FUNK MUSIC still has the power to "heal" in 2008/2009…
–Bob Davis

CONCERT REVIEWS: SOUL-PATROL LIVE @ KESWICK THEATRE W/PHILADELPHIA FUNK/BLUES/JAZZ EXPLOSION:
8/19 – SMV: Stanley Clarke/Marcus Miller/Victor Wooten Show, LIVE @ 8pm
8/20 – Keb Mo/Robert Cray Show, LIVE @ 8pm
8/21 – Rick Braun/Richard Elliot Show, LIVE @ 8pm
This 3 day Black Music Extravaganza in Philadelphia @ beautiful/historic Keswick Theatre was a SMASHING SUCESS!!!
Both the FUNK show (featuring SMV: STANLEY CLARKE/MARCUS MILLER/VICTOR WOOTEN ), and the BLUES show (featuring KEB MO/ROBERT CRAY) were S-E-L-L-O-U-T-S. And the JAZZ show (featuring R&R: RICK BRAUN/RICHARD ELLIOT) was close.
I was in the house and along with David Brooks (Dr. Brookenstien) and Kevin Amos (The Funkoverlord), been manning the Soul-Patrol Booth, where we distributed information about Soul-Patrol.com, RadioIO.com, signing folks up to the Soul-Patrol Newsletter, distributing FREE copies of our (out of print) award winning compilation album "The Soul-Patrol Digital/Virtual Album 1.0" and most importantly engaging folks in a conversation about music/culture.
It's always fun for me to meet some of the people who have been reading my commentaries for years in person and a lot of folks that have come up to the booth have told me how much they have enjoyed reading the Soul-Patrol Newsletter over the years. It has been a pleasure for me to meet these people and their families.
One of the things that has made me smile over the past couple of days at the Keswick is that these crowds have been INTEGRATED (although I would like to see a few more of "mah people" at the Blues show.) And certainly that has been one aspect of the conversations that we have been having with folks. Certainly we will do more events like this at the Keswick and around the United States so stay tuned….
Thanks to the staff & management of the Keswick Theatre for allowing Soul-Patrol to be a part of their family.
Scroll down to read the reviews of all 3 shows by our own Funkoverlord, Mr. Kevin Amos…
–Bob Davis
609-351-0154
earthjuice@prodigy.net
OVERVIEW:
Soul Patrol was well represented at the Keswick Theater for three days of music. We were warmly received by the entire staff at the venue and we want to take this time to say thanks to them.
Bob Davis, Dr. Brookenstein and I greeted hundreds of people and got many of them to sign up for the Soul Patrol newsletter. We also engaged in very stimulating conversations with our fellow SP'ers and our new friends. Bob and I ran into good friends of ours from college days. Frank Peaker was my housemate and a member of our "crew" that you heard us talk about from time to time. Yes, he used to sip beverages with Bob and I. LOL!!
The Funkoverlord & Dr. Brookenstien meet & greet at the Soul-Patrol Booth @ the Keswick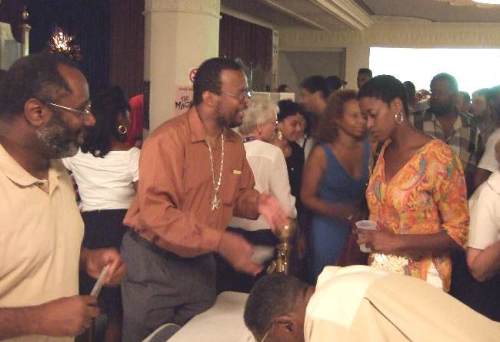 Frank was and still is a Stanley Clarke fanatic! I also met for the first time someone you see posts from through me and that is Malcolm Hines from the Gil Scott-Heron discussion group. We have been talking for years online and I finally met him face to face.
SMV – STANLEY CLARKE, MARCUS MILLER & VICTOR WOOTEN: 8/19/2008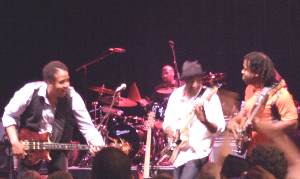 Tuesday night turned out to be mind blowing. The funk would make your hair plugs stand up!
The Thunder Tour featuring Stanley Clarke, Victor Wooten and Marcus Miller rolled its way into the Keswick Theater in Philadelphia. It was a homecoming for Stanley as he was in the "City of Brotherly Love", for this appearance. Earlier this summer he was with his band mates from Return To Forever for their reunion tour.
Stanley quipped backstage before the show, "I'm glad I can do this while I'm still young!" Clarke used to worry about being the oldest guy in, but he commented "These guys are good guys, very talented, and I have known them both since they were kids." Clarke also commented that Miller and Wooten are the cream of the crop while taking a break during the performance.
This super lineup of Stanley Clarke, Marcus Miller and Victor Wooten did not occur overnight but was in the making for more than 15 years. What started the wheels turning for the SMV tour was when Stanley received a Lifetime Achievement Award at the Bass Players Live Conference and Concert in 2006. In an impromptu performance, Miller and Wooten joined Clarke on stage jamming for the 900 people in attendance.
The show opened up with Jasmine Kelly and her group that played to a packed house of 1300 of perhaps a 50/50 racial mix. Her set was bright and cheerful and her guitar work is exceptional.
Soon after a short break to change the stage, SMV came to the stage with a thunderous ovation from the crowd of many Soul Patrollers in attendance that are also fans of Clarke, Wooten, and Miller. At three artists currently have their solo albums out in addition to the SMV recording.
SMV opened the show with a thundering salvo of bass licks. By the way the ensemble consisted of keyboards, drums and the three bassists. Clarke clearly shows that he was the elder statesman by exhibiting his mastery to his "students" and the crowd. It was time for the funk to hit the fan.
In a comment from an Allentown Soul Patrol member in attendance, "I've been lucky enough to see some of the greats. Stevie Wonder, Prince, Miles Davis, Aretha, Teena Marie, Jill Scott and on and on. But after seeing Stanley Clarke play "Milano" on acoustic bass tonight, I do believe I witnessed pure musical genius. I'm not ashamed to say that brought tears to my eyes. It was such an amazing night of music…real funkin" music!
What a soul lift it was to look around at such a diverse audience. especially the young ones…all loving, knowing and supporting real music. Gonna be hard to top this show."
Now only was Clarkes performance outstanding, but Marcus Miller showed his mastery on baritone saxophone as the trio performed his composition "Tutu" that was a bit hit for Miles Davis. Most folks don't realize that Miller plays several instruments.
Victor Wooten did not take a back seat either. He led the group on several excursions' and traded licks with Clarke and Miller. In tribute to close friend who had just passed, Wooten did a beautiful adaptation of the Gospel tune "Pass Me Not Oh Gentile Savior".
The 2 1/2 hour show included 12 tunes many of which were composed by all three for the SMV release. The show ended like it started, with the crowd on its feet, thunderous, as the group performed Clarke's classic "Lopsy Lu"
Wooten commented on the tour backstage by saying "This is intense, but I'm having fun." All three artists commented on the many old and new fans that have come to the concerts so far this summer.
The group will soon be winding up the US portion of the tour and heading around the world.
KEB MO AND ROBERT CRAY: 8/20/2008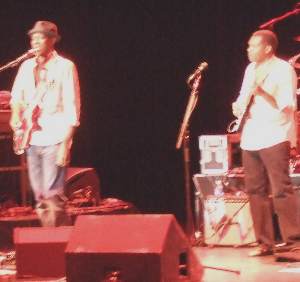 Our second night, Wednesday at the Keswick was another grand event with all three of us encountering folks at the Soul Patrol table. I had a great conversation with the folks from WXPN who were there. I also saw folks there who wouldn't engage us at all. Tonight was Keb Mo and Robert Cray. I had not seen Robert live in quite some time so I was pumped. I had emceed a few shows with him on the bill back in Pittsburgh years ago so I knew was he was capable of delivering on stage. Remember I said capable.
Once again we had a sold out crowd but this time my observation of the racial balance was 98% White concert goers and maybe 68% male. The other 30% of the women were either with their husbands or dates. During the evening a White married couple who had signed up for the newsletter asked me….How come Black folks don't come to Blues shows? We got into a discussion about how so-called Black radio stations don't play Blues and how our young people don't get educated about their cultural heritage. The guy I was talking to was not just talking stuff. He works in the Philadelphia school system and wants to see Soul Patrol get involved with this issue.
By then it was show time. Robert Cray opened the show which was surprising to me.
Bob is still sounding like a preacher just shouting' the Blues and the first couple of songs were smoking'. Keb Mo came out to join him for a tune and then the set just went down hill from there. From the very beginning his vocals were not prominent in the mix for some reason. Robert seemed to be just going through the motions and he lost my attention. Cray did not live up to his capabilities for me this night.
He finished his set and then Keb came on to do his thing. I last saw Keb Mo' a couple of years ago and his whole set list is pretty much the same. He flirts with the women in the audience, does that song about watching TV and that was it. Robert came out and joined him for the third song in the set also. You would have thought with both of their fans on hand that the whole evening would have been a little more
exciting, but it wasn't. Maybe they are tired from this tour. I will say that Keb does a great job on his collaboration with Otis Taylor, Don Vappie, Alvin Youngblood Heart, Guy Davis, and Corey Harris called "Recapturing the Banjo". That group only did one show…in England.
RICK BRAUN AND RICHARD ELLIOT: 8/21/2008
Thursday, our final night at the Keswick was the most surprising and the funkiest. That's right I said F-U-N-K-Y. The R& R tour with Richard Elliot and Rick Braun rolled through and had over 700 folks jammin' in the aisles. We had a lot of folks sign up that night as well and even the keyboard player from the band!
First in case you don't know about these two let me school you. Rick Braun, who started his professional career by writing a Top 20 pop hit for REO Speedwagon plays trumpet, keyboards and flugelhorn. The Allentown, PA native has played in bands behind Sade, Tom Petty, Tina Turner, Natalie Cole, Rod Stewart and Crowded House. Richard Elliott began his recording career while playing with Motown legends Smokey Robinson and The Temptations. He was still a teenager when he toured with Melissa Manchester. That gig led to him spending five formative years playing in the mighty Tower of Power. So as you see this concert was not going to be one of those lull you to sleep sets at all. One of their featured musicians was Ricky Lawson on drums!
They did a great set of about 13 tunes that consisted of songs from their new release "R&R", "Use Me", "My Secret Love" and "People Make The World Go Round". Little did they know that the great Russell Thompkins Jr. was sitting in the audience grooving to their sounds!
Richard and Rick also had what the old timers call a cuttin' battle where they traded licks. It was pretty good and all of the sidemen took a solo spot to showcase their talents as well.
The set ended with a baddd azz version of "Grazin' In The Grass" that had everyone and I mean everyone on their feet dancing and clappin'. Bob said to me, "Now how are they gonna top that?" and then…. they took us higher with a Sly and The Family Stone medley for an encore. Whew!!1 These guy did not play and it was a great finish to three wonderful days meeting folks and hearing music at the historic Keswick Theater.
From Kevin Amos tha Funkoverlord
PHILADELPHIA SOUL-PATROL EVENT: An Evening With VICTOR WOOTEN @ the Keswick Theater, April 1, 2008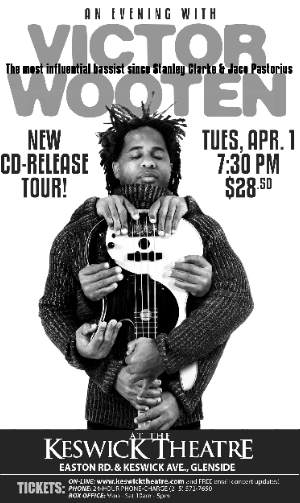 I did not write this review, but I was at the concert.
This was written by Soul-Patrol's Philly coordinator David Brooks (Dr. Brookenstien).
One of the things about most concert reviews that I don't like is that very rarely is….
:::THE TRUTH EVER TOLD:::
(that's because there are always "some people" who DON'T WANT YOU TO KNOW THE TRUTH)
And that is a shame, cuz if there is anyplace where THE TRUTH IS OBVIOUS FOR ALL TO SEE, it is AT A CONCERT
Well I was there @ the Keswick and let me tell you something…
DR. BROOKENSTIEN IS TELLIN YALL THE TRUTH ABOUT VICTA
:::::and I am glad that I was there to bear witness to it:::::
(and I am STILL in "recovery mode" myself, two days after the concert is over)
–Bob Davis
—————————————————
Review of VICTOR WOOTEN
At The Keswick Theatre – Glenside, PA (4-1-08)
********************************************************
Okay, funk fans…here it goes…..a review from the Victor Wooten show at the Keswick Theatre in Glenside,
PA (4/1/08)….please bear me as I may have momentary lapses of unconsciousness during this review….
UNDERSTAND THAT ABOUT 26 HOURS OR SO AGO, I WAS SUBJECTED TO THE MOST POTENT, POTENTIALLY LETHAL DRUG EVER KNOWN TO MAN…..NO, NOT HEROIN….NO, NOT PCP….NO, NOT CRACK……I'M TALKING ABOUT VICTOR WOOTEN AND HIS BAND OF VIRTUOSOS!!!!
UNDERSTAND THAT I JUST WOKE UP ABOUT A HOUR AGO!! I'M TALKING ABOUT SOME BRAIN DAMAGE GOIN' ON HERE!!
And as the Prince song (1999) goes, "I was dreamin' when I wrote this, forgive me if it goes astray!"
At 7:45pm, the nearly sold-out theatre was exposed to musicians playing a terrifying blend of funk, jazz and world music, under the guidance of possibly the best bass virtuoso on this side of the galaxy, MR. VICTOR WOOTEN!! "Cambo" was the first song (a nasty funk-jazz tune) featuring violin riffs and chant vocals by Ali……the basswork of Victor was fast and in-your-face nasty-funky!!…..(click here for the rest of the review
Click here to enter your suggestions and feedback