Dizzy Gilespie
Two showmen in one band is one too many showmen, and in Calloway's band, the guy getting the attention was to be Calloway.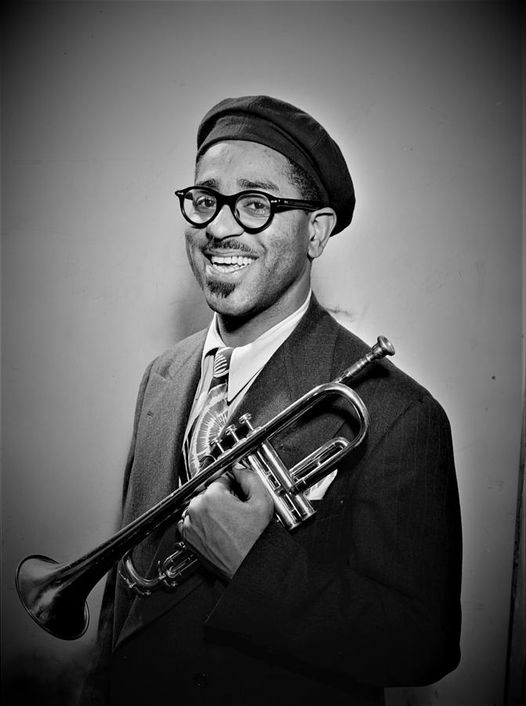 By Dianne Washington
On this date in 1917, Dizzy Gillespie was born. He was a Black jazz trumpeter and bandleader.
The youngest of nine children of Lottie and James Gillespie, Dizzy Gillespie was born in Cheraw, South Carolina. His father was a local bandleader, so instruments were made available to the children. Gillespie started to play the piano at the age of four. Gillespie's father died when he was only ten years old. He taught himself how to play the trombone as well as the trumpet by the age of twelve. From the night he heard his idol, Roy Eldridge, on the radio, he dreamed of becoming a jazz musician.
He began as a self-taught player. His natural gifts won him a scholarship at the Laurinburg Institute, where he studied for three years before moving to Philadelphia in 1935. He first recorded with Teddy Hill's band in New York as a replacement in Hill's group. In 1939, he joined the Cab Calloway band and, during its travels, first encountered Charlie Parker in Kansas City.
But his after-hours work leading to bebop was mostly confined to a handful of uptown clubs in New York, where Gillespie jousted with other players, to the delight of most other musicians. Two showmen in one band is one too many showmen, and in Calloway's band, the guy getting the attention was to be Calloway.
He was not amused at Gillespie's peculiar brand of antics that had a way of winking at the audience behind the leader's back. Fired in 1941, Gillespie moved to Lucky Millinder's orchestra, where, just as Parker's first alto solos came out with Jay McShann, Gillespie recorded "Little John Special" for the same label (Decca).
It included solo work as provocative as Parker's and had the singular riff that the jazz world would shortly come to know as "Salt Peanuts." Many of the same records that would launch Parker and Bebop would also introduce Gillespie. Performances such as Groovin' High, Dizzy Atmosphere, and Hot House also link Gillespie with "Bird." Gillespie wanted to lead a band and, in 1946, assembled one that would hold together for four years and record extensively for RCA Victor; songs such as Cubana Be/Cubana Bop, Good Bait, Manteca, and Ool-Ya-Koo were a few.
There would be other bands, such as one assembled for an early State Department tour in 1956, occasional reunions with Parker on Debut and Clef records, and many tours with Norman Granz's Jazz at the Philharmonic units. Gillespie emerged in the middle 1940s as essentially the last in a series of progressions of virtuosity in jazz that ended in the consolidation of bebop. If Charlie Parker was the soul of bebop, Gillespie was its heart and public face.
If Louis Armstrong had expanded the reach of instrumental technique for his generation, making more things possible, then Gillespie seemed to reach the final theoretical point of command that made all things possible, effectively ending the arms race of capacity that had driven jazz for two decades. His speed, articulation, and sense of surprise showed up in many bebop trumpet players in 1946, but few doubted that he was the master and matrix of it all.
Gillespie's rapport with audiences was equally golden, yet never got in the way of the music he offered. He was a recipient of the Kennedy Center Honors in 1990. Dizzy Gillespie died on January 6, 1993, of cancer.