Don Byron – Do The Boomerang (The Music of Junior Walker), Nu Blaxploitation – Don Byron And The Existensial Dreads

**Don Byron – "Do The Boomerang (The Music of Junior Walker)"
(Supersonic Jazz/Supersonic Funk)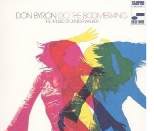 Do you like cover songs? I do. Today it seems to be a major trend with seemingly every new album that comes down the pike consisting of cover songs. Most times these type of covers are an attempt to tug just a little bit at our feelings of nostalgia for the original and that's what makes us feel good about hearing an old favorite once again. Let me now take this moment in time to re-introduce you all to Mr. Don Byron. Don Byron is an artist that likes to do "covers" also, but his covers are different than the type of covers that we are most familiar with. Most artists who do covers attempt to duplicate the original. The rest try to put their own personal stamp on the original.
Don Byron is the only artist I am aware of who goes beyond either one of these concepts. You see when listening to his music, it feels very much like he is attempting to "obliterate" the original. He doesn't always succeed, but the attempt to do so makes you smile and think to yourself "damn he almost did it, he's a badd MF for even daring to try" (not unlike a pole vaulter who is attempting to break the world record). On the last album that we reviewed by Don Byron (http://www.soul-patrol.com/funk/byron.htm) on Soul-Patrol called "Nu Blaxsplotation" he covers Mandrill's Fencewalk, Mango Meat and Haglo. Not even the nastiest/meanest funk bands attempt to cover Mandrill and certainly none think that they could possibly do Mandrill's songs better than Mandrill. Soul-Patrol named "Nu Blaxsplotation" as the top album of the year and one of the top albums released in the decade of the 1990's.
On his latest release Don Byron attempts to rip a new "a-hole" into not only the music of Junior Walker and the All Stars, but also James Brown. For example as I am typing this, I am listening to Don Byron's cover version of James Brown's "There It Is" and I keep hitting the repeat button because it's so amazing. I do the same on the covers he does of the Jr Walker songs like "Shotgun", Road Runner" and others. Does he "obliterate" the originals??? I'm scared to say…. But I am willing to say that we need more artists like Don Byron in Black music, who are willing to challenge "the best of the best". We are currently lacking in artists who have the guts to attempt to do this (hence we have come to accept things like "smooth jazz", "gangsta rap", etc. as being "normal", when in fact they are an insult to our intelligence and demeaning to our culture).
Now I don't want you walking away from this review thinking that Don Byron is strictly a "cover artist". There are plenty of great originals here on the album "Do The Boomerang (The Music of Junior Walker)" as well, just as there were on "Nu Blaxsplotation" but for the moment I have to put them aside. There is a level of honesty at work here that is un-paralleled in today's recorded music scene. What you are getting with Don Byron is an artist who is literally challenging the very best in Black music to be even better. By doing so, he is setting himself up for the ultimate embarrassment for even thinking that he can improve on the "best of the best". However as such he also lays down the gauntlet and forces all other artists to step up their game. This is 180 degrees contrary to the conventional wisdom of today's Black music, where the whole idea is to "dumb down" the music. So in effect Don Byron is challenging all Black artists in particular and all Black people in general to do what my parents told me to do and "strive for excellence". It would seem that here in 2006 we have forgotten how to do that or even consider it. In today's world of music Don Byron is indeed making a revolutionary statement. On basketball courts in Black America there is a popular saying called "he got game", which means that player is not only the best on the court that day, but he knows it and so does everyone else. However he and everyone else knows that tomorrow he will have to prove it all over again. Don Byron is essentially saying that musicians can and should approach "their game" in exactly the same manner. The real message here is that if we don't stop "dumbing down" our culture, we aren't going to survive. And by inference he is also saying the same thing about all of the rest of us…and that is quite a statement from a not quite so humble jazz clarinet player named Don Byron….
–Bob Davis
earthjuice@prodigy.net
Don Byron And The Existensial Dreads – Nu Blaxploitation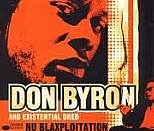 I have talked about this album quite a bit in general here on the Soul Patrol Mailing List
In my opinion this was one of the very best FUNK albums of the 1990's yet it got almost ZERO airplay.
. Now I wanna get a little more specific for you here…
Here is my track by track review of the album…
1. ALIEN –
This song is a good example of the kind of jazz/funk poetry that I listened to while I was in college.
Some people would regard this as garbage, and some people would regard this as a very deep expression of how the Black man is in fact an alien here in the United States
Personally I like the song.
2. DOMINO THEORIES –
Part I – This song reminds me of the album "Hustlers Convention". Funky jazz playing in the background as a couple of brothas are sitting around talking chit about the world with each other over a game of Dominoes.
3. BLINKY –
This song IS deep (I had a friend named "Blinky" in college) My friend would have dug this song, It starts out with the line …"Yes Abner, the WHOLE WORLD IS A GHETTO"……as Don Byron plays a Coltranesque sax solo in the background. Yes this song is all about the Abner Loima police brutality case in Brooklyn and Byron makes his point quite eloquently describing a man who emigrated here to escape the Fascist dictatorship of "Baby Doc" in Haiti only to find another form of fascism right here in Brooklyn
4. MANGO MEAT –
the first of three Mandrill remakes on this album ….it ROCKS!….this song was originally a pretty big dance floor hit for Mandrill back in the 1970's and Don Byron is true to the original here.until . the lead singer (Black Rock Coalition member Dean Bowman who I have seen perform live many times) goes off into a wild anti drug rap to end the song…….very powerful!
5. INTERVIEW –
reminiscent of Branford Marsallis rant on "Music Evolution" about the critics not understanding his music. This cut consists of a woman interviewing him who obviously has never heard of Don Byron who has the nerve to criticize his latest recording (she asks him why he chooses to make "funky music" to which he replies…."why not"?). This segues perfectly into the next cut which truly answers the question….."why make a "funky record"
6. SCHIZO JAM –
(featuring Biz Markie) – Dean Bowman (live at some club) – "We are gonna bring out our guest of honor, in the whole history of African American entertainment therehas never been a performer quite like this…." Biz then says….."We gittn ready to get FUNKY up in HERE…" and Biz proceeds to throw down the FUNKIEST live cut (backed by Don Byron and company) that I have heard on a disc in quite a while. This album is worth the purchase price just to hear this track!…. "check out the horn section ….they be makin like Chinese Connection…'
7. DODI –
nice jazz poem discussing the effects of both racism and self hatred…"Money can't change the color of your blood…and what is royaly but that " "Money might buy you love….but it WON'T change the color of your skin
8. I'M STUCK –
nice funky jam in a similar groove as the Brecker Bros circa 1974
9. I CANNOT COMMIT –
similar "Sun Raesque" jam to cut #1 on this album
10. FENCEWALK –
the "quintessential" funk jam of the 1970's. If you liked the original, then u will like this. True to the original but then deviates in a similar manner to "Mango Meat" with Dean Bowman going off into a mind bending FUNKY rap only this time in the middle of the song, then returning to the original lyrics.
11. HAGALO –
Fencewalk segues right into Haglo, just like it does on "Composite Truth". For those of you unfamiliar with it, Haglo is a salsa jam that is plenty FUNKY.
12. DOMINO THEORIES – Part II – "Motha f**kas act like it's really profitable to be Black whenever they are tryin to squash Affermitive Action…"
13. IF 6 WAS 9 – slowed up…..FUNKED UP version of the Hendrix classic
14. FURMAN
All about a crooked cop in LA that you may have heard of…
This album was da BOMB, go and check it out if you see it in your local record stores
–Bob Davis
earthjuice@prodigy.net
Return to the P*Funk Review Main Page: Click here

Click here to enter your suggestions and feedback