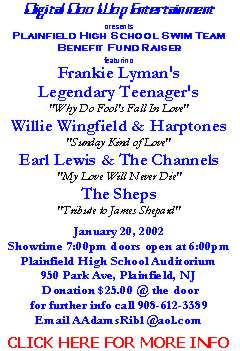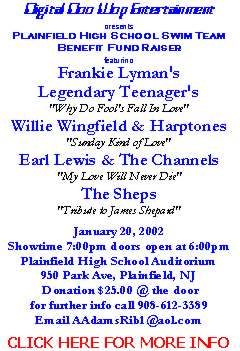 From: Charles & Blanche Duke
> Brother Bob:
> Here's wishing you the best 'Happy Birthday' ever!!!! May God continue
> to bless all of your endeavors. I know that we're (meaning the world,
> since the Internet IS universal) blessed by YOUR contribution. You've
> probably made one of the the deepest contributions to
> mankind–preservation of a segment of African American culture.
Thanks Charles and everyone else…
Those are some heavy words there, but I do think that what you are saying is quite accurate and sometimes gets 'lost in the sauce'
There is a word that I would like to bring up in that context…
'CONVERGENCE'
(currently a very popular 'buzzword' in korperate amerikkka dealing with the bringing together of multiple technologies and marketing platforms)
However I would like to discuss a different kind of 'CONVERGENCE' that I experienced last night inside of a 'ghetto high school auditorium'.
As you all know, part of how I celebrated my birthday was to attend the DOO WOP show last night at Plainfield High School featuring the Sheps, Earl Lewis and the Channels, the Harptones, and Frankie Lymon's teenagers. However for me it turned out to be MUCH MORE than a simple concert.
You see the evening was really much more about the 'CONVERGENCE' of multiple ideas and concepts, manifested before my eyes.
For now, I can only list them all and ponder what if anything they all mean in any sense beyond what they collective impact of their totality means to me as an individual on his 45th birthday.
With that being the case, hopefully you all won't mind indulging me…
MY DAUGHTER
I arrived at the venue early because as I had mentioned previously, I wanted my 8 year old daughter to meet Frankie Lymon's Teenagers. One of the things I make it ha habit to do is to give my daughter the opportunity to meet as many of the artists as I can, to give to her a historical reference to things that would be impossible otherwise. As a result, Rachel has met the Dells, Mandrill, Billy Paul and others either here at the house or in other settings where it seems reasonable to do so. This concert started at 7pm, so it seemed to be one of those times…
As I had mentioned before, Rachel has seen the Hollywood production, based on the life of Frankie Lymon and knowing what I am doing on Soul-Patrol has asked me all kinds of questions about Frankie Lymon (and to be honest, having a crush on the actor Lorenz Tate plays into her interest as well….lol). Some of these questions I can answer, some obviously I can't.
A few weeks ago I had talked on the phone with famous NYC Disc Jockey (from WWRL & WCBS FM) Bobby Jay, who is also a current member of Frankie Lymon's Teenagers about Rachel's interest in the group and he told me…
….WE WILL BE GLAD TO TELL HER THE TRUTH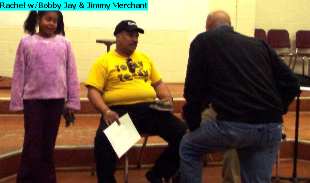 We arrived in the Teenagers dressing room (really a classroom in the HS) and were greeted by Jimmy Merchant, Herman Santiago and Bobby Jay. After some small talk & introductions Rachel asked her series of questions and they answered.
One question was…
'How did Frankie Lymon die…'
Jimmy Merchant then went into a 'zone' as he explained to my daughter about how strung out on drugs Frankie Lymon was and that he had become involved with many different people who turned out NOT to be his friends. Jimmy said that in the end, Frankie really did it to himself and that the drugs just helped to speed the process.
As a parent, I stood there and watched this exchange and smiled…
MY PARENTS
I had also invited my parents to come to the show.
As I have mentioned previously here, they are the source of my interest in DOO WOP. I was regularly exposed to it as a child thru them. It is the music/culture that they grew up with as teenagers during the 1950's in an environment in the Bed Stuy neighborhood in Brooklyn at that was about as far away from 'Happy Days' as one could imagine.
For me being at the show with them was a real treat!
We sat right in the front row
My mother spent the show SCREAMING and reliving the 1950's…
…She SCREAMED for the SHEPS (and just about lost it when the sung 'WIND')

…She SCREAMED for EARL LEWIS and the CHANNELS and JUMPED UP OUT OF HER SEAT when they did 'SHOUT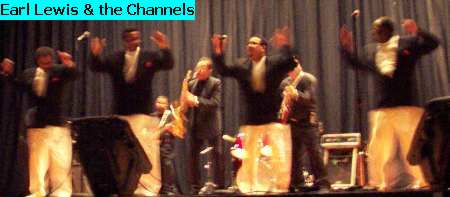 She SCREAMED for the HARPTONES when they did 'SUNDAY KIND OF LOVE'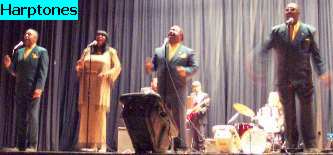 They also ran into a couple of old friends at the show
They had a blast
SOUL-PATROL

Now of course this concert was also a Soul-Patrol Event
Blanche Valentine (AAdamsRib) was the SP Event Coordinator.
The concert took place in Plainfield, NJ which is of course her hometown.
Blanche had shared with me some 'negative email' concerning the venue that she had gotten, indicating that Plainfield was NOT a good location to hold the event
Plainfield is known to many people in the NY/NJ area as one of the very first 'Black suburbs' in the area.
Everybody who grew up in the NY area knows someone who moved out of the neighborhood to Plainfield.
Today, Plainfield NJ is a 'ghetto', once a place that represented the promise of a brighter future, today it has become a symbol of 'potential lost.
Of course here on Soul-Patrol, Plainfield NJ is also the symbol of something else.
It is the birthplace of P-FUNK (and some say that the 'P' in 'P-Funk actually stands for Plainfield)
Many of the band's members grew up in Plainfield and some still live there.
As such Plainfield NJ is also a symbol of the connectivity which exists between the different styles of Black music.
The first group that performed were the SHEPS.
Their 'leader' is a brotha named Tommy Shider
If the last name rings a bell to you Funkateers out there, it should
Tommy is the brother of Gary 'Doo Wop' Shider of P-Funk
(More 'Connections and Disconnections'?…..lol)
For those of you out there who think that Soul-Patrol shouldn't ever have Soul-Patrol Events in the Black community, I got news for you…
(YOU ARE DEAD WRONG)
* The artists loved it and told me that they get tired of playing in front of 'lily white crowds' all of the time
* The people in the community loved it, because they didn't have to travel
* The kids loved it (remember, this was a benefit for the HS Swim Team)
Sitting directly behind me at the show was our own 'Zilove'
Right behind her was our own 'JWackor'
and just off to the side was our own Cliff Perkins of Soul Generation and his wife.
Everybody had a GREAT time, although I'm quite sure that they all got a nice laugh at seeing the exuberance of my mother…..lol
All of this made me think about Soul-Patrol and Charles, your comments are right on point
It is about 'preservation of a segment of African American culture'.
This is indeed the case, however keep in mind that the reason we preserve things, really has more to do with the FUTURE than it does the PAST
Last night I had the chance to see a piece of BLACK HISTORY unfold before my eyes on BOTH a PERSONAL and a PUBLIC level.
The history in that auditorium was incredible.
I was proud to be there.
Talking with people like Earl Lewis, Willie Wingfield, Raul Cita, Jimmy Merchant, Herman Santiago, Bobby Jay and others makes HISTORY come alive in a way that just reading about it can't.
To be able to share it all with BOTH my daughter and my parents, speaks to exactly why we use the phrase…
'GREAT BLACK MUSIC FROM THE ANCIENT TO THE FUTURE…'
to describe what the SCOPE of Soul-Patrol is
* It's NOT about 'Soul'
* It's NOT about 'Jazz'
* It's NOT about 'Funk'
* It's NOT about 'Rock'
* It's NOT about any 'Genre'
it's about…
'GREAT BLACK MUSIC FROM THE ANCIENT TO THE FUTURE…'
All of this 'CONVERGED' together for me last night, not as any sort of revelation, but just as a confirmation of what I already knew.
'THE WIND'
How else are are children going to know about the greatness of OUR culture if we don't accept the RESPONSIBILITY to make certain that the TRUTH about it is available to them?
How will they be able to carry it forward and expand upon it?
Somebody had to do it for us
We have to do it for our children and NOT expect white folks to do it for us!
(they have NO obligation or responsibility to do that for US)
And THAT point was illistrated to me VERY CLEARLY last night when the Sheps sang the song 'WIND' (without the aid of ANY instuments)
THEY TORE THE HOUSE DOWN…….

and with that it became quite clear to me, how they are a perfect example of what we call…
'GREAT BLACK MUSIC FROM THE ANCIENT TO THE FUTURE…'

What song could possibly be MORE ANCIENT SOUNDING than 'WIND'?
The SHEPS are not an 'Original Doo Wop Group'.
They are a group who are about the same age as I am
They are going to make certain that the music continues long into the future AFTER the originla doo woppers are long gone
Just as we talk about artists such as Ledisi, Victor Wooten, Lisa Gay, Rio Soul and others who are helping to make sure that the music/culture we are discussing here becomes MUSIC OF THE FUTURE and NOT ONLY OF THE PAST, I gotta add the SHEPS to that list as well because it's music that…
***SENDS A CHILL DOWN MY SPINE***
> Eat a piece of cake for me, bro–if anyone deserves it, it's you!
& I'll take that slice of cake too Charles
(as long as it's 'sugar free'…..lol)
Here I sit at what is hopefully the 1/2 way point of my life, at the age of 45 and hope that the second half of my life can be as rewarding and fulfilling as the first half!
— Bob Davis