Eddie Kendricks
Kendricks chose this moment to announce that he was leaving the Temptations. He was weary of the production extravaganzas that Norman Whitfield was creating for the group…..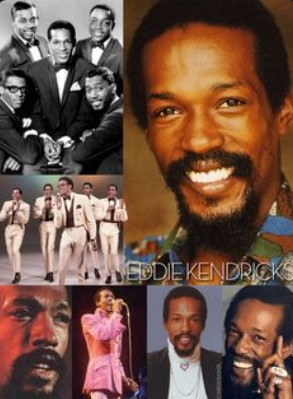 On this date in 1939, African American singer Eddie Kendricks was born in Union Springs, AL.
He was a founding member of the Primes in the late 1950s, an R&B vocal group that moved to Detroit in 1960 and formed the basis of the Temptations. His wavering falsetto vocals were an essential part of the group" s sound throughout their first decade when they recorded on Motown Records. He was singled out as lead vocalist on their first major hit, "The Way You Do The Things You Do," and was also given a starring role on the 1966 U.S. number 29 "Get Ready." David Ruffin gradually assumed the leadership of the group, but in 1971, Kendricks was showcased on "Just My Imagination," one of their most affecting love ballads.
Kendricks chose this moment to announce that he was leaving the Temptations. He was weary of the production extravaganzas that Norman Whitfield was creating for the group. Kendricks" initial solo albums failed to establish a distinctive style, and it was 1973 before he enjoyed his "Keep On Truckin." The accompanying album, "Eddie Kendricks," was in more traditional style, but in "Boogie Down!" Kendrick displayed emotion over a succession of dance-oriented backing tracks. Rather than repeat a winning formula, Kendricks bravely chose to revise his sound on "For You" in 1974.
The first side of the album was a masterful arrangement of vocal harmonies, with Kendricks submerged by the backing. "Shoeshine Boy" was extracted as a single and followed "Keep On Truckin" and "Boogie Down" to the summit of the soul charts. "The Hit Man" and "He's A Friend" repeated the experiment with less conviction, and by the time he left Motown for Arista Records in 1978, Kendricks had been forced to submit to the prevailing disco current. After a run of uninspiring efforts, "Love Keys" on Atlantic Records in 1981 was a welcome return to form for Kendrick, who teamed with the Muscle Shoals Horns and the Holland/Dozier/Holland production team. Poor sales brought this liaison to an end, and Kendricks returned to the Temptations fold for a reunion tour and album in 1982.
When this venture was completed, he formed a duo with ex-Temptation David Ruffin and the pair were showcased at Live Aid as well as on a live album by Hall and Oates. This exposure allowed them to secure a contract as a duo, and Ruffin and Kendricks in 1988 represented the most successful blending of their distinctive vocal styles since the mid-60s.
Kendricks died of lung cancer in October 1992, after having already had his right lung removed the previous year.
Eddie Kendricks 101
By Billy Griffin
Eddie was without a doubt, the truest reflection of a down to earth brother, who always "Kept It Real". Before there was a "hip-hop" catch phrase, there was Eddie.
No phony, smiling face pretense with "Corn".
In this respect…he was like a flopping fish out of water at Motown.
He'd sooner be burned at the stake…then not reveal the real-deal on any subject you were intrigued with. From disappointing contract woes @ Motown, race relations with non-black executives @ Motown, performing exclusively for Motown, creative fashion & aggressive women.
Whatever…. He was a mentor to me from day one.
I lived directly below "Corn" in the Southfield Towers Apartments, outside of Detroit. And I was in class, every chance I could get….whenever we both were in Detroit and not on the road. Vocal lessons were in session. Like how to sing through your "Third Eye" to ensure maximum "In Key" vocal performance, while hitting high C falsetto notes.
Yes…that was Eddie Kendricks-101.