Ernest Wright of the Imperials
After starting in 1958 and having one of the biggest records of that year, "Tears On My Pillow," one of the highlights of my career is the hit record that I wrote considered one of the greatest doo wop records of all time, "Two Kinds of People In The World."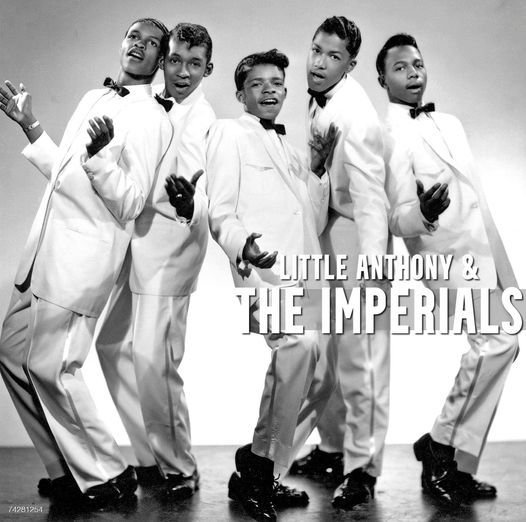 CONNECTING A FEW DOTS…
First and foremost, I'd like to thank my friend Billy Griffin for posting this birthday greeting for Ernest Wright of The Imperials (the author of "Two Kinds of People In The World"}. He is on the far left in this picture. For those of you who don't know, Ernest Wright is my uncle in law. Some of you on the west coast will remember my cousin, the late Vernon Wright, who also served as the Los Angeles Soul-Patrol Coordinator. Ernest was his uncle. Vernon was the spitting image of Ernest. In addition, there is a NYC based Soul/Funk vocalist named Nicole Wright that you may recall being featured on Soul-Patrol in the past. She is also the daughter of Ernest Wright.
Ernest and his membership in the quintessential masters of Brooklyn Street corner harmony and one of the greatest groups in the history of Black music, has always been a source of family pride for me (& my brother,) but also presents something of an editorial quandary for me with respect to Soul-Patrol and making sure that I do things in a fair manner, yet always still be as transparent as possible.
Today I will put aside all of that and just simply wish Ernest Wright a Happy Birthday. But you should be aware that whenever you see me and/or Soul-Patrol doing ANYTHING related to the entity known as "Little Anthony & the Imperials," these dots" are never very far from my mind.
Ernest Wright Bio
By Ernest Wright
Happy Birthday ERNEST WRIGHT….
(far left in "Little Anthony & The Imperials")
A founding member of "Little Anthony & The Imperials".
Here is a auto-bio written by Ernest Wright, himself.
–Billy Grffin
"I grew up in Brooklyn, New York, where as a young boy, I met Anthony, Clarence and Sammy.
On many occasions you could find us on the street corners of New York singing acappella for hours.
Clarence Collins decided to form a group called The Chesters, which myself, Anthony, and Clarence were a part of.
A few years later the name of the group was officially changed to The Imperials. It was also then when Sammy Strain joined our group as well.
After starting in 1958 and having one of the biggest records of that year, "Tears On My Pillow," one of the highlights of my career is the hit record that I wrote considered one of the greatest doo wop records of all time, "Two Kinds of People In The World." Many of our other great hits included "I'm On the Outside Looking In," "Goin' Out of My Head," "Hurt So Bad," "Take Me Back," and "Shimmy, Shimmy Ko-Ko Bop."
As well as singing, I have always been interested in writing and producing. As I continue to tour with Little Anthony and the Imperials, I have also taken a step into a new direction of nurturing a number of young artists who I am currently in the studio producing.
One of the artists you should look forward to hearing from is my daughter Nicole. She is a tremendous vocalist and she sings in four different languages. Another young artist, KO Platinum, a young lady who does hip hop, and a young man, Heckle, another outstanding hip-hop artist.
I left the Imperials for a while in 1969 and went to Europe with one of the greatest voices in American music, Tony Williams, the lead singer of the fabulous, legendary Platters. We had a musical review called, The Magical Sound of the Platters.
Of course, being inspired to get into show business was a great time in our lives because Otis Blackwell, the writer of a number of Elvis Presley's biggest hits like "Return To Sender," "All Shook Up," and many others, started us in the business in the 1950s. We were fortunate to have met one of America's greatest songwriters.
After living in Europe for a number of years, I returned to America to do The Imperials reunion concert at Madison Square Garden in 1992. At that time we decided to regroup after being apart for 17 years. At this point in our lives and in our careers, we are performing for many of the major corporations in America and the top casinos and we are doing quite well at it.
While I have a moment with you, allow me to mention one of the highlights of my life, which was a conversation I had with Dr. Martin Luther King after the group appeared at the University of Georgia. To my delight, Dr. King professed to be a fan of our music for years. I met him in the airport where we spoke for a period of time.
Another highlight was meeting Senator Robert Kennedy as he started his run for presidency of the United States. A more recent honor for me took place at a gala we performed at in Washington, D.C., where I had the pleasure to meet Dr. Benjamin Carson, a black man who fought his way out of the ghettos of Chicago to become America's greatest brain surgeons.
These are just a few privileged moments that my historical journey with Little Anthony and the Imperials have allowed me to experience.
Little Anthony and the Imperials continue a full production venture throughout the world. Those of you, who have logged on, please inquire further to see the various cities where we are appearing in the US throughout the year, in the casinos, stadiums, and music halls.
If we come to your town, pleas
e come down and experience this legendary music and this legendary trip we continue to take in show business."
ernestwright