Soul-Patrol Spotlight – A Marvin Gaye Retrospective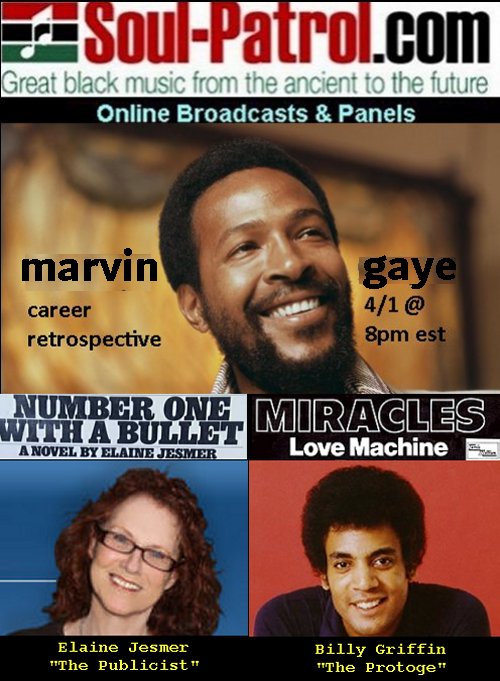 Soul-Patrol Spotlight – A Marvin Gaye Retrospective
1662
1662 people viewed this event.
Soul-Patrol Spotlight Broadcast – MARVIN GAYE RETROSPECTIVE (feat ELAINE JESMER & BILLY GRIFFIN)
April 1, 2021 @ 8:00 pm – 9:00 pm eastern
Nearly 20 years since his passing, Marvin Gaye remains a unique & visionary artist, who not only established a massive catalog of iconic music, while he was alive, but remains as an influential cultural force in America, in areas such as Soul/Funk Music, Smooth Jazz, the Black Lives Matter Movement and more. I am excited to invite everyone here to a LIVE event we are having on the Soul-Patrol website where we will be featuring two of our longtime members who both had a unique relationship with Marvin Gaye and can provide us with much needed context & perspective on Marvin Gaye:
**Elaine Jesmer – Author of the book "Number One With a Bullet," and also Marvin Gaye's Publicist.
**Billy Griffin – Lead singer of the Miracles, and also Marvin Gaye's Protégé.
Join us and be prepared to learn more about the life and legacy of Marvin Gaye, than you already know
FREE REGISTER & SHARE/TELL YOUR FRIENDS WHO LOVE MARVIN GAYE