Soul-Patrol Spotlight – Conversations with Bettye LaVette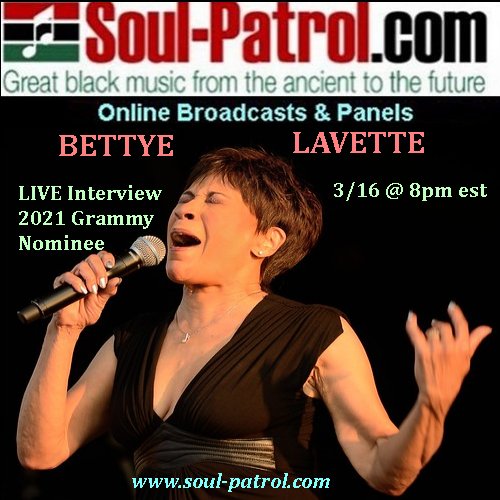 Soul-Patrol Spotlight – Conversations with Bettye LaVette
1770
1770 people viewed this event.
Betty LaVette has a well known reputation for ALWAYS "keeping it real/keeping it 100."
Here are her comments on learning that she did not win the Grammy Award for Best Contemporary Blues Album:
"Those of you who know me know I'm pissed. But they also know and I want all of you to know , how Very grateful I am for where I am at this point in my career. It has been a long haul but, some of the greatest things and people in the world , have happened to me. I love you all, and I thank you all for….(some of you for MANY years) your faith and support. Gonna smoke me a joint, drink me a glass of champagne, and go back to work on the next Album. And Still I Rise"
B.
No doubt she will have more to say about the Grammy Awards as well as other topics when she appears LIVE right here on Soul-Patrol. You should plan on joining us on Tuesday 3/16 @ 8pm eastern by registering for the event. NOTE: we will also take your questions as well.