Faye Treadwell
Treadwell was one of the first female black entertainment managers.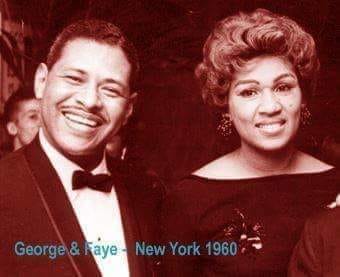 Faye Treadwell was born on this date in 1926. She was an African American music business manager.
The oldest of four children of a Baptist minister father and a schoolteacher mother, she was born Fayrene Lavern Johnson in Okolona, Ark. She graduated from Arkansas Baptist College in Little Rock and moved to Los Angeles in 1950 and was working for the Los Angeles school board when she met her future husband George Treadwell, a veteran music manager whose clients included Sarah Vaughan, Dinah Washington, Billie Holiday and Sammy Davis Jr.
After they were married in 1957, they moved to New York. Her husband also was the original manager of the Drifters, which was formed in 1953 and recorded the hits "This Magic Moment," "Up on the Roof" and "Under the Boardwalk." After lead singer Clyde McPhatter sold his half-interest in the Drifters to George Treadwell and his backers in 1954 and launched a solo career, Treadwell made the group's members salaried employees and required singers who joined the group to sign a release relinquishing any claim to the Drifters' name. Bill Pinkney, Ben E. King and Gerhardt Thrasher were among the more than 50 singers who performed with the legendary group over the years. After she and her husband were married in 1957, Treadwell did administrative work and handled publicity for the Drifters out of her husband's New York City office, as well as accompanying him on the road with the group.
When her husband died in 1967, Faye Treadwell bought out his former business partners and assumed management and control of the Drifters. As manager, her daughter Tina Treadwell said, her mother "kept the integrity of the sound and the style that my father put into form. She was very meticulous and specific about what the Drifters' sound and look was like. That was always a priority for her." In the early '70s, Treadwell moved the group, with lead singer Johnny Moore, to London, where the Drifters continue to be based. In 1993 Tredwell accompanied the Drifters to the White House to perform at a special event during President Bill Clinton's first term.
Treadwell moved back to the United States because of health reasons in 2001 and retired. In 2006, Tina Treadwell licensed the Drifters name to Prism Music Group, a British company. "The Drifters' music is so powerful that people want to find ways in which to capitalize on it," Treadwell's daughter Tina said. "My mother spent a lot of her financial assets fighting infringements on the trademark and the name on both continents."
One suit against a London tour manager and an agent who had worked with Faye Treadwell was settled in the family's favor in mediation in 2007. She also fought a decades-long battle over the rights to the Drifters' name with New York City music promoter Larry Marshak. In 2007, a judge in Newark, N.J., found Marshak in contempt for continuing to use the name of the Drifters in defiance of an eight-year-old court order.
In 2009, a ruling by the 3rd Circuit Court of Appeals in Philadelphia required Marshak to provide a full accounting of money he made promoting a version of the Drifters since a 2001 court order enjoined him from infringing on the group's trademark. A settlement on the amount of the profits to be paid was reached in 2011. Treadwell was one of the first female black entertainment managers. She died of complications of breast cancer May 22, 2011 at her home in Burbank.