Funkadrill/Mandrill Experience August 18-19 (Bristol, Pa)
Funkadrill/Mandrill Experience concert ("The Road To Love") not a "fake artist," or a "tribute show." IT'S GOING TO BE THE REAL DEAL.
DATE/TIME: August 18 – 19, 2023 | 8pm
VENUE: Bristol Riverside Theatre, 120 Radcliffe St, Bristol, PA, 19007
TICKETS:
Phone: 215-785-0100
Online/Web: https://tickets.brtstage.org/events?view=list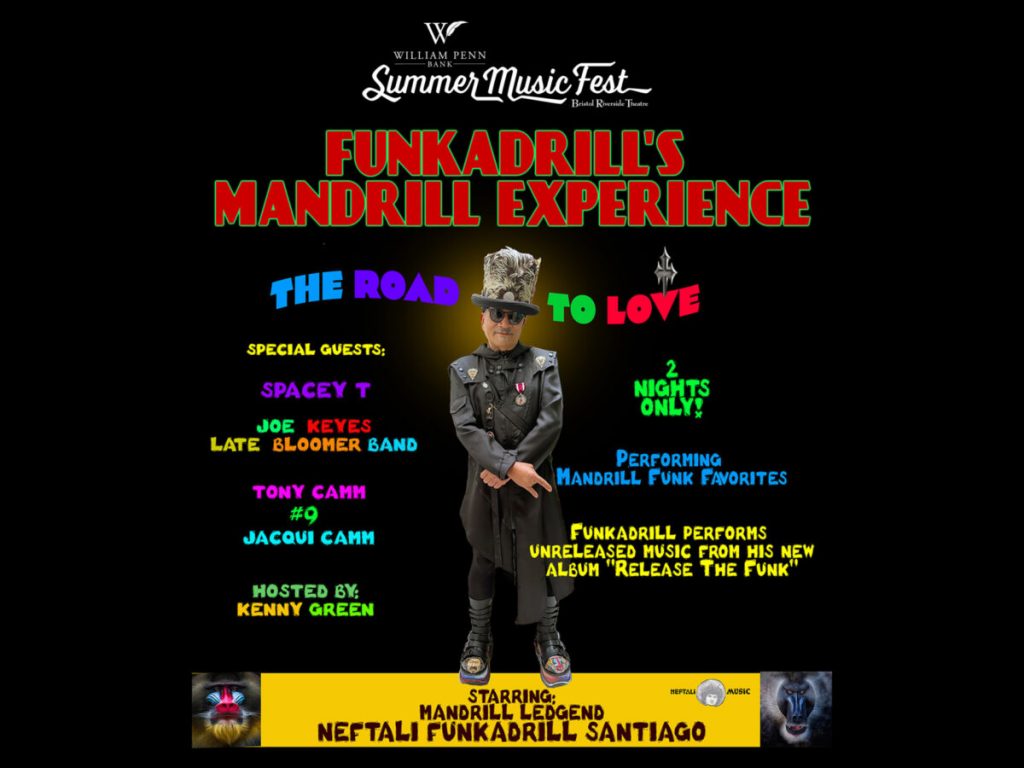 Hi this is Bob Davis of Soul-Patrol.
This is a special edition of the Soul-Patrol Newsletter, dealing specifically with the Funkadrill/Mandrill Experience concert ("The Road To Love") coming up August 18-19. You may have seen it advertised on the Soul-Patrol Newsletter and/or on the Soul-Patrol website. This is not a "fake artist," or a "tribute show." IT'S GOING TO BE THE REAL DEAL. It's at the Bristol Riverside Theatre, a wonderful 300-seat venue, on the banks of the Delaware River. The event promises to be a spectacular, yet intimate evening of GREAT MUSIC!
You are getting this email from me, because I wanted to communicate with you on a more personal level regarding this subject, given the number of questions I have gotten regarding the show.
DATE/TIME: August 18 – 19, 2023 | 8pm
VENUE: Bristol Riverside Theatre, 120 Radcliffe St, Bristol, PA, 19007
TICKETS:
Phone: 215-785-0100
Online/Web: https://tickets.brtstage.org/events?view=list
LOCATION:
The Bristol Riverside Theatre is about a 15-20 min drive from Center City Philadelphia. It's about 1.5 hours from NYC, 2 hours from Baltimore and 3 hours from Washington, DC. Don't have a car? Take SEPTA to the Bristol train station & Uber to the Theatre.
NOTE: If you live outside the area, buy a ticket anyhow. We will give that ticket to a deserving young person.
WHO IS THE ARTIST? (IVE NEVER HEARD OF THEM)
Actually, you have!
The artist is "Funkadrill" – It's the name of a Funk band headed up by Neftali Santiago, a name that you should be familiar with, from the Mandrill albums over the years. Neftali is a good friend of Soul-Patrol and has been associated with us since the beginning of our website, way back in the mid 1990's. He has been the on again/off again drummer in Mandrill for almost 50 years and is best known for being the driving force on Mandrill's biggest hit song during the 1970's called "Fencewalk." No doubt if you have seen Mandrill perform live over the past 50 years, you have seen Neftali perform live.
Neftali joined Mandrill in 1972 and is featured on many Mandrill albums and hits. Together Mandrill's multi genre sound has not been matched by any other band to date. Mandrill headlined the Spectrum many times as well breaking a RFK stadium attendance record of 85,000. More recently in the 1990's and 2000's, you have seen Mandrill perform in the Philadelphia area to sold out shows, with huge overflow crowd at venues such as the Robin Hood Dell East. I addition to being on again off again with Mandrill, Neftali has racked up four platinum albums as well as six gold albums collaborating with artists like Snoop Dogg, Public Enemy, Wyclef Jean, Kanye West and many more.
What you may not know is that Neftali is a native of Willingboro, NJ, which is a multi-ethnic suburb of Philadelphia, located just across the Delaware River. Neftali has come to a major crossroad in his life and has decided to close the door to performing Mandrill music with a "Final Performance, (called "The Road To Love") close to where he grew up, so he picked, the Bristol Riverside Theater (more on the venue later.)
The Band. "Funkadrill's Mandrill Experience" are handpicked musicians to recreate the Mandrill sound, led by Neftali. Neftali called on Joe Keyes and The Late Bloomer Band from Maryland to get that Mandrill horn sound. Melanie Brown on Alto Sax, John McCahey on Trombone, Zach Reynolds on Tenor Sax and Ronald Rolling on Trumpet. For vocals he has Tony Camm, Jacqui Camm from Virginia, Zack #9, from North Carolina, and special guest LynnD more from California. His rhythm section has Spacey T from Sound Barrier and Fishbone on lead guitar. He brought in Marc Rey from Mandrill and "Year Of The Dragon" on bass. New comer Paul Onheiser on Keyboards.
"THE ROAD TO LOVE" (WHAT SHOULD I EXPECT TO SEE & HEAR AT THIS CONCERT?)
"The Road To Love" is a musical presentation of his journey from a local hometown drummer from Willingboro, New Jersey to becoming a member of Mandrill. The show will end in present day with F.M.E. performing songs from Funkadrill's debut album, "Release The Funk" not yet released.
Neftali decided to end his Mandrill journey where it all began. He chose the Bristol Riverside Theater for its beauty as well as it being 11 minutes from his 22 Somerset Drive family home. Neftali titled his first solo album, "Santiago" released on Omnion Records titled "22 Somerset Drive", the place where he started his music career.The Night will feature "Joe Keyes and The Late Bloomer Band" opening, followed by a Mandrill set performing many of your favorite Mandrill hits as well as new music from Funkadrill's unreleased album, "Release The Funk".
VIP (premium ticket) holders will be gifted two collector's CD with their ticket purchase. "Release The Funk", a private 300 copy run, a real treasure indeed and "22 Somerset Drive" Neftali's "Santiago" 2016 release.
· In addition, you will get a chance to be a part of history. Funkadrill will be taking this opportunity to film both nights for the upcoming Netflix documentary film of the same name, "The Road To Love"
This promises to be a once in a lifetime, musical experience, filled with both nostalgia and discovery!
MEDIA (HOW COME I HAVEN'T HEARD ABOUT THIS SHOW YET?)
So far, it's only been advertised via selected outlets online. That is about to change.
Philly Radio – WJYN (98.5 FM) Starting this week, you will be hearing the voice of Neftali Santiago, talking about both his career and the show itself throughout its broadcast day, via both short "drops," and long form interviews. Tune in and check them out
Other Philly Media (Radio/TV/Print) – Is in the works, I will let you know as soon as I am able to announce those dates.
NY/NJ Media – Stay tuned, TBA
DC/Baltimore Media – Stay tuned, TBA
National Media – Stay tuned, TBA
Well, that's all I have for the moment.
Feel free to email me or call me with any questions, thoughts, or ideas that you may have.
Finally, keep in mind as an "Indie Artist," Neftali is promoting this event/concert all on his own. He doesn't have a big record label or marketing company behind him. It's really just himself and us (his fans.) and speaking of US, I want to take this moment to strongly encourage you to share this information. Forward to your email list, post to your social media pages. If you are a journalist, get in touch and arrange an interview with Neftali/.
Thanks in advance…
—————–
Bob Davis
609-351-0154
——————