FUNKADRILL'S MANDRILL EXPERIENCE 8/18-8/19 (BRISTOL, PA RIVERSIDE THEATRE)
Tickets via phone: Call 215-785-0100
UPDATES:
1. Listen to full versions of selected live Funkadrill/Mandrill songs on the Soul-Patrol page.
2. Funkadrill will be on Philly Radio starting this week on WJYN 98.5 FM, w/concert info/updates/interviews, etc. Listen to Neftali in your car!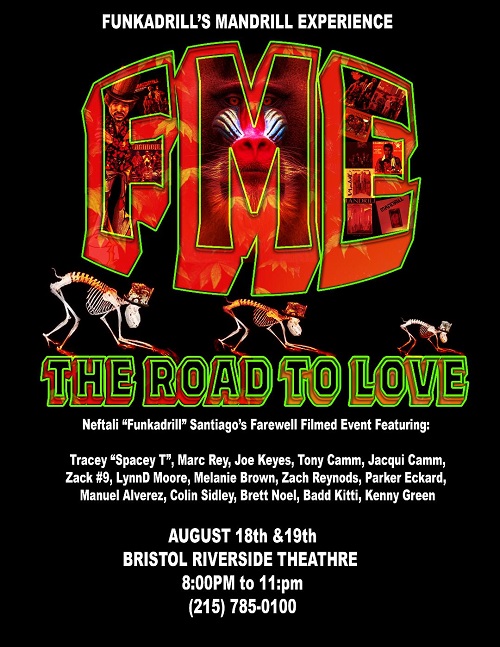 You a FUNK MUSIC FAN (Bookmark this page, more to come.)
Basic Info
Tickets via phone: Call 215-785-0100
Order Tickets online at: https://www.brtstage.org/shows/funkadrill-mandrill-experience/
You a Mandrill fan? You don't want to miss this event! Mandrill Legend Neftali "Funkadrill" Santiago , a Willingboro, NJ native is "coming home" with his "Funkadrill's Mandrill Experience" to celebrate his "Fare-well" performance!
FME will be performing Mandrills biggest Funk and Rock hits! The band will also perform songs from his new Funkadrill album, "Release The Funk"! This event is part of an upcoming Netflix documentary called "The Road To Love". Come out and become a part of history in the making!
UPDATES (Check back here early & often)
Full video music versions of some of the songs you will hear at the concert have been uploaded to this page (scroll down to view/listen.)
Starting this week (7/10/2023) you will start hearing updates about this show, via WJYN-FM (98.5) in Philadelphia. So don't be surprised when you hear Neftali's voice coming thru your car speakers as you drive around the city/suburbs of Philly! You should pull over and use your smart phone to get tickets 🙂
Tickets via phone: Call 215-785-0100
Order Tickets online at: https://www.brtstage.org/shows/funkadrill-mandrill-experience/