FUNKATEERS BALL REVIEW (9/30 BETHESDA THEATRE, BETHESDA, MD)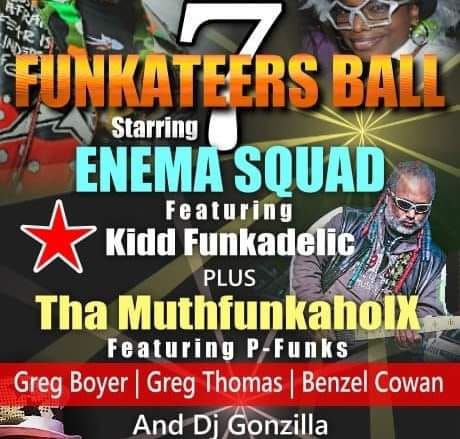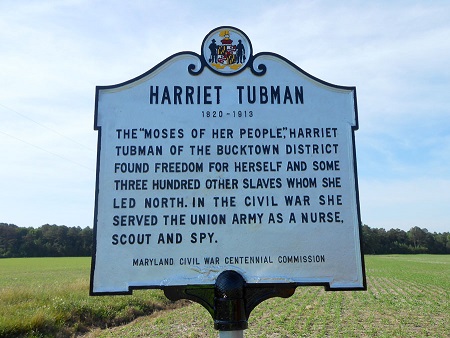 Last night "Mrs. Earthjuice" and I attended this unique event. We traveled from our relatively new home in central Delaware and as I have remarked on more than one occasion here online, "traveled the same routes used by Harriet Tubman to get there." That isn't something I use as a "throwaway line." I have certainly taken note of the sheer volume and frequency of the road signs, mileposts and tourist attractions, etc, in both Delaware and Maryland making note of the various contributions of Harriet Tubman. I'm happy to live in an area of the country that takes such obvious pride in a historical figure like Harriet Tubman and has embraced her as a "local hero/shero."
Anyhow for this review I will once again "borrow" the great Rickey Vincent framework of "The Music, The People and The One."
THE MUSIC
The two bands for the evening both come to the table as independent entities with many years of touring and recording experience behind them. Here are some summaries of how they descibe themsleves.
Tha MuthafunkaholX
The MuthaFunkaholX are and eclectic, socially conscious band that plays funk, rock, and soul music. The brainchild of Ebon Soul and Jesse Wales, this professional touring band has entertained people with original music for many years.
Enema Squad
Drummer Gabe "The Undi$co Kid" Gonzalez started touring with Parliament-Funkadelic at the age of 26 after passing up an offer to play with the Red Hot Chili Peppers. With his own band Enemy Squad he played at Lollapalooza, with Bad Brains on their Reunion Tour, Rage Against The Machine, the Black-Eyed Peas, Ernie Isley, and Morris Day & the Time. He toured for five years with P-Funk founder and legend Bernie Worrell. Enema Squad has built on the success of Enemy Squad, releasing the album Intergalaxative in 2013 to raves ("so funky, it stank!). Gabe has assembled the greatest Funk talent from Detroit and plans to bring special guests to the Funkateers Ball as well.
Gabe's honors include the Detroit Black Music Award's Funk Artist of the Year and a star on Hollywood Guitar Center's Rock Walk with the P-Funk All Stars. His alternate identity, DJ Gonzilla, hosts a weekly internet radio show.
Despite their credentials as independent artists, with their own for the purposes of tonight's event only they should both be thought of as "Best in Breed Funkadelic (not Parliament) Tribute Bands."
That means music from albums like Funkadelic, Maggot Brain, Cosmic Slop, Free Your Mind & Your Ass Will Follow, Standing on the Verge of Getting it On, and America Eats its Young. After all, given the name of this event that's what this crowd came to hear!
Neither Tha MuthafunkaholX or The Enema Squad disappointed. To say that the crowd danced their azzes off would be something of an understatement!
During their two sets I heard music from most of these albums, either in whole or in part. And I heard them played extremely true to the originals!
I have seen "Black Music Experts" such as Rolling Stone Magazine describe the music of Funkadelic by using a term like "Psychedelic Soul." That's not a bad description, but at the same time its also somewhat misleading and lazy. A amore accurate description might be something along the lines of "The next step in taking the revolutionary sounds of Hendrix/Band of Gypsy's and creating foundational music for the next generation of multi-cultural rock n' roll fans." If you listen to such Hendrix/BOG songs as, Dolly Dagger, Room Full of Mirrors, Earth Blues and others, you can hear a clear influence on early Funkadelic. Back in my own college days, I heard all this music all mixed up together at dorm parties.
Personally, I think it's excellent music. Others find it to be an acquired taste. Still others hate it. Which camp do you fall into?
NOTE: For more detail on THE MUSIC, scroll down to the write up from our friend David Brooks…
THE PEOPLE
I suppose that if you had to classify me, you could put me into the category of people who were the original fans of this style of music. I was first exposed to it as a college student and it represents the beginning of my own personal addiction to all of the other music which would later emerge from the camp of George Clinton.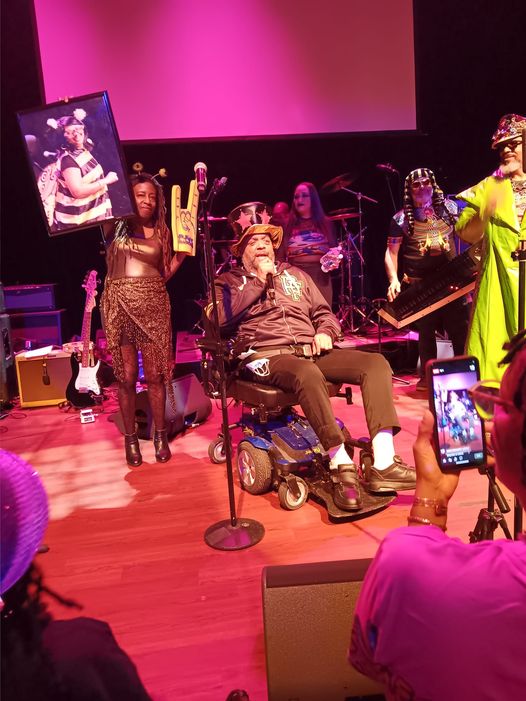 I think that it would be fair to suggest that our friend George Darden ("Dr G") could also be placed in this category. In fact it was :Dr G's" love for this style of music and all it represents, that led him to create a yearly event called "FUNKATEERS BALL," and keep it going for the past 7 years.
I have known "Dr G" for almost 30 years (some of you will remember seeing his name as an interviewer/reviewer for Soul-Patrol in the past.) In fact one of the first things he told me about himself when I first met him was "I was fired from my radio job, for playing the music of Funkadelic on the air."
When "Mrs. Earthjuice" and I first arrived at the Bethesda Theatre at 7pm, for an 8pm start time, the first thing we did was to seek out "Dr. G." We found him and his wife Andrea sitting next to the venue's sound board. I wanted to mention him here as a part of this review, because you should all know that this event only exists because of the diligence and perseverance of "Dr. G." If you ever have the good fortune to meet him in person, on the phone and/or in cyberspace, be sure to give him some props!
You might be inclined to assume that the vast majority of the folks in attendance at an event called "FUNKATEERS BALL" would be a bunch of "old farts" like myself or "Dr G," who discovered the music of Funkadelic in the early 1970's and are at the event to relive their youth.
A good assumption, but far from the truth.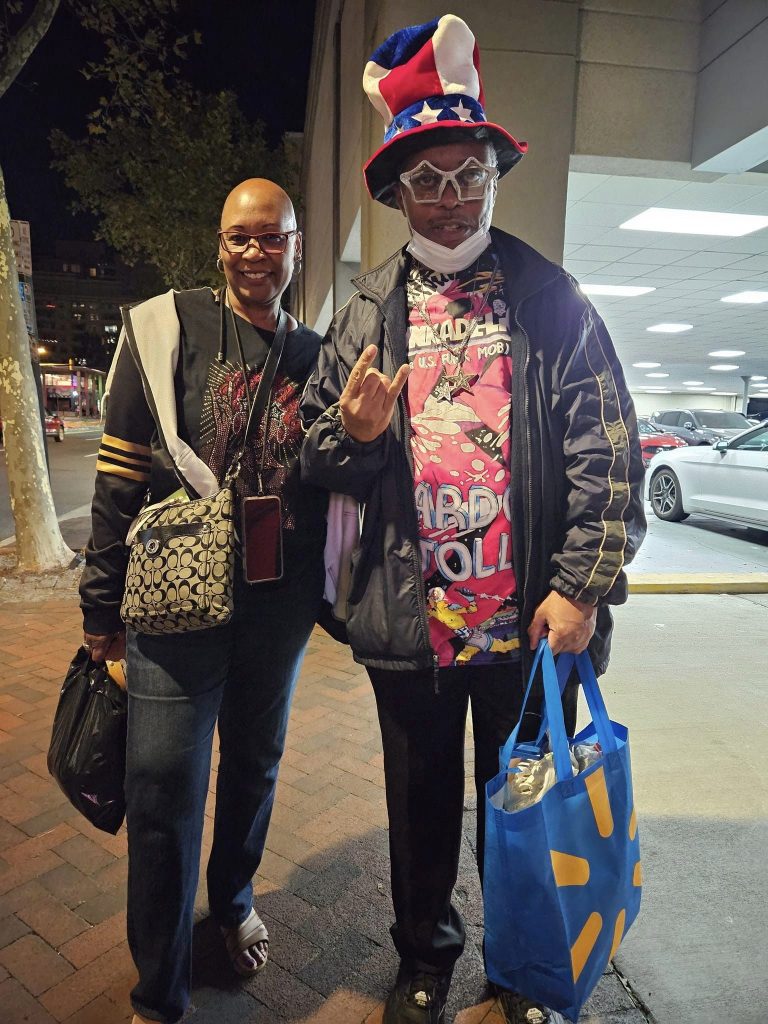 Most of the people who have come from all over the country for tonight's event are a good 10 – 20 years younger than either "Dr G" or myself. What has happened is that people who in many cases weren't even born yet, at the time this music initially came on to the scene are in 2023, its most supportive fans. Some have compared them in a positive way to "Deadheads," as they travel around the country supporting Funkadelic inspired/influenced concerts and other events, and attending these events dressed in full blown Funkadelic regalia, often homemade costumes, either depicting members of the band and/or characters in the songs.
What better way can you think of to insure the continuing legacy of a legendary band?
THE ONE
Almost by definition everyone in attendance at this event was "ON THE ONE."
Im gonna take it one step further for ya….
Here in 2023, almost everyplace I go. I find that Black Americans are quite angry. If you think about it, they have good reason for being in a constant state of anger. There is a lot for them to be angry about. Police Brutality, Systemic Racism, Ongoing Housing, Educational & Employment Discrimination, Crime, Lack of Reparations, Voter Suppression/Disenfranchisement and more there is a whole lot to be angry about.
At the "FUNKATEERS BALL," about 99 44/100 percent of the attendees were Black Americans. I did not run into a single one of them who were angry about anything that evening.
(it's kinda nice not to see a large gathering of Black folks being angry in 2023!)
I think that the location may have had something to do with that. In addition to Delaware/Maryland being the home base for Harriet Tubman, specifically Bethesda Maryland is located in Prince Georges County Maryland. This county happens to be the most affluent predominantly African American County in the United States.
I also see this years FUNKATEERS BALL as being the third of three significant events reflecting the past/present/future of Funk Music
1. The publication of "The Funk Queen" (By Dawn Silva) – Yes if you want to understand the evolution of the music/culture as it moved from Sly to P-Funk to the Gap Band you need to read/absorb this book. Don't be a cheapskate and expect me to tell you everything in the book, go and buy it at www.DawnSilva.com
2. The Funkadril weekend in Bristol, Pa (w/Neftali Santiago) – What a groovy weekend. Time well spent among Funkateers, including great music, conversations and plans for the future of the Funk. Was recorded and soon to be a Netflix TV special.
3. Funkateers Ball #7 in Bethesda, MD (w/Dr G) – Many of the same people in attendance from the Funkadril weekend. Dawn Silva was the headliner for Funkateers Ball #5 and Neftali Santiago was the headliner for Funkateers Ball #6. If all of that doesn't represent some kind of "harmonic convergence" (I don't know what else to say…..lol)
Needless to say, I am quite happy that Soul-Patrol has been able to participate in all of this!
–Bob Davis
More Detail on THE MUSIC from David Brooks
REVIEW OF THE FUNKATEERS BALL #7
(featuring Enema Squad & The MuthafunkaholX)
At the Bethesda Theatre – Bethesda, MD (9-30-2023)
————————————————————–
*** In the words of Prince: I was dreamin' when I wrote this
Forgive me if it goes astray! ***
Disclaimer: I am not familiar with the Tha MuthafunkaholX material, so some information may be missing or not quite on point!
All I know is that I returned from the bathroom at 8:05pm, the MuthafunkaholX was smoking up the Bethesda Theater with Parliament's "The Goose"…SO MUCH FUNK filled up the place that the funk patrons were dripping in funk sweat. In place was the majestic Baltimore Horns (Greg Boyer, Gregory Thomas and Bennie Cowan…they added so much to the funk stew! The next song featured a very hot sax solo by Greg Thomas. The next song, which may been no No More Fuks, featuring Duchess on lead vocals.
"What I Want" was a James Brown-inspired style of dunking with the Superbad breakdown included (thanks to rhythm section and the Bmore horns! Benzel Cowan funked the place up real nice on the powerful drumkit ! The next song "World" (??) was more Latin-funk with energetic drumming by Benzel.
"Baby I Owe U Something Good" featured more of Benzel's heavy drumming and featured co-lead vocals by Greg Boyer & Princess (and a 3rd vocalist) and some backing vocals by Linda Shider. The MuthafunkaholX played more P-funk classics, like "Mothership Connection", "Tear the Roof Off the Sucka" and "Flashlight".
"Cosmic Slop" was very good with Garrett Shider handling the lead vocals and Terre Holland on bass, but the guitar solo by Jesse Wales was lacking (because his guitar was way way too low in the mix, with the keyboards and drums overpowering his guitar riffs).
"Thank U" was their ending song, as they thanked the fans for giving up the funk! Interesting enough, the song ended with a Holy Ghost style breakdown.
The MuthafunkaholX set was over at 9:10pm.
The Enema Squad started their show at 9:40pm with a recording of Parliament's "Prelude" playing over the sound system. The band afterwards performed one song from every Funkadelic album from 1970 to 1980. They started with "Mommy, What's a Funkadelic?"…a song dripping with deep, primitive funk from the early "Funkasurus" dayz (thank you, Anthony Davis, for your P-Funk trivia show yesterday and THAT new term! LOL), anchored by the fearless leader on mesmerizing lead vocals and hypnotic drumkit, Mr. Gabe Gonzalez ("Undi$Co Kidd") and strong bassisms by veteran E-Squad member K.C.!
"I Wanna Know If It's Good to U" featured spacey synthesizer riffs, but a lead guitar solo, possibly by Duminie Deporres, that was too low in the mix. "Hit It and Quit It" featured backing vocals by Coco Buttafly and Jackie. The next songs were "Loose Booty", "Trash-a-Go-Go" and hardcore funk-rock force of "Red Hot Momma" (featuring Kidd Funkadelic (Michael Hampton) on lead guitar). Again, technical issues had Michael's guitar very low in the mix in the beginning of the solo. The next song set the place afire as the Gabe and the boys rocked out on "Alice in My Fantasies", featuring the manic drumming of the Undi$co Kidd!
"Good to Your Earhole" was a great workout by the guitar army (with Kidd Funkadelic on lead guitar fire). "Let's Take It to the People" was nice with tasty lead guitar riffing by Garrett Shider. "Comin' Round the Mountain" featured Kidd Funkadelic giving up another red-hot guitar solo.
The band switched over to Parliament for the next 2 songs — "Handcuffs" featuring Nate Turley on lead vocals [very nice vocals, by the way]. The band did a great job with this song. The Baltimore horns came back to lend a hand with "Dr. Funkenstein"…needless to way that the funkateers were in P-Funk heaven!!
The next song was interesting — "Promentalshitbackwashpsychosis Enema Squad (The Doo-Doo Chasers)" sounds good, with Garrett doing the crooning that his dad Garry used to do. One problem: Gabe and the girls should have rehearsed those call and response lines [or then again, maybe his mic should have been turned it a little more so they can hear him]. "Freak of the Week" was nice, followed the shocker "Icka Prick"…WOW….that was some graffilthy stuff! OOHHH!!
The Enema Squad ended the show with the one E-Squad song called "Put in Werk", a nasty funk extravaganza featuring hot lead guitar work by Kidd Funkadelic. To be honest, I was expecting more Enema Squad songs in this FB7 set….oh well!
FB7 was over at 11:20pm.