Get On Up, James Brown: 50th Anniversary Collection, JB's, James Brown Apollo Viewing, Maceo Parker, Lyn Collins, Bobby Byrd, Appllo, Hank Ballard, Fred Wesley, Marva Whitney, Bootsy Collins FUNK BROTHERS

Get On Up, James Brown: 50th Anniversary Collection, JB's, James Brown Apollo Viewing, Maceo Parker, Lyn Collins, Bobby Byrd, Appllo, Hank Ballard, Fred Wesley, Marva Whitney, Bootsy Collins FUNK BROTHERS

Movie Review – Get On Up (Please save your money)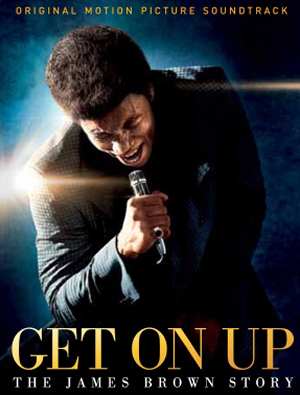 I saw this movie, during the first week of its release. And I regrettably am unable to recommend it.
My perspective…
I had planned to go and see this movie, despite the promise I made to "Mrs. Earthjuice," given the amount of money we spend in the Davis household each month for various Satellite TV services, therefore making it fiscally irresponsible to "go to the movies," yall convinced me that I should go see it.
And I am glad that I did. Otherwise I wouldn't be able to tell you to save your hard earned money.
This flick is really just a poorly written stock hollywood "buddy movie," that "talks loud and says nothing."
First let me state for the record that I thought Chadwick Boseman is best damn James Brown imitator I have ever seen (and I have seen a LOT of them!) He should win as many acting awards as the white man (and the "knee-gro elite") wants to give him. Highly entertaining!!! Someone should probably build a one man play on Broadway around this talented brotha. However his great performance is wasted, next to the disgrace that this movie is to the legacy of James Brown.
Everyone here should go to the link below to the article called "THE WHITEWASHING OF JAMES BROWN (http://www.huffingtonpost.com/gregory-allen-howard/whitewashing-of-james-brown_b_5638130.html) After reading that article and also seeing the movie, the movie leaves a bitter taste in my mouth. James Brown isn't really "whitewashed" in the movie, but he is marginalized, because the power of his truth is not told!
(It's difficult for me to recommend a movie that MISSES THE WHOLE POINT about James Brown)
The story, while it deals with many of the known facts about the life of James Brown, really misses the three main reasons why I would want to see a movie about James Brown.
1. After Dr. King & Barrack Obama, James Brown was the most influential Black American of the past 50 years – Tell the story of how James Brown was the most influential Black man in the country, after the death of Dr. King, completely against all possible odds, especially with the "knee-gro elite" hating him so much, because he spoke directly to the folks that the "knee-gro elite" had their feet on the neck of. Show me how because of his influence, the United States government took him down, destroyed his businesses, stripped him of his communications empire, humiliated him, etc. Hell, show me James Brown in Africa transforming crowds of hundreds of thousands of people. He quite literally changed life in the United States, for all of its citizens. The movie completely ignores this.
2. Tell me the story of how James Brown developed/evolved FUNK MUSIC and made it into a positive and powerful musical force – Hell, tell me more about the contributions of Bootsy, Fred, Maceo, Bobby Byrd, Clyde, etc, to the development/evolution of FUNK MUSIC and not just barely mention their names. Damn it, I wanna see JB in the studio telling "Ron to keep the tape running," during "Talking Loud and Saying Nothing." Al Sharpton discusses in a powerful testimony in his eulogy of James Brown, what James Brown means when he uses the term "ON THE ONE." Hell Al Sharpton's eulogy of James Brown should have been the STARING POINT for anyone making a movie about James Brown. If you have never heard it, look for it online, if you call yourself a "funkateer" (or desire to be one) it is "required listening!" (and remember I am no fan of Al Sharpton's…..LOL.) This movie in fact it marginalizes James Brown's musical accomplishments.
3. The movie says that James Brown influenced many artists – Hell, why not show me which ones. Show me how James Brown's music/style influenced George Clinton, Miles Davis, Public Enemy, Sly Stone, AWB, MC Hammer, Michael Jackson, Prince, etc. This movie however failed to show or tell me about even one single artist who James Brown influenced
(If you're not going to cover those 3 topics, why even bother to make the movie?)
There are lots of other things that I would consider important (ex: no mention of Henry Stone's career long involvement with James Brown, no mention of Mr. Bobbit who was James Brown's right hand man, No mention of "capeman" Danny Ray, no mention of Fred Wesley, etc.) Worst of all is the foul treatment of James Brown's parents in the movie, when there is documentation to the contrary of what was depicted in the movie. The "angry black man" inside of me thinks this is an attempt to show Black families in the worst possible light.
Perhaps if the movie has AT LEAST ONE BLACK WRITER, these topics may have been covered?
I guess one redeeming thing about there being NO BLACK WRITERS involved in the creation of this movie is that there was absolutely no discussion in the movie about the lyrics of James Brown's songs. Clearly the reason for this is because no white man in his right mind would dare to try and interpret what James Brown is saying.
That's cuz James Brown ain't talking to white folks in his songs. Black folks (except for the "knee-gro elite,") know EXACTLY what James Brown is talking about…
(Thus keeping the "secret language of the Booyah Tribe," a secret for just a little bit longer!!)
Another good thing that this movie clarifies for me is that James Brown was such a dynamic, visionary & multi-dimensional individual figure, that there should be many movies or TV shows made about him, made from multiple perspectives.
And my hope is that in the future there will be. Because if this movie were to stand as the primary document/artifact about the life/legacy of James Brown…. (it would be a travesty)
However (#onthegoodfoot) I can recommend the movie…
James Brown: the Man, the Music & the Message.

I realize that many of you have seen the movie:
James Brown: the Man, the Music & the Message
It's been on TV many times.
We featured it at the 2007 Soul-Patrol Convention.
And of course it was written by Black folks. And most importantly contains JAMES BROWN (warts and all.) It airs nationwide on TV ONE Aug 17 and also in Sept.
It's worth checking out again.
(and of course sharing with your children!!!)
Right now there are a whole lotta folks who are pretty upset about "Get On Up." I say, don't fret. The subject of James Brown is so big that there will be many movies made about his life/legacy.
Right now we have at least two.
There will be more…
–Bob Davis
609-351-0154
earthjuice@prodigy.net
Co-Founder www.soul-patrol.com
Album Review: Maceo Parker – Roots and Grooves
(Jazz/Funk/Soul)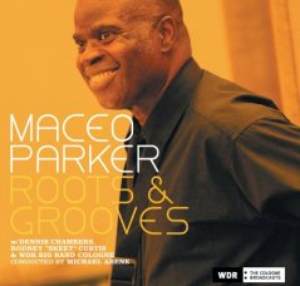 Do you like live albums? (I do). That's because I like going to concerts and this album is kinda like listening to a "dream concert." This album consists of a 2 CD set and it's really like two separate albums in one package. The first disc is a live set featuring Maceo leading a big band doing a super hellified, largely instrumental tribute to Ray Charles. The second disc is a live set featuring Maceo leading a big band doing a real greasy funk concert, that ends with a 17 minute long live version of "Pass The peas". I have no clue as to who could possibly not like this album. If you are a person reading this review it means that you are already pre-disposed to really digging this album. I can't imagine that you wouldn't like it. There aren't any surprises here, just like the title says, it's "roots and grooves", nothing more and nothing less. If you have any hint of a "glide to your stride", "bounce to your ounce", no matter how small you are going to be immediately transported to a place called "planet groove" as soon as you put this album into your CD player. And if you need more than TWO HOURS OF LIVE STANK AZZ GREAZY ROOTS & GROOVES in one sitting, then come and see me, because that means you are a funkateer in desperate need of medical attention. However if you are a country music fan, you might not want to listen to this album unless you want your hair to turn nappy.
Check out Maceo Parker – Roots and Groove at: Maceo Parker – Roots and Groove
Look for these songs to appear soon as "buzz cuts" on Nu Soul @ RadioIO.com
–Bob Davis
Bobby Byrd
("I Know Ya Got Soul (Or You Wouldn't Be Up In Here)")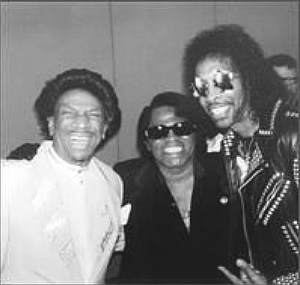 Lyn Collins – Dead James Brown – Dead Bobby Byrd – Dead
Perhaps Justin Timberlake will carry on the legacy of James Brown?
Maybe Joss Stone?
Amy Winehouse?
Or maybe we should all look to and embrace Robin Thicke as the new…
G O D F A T H A

Hey, Pat Boone is still around, he made an "R&B" album last year why not him?
What do you think?
Is the REAL….
G O D F A T H A

Spinning in his grave, "doin the camel walk" or what?
Maybe? Probably? Defiantly? Absolutely…
That's cuz the REAL…
G O D F A T H A

AIN'T HAVIN IT
And neither am I
"I Know Ya Got Soul (Or You Wouldn't Be Up In Here)"

– Justin Timberlake
– Joss Stone
– Amy Winehouse
AIN'T ALLOWED "up in here"
They have no place here
They belong elsewhere
Oh….they ALL wanna be "up in here"
But they can't be "up in here".
THEY HAVEN'T EARNED IT.
You see "UP IN HERE" is NOT a place that you can buy your way into. It doesn't matter how much money you have. It doesn't matter how much TV exposure that you have.
Bobby Byrd told us exactly what "UP IN HERE" means.
There is no ambiguity
There is nothing to interpret
You get "UP IN HERE" simply because….
"YOU GOT SOUL"
What a great and positive affirmation.
What a statement of both purpose and direction.
If you have to ask what it means, what it's purpose is or who is eligible for admission,…. THEN CLEARLY YOU DON'T BELONG THERE
Everybody wants to be "UP IN HERE".
Just like every body wants to be at:
"THE FUNCTION AT THE JUNCTION"
"THE PSYCHEDELIC SHACK"
"FUNKYTOWN"
"BLUEBERRY HILL"
"THE SUGAR SHACK"
"CHOCOLATE CITY"
And other geographical destinations for which those who clearly don't belong, always want to go.
"…you got it
……you got it
……..you got it
………..you ggoottt it
………….I KNOW YOU GOT SOUL
…………….OR YOU WOULN'T BE UP IN HERE"
So simple So clear So precise So elegant So robust So powerful So positive So timeless
Bobby Byrd gave that to us.
And he gave it to us at a time when we needed it most.
These are great words.
It was a positive affirmation of history, culture, struggle, freedom & success, all refined down to its essence. Boiled down just like a Louisiana Roux, so rich in flavor, its ingredients are only identifiable, by it's creator.
Everybody can taste it
Everybody can feel it
Everybody can savor it
Everybody can swear by it
You can write it down, but it's recipie will always remain a secret
Bobby Byrd just wanted to let those who were already…. "up in here" that he knew, "how they got there"
And to the people who weren't already "up in here", That they simply lacked the credentials to get in the door…
–Bob Davis
Album Review – James Brown – "50th Anniversary Collection"
(Black American Standard Music – Funk, Slow Jams, Jazz, Blues, Rock, Soul, Gospel, Afrikan Mysticism)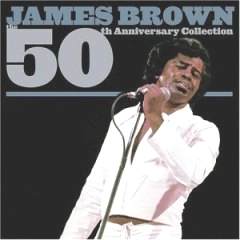 If you are a Black music fan, this new release is absolutely an essential Compact Disk for you to own!
– That's right, if you are a casual or a hardcore James Brown fan, it doesn't matter, this CD is essential.
– That's right, even if you have brought all of the James Brown CD's that have come out over the past 20 years, this CD is essential.
– That's right, even if you are a hip hop fan
And if you aren't a James Brown fan, you are going to quickly discover that you are, but you just didn't know it.
That's because on James Brown – "50th Anniversary Collection", James Brown is presented on CD as he has never been presented before…
He's presented as a "radio singles artist". And that is all good as far as I'm concerned because that is how I was first introduced to James Brown.
"He was the guy that had a new record on the radio every two weeks. And I was the kid who used to hear listen to brand new James Brown records via the 3.5 inch speaker that was connected to my AM radio as I listened to the static filled broadcasts of WWRL-1600 AM in NYC, all of the way on the far right hand side of the AM dial. And with each new James Brown record that I heard on WWRL-1600 AM, I would jump up and spin around imagining that I was on the stage of the Apollo Theatre, just like James Brown. Then I would run down to the record store and plunk down my hard earned 49 cents and buy my very own vinyl copy of that new James Brown record. And all was right with my world, until two weeks later, when WWRL-1600 AM would play yet another brand new James Brown record and the process would repeat itself!"
And James Brown – "50th Anniversary Collection" gives those songs to you, EXACTLY as they were first presented to us on the radio (without the static….lol) and it's presented in chronological order. 50 hit records over the course of 50 years.
There are no "alternate takes", "extended jams", "stuff recorded when nobody knew that the tape recorder was still running", live cuts, etc.
It's pure and direct, just like the radio used to be.
It's kinda like "musical comfort food, for some folks."
For me on a personal level, all of these songs taken as a whole, are kinda like the "essence of life", kinda like a "Rosetta Stone for what it means to be a Black American".
Just kick back and listen to "the man who invented FUNK MUSIC", as he takes us on a journey where he takes that essence known today as FUNK MUSIC and turns almost every other musical style inside out, creates sounds & words never heard before, filtered though the vision of a real life 20th Century griot and then smashes it like a pancake for us to listen to on AM radio!
Here is the track listing and if you don't think that you need to listen to this double CD from end to end in it's entirety, then you probably have no business reading this in the first place…
Disc: 1
1. Please, Please, Please
2. Try Me
3. Good Good Lovin'
4. I'll Go Crazy
5. Think
6. Bewildered
7. Lost Someone
8. Night Train
9. Prisoner Of Love
10. Out Of Sight
11. Papa's Got A Brand New Bag, Pt.1
12. I Got You (I Feel Good)
13. It's A Man's, Man's, Man's World
14. Bring It Up
15. Let Yourself Go
16. Cold Sweat, Pt.1
17. Get It Together, Pt.1
18. There Was A Time
19. I Can't Stand Myself (When You Touch Me), Pt.1
20. I Got The Feelin'
21. Licking Stick – Licking Stick, Pt.1
22. Say It Loud – I'm Black And I'm Proud, Pt.1
23. Give It Up Or Turnit Loose
24. I Don't Want Nobody To Give Me Nothing (Open Up The Door, I'll Get It Myself), Pt.1
25. The Popcorn
26. Mother Popcorn, Pt.1
27. Ain't It Funky Now, Pt.1
Disc: 2
1. It's A New Day, Pt.1
2. (Get Up I Feel Like Being A) Sex Machine, Pt.1
3. Super Bad, Pt.1
4. Get Up, Get Into It, Get Involved, Pt.1
5. Soul Power, Pt.1
6. Hot Pants (She Got To Use What She Got To Get What She Wants), Pt.1
7. Make It Funky, Pt.1
8. I'm A Greedy Man, Pt.1
9. Talkin' Loud And Sayin' Nothing, Pt.1
10. There It Is, Pt.1
11. Get On The Good Foot, Pt.1
12. I Got Ants In My Pants, Pt.1
13. Down And Out In New York City
14. Sexy, Sexy, Sexy
15. Doing It To Death, Pt.1
16. The Payback, Pt.1 – Fred Wesley
17. My Thang – Fred Wesley
18. Papa Don't Take No Mess, Pt.1 – Fred Wesley
19. Funky President (People It's Bad) – Fred Wesley
20. Get Up Offa That Thing – Fred Wesley
21. Bodyheat, Pt.1 – Fred Wesley
22. It's Too Funky In Here – Fred Wesley
23. Static, Pts.1&2 – Fred Wesley
I think that it would do a whole lotta people a whole lotta good to put aside a couple of hours and listen to James Brown – "50th Anniversary Collection" from start to finish. Just pour yourself a glass of "iced tea", jack the volume up as high as you can and listen to the hit making career of James Brown. In fact my recommendation is that you listen twice.
– Just make sure that you move all of the furniture in the room off to the side, because you are going to need the space as you dance around the room, the first time you listen.
– Then on the second listen, put your headphones on so that you can hear very clearly the lyrical genius of an Afrikan Griot named James Brown as he provides for us all, thru the vehicle of radio hit records, much wisdom about how we can individually and collectively enhance the quality of our lives.
"people, people we got to get over, before we go under…"
–Funky President
–Bob Davis
James Brown's Viewing In NYC @ The Apollo
James Brown @ Apollo Vol 999 – Interviews (w/some music) from the viewing of James Brown's body as it lay in state at the Apollo Theatre 12/29/2006. Charles Bobbitt , Al Sharpton, Kirby Carmichael , Kenny Webb, Thomas Hart, John Rozz, Jamstix, Various Folks in Harlem for the day
The whole thing was a surreal experience for me:
I traveled to NYC by train along with legendary Richmond VA broadcaster Mr. Kirby Carmichael and his lady, who drove up from Richmond and met me at the train station in NJ. We reached the Apollo around 2pm via the A train (just like Duke Ellington told us we should).
– I am told that the crowd wrapped around 125th street, all the way to 140th street (THAT'S FIFTEEN BLOCKS) and the line was 10 deep that I saw
– I must give props to the NYC Police Department. This could have easily been a nightmare, but they did an excellent job of organizing and directing this humongous crowd such that there was only minimal disruption on 125th street
– Once I got backstage (thanks to Marshall Thompson of the Chi-Lites) it became kinda like "old home week". I knew many of the folks back there and many I didn't know, knew me.
– I did several interviews backstage with some of the folks backstage, including Mr. Charles Bobbitt Mr. Brown's legendary "right hand man" as he described for us in detail James Brown's last waking moments. Soul-Patroller Thomas Hart assisted me in this interview, producer of the documentary "James Brown the Man, the Music and the Message.
– Another interview was with Kirby Carmichael and NYC legendary DJ Kenny Webb as they described just how James Brown was committed to helping Black DJ's to be successful and created an informal network among them that remains intact to this day. He was truly a "GODFATHER" to the DJ's around the country.
– "Rev Al" gave the eulogy at around 6:30 pm. He "tore the roof off the sucka" as he described in detail just how James Brown told him how he created FUNK MUSIC ("the half note") and revolutionized the last 50 years of music, but also spoke of how James Brown was a mentor to him and to all of those around him. "Rev. Al" spoke of how James Brown totally eradicated the term "NEGRO" from our collective vocabularies with a single song. "Rev Al" talked about a conversation that he had recently with James Brown. He said that James Brown told him that he was very disturbed about the things that were being said in today's music and that he felt that they were destructive. And then "Rev Al" ROCKED the Apollo in a way that ONLY a Baptist preacher from the ghetto can and said….
WE CAN'T HAVE PEOPLE CALLING THEIR MOTHERS HOES, THEIR WIVES BITCHES AND THEMSELVES NIGGERS ANYMORE!!!
"Rev. Al" is not a person that I had much respect for prior to this day. But I watched Rev Al stand silently next to the open casket of James Brown damn near all day long, mostly in silence watching over his mentor and then at 6:30 deliver a great speech in tribute to the man who invented FUNK MUSIC and truly created a "revolution of the mind" inside of the heads of several generations of people around the world. And as I observed Alfred Sharpton today on December 29, 2006 I saw someone who just earned my respect.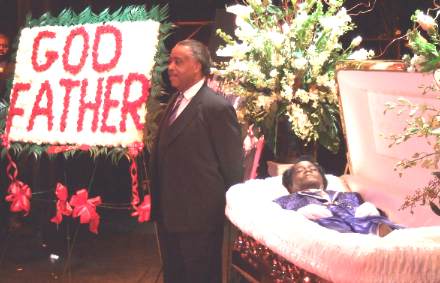 – Then I went back outside where I did several "man on the street interviews" with some of the folks waiting online (including our own John Rozz, who I somehow found in this massive crowd). John told me that he had been waiting on line for FOUR HOURS. He told me that the crowd on line was "mostly eating chicken, having a few drinks here and there, having a big party and he joined right in with them." I spoke with many other folks on line including a woman who traveled up from Missisippi and two 13 year old girls who all told me just how much the music of James Brown had touched their hearts and souls and why they had to be here today to see him off.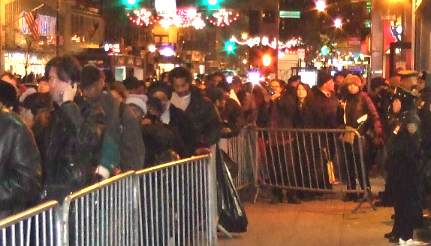 – I even saw two of my favorite NYC area promoters out there working the crowd, passing out flyers (including the BIG JAMES BROWN TRIBUTE @ ROSELAND BALLROOM THIS SATURDAY NIGHT
– Afterwards I jumped on the A train (just like Duke Ellington told us to) with Mr. Kirby Carmichael and his lady and headed back downtown to Penn Station. We got off the subway and had one of those totally surreal "only in NYC moments". We were greeted by a street musician named "Jahstix" with a guitar and a small amplifier. He was playing the JB's "DOIN IT TO DEATH". It was beautiful and mesmerizing. It was totally from the heart. It made me cry and smile at the same time. I flicked on my tape recorder and told Kirby that it was a fitting ending for the day…..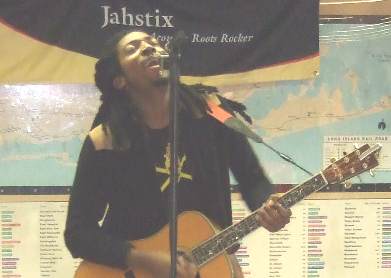 James Brown @ Apollo Vol 999 – Interviews (w/some music) from the viewing of James Brown's body as it lay in state at the Apollo Theatre 12/29/2006. Charles Bobbitt , Al Sharpton, Kirby Carmichael , Kenny Webb, Thomas Hart, John Rozz, Jamstix, Various Folks in Harlem for the day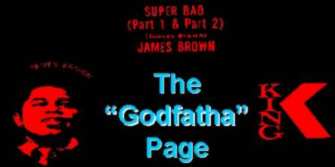 CD REVIEW:
20th Century Masters – The Millennium Collection: The Best of James Brown, Vol. 3 James Brown & Friends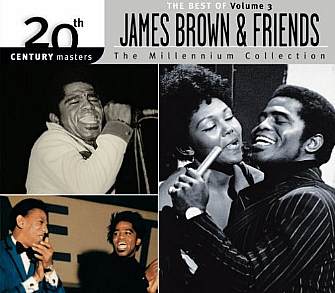 ** 20th Century Masters – The Millennium Collection: The Best of James Brown, Vol. 3 James Brown & Friends (Marva Whitney, Lyn Collins, Bobby Byrd, and the JB's)
(Stone Cold Funk)
The 1970's James Brown Organization at their peak, featuring prime cuts from James Brown, Marva Whitney, Lyn Collins, Bobby Byrd, and the JB's. Simply stated, this CD is an instant party in a box. Put it on for a room full of people, roll back the rug, move anything breakable out of the way and let the party begin…
Now this is a good example of a MUST HAVE compilation that you won't have to pay an arm and a leg for. As I recall every single one of these songs were hits on the radio stations that used to exist down on the far right hand side of the dial. These are classic songs of the FUNK movement, which should have your booty shakin within seconds of when each song starts.
Listening to this CD brought back memories of buying some of these 45's the day after hearing them for the first time on the radio and how these 45's used to come out from the James Brown Organization damn near every two weeks. If you remember those days, or if you are too young to remember them (but would like to), then you can't go wrong with this just released compilation CD from Universal Music.
Here is the track listing
1. Doing It to Death – JB's
2. Think (About It) – Lyn Collins
3. My Thang – James Brown
4. There It Is – James Brown
5. I Know You Got Soul – Bobby Byrd
6. Pass the Peas – JB's
7. Get Up, Get into It, Get Involved – James Brown
8. Funky President (People It's Bad) – James Brown
9. Message from the Soul Sisters, Pts. 1 & 2 – James Brown
10. Stoned to the Bone – James Brown
11. What Do I Have to Do to Prove My Love to You – Marva Whitney
12. Funky Drummer, Pts. 1 & 2 – James Brown
Don't even think twice about it. If you don't currently own all of these songs in some form, then how can you miss with this CD for only $9,98 at Amazon.com?
–Bob Davis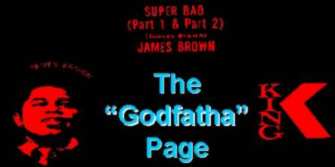 Click here to enter your suggestions and feedback