Greg Tate – RIP
1 year after his passing….Essays on Greg Tate: From our friend's Darrel Mcneil, Rickey Vincent & artist Doria Roberts…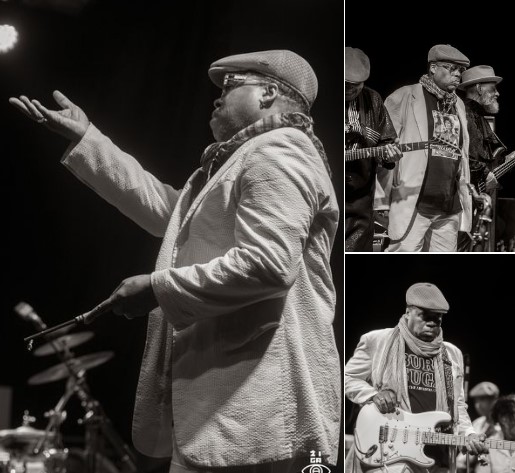 Our Man Tate: A Living Memoriam
By Darrell M. McNeill
"If you're not a reality, whose myth are you? If you're not a myth, whose reality are you?"
–Sun Ra, Prophetika Book One
"If you can't dazzle them with your brilliance, then baffle them with your bullshit…"
–Greg "Ionman" Tate, at least a million times…
ACT I: The Schism Which Begat The Ism
Marvin: What's Goin' On…? Sly: There's A Riot Goin' On…
By the time The Great National Malaise of the 1970s dissolved into The "Get Rich Or Try Dying" 1980s, the lens on American popular culture had long been ground to collect and magnify, almost exclusively, White spectrum light—the "visible" portion, so-called. Despite the ascension of radical, evolutionary creatives and thinkers informed by divergent race, gender, sexuality and spiritual mores and sensibilities—all scuttling the Euro-centered, "Y-chromosomed," Judeo-Christian psychoses of the last half-century or so—the American National Front of popular cultural critique was still White and male, both in messengers and messaging. Like American life, the "visible" portion of the electromagnetic spectrum comprises a mere sliver of a decidedly broad range that includes "Y-rays," "X-rays," ultraviolet, infrared, microwaves, frequency modulation, amplitude modulation, long radio waves—a vibrant, full-throated, colorful realm of stimuli only distinguishable at highly attenuated frequencies. But, as the only portion perceptible by the untrained eye, pop culture gatekeepers doggedly conflated their "rainbows" at the expense of mountainous evidence of disregarded realities.
Black pop culture, such as it was, had yet to even be recognized as any sort of formal construct, and certainly not one—under The Dred Scott Decision Of The American Creative Pantheon—that White literati were bound to respect. So-called "mainstream" publications only trickled-up a paltry sample size, with the criterion set by White stewards and constituents. Black cultural criticism, beyond remote outposts like jazz magazines, high-brow periodicals and underground journals, was a rarefied commodity disseminated only within The Ivory Tower Circuit—the nation behind the iron mask, if you will. While from this fallow soil emerged laureates like Langston Hughes, Countee Cullen, Richard Wright, Zora Neale Hurston, Margaret Walker, James Baldwin, Amiri Baraka, Phyl Garland, Audre Lorde and Toni Morrison, the needle calcified on directives like: fostering distinguished next gen Black writers, editors or curators; cohesive schools of thought centering Black creativity, sensibility or intentionality; articulating, in context, the here-and-now moment in Black culture; a resonant connection with the Black multitudes.
Black pop was sieved through profiles and puff pieces in straightlaced tabloids like Ebony, Jet and Right On!, circumventing the disruptive political, culture-forward, investigational voices influencing the Black zeitgeist of the time. Writers, mostly happy to have gigs at all, largely cribbed press releases not straying far afield from dating statuses, favorite dance steps, soul food staples and blow-out tips. No deep "think pieces" to be had here—stereotyped, nutrient-deficient chocolate bubble gum force fed to the masses was the order of the day. This narrowcasting, regimenting and pimping of Black presence at the expense of Black intent (at minimal cost, maximal profit) became a cottage industry in the 1970s—Blaxploitation without representation.
Black expression had been breaking fool over all imposed boundaries since the Civil Rights Era: Miles Davis, Melvin Van Peebles, Aretha Franklin, Ishmael Reed, Toni Morrison, Sonia Sanchez, Sly Stone, Dick Gregory, Octavia Butler, George Clinton & P-Funk, Jessie Jackson, Ernie Barnes, The Last Poets, Gil Scott-Heron, Gordon Parks, Stevie Wonder, Richard Pryor, James Brown, Nina Simone, Art Ensemble of Chicago, Andrew Young, Lorraine Hansberry, Romare Bearden, Nikki Giovanni, Larry Neal, Isaac Hayes, Curtis Mayfield, nigreos ad infinitum. But the expanse of Black genius was kept tightly reined or out of sight and certainly out of mind, while White creatives were free to pursue whatever muses struck their self-effusive fancies—often taking artistic cues from The Other Side Of Town. The Civil Rights/Black Power & Arts Movement, the Vietnam War, socioeconomic turmoil, inner city "benign neglect" policies—all shaping the trajectory of the culture—barely blipped the radar in vital critical circles of the day, Black, White, Purple or polka dot, and in no way that took the Black community's pulse.
The landscape of All Black Everything shifted, but the attitudes, the investment and the language remained reductive, with no affinity for the subject matter nor recognition of self-evident truths. Fully-actualized and ever-evolving Black culture existed in the "undetected" portion of the spectrum and needed guides adept at navigating these blind alleys to chart new maps…
ACT II: The Flyboy Lands In the Buttermilk
"The blues is an impulse to keep the painful details and episodes of a brutal experience alive in one's aching consciousness, to finger its jagged grain, and to transcend it, not by the consolation of philosophy but by squeezing from it, a near-tragic, near comic lyricism. As a form, the blues is an autobiographical chronicle of personal catastrophe expressed lyrically."
–Ralph Ellison, "Richard Wright's Blues"
"It is our music, especially jazz, which confronts Western culture with its most intimidating and improbable Other: the sui generis black genius."
–Greg Tate, "Cult-Nats Meet Freaky-Deke: Coming Age Of The Post-Nationalist Black Aesthetic," Village Voice, December 9, 1986
1981. The Nation of Isms raced in earnest to its Orwellian day of reckoning—if not the literal sense, then, at the very least, in subtext and, at the very most, in pretext. Reaganomics and its Tom Sawyer "whitewashed" dogma beta tested retrograde anti-progress, anti-knowledge, anti-fact, anti-culture and anti-reality among the masses (still fermenting compost two scores later among its soiled diaper progeny), with America growing fat gorging on its young while stacking robust ledger sheets. Yet, in karma's typical tongue-in-cheek paradoxes, a quiet revolution born from a supercollider of new technologies, creative disciplines and cultural voices—informed overwhelmingly by New York City's disenfranchised Black and Brown peoples—emerged in the late 70s/early 80s, that metamorphosed the global framework of art, music, media, culture and business. From hip-hop, to punk rock, to new wave, to no wave, to reggae/ska, to two-tone, to graffiti, to dance/club DJ culture, to performance art, to fashion, to theater, film, video, broadcast and print media, to seismic shifts in language, attitudes, gender, sexual and other sociopolitical dynamics—poor, broke and dirty NYC misfits, through instinct, ingenuity and will, remade God's World and said, "Yo, that's fresh."
Still, the Star Chamber of Contemporary Cultural Critique weren't about to put respect on the name of all the burgeoning creative energies New York loosed upon the world (acutely so, those from the Darker-Than-Blue delegation). These disparate schools had no ciphers to translate their raison d'etre into cogent discourse, never mind formalize and synthesize them. And nothing from the underground flows to the surface without a point of release: a megaphone of, by and for the masses…
Thus, Providence delivered Our Man Tate…
"Race, generally equated with politics, is really, in the American context, a branch of metaphysics, aesthetics, and anthropology, representing a far broader body of concerns where you can readily leapfrog between sex, death, religion, criminality, linguistics, music, genetics, athletics, fashion, medicine, you name it, in the name of African liberation and self-determination."
–Greg Tate, Introduction, Flyboy 2: The Greg Tate Reader, 2021
If Gregory Stephen Tate didn't exist, he would have needed invention. The times demanded as much, and a Greg Tate was prerequisite to broadening the aperture and expanding the vernacular and visibility of Black popular culture in media: second born of OG political activists of pre-Innis ass-hattery CORE—Ma Dukes Florence and Pa Dukes Charles—in the Midwest capital of funk, Dayton, O-H-I-O, nursed on Malcolm, Simone, Franklin and Baldwin. Whisked into puberty upon the family's relocation to Chocolate City, Young Tate indulged the dark six-stringed arts, imbibed in Baraka, Ellison, Sanchez and other standard bearers of peak premeditated radical Negrocity, and tweaked DC's free jazz, raw funk and hot punk scenes.
Tate's early poems drew him into the slipstream of Howard ("H-U?!" "YOU KNOW!"), fount of luminaries like Morrison, Woodson, Jordan, Dunbar, Eckstein, Cummings, Young, Norman, Baraka, Hathaway, Marshall, Jackson, Hannah-Jones, Bunche, Hurston, Flack, Coates, Boseman, et. al. The "Black Harvard" years were full immersion in uncut, all-caps BLACK CULTURE, ARTS AND LETTERS: all manner of mischief at WPFW, The Hilltop, Maya Gallery, d.c. space, Folger Shakespeare Library, a poetry collective called "Six-Legged Griot," and a one-off jazz punk DIY literary journal christened OO-sh' bop; legendary Howard salons, local house parties and clubs. Tate's crew of mentors and contemporaries included DC royalty like A.B. Spellman, Arthur Jafa, E. Ethelbert Miller, Tom Terrell, Alexis De Veaux, Diane Burns, Bob Wisdom, Calvin Reid, Meshell Ndegeocello, Rueben Jackson, Dera Tompkins, Vernard Gray, Lewis "Flip" Barnes, Haile Gerima, Bill Warrell, Geri Allen and so forth. To say nothing of the day-to-day Afro Sheened, sublime, frenetic, gangster-lean bump of the DMV.
The nation's capital—metro Janus with diametric faces of staid vanilla jingoism conjoined to hoodoo freak flag swag—was the idyllic laboratory for young Tate to attune to, interpret and expound on the haps in the "non-visible" light spectrum, the inner sanctum of present tense "Blacktivity" and mission. But soon The Big Apple and all its cattywampus ruckus up the I-95 would sing its siren song—he got his first taste working at Linda Goode Bryant's JAM Gallery in Soho since the mid '70s—and bring Our Man Tate permanently into the eye of the hurricane of Black bohemia.
ACT III: All The Critics Love U In New York
"The function, the very serious function of racism is distraction. It keeps you from doing your work. It keeps you explaining, over and over again, your reason for being. Somebody says you have no language and you spend twenty years proving you do. Somebody says your head isn't shaped properly, so you have scientists working on the fact that it is. Somebody says you have no art, so you dredge that up. None of this is necessary. There will always be one more thing."
–Toni Morrison, Portland State keynote address, 1975
"My mission is clear. The future of Black culture depends that this generation brings forth a worldly-wise and stoopidfresh intelligentsia of radical bups who can get as ign'ant as James Brown with their Wangs [computers] and stay in the Black. Give me such an army and we'll be talking total cultural Black rule by the time the ecosystem collapses, SDI bottoms out Fort Knox, the Aryan Brotherhood is officially in the White House, and Wall Street is on the moon."
–Greg Tate, "Cult-Nats Meet Freaky-Deke: Coming Age Of The Post-Nationalist Black Aesthetic," Village Voice, December 9, 1986
Founded in 1955 as the nation's first alternative newspaper, The Village Voice was de facto gateway drug to New York City's erupting DIY countercultural movements of the late 70s/early 80s. It was the only media outlet with embedded reporters on the front lines of New York's bankruptcy, Off-Broadway/fringe theater, the AIDS crisis, underground music & art scenes, City Hall/Albany corruption, the rise of dance club subcultures, graffiti/street art and its transition from subways to galleries, indie guerilla filmmaking, and a classified section that proffered pre-gig economy hustles, actual affordable housing, proto-Tinder analog hookups, and sundry extracurricular stimulants. The Voice was required reading for New Yorkers in the know trying to get known, with a peak weekly circulation of 250,000, taking the pulse on everything hip, trashy, glamorous, extra, revolutionary, grimy, righteous, vainglorious, ghetto-fab and ratchet—any and all haps worth happening in the five boroughs.
The Voice was also the Island of Negroid Misfit Scribes seeking safe harbor for their literary misbehavior. It provided a launchpad/lab for a new generation of purpose-filled, self-determined, cogent, intentional, dimensional, future-forward Black actualism (usually after being stingily offered neutered and spade platforms or cock-blocked altogether by "urban" and "mainstream" periodicals alike): bell hooks, Stanley Crouch, dream hampton, Nelson George, Barry Michael Cooper, Lisa Jones, Scott Poulson-Bryant, Joan Morgan, Kevin Powell, Vernon Reid, Touré, Sasha Frere-Jones, Michael "Gonzo" Gonzales, DJ Spooky, Harry Allen, Miles Marshall Lewis, Kandia Crazy Horse, Ed Morales, Hilton Als, Ta-Nehisi Coates and so many others. [Full disclosure: this writer interned with Voice investigative reporter Wayne Barrett for a year, wrote a few freelance pieces and contributed to the annual Pazz & Jop Critics Poll]. For many, the Voice allowed freak flags to be planted while forging intersectional communities, exposing the "invisible" spectrum of light to the masses.
This was the origin story for The Ionman, filling a vacuum nature demanded filling by someone with his particular set of skills. And it was The Doyenne, the inestimable Thulani Davis—editor, journalist, poet, novelist, librettist, screenwriter, sounding board, crying shoulder, Voice undercover soul sister number one, and friend of The Family Tate—who ushered our 25-year-old hero through its Union Square HQ into the office of Grand Poobah, Rob Christgau. The elevator room pitch was for "the Black Lester Bangs," but, as Herculean a figure as Bangs cut, the depiction was a bit reductive. Bangs didn't need to sweat his "inside sports" approach to AOR/punk—he was by, of and for those people. Tate was tasked with fostering a loyal leftist Black readership, applying a purposeful Ebonic boho aesthetic by way of crafting an original, authentic "verblacular" in a White (albeit progressive) platform, without soaring over its core audience. It required Yoda Master Echelon Jedi Mind Code Switching…
But, again… Providence…
"Somewhere along the road to probable madness or a meaningful life, I decided that what black culture needs is a popular poststructuralism — accessible writing bent on deconstructing the whole of black culture. Anybody who's read Harold Cruse's scathing dissection of black leadership, 'The Crisis of the Negro Intellectual,' knows his argument that each generation of black leaders has failed from an inability to conceive black liberation totally and systemically. Meaning they failed to develop agendas that fused protest and reform politics with self-help economics, sophisticated cultural critiques, and a Marxian take on the political economy of capitalism. Twenty years later, the void Cruse railed against remains. If you think I'm going to try to fill it, you got another think coming. I'm bold, but I ain't that bad. This whatchamajiggy here is about how black aestheticians need to develop a coherent criticism to communicate the complexities of our culture. There's no periodical on black cultural phenomena equivalent to The Village Voice or Artforum, no publication that provides journalism on black visual art, philosophy, politics, economics, media, literature, linguistics, psychology, sexuality, spirituality, and pop culture. Though there are certainly black editors, journalists, and academics capable of producing such a journal, the disintegration of the black cultural nationalist movement and the braindrain of black intellectuals to white institutions have destroyed the vociferous public dialogue that used to exist between them. Consider this my little shot at opening it up again."
–Greg Tate, "Cult-Nats Meet Freaky-Deke: Coming Age Of The Post-Nationalist Black Aesthetic," Village Voice, December 9, 1986
Not yet four years into the gig and this paradigm-shifting manifesto is shot across the bow, often cited, quoted, misquoted, memorized, misremembered, decontextualized, recontextualized, championed, demonized, radio-edited, extended 12-inched, remixed, ring-toned, streamed, chopped and screwed. It was the credo that launched a thousand brand Nubian writers into The Great Breach between American understanding and Black overstanding—Unabomber meets Funkentelechy meets Mahavishnu meets Art Ensemble of Chicago meets Court And Spark meets "Mississippi Goddamn" meets Octavia Butler meeting Sam Delaney meets James Brown's sweat from the In The Jungle Groove sessions meets Hendrix' flaming Strat meets bad brains meets Sly's coked-up haze between Stand! and Riot meets Carter Woodson meets Aretha's Atlantic catalog meets Eileen Southern meets Stan Lee meets Blues People meets Angela Davis meets Noam Chomsky meets Iceberg Slim meets Jean-Luc Godard meets The Soledad Brothers meets Albert Camus meets Poly Styrene meets That Nigger's Crazy meets Ishmael Reed meets Soul Brothers Top 20 meets "For Colored Girls…" meets Bitches Brew meets Frank Baum meets The Coltranes meets Petey Greene meets Sun Ra meets Zora and Langston fussing meets Peter Tosh meets Gwendolyn Brooks meets Sugarfoot Bonner's asymmetric Afro meets Robert Ferris Thompson meets CBGB's bathroom and that ain't even half the half…
No other "prosetry" of the era, nonfiction, fiction or any and all mutations in between, so potently erased the false separation of Black life and art in reality, on the written page, and in the American mind. No other essayist—by, of and for a culture published in a mainstream periodical—so lucidly evidenced the hypothesis of Black art as a real and distinct construct, with self-actualized criterion, warranting specific, experiential discourse and critique, exercising an explicitly, unambiguously cultural cipher to not only elucidate the what of the whatnot, but the feel of the whatnot: Flipped Script Hoodoo Ebonics. Of course, there'd be other benchmark essays, books, journals, musings, riffs, misfires and B.S. But Tate's "Cult Nats" was proof of concept and the blueprint for Black writers following suit…
ACT IV: Now That We Found Love (What Are We Gonna Do With It?)
"The bottom line is this: You write in order to change the world, knowing perfectly well that you probably can't, but also knowing that literature is indispensable to the world. In some way, your aspirations and concern for a single man in fact do begin to change the world. The world changes according to the way people see it, and if you alter, even by a millimeter, the way a person looks or people look at reality, then you can change it."
–James Baldwin, New York Times interview, 1979
"People are constantly creating what we call 'maroon spaces,' free communities, free platforms for thought and expression. I think that that's just in the DNA of Black Atlantic culture. There's always the imperative towards the emancipated space, and music is, of course, a place where you can activate it. All the people we consider the major avatars of Black science fiction, Black futurism, they really believed in living it as well as creating it: embodying it, or being the thing, as well as composing the thing or creating artifacts…"
–Greg Tate, Interview with Giovanni Russonello, for Capitalbop, April 30, 2015
William Gibson once declared, "The future has already happened—it just isn't very well distributed." Studied through indigenous people's holistic prism of seamless time, there's something entirely African about the "past is prologue" intimation of this adage, certainly one that echolocates through the frequencies of Sun Ra, Jimi Hendrix, Nona Hendryx, P-Funk, Arthur Jafa, Moon Medicine, Derrick Bell, Hope Wabuke, Mother Moor, Deltron 3000, Andre 3000, Lee "Scratch" Perry, Colson Whitehead, Janelle Monae, N.K. Jemisin, Wally Badarou, Tim Fielder, King Britt, Julie Dash, Henry Threadgill, Tricky, Sanford Biggers, DJ Spooky, Alondra Nelson, Ruth E. Carter, Grace Jones, Wangechi Mutu, Screamin' Jay Hawkins, Steven Barnes, Shabazz Palaces, Kenna, Gia Hamilton, Drexciya, Nnedi Okorafor, Stacey Robinson, Deantoni Parks and a surfeit of Black futurist creators reverse-engineering the path forward in real time. Visionaries who project light years ahead for Black people by manifesting the future/now, informed by the history of the past/now, constructed in the present/now—all while extinguishing the institutionalized psychotic throes of the Global Neocolonial Socioeconomic Industrial God Complex, and developing and sustaining revolutionary infrastructural models, seceded from and secerned beyond its influence.
Tate's le travail de la vie was to be at the nexus of the accelerative Black imagination—the Central Grand Station, if you will—as both Homeric bard bearing witness to the movement's vanguard, and provocateur/artist/organizer/philosopher defining the movement. Thought and word manifest as act and vice versa, commentary as art and art as commentary. He eased on down seemingly parallel roads because to him, these intersections were the heart of the urban public square: like 125th Street and Malcolm X in Harlem, or Leimert Park in Crenshaw, or Congo Square in Tremé, or Shaw's U Street Corridor, or Moreland Avenue in Little Five Points. Tate's vocation—writing, editing, composing, conducting, teaching, organizing, agitating—tapped and radiated the vibrancy and essentiality of all these Black Wall Streets he occupied.
The writing was prerequisite. Tate's hieroglyphs lured the faithful (as well as perplexed the uninitiated), to such crossroad tabloids as Rolling Stone, The Guardian, The New York Times, The Wire, Artforum, The Washington Post, Downbeat, Musician, Jazz Times, Essence, and Jazziz. He was part of the founding editorial class at Vibe, along with Joan Morgan, Kevin Powell, Danyel Smith, dream hampton, Jeff Chang, Bönz Malone, bell hooks and Miles Marshall Lewis, among others. Tate's "Black Owned" column was his dais to champion the mostly underground shenanigans of creative Black rabblerousers and shot-callers, along with free associative ramblings on the State of Negroid (Dis) Union. He was frequently invited to add his conspicuous flavor to collections like Rip It Up: The Black Experience In Rock N Roll; Miles Davis: The Complete Illustrated History; Mothership: Tales From Afrofuturism And Beyond; Black Light White Noise: Light And Sound In Contemporary Art and many others.
Naturally, the bandwidth expanded for Tate's own books, including: Flyboy In The Buttermilk, a yardstick collection of ruminations; Brooklyn Kings: New York City's Black Bikers, a co-chronicle with photographer Martin Dixon on the subculture of New York's Black motorcycle clubs; Everything But The Burden: What White People Are Taking From Black Culture, a Tate-edited anthology of essays on cultural appropriation; Midnight Lightning: Jimi Hendrix And The Black Experience, Tate's feedback loop on the Black guitar Dionysus; Flyboy 2: The Greg Tate Reader, a fast-forward of post-"Buttermilk" themes, with a quarter century of maturation between the two volumes.
But in between labyrinth paragraphs, The Ionman was equally dedicated to his own musical explorations. Tate founded or co-founded no less than four Afro-avant music groups: Women In Love, Tsunami, Tar-Mac and his most enduring tribe of nomads, Burnt Sugar The Arkestra Chamber, a freeform nonconformist collective he nurtured for 23 years. Informed by the post-structuralist anarchy of Sun Ra and the improvised conduction alchemy of master Butch Morris, Burnt Sugar is notorious for the most eclectic and prolific repertoires in the cosmos—their fearless leader often joking, "We never perform anything the same way once." Twenty albums brimming in sonic R&D in the "invisible" portions of the ultramagnetic spectrum, alongside The Great Songbooks of America's Quintessential Genius Eccentrics: James Brown, David Bowie, Prince, Steely Dan, "We Insist Freedom Now Suite," the "Shaft" and "Sweet Sweetback's Baadasssss Song" soundtracks, and, of course, Sun Ra Arkestra. Burnt Sugar also had "splinter cell" subgroups Rebellum, Melvin Van Peebles widLaxative and Burnt Sugar/DANZ, a collaboration with choreographer Gabri Christa. Cohorts in Tate's ensembles have included luminaries such as Van Peebles, Vijay Iyer, Meshell Ndegeocello, Helga Davis, Carl Hancock Rux, Kirk Douglas (The Roots), Brandon Victor Dixon, Patricia McGregor, Pete Cosey, Marc Cary, Ronny Drayton, Melvin Gibbs, Company SBB and, of course, Tate ace boon, Vernon Reid.
Yet and still, with so much work done, nothing touches Sir Greg's masterpiece…
ACT V: It Takes A Nation Of Millions To Hold Us Back
"Thought is more important than art. To revere art and have no understanding of the process that forces it into existence, is finally not to even understand what art is. The artist's role is to raise the consciousness of the people. To make them understand life, the world and themselves more completely. That's how I see it. Otherwise, I don't know why you do it."
–Amiri Baraka, Revolution Song
"[Black cognition is] a thinking process that's derived from the culture that is inscribed in the creative process of various artists that I write about. It's a way of thinking that derives from our cultural experience, traditions and rituals… Particularly music. An example of Black cognition is how Coltrane or Monk or Miles approach the Western twelve-tone system, the tempered scale [from the perspective of] their cultural preparation and history."
–Greg Tate, Interview with Eugene Holley Jr., for Publishers Weekly, August 12, 2016
Any conversation with Tate about the pinnacle labor of Black-on-Black Love Supreme that forever cements his legend invariably begins with "The Call."
Dig, if you will, the picture of a loose assembly of discontent, wildly artistic and astute Black-folk, scattered on the fringes of New York's early-80s indie music scene, grousing about lower case "F" fascist gaslight politics governing the self-styled Mecca of culture. Despite being catalyst for so many revolutionary forms, styles, modes and memes, New York, as the industry brain-trust, was a micro-schism of pervasive, bass-ackward cultural Jim Crow nationwide. No room at the inn at rock clubs for anyone browner than Tony Orlando; "urban" clubs demanding overdrive pedals be checked at the door (and, for GQ's sake, please be dipped and clean); labels and media outlets holding the thin White line on R&B (racism and business); audience's blithe goosestep to colonized hivemind propaganda; rock radio formats (famously punned "Apartheid Oriented Rock") LITERALLY lynching all Black records not authored by Jimi Hendrix; and "urban" stations mainlining rhythm and blues soma to the masses.
Against this backdrop, our band of dissidents compared notes and contradictions, particularly the incongruities of rock music, born of Black lineage, now weened and raised by White guardians, all birth records sealed by America's kangaroo courts of culture (peak privilege Blue-Eyed Soul Gentrifiers, freely parading their crossover passes through the 'hood, added pillars of salt to a long-festering wound). Black so-called "alternative" musicians, to paraphrase St. Stevland of Saginaw, could not cash in their faces nor their fuzz boxes.
Enter guitar wunderkind Vernon A. Reid, London-born transplant of Caribbean parents, resettled in The People's Republic of Brooklyn, who'd been scraping out a living as a hired gun on the downtown experimental scene, with stints in Ronald Shannon Jackson's Decoding Society, Joseph Bowie's Defunkt, and journeyman hits with Mick Jagger, James Chance, Kashif and Bill Frisell (he also did freelance writing and photos at The Voice). But Reid scuffled to get traction on his own project, Living Colour. This was a regurgitant theme among Reid's aide-de-camps and the proverbial natives were getting restless—something, somewhere, had to give…
"For many people, rock music is completely the music of White males. Part of the problem was a matter of classification, because many of the bands I classify as rock bands are usually classified as 'funk bands.' The Isley Brothers, WAR with Eric Burdon, Funkadelic with Eddie Hazel—this is rock music. But at that time, these bands weren't regarded as rock bands, and there needed to be an expansion of that definition."
–Vernon Reid, Guitar World, 2011
Thus, in the summer of 1985, out went "The Call"—a series of calls, actually—initiated by Reid to a plethora of cohorts in music, visual art, film, journalism, academia, communications, theater, broadcasting, creative writing, community organizing, finance, and all walks on the wild side of Black American rebellion. But two calls, the longest, went out before any others: one to Konda Mason, TV producer/director, who at the time was managing an all-Black woman rock band called ISIS. The other, naturally, went to Sir Greg. Tate arranged gatherings of the resistance at his old haunts at JAM Gallery, which comprised standard issue griping, grievance airing, receipt checking and point/counterpoint. But after prerequisite ya-ya's were gotten out and deep breaths taken, it was time to focus and get down to bi'ness: a platform with an open-ended number of points; a masterful manifesto penned by Tate; and, after considerable deliberation, a name: the Black Rock Coalition. And this ragtag band of misfits looked upon their mission, their manifesto, and their moniker, and said, "Yo, that's fresh." [Full disclosure: this writer is BRC director of operations.]
The BRC issued a call to arms on for a people unwittingly and unceremoniously ethnically-cleansed from another genre of music they created. And Tate, playing his best Thomas Jefferson inverted chords, made it plain and not-so-plain all at once:
The Black Rock Coalition (BRC) represents a united front of musically and politically progressive Black artists and supporters. The BRC was created with the purpose of creating an atmosphere conducive to the maximum development, exposure and acceptance of Black alternative music. The BRC seeks to foster cooperation among musicians and like organizations through networking and shared resources. The BRC opposes those racist and reactionary forces within the American music industry which undermine and purloin our musical legacy and deny Black artists the expressive freedom and economic rewards that our Caucasian counterparts enjoy as a matter of course. Rock and roll, like practically every form of popular music across the globe, is Black music and we are its heirs. We, too, claim the right of creative freedom and access to American and International airwaves, audiences, markets, resources and compensations, irrespective of genre. The BRC embraces the total spectrum of Black music. The BRC rejects the arcane perceptions and spurious demographics that claim our appeal is limited. The BRC rejects the demand for Black artists to tailor their music to fit into the creative straitjackets the industry has designed. We are individuals and will accept no less than full respect for our right to be conceptually independent.
And with the gauntlet thus tossed, sleeves got rolled, and the upstarts got to startin' up, the cornerstone being weekly meetings at JAM, where a large swath of New York Black bohemia showed up to exchange concerns, ideas, talents, resources and support. This led to invaluable network opportunities and collaborations—bands were formulated, essential recordings were produced, and countless projects emerged from this newly re-energized and inspired community. While never an active officer, Tate was appointed to the board of directors and regularly contributed deep input and insight in the organization's plans, plots and pursuits.
There were events: a December meet-and-greet dance party at JAM called "Drop The Bomb;" an anti-apartheid concert at The Kitchen the following February marking the debut appearance of the earliest inception of the BRC Orchestra, the BRC's all-star repertory company; the BRC's first ever mini-festival later that spring, the Tate-christened "Stalking Heads," two nights hosted at the not-quite-yet-officially-integrated CBGBs, and featuring the organization's heaviest hitters; a showcase at The World, headlined by bad brains, Living Colour and Sirius, a show so dope that Rolling Stone's David Fricke gave a full-on feature to the BRC. (Brief sidebar: after the piece dropped, an anonymous membership was purchased with no return address, just an unsigned note attached—"Really dig what you cats are doing"—postmarked from Minneapolis, MN. Read whatever you like into that…). The BRC also developed several DIY pre-Interweb media properties: a monthly newsletter/zine, an annual literary journal entitled Ravers, a weekly radio show on WBAI-FM, New York, and several historic DIY compilations—Nine Against Nepotism, History Of Our Future, Bronze Buckaroo Rides Again—that featured revolutionary performances by groundbreaking artists. Yet despite all the commotion, the BRC was still regarded a slapdash tribe of fringe Negroes beneath the bedrock interests of global music conglomerates.
Then a funny thing happened on the way to the revolution. Living Colour, who were signed to Epic (with a cosign by Mick Jagger) had been grinding for over a year after their debut album, Vivid, dropped in 1988, but weren't getting any traction, despite three singles. MTV, which at the time was as racially specious as radio, was still new to integrating their rotation with Black acts (after getting their asses torn several times by the industry). But Black rockers not named "Prince" were still a bridge too far. Consistent with rock music's inglorious history, Living Colour got tossed into the late-night cauldron via MTV's free-for-all program, "120 Minutes." Their fourth video, the anthem "Cult of Personality," suddenly exploded in demand and started creeping into day parts. Then radio got into the act, and before you could say "Charles Edward Anderson Berry," Living Colour became the first Black unequivocally rock act with a certified radio hit since the Johnson Administration.
It's not like others hadn't tried: Legend Garland Jeffreys was signed in 1973, had a couple of radio hits and serious rock pedigree; Jon Butcher, unsung Black rock hero from the mid-70s, didn't get his first major deal until 1983; bad brains owned hardcore since 1977; Nona Hendryx began her post-Labelle career that same year; The Bus Boys were active since 1978 and got mad love from Eddie Murphy; Fishbone were fan favorites since 1979; Xavion, managed by Tommy Mottola, were actually the first Black rock band to crack MTV in 1984; and 24-7 Spyz had been through the label wringer since 1986. To say nothing of myriad Black rock soldiers waylaid in the "funk" section. But with Living Colour on the rise, new eyes were on Black rockers and the BRC. Tate often wistfully recalls the infamous episode at the 1990 New Music Seminar, where his Burnt Sugar right-hand, bassist Jared Nickerson, stood in front of a captive audience of record executives—citing their addiction to bandwagon-jumping on sales trends (the Minneapolis Sound, the Athens Sound, the Boston Sound, et. al.)—and put the entire room on blast: "Living Colour's Vivid just sold two million copies… What's up?"
Soon Black rock artists—both affiliated and unaffiliated with the BRC—were grabbed up like bowl game nachos to be the "next Black next": Eye & I, Sophia's Toy, Lenny Kravitz, The Family Stand, Jeffrey Gaines, Follow For Now, Subject To Change, Maggie's Dream, Michael Hill's Bluesmob, Eric Gales Band, Meshell Ndegeocello, Urban Dance Squad, Slapbak, Dionne Farris, Joe Public, Tracy Chapman and dozens more. But during the Wild West Days of the mid-80s and early-90s for the music business—with none of Living Colour's road dog time to build audience, no love from Black or White radio, a superfluity of Van Halen clone pop/rock metal bands choking off half the major label oxygen (hip-hop/New Jack swing, the other half), and no greasing the skids with marketing cash for Black alternative when more bankable stars needed every promo dollar that could be scraped—it was impossible sledding for Black rock acts. By 1996, nearly every melanin-rich rock act was dropped, many with projects stillborn and/or impounded in development purgatory. And Living Colour, the BRC's flagship band, took a hiatus to avoid Typical Rock Band Burnout Cliché-ism.
So, in the minds of the cynical, the uneducated, the reductive, the shallow, the vainglorious and the mercantile, The Great Black Rock Experiment was a colossal fail. But one corporate composite signifying monkey don't stop no show. With the war unscalable and unwinnable on the adversary's laissez-faire capitalist home court, the Black Rock Coalition went underground and continued its mission of advocacy for Black-alt alchemy, with firm DIY conviction and out of the glare of corporate media's spotlight (and with Tate in the leadership's ears the whole way). As the odometer on the millennium turned over and the Internet spun its web worldwide, the BRC created a website and an e-newsletter. It began hosting events in partnership with nonprofit arts presenters, as well as the dwindling inventory of down and dirty rock clubs. It continues putting out bomb-ass tracks on compilations commemorating its zero and five anniversary years, Rock 'N Roll Reparations, Volumes 1-4. It has consulted artists and partnered with different directors for documentaries on Black rock and unsung heroes within that realm. And it's been active in all phases of social media, with a new production company in the works for podcasts, films and new record releases. In 2020, the BRC celebrated it 35th anniversary (although muted because of the global pandemic shutdown). The legacy has extended, even in the most minute ways, to any and all Black children casting off the yoke of shuck-and-jive performative Blackness, from Afropunk to Afrofuturism, from Electric Lady to Electric Purgatory, from The Met Museum to The "Blacksonian." All this while corporate music has spent the last 20 years cannibalizing and regurgitating itself in servitude to Big Tech, narrowcasting audience at cheaper prices, larger profit margins and erosion of quality control.
In short, the BRC survives while the record industry continues its slow death by a thousand streaming cuts. But none of it would have even gotten off the ground without Tate's esteemed counsel and laser-focus emphasis on flavor. "I can't believe no one has killed this thing yet," Reid half-jokes, "What's good—but also really sad—is that this work is still necessary. I'd hoped the industry would have evolved beyond this by now." Tate echoes Vernon's sentiments. "It's mind-blowing that so many people still get their panties in a bunch because Black people want to play loud guitars."
ACT VI: King Eternal—The Flyboy Has Flown
"Style has a profound meaning to Black Americans. If we can't drive, we will invent walks and the world will enjoy the dexterity of our feet. If we can't have ham, we will make chitterlings. If we are given rotten peaches, we will make cobblers. If given scarps, we will make quilts. Take away our drums and we will clap our hands. We prove the human spirit will prevail. We will take what we have to make what we need. We need confidence in our knowledge of who we are."
–Nikki Giovanni, August 4, 2013
"I realized that the meaning of being Black is summed up in who comes to bury you, who gathers in your name after you're gone, what they have to say about how you loved, and how you were loved in return."
–Greg Tate, "Black Like Who? Love And The Enemy," for Village Voice, 1991
On December 7, 2021—36 years to the day the BRC declared war on Black mediocrity—Star Child Tate boarded the Holy Mothership and rode off into the cosmos to jam with The Ancestors. And, if we hold true to the belief of any type of Hereafter, doubtlessly, he is casing the joint to plant his flag on the hippest scenes, rub shoulders with the coolest folk, indulge in the most righteous stimulants, and vibe on the dopest music. In his wake, he leaves a minimum of two generations of Black creatives unabashedly flaunting their Negrocity.
The Divine and Universal Count-It-Off-On-The-One knows, all these warrior-poet avengers will need to assemble, as the increasingly untethered purveyors of Whites-only spectrum light have been in meltdown mode since Y2K. To the point where, in recent years, America has free-fallen into regressive, HUAC-style surveillance; non-White/hetero/Judeo-Christian normative book banning; unraveling non-implemented Critical Race Theory; voting rights and immigration path rollbacks; regulation of women's reproductive rights; and undercover lynch mobs—as if the zombies of Joe McCarthy and J. Edgar Hoover infected the walking dead, hellbent on reversing the clock back to the post-WWII White Supremacy Era—no hoods necessary…
Gregory Stephen "Ionman" Tate is categorically nonpareil, and the enormity of the vacuum he leaves behind is infinite. But, invariably and with utmost certainty, the baton will pass—indeed, will need to pass, as it was to him and his peers—to the next Black grandmaster linguists who will tear minds asunder, unveiling other hidden frequencies within the electromagnetic spectrum. And all hands will need to be on deck as degenerate reactionary drawers will still wrench up clenched asses, producing toxic causes and effects…
But goddamned if the process is way less joyful and the universal "it" that Tate made is sho' nuff gonna be way less funky for a minute…
Out-of-the-box funky black fire (Rickey Vincent)
This one is really tough. The unexpected passing of Greg Tate has created a void that may never be filled. Some people defy categorization. Some people defy quantification. An elder once told me that our lives are always under construction, and only at the end of one's life is the scaffolding taken away and we can finally see the entirety of the person, and take a measure of them. But damn, Tate wasn't finished, and we are not ready for this. Not with years of practice and preparation could one presume to measure the depth and breadth of Greg Tate's presence, or his influence on the liberated thinking of so many milennial Black Lives.
I was one of his invisible disciples as early as 1986, when Howard Pinderhughes turned me onto Tate's essay "Cult-Nats Meet Freaky-Deke," the modern-day black bohemian manifesto. That work unwrapped the constrictions on black nationalist thinking, creating space for the untethered imagination to inhabit an arena once considered stoic, static, and sacrosanct. Tate's work gave so many of us permission to be black and absurdist, to be black and exotic, to be black and inspired, to be black and unbound. It inspired me to establish and write a weekly column at the Daily Californian I called "Below The Funk," and to pursue black music history on my own terms at SF State, and to finally write "Funk: The Music, the People, and the Rhythm of The One."
Greg Tate was heir to the combustible jazz writing tradition of Amiri Baraka, whose ferocious prose was matched by a ferocious love of blackness. Like Baraka his words were backed up with activism – cultural activism – co-founding the Black Rock Coalition, and agitating in real time, in real life for Black cultural liberation. As a writer, Greg Tate could tap the uncontained and uncolonized essence of the Young, Gifted and Black. He was called the "Godfather of Hip Hop Journalism," because he allowed us to "hear" our urban creations with a historicity that could invoke our rhythm-driven ancestors, from Harlem to Harare.
A native of Dayton, Ohio – "the funk capitol of the world" – Greg Tate was equally at home with contextualizing the sonic monstrosity of P-Funk, as he was with the intricacies of John Paul Bourelly's guitar fingerings. Tate was a jazz critic, but that's only the cornhusk on the outside of the spicy dish. Some of us could tell he would be measuring great art-works as echoes of the wildlife inhabiting Charles Mingus' "Beneath the Underdog," or thru the prism of the anti-colonial espirit of Ishmael Reeds' "Mumbo Jumbo." To be reviewed in print is always a thrill. To be reviewed by Tate is an event one won't ever forget.
Tate was capable of speaking the language of dissonant splank, that amalgam of abstraction and blackalicious fury that only a jazz-freak funkateer could combinate.
Greg Tate was at once to me a peer and a hero. We both sought to write with out-of-the-box funky black fire, and still get paid doing it. Like myself, Tate straddled the fence between the academy and the community, never drifting too far, and always remaining a moving target. But I would continue to pursue him. I would seek out and drink his words, guzzling them down like a thirsty pilgrim on a quest.
As smooth as he was, Tate carried himself as if he was the center of a world that he alone had created, with his trademark scarf and head wrap resembling a Keffiyeh, perhaps to inspire his own revolution. Yet everything he did – everything – was to give to us his gifts, his African historical wisdom, his engagement and encouragement, his deep musical immersions, his deep family ties, and his creative license to truly be black and – truly original.
There was only one of him, he belonged to no category as he belonged to so many, and we will be struggling to account for all of his unselfish gifts to us for generations to come.
He saw me as an artist before I saw myself as one (Doria Roberts)
This is Greg Tate, Brother Tate to most, music critic, cheerleader, son, brother, father, grandfather, and, now, ancestor, and…
He was here.
I don't want to crowd the room occupied by people who knew him better and best, but I'm desperately trying to process the news of his sudden passing and want to offer some words to the ether in his honor and in his palpable absence…
It's hard to imagine living in a world without someone who "saw" you when others did not or, simply, chose not to. I know he was a god amongst men in the world of art criticism, but (for me) he was simply someone who actively and consistently engaged me as an artist and human since I first met him in 1996 at the National Black Arts Festival in Atlanta.
I remember very clearly piling into Big Red, my very hot, very air conditionless '78 Volvo station wagon, (in the time before ubiquitous cell phone documentation) with (mostly unbeknownst to me) the creme de la creme of black rock royalty: Greg, Vernon "In Living Color" Reid, Jared Nickerson telling me about his "Wear Moshood, Wear Yourself" ensemble, Tamar Kali, the self-proclaimed Geechee-goddess-cum-composer-extraordinaire and…
Me: an ad hoc, wide eyed chauffeur show hopping in my adopted hometown, unironically debating the virtuous and political import of Freaknik happening amidst the gatekeepers of our movement and the cultural necessity of wildin' out in the Lion's Den of respectability politicians.
I remember coming out to these found fast friends in the dim and din of a crowded club and they still let me in. I was now somehow part of their not-so-secret club, which was a beacon and oasis for rag tag, blue haired little sisters with too-big guitars bouncing around a world that couldn't care less.
Fast forward…
I also remember very clearly getting a call some months later asking if I wanted to play at the (also unbeknownst to me) Tracy Chapman backed, Buddhist priest run Kokobar in Fort Greene, allaying my very real fears of playing my nascent brand of folk music in predominately brown spaces.
And, like clockwork…
I hit a note, shattered a glass, and was called "shrill" by some mocha sipping asshole in the back and Greg…took out his sword, changed a letter, flipped the script and, therefore, the scripture of Book One of the Gospel According to Doria Roberts and called it "a thrill", christened me a punk for finishing the set, alone and visibly shaken but not broken.
My Epistle Apostle.
He saw me as an artist before I saw myself as one.
Then, fast forward again (like the time travelers we are, Sun Ra's chirren), another phone call, another potential collaboration for the Atlanta Music Fest and my "Black Rock and Blue Eyed Soul" panel. Long talks conferring wisdom and insights about our melanated musical brethren and sistren, the outsized outliers, pugnacious punks, feral folksters, all too hype for hyphenated labels, too down so deemed too uppity by those who would like to box us in, put a bow on us and go about their business.
Then…
Mostly quiet as life took its toll, skies and hairs graying in the passing days, our heated, brainiac conferring confined to the spaces of Facebook where we furiously typed our comments and opinions on young boys catcalling grown ass women, naming the stages of grief for our beloved Prince Rogers Nelson, and virtually screaming to each other: "Don't say it, Kay!", our love of that "Sicilian thing, those insomniac late night film fests of The Godfather, cementing us, an unlikely bond.
But, still…
He managed to throw my name out (IN PRINT NO LESS) in a Wire UK magazine article about our dear avant garde grandfather Lonnie Holley.
Reverse name-dropped and Called me "Atlanta's reigning Afro-folk diva".
Meant it.
Forced eyes upon me.
Did not let them turn away, deny, or redefine the space I painstakingly, heartbreakingly carved out.
That is how I knew him.
Inexplicably in my corner "from jump".
Ultimately a champion for us all.
So…
This is Greg Tate, a maker (never a breaker) of men, master of words, wielder of swords, changer of letters and worlds, a giant who humbly fraternized with us mere mortals in a time too short, and…
He was here.
❤️💔