Southern Soul and Blues – Ike Turner – Risin' with the Blues, History/Bio/Listen to Music and Update
In other awards success for his 2001 Hit CD, the W.C. HANDY BLUES AWARDS heralded "Here and Now" as a masterpiece. It was lauded with 2002 COMEBACK ALBUM OF THE YEAR AWARD and Turner also received nominations for Blues Entertainer, Soul/Blues Male Artist, and Soul/Blues Album of the Year.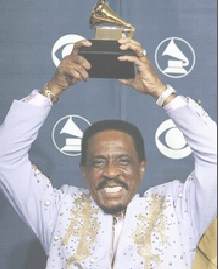 Most of yall don't know the name of Phil Arnold.
He is a good friend of Soul-Patrol.
The fact that you don't know his name isn't really important. What is important is that he is also a good friend to all of you, even if you never realized it till just this moment.
Take a look at what Phil has to say about Ike Turner and his relationship with him and please consider Phil's words, the next time that you read something in the "mainstream press" about Ike Turner….
————-
California – April 4, 2008
Ike Turner – R.I.P.
by Phil Arnold – artist administrator, manager, agent for Ike Turner 1999 – 2007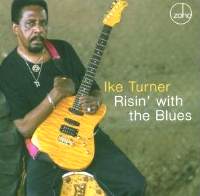 I have procrastinated commenting about his passing. In vain disbelief I refused to acknowledge the loss. It is as if I was trying to convince myself that the longer, I waited, the less Ike Turner was dead. I was not alone in denial; nor was I alone in concealing my fears and suspicions about what caused his death. I often told him "it was a privilege to work with you, and even more of an honor to know you; and if you had been a blue-collar worker I would still be just as proud to know you." I knew Ike Turner, the man, as well as the myth.
After kicking his drug habit in jail, Ike stayed clean for about 16 years, which is a fact. He was proud of that. When he spoke at LA-area high schools in 2004-05 for "Blues Schools" his quote was "Stay in school, stay off drugs, don't make the same mistakes I did, respect yourself, and others will follow." He was not a hypocrite. After prison, Ike was noted for helping others turn away from drugs. The successes should remain anonymous – and so should the failures; you know who you are. Honor his sacrifice by helping yourself. Get help. He actually fell backward reaching out to help someone else.
But questions remain: Why – and – How? Ike responded to a cry for help and went to the wrong place at the wrong time to rescue a crack addict he knew. Ike said, "Smoke blew up in my face, and that is all it took – that first big whiff." He was the fireman who went into the burning building one too many times. Ike was totally ashamed of his very recent drug relapse. He secretly entered rehab several times. But the
paparazzi would hear of it, and he would quickly check out. He hoped he could secretly recover.
To the "Ike hate-mongers", I have clearly lost my delusional mind. To them there is no rock small enough under which "wife-rapist" Ike could hide; no evil incarnate larger-in-life than him, no wife-abusing affront for which he could ever be forgiven, and no redeeming good he could ever do – personally or professionally. So much for redemption, forgiveness, confession, transformation, reprieve, or any other inconvenient Christian value. Perfect-stranger females have walked up to him and spit in his face, poured wine on his suit, and slapped him stupid, to no-reaction by him. His last ex-wife claims spousal abuse; yet it is she who has been arrested for "abuse" – of Ike, no less – check the police records.
It does not matter that woman raped him as a child. He simply must be punished in perpetuity because there were times, he could not control his own anger, so the hate-mongers believe. Yet, Ike was never bitter, and did not speak ill of them – or of Tina – in spite of the Disney movie about her life with him. Nor would he allow others to bad mouth Tina, nor do I. Too much dramatic license appears as factified truth – even Tina has noted. If hating the movie-made image of Ike makes you feel "self-righteous" or "vindicated", isn't it fair to say you "love to hate?" And isn't that "what love has to do with it?"
One of the most ignorant, shameful and cowardly things in the world is prejudice. It is the substance of all hate-mongers. But it is not just a two-way street. Prejudice goes in 360 degrees: black, white, red, brown, yellow, long-haired, balding, aging, adolescent, gay, straight, male, female, red state, blue state, rich, poor, fat, thin – it just never stops. But one thing all prejudiced people have in common is dogma. For them nothing is gray; all things are black or white; all facts exist in a vacuum; and mitigating circumstances are excuses. To forgive is to condone; to redeem is to endorse. No fact, no situation, no act of good will or recompense can ever offset the iron will of a prejudiced heart. Prejudice equals hate.
So, for those who want to hate Ike, forever and ever, Amen: be proud of your prejudice and wear it like a badge. After all, you are looking down your nose at him because you are perfect, and he is flawed. Hatemongering and prejudice is a habit, a lifestyle choice; live it! Be sure to carry some throwing stones in your pocket; you'll be in search of a new object of scorn. And since you are so busily in judgment, don't miss the opportunity to write about it. God's Word 2.0 has not been updated lately.
However, even I would be unfair if I said "What's Love Got to Do with It" was less than a great movie. But with two Oscar nominations for dramatic lead roles, it is not a documentary. The ultimate, "I-Hate-Ike" moment in the movie is the Tina-gets-raped scene, bar none. It is the instant where the movie-goer transforms from "I-don't-like-Ike" to "Ike-hater." Great cinema, bravo! But Ike never raped Tina. Oh well, eh, a minor detail. "I, Tina" didn't say he did it. SO – hey, a good screenwriter knew a hot button when she scripted one. If it is some other scene, or several, that transformed you to Ike-hater, any rationale will do. Still, Tina's initial quoted reaction to the movie: it was "unfair to Ike", lest we gloss over that fact. But business is business, and the film folks rode Ike all the way to the bank. Still do.
Fortunately, sort of, the fall guy got paid, too. What? Fall guy? January 27, 1988, (2 years after "I, Tina" was a well-hyped best seller) Ike signed a contract with Walt Disney Pictures, paying him $45,000 to let them, and I quote: "acquire rights in and to my Life Story more fully described in "I, Tina" without limitation to portray factually or fictionally, my name personality personal experiences, incidents, situations, and events relating to me or Tina Turner." He signed the Disney deal knowing that he appeared as the bad guy in "I, Tina", and they would base the movie on that book. He knew he would take a big fall in the movie, too, and the General Release clause in the contract prevented any backlash by Ike. He just never figured they would be so effective at the "fictional" part.
Those who say Ike never apologized to Tina, simply refused to hear him. Or if they did, then they say he lacked acceptable sincerity. Is there certified terminology, a set volume level, or a Nielsen-rated market share by which an apology is deemed validated? So, let it be known, again, he did apologize many times. There is a difference between "didn't hear about it" and "refuse to listen."
Ike was impatiently demanding, not brutal without purpose – as so he was judged. He pushed everyone to perfection; but he pushed no one as hard as himself. He was at his best teaching others and honing their skills. The examples are many, but accolades start and stop with Tina Turner. Deny him if you choose, but you cannot deny his best protégé. To all who ever toiled in Ike's presence, Ike Turner University, says it all. Ask them; they know! Ever the teacher in life, so also is he in death. "Stay off drugs, don't make the same mistakes I did, respect yourself, and others will follow." Drugs Kill, indeed!
And though he is gone, he has not left. In every blue rhythm, every rocker, and every "rollin'-on" he still inspires anyone who knew Ike Turner – the man – not the myth. At 76 six years young, with long term high blood pressure, chronic emphysema, and the foot of the world forever on his neck, it didn't take that much for even the effervescent Ike Turner, the Father of Rock 'n' Roll and originator of Blues-Hop, to die with cocaine use. And Hate Kills, too! So, when will folks stop choosing to love to hate?
Bio & Update: Ike Turner
(Southern Soul/Blues)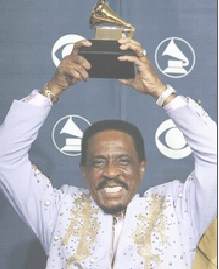 2006 blessed Ike Turner with his first GRAMMY, in 35 years, as the winner for Best Traditional Blues Album; his 2nd consecutive Grammy Nomination ('01/'06) for this category. 1971 brought him his first GRAMMY for Best R&B Vocal by Duo/Group (Ike & Tina Turner for "Proud Mary"). In 1991 Ike Turner was inducted into the Rock and Roll Hall of Fame for his act, Ike & Tina Turner. In 2001 Turner full-tilt boogied throughout his multi-nominated come-back album, "Here and Now". His Grammy Winner, "Risin' with the Blues", is again consistent with big-group arrangements, unique lyrics, and sizzling solos. Amazingly, "Here & Now", was his first commercial release in 23 years, receiving rave critical acclaim. His follow up CD, "Risin' with the Blues", proved he could "take you higher". Radio action in 2006-07 shows chart movement in multiple formats: Blues, AAA Alternative, and College Jazz. Turner's European appeal also continues to rise; bolstered by his year-end, show-topping set in the 47-show tour Night of the Proms. Supported by a 72-pc. Orchestra, 40-pc. Choir, a backing Rock-band, a Power Vocal-trio, and Lyrica Garrett as lead vocal, Turner turned the rock-act-plus-orchestra romp into a frenzy. In other awards success for his 2001 Hit CD, the W.C. HANDY BLUES AWARDS heralded "Here and Now" as a masterpiece. It was lauded with 2002 COMEBACK ALBUM OF THE YEAR AWARD and Turner also received nominations for Blues Entertainer, Soul/Blues Male Artist, and Soul/Blues Album of the Year.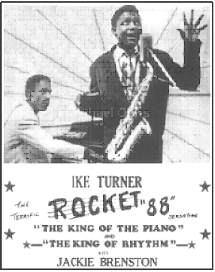 2001 marked the Golden Anniversary of a GOLD Record from an Era when Fifty-thousand 45's was a BIG Seller. That 500K-selling Single cut the edge of a new ground-breaking style, & NY deejay Alan Freed christened it: ROCK & ROLL. Sam Phillips, Sun Studios founder, tagged that Billboard #1 R&B Smash as the very first "Rock & Roll Recording". Every hell-raiser, hip-shaker, and hit-maker owes a nod to that teenager recognized by Rock historians as the "Father of Rock & Roll". That Billboard bullet, "Rocket 88", was penned by a 19-year old boogie-woogie piano boy and his back-up band, "The Kings of Rhythm", for their first Sun Studios session in March 1951. B.B. King introduced the boys to Phillips. His lead vocalist and sax-man, Jackie Brensten was mistakenly credited with the song by Chess Records, who released it. But those that know Rock History know that Ike & The Kings were the real, original rockers toiling in the shadow of their own success. That kid is referred to by Little Richard as "The Man", and B.B. King proudly echoes, "He's the best band leader I've ever seen". He is none other than the legendary comeback-kid, Ike Turner.
Turner has re-established himself with his '01 & '06 albums as a serious world-title holder; and proved why the hip-hop generation calls him "Ike Turner, the original mic-burner". Ever-the-innovator never-the-duplicator, Turner ushers in a new style/trend in 2007, just as he did in 1951: Blues on top and Hip-Hop on bottom, a/k/a "Blues-Hop". Turner says the rhythm and dance steps that ride today's hip-hop grooves are as contagious as the skillet-hot Rhythm and Blues moves of the 1940's that he grew up on. It's time to mix it up. He recorded his first Blues-Hop track, "Safe Sex" in 2001, but his label wasn't ready for it. Now, the tongue-in-cheek, blues-hopper "Gimme Back That Wig" makes it to the street in 2006. With the danceable Hip-Hop grooves and the soulfulness of a true Blues feel, Turner's new hybrid style is guaranteed to groove music fans the world over, body and soul. Turner is currently scorching tracks for his anticipated "three-peat" CD.
–Phil Arnold
Album Review: Ike Turner – Risin' with the Blues
(Southern Soul/Blues)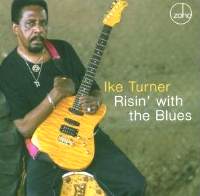 I don't normally pay attention to the Grammy Awards. Over the past 20 years the awards show has become an exercise in mediocrity, rewarding the most mediocre of the mediocre artists and albums. However this year if you could get past the entire non musical buzz and hype that surrounded the 2007 Grammy Awards, there was in fact a small victory for those of us who enjoy and cherish "great black music from the ancient to the future". This year the Grammies made a "mistake" and actually honored one of the true ORIGINATORS of OUR music for his latest album. One of the things that all of the media/hype about Ike Turner since the release of "that movie" has obscured is that long before he ever met Tina Turner, Ike was one of the founding fathers of Rock n' Roll back in the early 1950's. And as a Black man, he has never gotten the credit he deserves for having done so!
Ike Turner is a name that immediately draws a reaction whenever it is mentioned, especially when in mixed male/female company. Chalk that up to the power of the mass media, we are gonna deal with his brand-new Grammy Award winning album called "Risin' with the Blues", which although it's been placed in the "blues" category, I would call this instead an album of "truth & humor".
Anyhow…
The album starts out with a song called "Gimme Back My Wig" which is in the tradition of Joe Tex, it's funny yet true at the same time and it sets the stage for what is ultimately a nice & fun album. Next up is a cover version of the classic song "Caldonia" originally by R&B/Rock n' Roll pioneer Louis Jordan, it's a perfect song for Ike because it too is a nice blend of truth & humor. This album is mostly dealing with the topic of relationships, and we all know just how painful relationships can be at times. The song "Goin' Home Tomorrow" is a song about the pain of knowing that a relationship needs to come to an end and Ike makes us feel his pain. "Jazzy Fuzzy" is an instrumental that allows Ike to give us a taste of some of his legendary STANK AZZ NASTY guitar playing. There are several instrumentals on this album that not only feature Ike's guitar, but also a "towerofpowereque' horn section.
On "I Don't Want Nobody" Ike returns to the combination of "truth & humor" but in more of a "funk mode", throw this joint on at a club in Texas and the dance floor would fill up quickly. On Jesus Loves Me", Ike freely admits to being a "bad boy", but he knows that "Jesus still loves him anyway". Senor Blues is another one of those H-O-T instrumental tracks I was talking about earlier and sounds like the music that could be playing over the opening credits of a movie. The next song is called Eighteen Long Years and features the line: "I worked 18 years for one woman, and she had the nerve to kick me out" (Anyone here know how long Ike & Tina were married?). Anyhow……"Rockin Blues" is a song, with a great instrumental break and for those of you who are Stevie Ray Vaughn or Jimi Hendrix fans you may want to re-evaluate the list of guitarists who influenced your favorite "guitar heroes". And speaking of Stevie Ray Vaughn, "Rockin Blues" flows effortlessly into the next track called "After Hours" in the same way that Stevie Ray always flowed into that one kinda "soulful jazz' cut that he had on each of his albums. And then we have the song "Big Fat Mama" which sounds like a Johnny Cash song and if that's a surprise it shouldn't be. No doubt Ike and Johnny Cash must have run into each other a time or two at Sun Records back in the 1950's?
Ike ends the album with a funky instrumental track called "Bi Polar" and leaves us tapping our toes and smiling at the end of this outstanding album.
This is a really good album and for once I concur with the Grammy voters. Hopefully this album represents a new beginning for Ike Turner and the public. We need our legends to continue making music this good.
Ike Turner – Risin' with the Blues
1. Gimme Back My Wig
2. Caldonia
3. Tease Me
4. Goin' Home Tomorrow
5. Jazzy Fuzzy
6. I Don't Want Nobody
7. Jesus Loves Me
8. A Love Like Yours
9. Senor Blues
10. Eighteen Long Years
11. Rockin' Blues
12. After Hours
13. Big Fat Mama
14. Bi Polar
–Bob Davis