James Brown Family – Fred Wesley, The JB's, Maceo Parker, Bobby Byrd, Lyn Collins, Vicki Anderson, Hank Ballard

James Brown Family – Fred Wesley, The JB's, Maceo Parker, Bobby Byrd, Lyn Collins, Vicki Anderson, Hank Ballard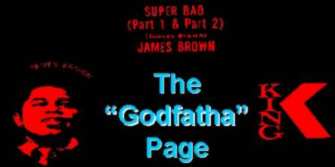 SOUL-PATROL REMEMBERS THE LATE LYN COLLINS



LOS ANGELES – Lyn Collins, whose funky vocals landed her a spot in James Brown's stage show and the nickname "Female Preacher," died of cardiac arrhythmia Sunday 3/13/2005, said her son. She was 56. Collins, whose voice also was sampled in the 1980s hip-hop hit "It Takes Two," died Sunday night at Huntington Memorial Hospital in Pasadena, her son Bobby Jackson said. Collins, who lived in Abilene, Texas, was visiting the Los Angeles area after having returned from a tour in Europe last month. She was due to start touring again next month.

Collins took up singing as a teenager. At 14, she married a man who worked as the local promoter for the James Brown Revue. Brown heard Collins sing and in 1970 she was invited to join his traveling show. Her powerful voice led Brown to nickname her the "Female Preacher," and two years later, she cut her first solo album, "Think (About It)." In 1975, Collins released "Check Me Out If You Don't Know Me By Now."
Over the years, Collins' songs have also appeared in various compilations, but it was hip-hop duo Rob Base & D.J. E-Z Rock who exposed Collins' work to a new generation when they sampled one of her songs for their 1988 hit "It Takes Two." Since then, other contemporary R&B and rap artists have also mined Collins' songs, including rapper Ludacris. …
FORMER MEMBERS OF THE JAMES BROWN BAND AND FRIENDS REUNITE AS THE 'FUNKMASTERS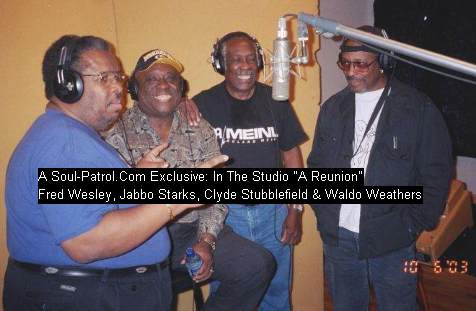 This week at Ocean Way Nashville/1200 17th Av., S. Nashville, TN.
Recording of Jabo & Clyde
Recording Oct 6-9

The line up of musicians

Funkmasters
Drums – Jabo Starks and Clyde Stubblefield

http://www.funkmasters.cc/
Trombone – Fred Wesley
www.fredwesley.com

Sax (Alto, Tenor and Baritone) – Waldo Weathers
www.waldoweathers.com

Guitar – Robert Orr

Keyboard – Tommy McKnight

Bass – Bob Babbitt

www.standingintheshadowsofmotown.com

Jabó and Clyde are the most sampled drummers in the world. They performed and recorded with James Brown during the mid sixties to the early seventies. They recorded such hits as Sex Machine, Super Bad, Mother Popcorn and Cold Sweat.

Prior to performing with Brown Jabó was with Bobby "Blue" Bland for several years. After Brown he recorded and performed with B. B. King for about six years.

Clyde is best known as the ORIGINAL FUNKY DRUMMER. His recording history includes Otis Redding and Prince. This is only the tip of the iceberg. He was 1990 Rolling Stone Magazine's Drummer of the Year. Modern Drummer deemed him as the Godfather of Funk. Clyde was the 2000 inductee into the WAMI in Wisconsin.

Jabó and Clyde were featured on the covers of Modern Drummer and Stick It magazines. Their drum sticks are enshrined in the Rock and Roll Hall of Fame.

Together they are known as the Funkmasters llp and have recorded their CD, FIND THE GROOVE, which was released in January 2001. They also have an instructional video, SOUL OF THE FUNKY DRUMMERS.

As you probably know… Fred was with Brown when Jabo and Clyde were there…
Waldo just left Brown a couple of months ago

Robert Orr did Jab's Groove on our CD

Tommy McKnight is the original keyboard with Three Dog Night

Babbitt is the Motown Bass and was featured the movie Standing In The Shadows of Motown…
Godfatha's Empire
Many people have worked with James Brown during his career. Some of them have released albums or singles produced and/or written by him featuring his sound. The most notable are Fred Wesley & The JB's, Maceo & The Macks, Bobby Byrd, and Lyn Collins (some of their singles are listed below). These are just a few of acts from the JB family. Other acts include Vicki Anderson, Hank Ballard, Yvonne Fair, James Crawford, Marva Whitney, The Dapps, Alfred "Pee Wee" Ellis and the Above Average Black Band (A.A.B.B.). Many other artists have been produced by James Brown, the list is extensive.
The JB's
Gimme Some More
Pass The Peas
Hot Pants Road
Givin' Up Food For Funk, Parts 1&2
The Grunt, Parts 1&2
These Are The JB's, Parts 1&2
Fred Wesley & The JB's
Doin' It To Death
Damn Right I Am Somebody
Everybody Got Soul
You Can Have Watergate
If You Don't Get It The First Time, Back Up And Try It Again
Same Beat, Parts 1&2
Fred & The New JB's
(It's Not the Express) It's The JB's Monaurail, Parts 1&2
Funky Music Is My Style
Makin' Love
Breakin' Bread
Rice 'n' Ribs
Maceo & The Macks
Parrty, Parts 1&2
Soul Power '74, Parts 1&2
I Can Play For (Just You & Me)
Cross The Track (We Better Go Back)
Maceo
Drowning In The Sea Of Love
Future Shock, Parts 1&2
Bobby Byrd
I Know You Got Soul
Funky Soul, Parts 1&2
I Need Help (I Can't Do It Alone), Parts 1&2
Hot Pants, I'm Coming
Lyn Collins – The Female Preacher
Think (About It)
Mama Feelgood
How Long Can I Keep It Up?, Parts 1&2
We Want To Parrty, Parrty, Parrty

Return To the SOUL-PATROL Main Page

Click here to enter your suggestions and feedback