James Brown – Godfather of Soul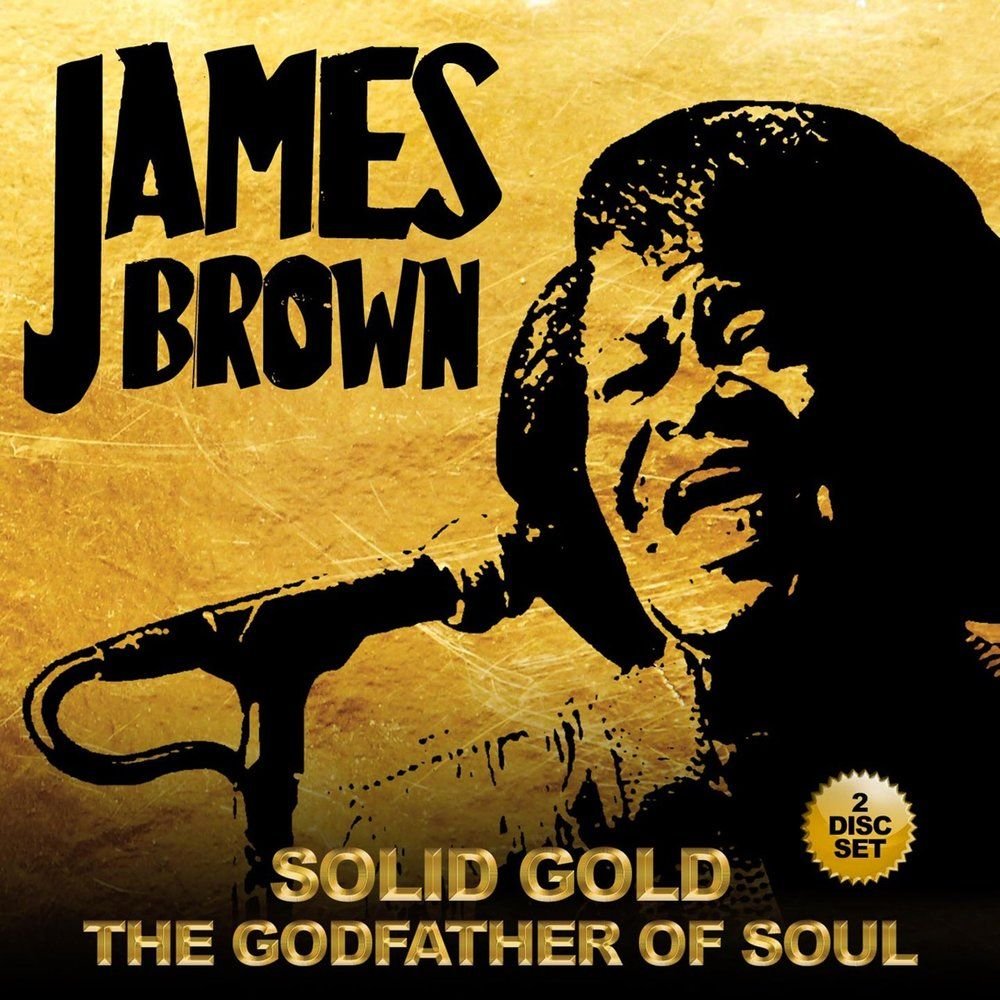 Godfather of Soul PART ONE
By C. Be'erla Hai-roi Myers
One of the things I like about the story of The Godfather of Soul, is the magnanimous gesture which started the career of one of the greatest Black performers to ever bless the stage. Most people are not aware of the fact that it was Little Richard who was responsible for giving James Brown his initial break. I don't know how you see it, but I personally witness that as a demonstration of the type of camaraderie Black folks demonstrated for each other (as Christians), in a foregone era which wound up blessing the rest of humanity.
Just think about that: The Number One Architect of Rock and Roll puts aside his fierce competitive nature, to give another performer a helping hand—that is, assisting the Godfather of Soul in starting his career. . . All I can say about that is . . . Wow!
This kind of deed, attests to the caliber of a person that does it; especially during a time period when the America was going through the lowest point in its history: An impoverished episode—where it would be understandable if every person went for his own. But moreover, this has more to do with a chapter in Black consciousness when we were coming out of the adversity of the Great Depression—and that legacy which follows. . .
We hear so much these days about black folks not giving each other a helping hand; thinking the worst of each other etc. . . But here we have a Black Southern superstar, aiding in establishing the impetus and benefit of another Black person despite the circumstances. Now that's real unity!
Real camaraderie coming from two brothers who were born in adversity around the same time—overcoming the same oppression and segregation perpetrated by outside forces—in order to establish something great; not only for Black people, but for the nation of America as a whole.
One might think that it was their religion that put these two together—but I don't think neither James Brown nor Little Richard belonged to the same religious denomination. One would say the act had to do more with Richard's overall ideology, James' serendipity, and the signs of those times more so than anything else.
In short, music and art has more to do with our overall social conditions and current political situations than one might want to believe. I would say both aspects are very symbiotic—that is, art & music and the times it was produced. It was the Segregation Era and its' oppression which sparked solidarity from Black people and it shows in the music and art they produced: When I look at my mother—who was the same age as these two men—I see neighbors sharing cups of sugar with a neighbor in need in my youth.
When the Godfather was young, he worked at any jobs he could find. He danced for the soldiers at Fort Gordon in Augusta, Georgia. James picked cotton, shined shoes and washed cars. His clothes were made from sacks and he was nine years old before he got a pair of store-bought underwear.
"But I knew I had to make it. I had the determination to go on and my determination was to be somebody," James said. And it was this ambition that drove Mr. Brown to his inevitable greatness.
And these were the sociopolitical conditions that created such a backdrop, but each generation will always respond to such a phenomena differently; each will produce its own heroes and villains and forged these things into their writings, poetry, music and song. Yet, in order for the audience to really appreciate such things—the audience would have to have some context to the conditions which inspired such works—in order to appreciate the pure artistry of the response. . .
The Encyclopedia Britannica calls The Godfather of Soul, "An American singer, songwriter, arranger, and dancer, who is one of the most important and influential entertainers in 20th-century popular music and whose remarkable achievements earned him the sobriquet [nickname] The Hardest-Working Man in Show Business."
So this is what mainstream America and the rest of the Western world thinks of James Brown. . . Let's take a look at the sociopolitical conditions that went into the makings of The Godfather of Soul.
The Godfather came into this life in Barnwell, South Carolina on May 3, 1933; but soon found himself reevaluating his life at five years old—after he wound up in Augusta, Georgia with his paternal great-aunt Hansom (Scott) Washington and Minnie Walker as a result of the divorce of his parents.
From accounts—the place was a whorehouse. James received little love or guidance from either of his parents during such times. Times were tough and money was scarce for Black folks; except for those who center their lives around vices.
So, by the time James was 12 years old, Mr. Brown had entered into the world of full time hustling—that is—after being dismissed from school for shabby clothing. So James did what he had to—in order to survive—growing up Black in the rural South under such adverse conditions.
Life can be a cauldron; a pressure cooker of sorts—but the arts and humanities presents itself as a release valve for some—with its' audience enjoying the end-product. Music and sports were The Godfather's muse—he was particularly fond of the music along antics of Louis Jordan & the Tympany Five and the music of the church.
As a matter of fact, Louis Jordan & His Tympany Five also influenced Little Richard, Chuck Berry and plenty other young Black music innovators of the 40s, 50s, and 60s. It was Louis Jordan who originally ignited the flame that inevitably exploded into Blues-Boogie, Jazz, Bebop and dance-music elements that sprung from Race Music; dividing into many of the categories we now recognize as American music today.
Louis was a top celebrity of his time; starring in many movies—with the likes of Bing Crosby, Ella Fitzgerald and Louis Armstrong. James Brown, Little Richard and many of the greats we recognize today, were Louis' teenage fans. The problem with mentioning Louis Jordan or Jackie Wilson today—is like mentioning Wilt Chamberlain or Doctor J when talking about the current basketball era:
These basketball greats might hold all the basketball records—but younger folks find it harder to relate to these stars of a foregone era which they never seen.
Most folks can only relate to the likes of Michael Jordan, Shaq, Kobe Bryant, and Allen Iverson as elders in the game they are currently playing. They'll stretch a little—but you can only stretch young folk's imaginations but so far—not without a bona fide genuine love for music or some other type fascination to satisfy their own curiosities.
James tried his hand at being in a band during 1946, when he was thirteen years old. This was done in the midst of a segregated America, where Blacks could entertain Whites; but not socialize with them at all. So being involved in the church, sports and hanging around the jukebox, and checking out Big Band Swing like Louis Jordan & His Tympany Five was young James Brown's favorite pastimes. Now that he was on his own, eventually he looked at music entertainment as a major way of making money; making ends meet.
James won a succession of talent shows in Harlem theaters, developing a big following, while also gigging in various high schools and the local army base. Dubbing himself Mr. Dynamite, James was literally a ferocious ball of electrifying energy—that is until his dreams were temporary side-tracked—by grand-theft auto in 1949. James was sixteen years old, when the judge gave Mr. James Brown a sixteen year sentence for such a crime.
It was here, while in incarceration, where James linked up with "Hucklebuck" Davis, "Shag," and Johnny Terry—to form a religious singing group; equipped with a home-made washtub bass, wooden box guitar and lard tub "drums." Mr. Brown also played on the "local hoosegow's" basketball team, which allowed James to visit the local Toccoa, Georgia high schools in the process.
It was during one of these high school outings, that Mr. Dynamite met pianist Bobby Byrd. Mr. Dynamite was paroled in June of '52; hanging out with the Byrd family after a three year stint. It was during this time that The Godfather worked on his magic: Bobby got James to join the Avons—a group fashioned after some of their great Doo Wop contemporaries—Orioles, Five Keys, Billy Ward & The Dominoes: "Jitterbugs"—as my father, his cousin Billy Wise and Fats Waller 'useta' call these vocalists of the forties and early fifties.
Brown got the group to take on his pal Johnny Terry from camp—accompanying Sylvester Keels and Doyle Oglesby, Fred Pulliam, Nash Knox and Roy Scott. The crew were just gigging and being ordinary—right up to the time they found out the name "Avons"—was owned by two or more groups . . . So the group became the Toccoa Band to stand out loud and apart from the crowd.
James discovered guitarist Nafloyd Smith—equipped with a Sears guitar and amplifier—as gritty and as home-grown as a band can get: As I said before, Poverty and oppression spawns creativity!
It seems as though, not having or doing without builds within you: A certain relentlessness—that is hard to articulate to others who never been there. . . The sound was birthed from the way that James Brown and Bobby Byrd lived: The things they did is what drove their music and that rawness from the heart—is what the crowd wants to hear: It drives you; Moves you—grooves you; it bonds the audience to that sound: That soulful gritty sound echoing throughout. . .
A bent up piece of metal that James forged into the group's cymbal. A tom-tom and a field drum that they rummaged from storage—and any other equipment they could find—made up some of the equipment of the Toccoa Band: Raw Soul!
This is what Little Richard saw when he met Mr. Dynamite: Talented screams and wails on would hear straight out of church, with that urban sound that Doo Wop breeds—an electrifying energy that James' idol, Louis Jordan imparted. The group became known as the Fabulous Flames: a group birthed from the then called Gospel Starlighters; which consisted of James Brown, Bobby Byrd, Baby Roy, Nafloyd Scott and Johnny Terry at the time. . .
Little Richard urged his manager to promote the Fabulous Flames; which eventually led James to the group's signing with Federal Records (a subsidiary of King Records). The label released The Godfather's Soulful, "Please, Please, Please"—a record released on February 4, 1956; which sold three million copies—representing the second time the Western world heard such primal, gospel-like shouts and screams. . .
James Brown's, "Please, Please, Please" a spiritual-experienced style tune inspired by, "Baby Please Don't Go"—a Race Music standard (Blues) converted into Do Wop; that served the Orioles well before James got a hold of it. . . Delivering it with a raw delivery that only James could furnish; plus a live version from Macon Radio Station—WIBB which rocked Ralph Bass' world; a talented scout who presided over the careers of T-Bone Walker, the Dominoes and Ester Phillips—and the rest became history. . .
Mr. Dynamite rocked and shocked the world with this—putting The Godfather of Soul on the map! Just thought I would tell you that; because it is always important to know the context in which these things were derived—because everything takes place for a reason: There are no coincidence or accidents in a world ruled by divine law and nature—as George Clinton says.
This sound stirred people. Waking up folks to be somebody. His dancing and singing! Hard broiled like a cobra's coil. Electrifying! With drive and determination! A beat that never stops! Hypnotic and mesmerizing. Beats that get kids out of their seats dancing and singing! Wild screams with dramatic antics. Gyrations and grinds! With dreams to be the biggest and baddest. . . Wow! Mr. Dynamite was really something. . .
Ruthless! Little Richard, Fats Domino, and the Platters were the current thrills now—with their spins away from the Doo Wop into what would later be recognized as Rock and Roll; But watch-out now. . . JAMES BROWN is a concept, a vibration, a dance. . . It's not me—the man. . . JAMES BROWN is a freedom I created for humanity, said The Godfather of Soul of his raw sophisticated funkiness…and I wholeheartedly agree!
Just as it is hard for those who were born in the late 50s and beyond, to visualize Black folks dancing to Jazz, or to recognize how the Doo Wop sound helped to upgrade Race Music into these other sophisticated sounds that were to take place afterwards; The Godfather still had a little way before his Soul music would take root in the minds of the people. I guess that's why they call him, "The hardest working man in show business."
Swing, Bop & Blues element was still dominant in the Race music of the early 50s—despite Doo Wop or this new "Rock & Roll thing" that Little Richard was ushering in; it was still swinging and off of that flatted fifth. The dramatic, wailing electrifying element evident in Little Richard's style was gaining lots of attention—but there were elements of syncopation and tempo evident in The Godfathers' style that was taking Black music in another direction, distinctly different than Little Richard; but it was still young at this point. . .
Nine singles and going on three years later—Mr. Dynamite was failing to follow up his initial splash. Soul hadn't quite carved out a category yet. Besides this—group-style singing was slowly beginning to be shadowed by a lead and background singers—as evident in the emergence of Jackie Wilson from Billy Ward and the Dominoes.
Within the Fabulous Flames, there was some resentment of the new-comer James dominating the group but not producing the success they once tasted from their distant hit. Soon, there was only Nathan and keyboard man Lucas "Fats" Gonder (from Richard's band) in Mr. Dynamite's diminishing line-up.
Then in 1958, James came back with a hit featuring his personal plea, "Try Me"—a popular gospel adaptation turned ballad, hitting number one on the R&B charts. That put Mr. Dynamite back in the driver's seat again.
Being back on the top of the R&B Charts, brought Bobby Byrd back into the fold, along with a new backup band and new management—Universal Attractions. James then quickly followed up with a twinning melody ballad, "I Want You So Bad," and an up-tempo tune (that would be later be his signature), "Good Good Lovin," with a change which was a little different from Blues-Boogie.
In addition, with these tunes still in rotation, Mr. Dynamite took a classic tune by a Doo Wop group with Rock-ish guitar riffs—called "Think" and adapted it for his variant "funky style" of Soul music. In addition, James countered that with "Night Train" and "Prisoner of Love"—which made number two on the Charts.
The Godfather was also starting to assert himself—not only a bandleader, but as the conductor of the band itself; that is, far beyond the authority of the record company engineers. This eventually led to the formidable Soul and Funk style that we generally come to know the Godfather of Soul by.
Now there seems to be a little controversy today as to who helped Mr. Dynamite establish this phase in his musical career. There is a movie—"Get On Up"—a Brian Grazer/Mick Jagger production released on August 1, 2014—that generally received critical acclaim on the career of James Brown—issue centering around the significance of producer/talent scout Ralph Bass and manager Ben Bart. The film depicts Ralph Bass as the person who discovered James Brown and James as the one who orchestrated the business decisions, as to where and how his shows were promoted—points in which Jack Bart and Jeff Allen of Universal Attractions (Ben Bart founder) disagrees.
The way Jack Bart sees it, his father got a call from a certain club owner in the state of Atlanta who said, "There's a young fellow down here, by the name of James Brown, that is a great dancer and…he's got a lot of potential. You should come down and take a look at him."
However, the movie doesn't introduce his father Ben Bart (James Brown's manager), until later in The Godfather's path—when he urges JB to go solo.
Jack doesn't have an issues with Chadwick Boseman's personification of the Godfather as having a large ego, or the reenactment of the police chase which ended in JB's arrest; The issues Jack has is the depiction of his father—Ben Bart, as someone who was following James Brown's instruction.
As he Jack says, "Everything that Brown knew or learned or accomplished was through Ben Bart's tutelage." Allen adds [The film doesn't show Bart's support for James Brown] "… [it's] as if Brown gave Ben a free ride."
Whenever you study a music icon and their art form, you must consider them within the social and cultural context in which it is in. It is from these elements in which I speak, which solicits the creative response by the artist. It is this context, through which the artist creates his art.
Too many times, the promoters of Black talent act like they "took clay and molded and shaped it in their own image and likeness." That might have been true for Barry Gordy and his Motown machine which came later on; but this was an exception and definitely not the rule.
The Godfather was born during the Depression and subjected to Segregation. It was Little Richard who witnessed James Brown and his agent who introduced him to Federal Records in which Ralph Bass worked. James Brown's performance was based mainly on his notoriety from said records, so Ralph would have discovered Mr. Dynamite before Ben Bart ever saw the to-be Godfather of Soul perform.
If Jack Bart says the depiction of the Godfather of Soul was accurate, he should have realized that an artist with that kind of ego, would certainly be tired of being second class and having to go through Whites to have any modicum of international success. He would be tired of being used, like Duke Ellington in the Cotton Club and as times progressed, he would certainly start to exert himself in group decisions rather than just follow his manager's lead.
Ben Bart might of have had access and know-how to clubs, arrangements and promotions, but no-way would James Brown be allowing anyone to control his destiny without his having the final say; so in essence James would be in charge of making decisions.
James may have gotten better from meeting Ben—but Ben did not give James his talent. Producers and managers do not make the talent the performers have, they create access to avenues and training; for a fee.
I was having that same problem discussed earlier, trying to get a younger people to understand the sociopolitical environment facing James Brown, Little Richard and others during the 50s and the 60s. I even had my daughter watch, " I am Not Your Negro," a documentary canvasing and comparing the lives of four Black social activists, Medgar Evers, Malcolm X, Dr. Martin Luther King Jr. as witnessed and compared by the fourth, the articulate James Baldwin; and it did not get the same affect I was reaching for until the Ferguson incident that erupted in the current times.
You see I have a young daughter who is currently eighteen, so her peers don't display the same social conditions today as they did back then. That is, until she saw young men around her age being mistreated at the hands of local police within social media. As she began to get more background, she learned their push back was as a result of something frequently happening between Blacks and the law enforcement in the area, who are supposed to protect and serve its' constituents. Then she got it.
She began to see a group of people being put upon and socially harassed by another group of people representing mainstream society—taking out their feelings of frustration and anguish upon this other group. And the reason this group of people were getting away with it, is because the local laws of this particular area enabled such mistreatment. However, back then, it was not just a few areas, but a whole country (North and South) with a similar type of attitude.
The segregation in the Deep South started in 1849, was followed by the Great Depression. Whites had never had to deal with this economic condition (sort of like the COVID Pandemic) where their privilege was being tried and tested; so they took out their frustrations on the helpless population of people who did not have the same civil rights as Whites, because mainstream society never seem to enforce such a law.
The Blacks of the 30s, 40s, 50s, and 60s were under this type of social pressure and very much in need of a release valve. The Godfather of Soul was that release valve. He expressed, entertained and provided a creative outlet for Black folks: Impeccable dance music equipped with primal screams and raw sex appeal.
Godfather of Soul PART TWO
By C. Be'erla Hai-roi Myers
James created ballads like "Bewildered," "Baby You're Right," "I Don't Mind," "I Lost Someone," and "It's A Man's, Man's, Man's World," which he inserted intermittently throughout his revved-up on stage performances—intended to "wow" his female audiences (and allow him to catch his breath) as well as showcase his soulful crooning skills.
It is said, "The dancing James Brown would do back in those days, eclipsed his latter performances." The Godfather would stand erect, then flip over into a split—he'd also tumble as part of his theatrics. . . These types of stunts often threw the women into a complete frenzy.
I hope Jack Bart is not trying to say his father, Ben Bart, is responsible for the onstage frenzy and excitement that The Godfather causes. . . White entertainment around the world has never displayed anything comparable—personally, I find it hard to believe Ben Bart could be that innovative and knowledgeable concerning what Black audiences would appreciate in a segregated America. Chills! Thrills! The Godfather is pure dynamite on his own! Nobody made him that way. . . Only the Almighty can stake that claim.
No doubt, Louis Jordan's antics left an impression on James' way of showmanship—but the prowess was generated from The Godfather himself; Mr. Jordan could have only led the way to what was possible: Dramatic displays of emotion which came straight from his heart. Captivating audiences, leaving them all spellbound—with various outbreaks of dancing and singing! Shouting for solos from the musicians! Screams! Struts, capes and things. . . Falling out on stage. . . Dancing, dropping into splits—then standing straight up—dramatic, sharp and precise. . . James Brown was really something to behold!
James was always bent on getting his live stage excitement captured on studio records: His wails, his shouts, everything including his vamps—was something that was never captured on wax; prior to The Godfather's forging of his Soul style of music. Electrifying, shocking, riveting. Dynamite! Explosive! Horns…Hit-me!
When Ray Charles appeared on the scene, Ray showcased himself in a style of Juke box hits—Race music would later be referred to as Jazz. It was within this particular Jazz scene, Ray recognized the way in which he sang, sounded a lot like Charles Brown (an earlier established Jazz crooner). And if continued in this direction, Ray Charles would be competing with the likes of Nat King Cole and Charles Brown for record sales. Why, even James Brown had a tune, "Why Do You Do Me"—which sounded a lot like Charles Brown. . . Needless to say, Ray Charles decided to hone his skills down to a more raw, grittier style with hollers, moans and wails. . . And soon James Brown had some competition in his newly formed genre.
The Godfather of Soul frequently performed in New York City—particularly at the Apollo. It was during this time, that James observed Ray Charles had already produced two live albums capturing his type of magic—something James always wanted—from the time he started adjusting his singles to sample his live explosive elements; but Ray's was a live album. The Godfather salivated over the possibility of having The James Brown Experience recorded on an album for prosperity sake…so he went to King Records to do so.
However Syd Nathan, the head exec for King Records, had a problem doing what James wanted. Number One, James' label Federal—like many other labels for Black music at that time—was in the business of producing 45 rpm singles for young Black teenage consumption; and besides, there was no prospect of producing singles from live albums in those days. Nonetheless, despite all this, James got the album produced. And despite the fake applauds that were dubbed in later (and lawsuits ensued by James Brown), Live at the Apollo became The Godfather of Soul's greatest accomplishment; reaching Number two on the pop album charts and marking his mass appeal.
What we have is a to tendency to forget is that The Godfather of Soul remained in top billing in the two categories he created for approximately 50 years.
I mentioned Ray Charles earlier, but The Godfather entertained competition with the likes of Otis Redding, Wilson Pickett, Lou Rawls, Sam & Dave, Rufus Thomas, Sam Cooke, Curtis Mayfield, Isaac Hayes and a host of other musicians and singers who were turned on by the new art-form when it emerged from Race Music.
James Brown had to work twice as hard, to remain viable and relevant in the midst of a new younger generation; who—by their very nature—exudes mad mass appeal for the current environment. The Godfather was obliged to be at the cutting edge and innovative; as well as, the visionary for his Soul-style of music and the regional variants (such as New Orleans style or Muscle Shoals).
And when Funk emerged from Soul music, James Brown—once again, had to determine the Future of the Funk by being on the cutting edge. Most don't realize The Godfather maintained being a heavy hitter among the likes of the Funkadelic (currently & commonly known as Parliament/Funkadelic), Booker T & the MGs, Sly & The Family Stone, Mandrill, Ohio Players, Steve Wonder, Curtis Mayfield, Bobby Womack, Rufus, Isaac Hayes, Jackson 5, Kool & the Gang, Maxayn, Michael Jackson, Dennis Coffey, the Meters, Dr. John, Betty Davis, Chaka Khan, New Birth, Parliament, Bootsy, Grand Funk Railroad, Commodores, Earth, Wind & Fire, Barry White, Cameo, Prince, KC & The Sunshine Band and many others…and nobody had more dance hits or was sampled more than James Brown. . .
The Godfather also maintained his share of showcasing top celebrity talent: Lynn Collins, Bootsy Collins, Bobby Bland, and the Horny Horns of Parliament/Funkadelic. . . The emphasis is to foster their talent and allow them to get out in the industry. Unbeknownst to Mr. Dynamite, was a pre-teen understudy, who was keen on his style of shouts and dance acumen; namely Michael Jackson. . .
Meanwhile, as early as 1963, The Godfather started his first label, Try Me Records, featuring Tammy Montgomery & the Poets (Johnny Terry and Bill Hollings of the Flames). The venue culminated into a two year relationship with Tammy; much to the chagrin of the label. Tammy Montgomery went on to become Tammy Terrell on the Motown label. Consensus is, the relationship descended into abusiveness.
And in 1970, along with Henry Stone, Brown established BrownStone Records, to record projects for his revues that his original signing label King Records would not record. The Godfather had considerable influence over King Records at this time, but apparently not enough. The label issued eleven singles before it was replaced by People Records in 1971. It recorded the likes of Lynn Collins, JB's, Bobby Byrd, and outside personnel like Sweet Charles.
The label housed The Godfather's single, Doing It to Death, which numbered #1 on the R&B charts. Commercially successful, People was acquired by Polydor Records after Brown's signing with the label in 1971. The label dissolved in 1976, but People Records is mentioned by Polydor anthologies of James Brown.
Brown purchased WGYW Radio in Knoxville, Tennessee, in November 1967 for $75,000; which he promptly relabeled WJBE and broadcasted under the R&B format in January 1968. Its' slogan, "WJBE 1430 Raw Soul!" He also acquired WRDW in Augusta, Georgia. The Godfather also expanded into music publishing and real estate during the next few months; making several recordings with musicians outside his own band.
While in the 1964 T.A.M.I. [Teenage Awards Music International] Show, James Brown was placed on the line-up, just before the Rolling Stones (a then young upstart Rock Group just gaining International notoriety), along with his group the Fabulous Flames. Needless to say, The Godfather scorched the stage, leaving no doubt about being the best performance of the decade; and probably the impetus behind Mick Jagger's production (along with Imagine Entertainment's Brian Glazer)—biopic, "Get Up."
Several singers and musicians speak of The Godfather's rigorous meticulousness. Plenty of folks say The Godfather was very methodical in music—especially when it comes to show business. He studied all the latest dances, being very attentive, as to the accuracy and detail in doing them; as meticulous as you would be in gymnastics or in boxing (two of his other interests).
The Godfather was constantly cultivating his skills and the skills of his band, to compete and be the best they could be. This he did from the time of the Gospel Starlighters, to the Avons, to the Toccoa Band, until the dubbing of the group the Fabulous Flames; his bands were changing in the personnel department with an emphasis on live performance.
Everyone in Black entertainment knew Mr. Dynamite kept his bands uptight, notoriously fining musicians for missing cues, notes, and improvisation. James Brown was ruthless and relentless in the business of show-business; and both worlds knew it. The Godfather always has soul enough for everybody who wants it—he knew what the people want; and it was there after being established with the King Record label, when Ben Bart initially met James Brown.
James was born under hard times in the Jim Crow South; no doubt he knew dancing and worship are coping skills for most Black folks…so…The Godfather learned to do the monkey, the camel walk, Philly-dog, and the mash potato with laser-like precision. Much of which, I am sure, Ben Bart had nothing to do with the execution of that, Jack! The Godfather knows how to move the crowd. . .
The sixties were particularly fruitful for James Brown. First of all, he received another monicker, Soul Brother Number One to mark his socio-political points of view.
After the 1962 number two LP on the charts, Live at the Apollo, along with his first top 20 pop hit execution of the standard, Prisoner of Love, James Brown found himself in a firm position—with quite a huge following.
Socially he released, "Don't Be a Dropout"—in 1966, a plea to the Black Community to focus on education: "I Don't Want Nobody to Give Me Nothin' (Open Up the Door, I'll Get It Myself) which is self-explanatory (1969). "Say It Loud—I'm Black and I'm Proud" (1968) an inspiration to us all as Black folks: As politicians pleaded with him to quell civil unrest after the death of slain Civil Rights Leader, Martin Luther King, brought about a spirit of unrest in most major cities. The Godfather also released, "America is My Home" in 1968, emphasizing inclusion into the land we help create.
In keeping with the activities of the sixties, the Godfather made many popular singles that remain viable to this very same day—including "I Got You (I Feel Good)," "I Got the Feeling," "Mother Popcorn," "Cold Sweat," "Licking Stick," "I Can't Stand Myself," "I'll Go Crazy," "It's a Man's, Man's, Man's World," and the forever notable, "Papa's Got a Brand New Bag."
"Papa's Got a Brand New Bag" marks the beginning of a brand-new offshoot of what is now Soul today; namely Funk: Although, arguably, the number one Rhythm & Blues hit, Cold Sweat, is often cited as the first funk song because it employs a drum break and a harmony that breaks down to a single chord change.
The term Funk added one more dimension to the Soul category, where The Godfather released a slew of ultra-danceable tunes like, "There Was A time," "Get On the Good Foot," "Give It up and Turn it Loose," "Can't Stand It," "Get Up," "Hot Pants," "Soul Power," "Superbad," "Sex Machine," "Gonna Have A Funky Good Time," which flooded the Juke boxes in bars and dance halls; being rocked ferociously by local DJs. Just the right stuff for the future Hip-Hop nation. . .
James Brown's use of the horns, his on-key screams, his funky riffs and his insistent reducing of many band instruments into nonnegotiable percussive instruments—had an international appeal to many musicians around the world including the famous Nigerian musician, Fela Kuti.
Back in 1964, when the Fabulous Flames appeared on the Teenage Awards Music International Show, the group consisted of Bobby Byrd, Baby Lloyd Stallworth, Robert Gram, Nafloyd Scott, Johnny Terry, Willie Johnson, Bobby Bennett, Louis Madison, Sylvester Keels, JW Archer, Bill Hollings, and Nash Knox. His saxophonist and right hand man, Maceo Parker, didn't join until later in 1964. The Flames were also referred to as the James Brown Band and the James Brown Orchestra, but by this time the Famous Flames consisted of Bobby Byrd, Bobby Bennett, Baby Lloyd Stallworth with James Brown. Seemingly, the James Brown Band/James Brown Orchestra refer to The Godfather's performance packages.
By 1970, the James Brown Band/James Brown Orchestra consisted of Robert Gram, Nafloyd Scott, Willie Johnson, Louis Madison, Sylvester Keels, JW Archer, Bill Hollings, and Nash Knox. In March 1970, some said members of the James Brown Band were leaving the group to pursue other interests; and others say the majority of the group walked out on James Brown over a pay issues.
Bobby Byrd (personal friend and long standing band member) has often expressed his issues between the Flames and James has more to do with manager Ben Bart, than it had to do with James. It seems to me, in light of the changing times and competition, in order for James to maintain his vanguard position and status; he would have to become even more cutting edge. The JB's seems to be as a result of The Godfather keeping up with the times.
As a matter of fact, it was Bobby Byrd who recruited Bootsy Collins and Phelps "Catfish" Collins (Bootsy's brother) from the Pacemakers (a Cincinnati-based group/King Records hometown) and probably instrumental in wooing 1960 road band members. This includes Fred Wesley in December 1970: "Jabo" John Starks drums, Johnny Griggs congas, and "Chicken" Clayton Gunnells, "Hasaan" Darryl Jamison, and Robert McCollough—three inexperienced horn players—to be tutored by Fred Wesley. This was the original JB's.
It was this core that produced the purest of the "Funk Idioms"—"Get Up (I feel like a) Sex Machine," "Super Bad," "Soul Power," and "Talkin' Loud and Sayin' Nothing." They were the band which accompanied The Godfather on the European tour, which gave birth to the album, "Sex Machine"—which included "Love, Power, Peace" and the instrumental singles, "These Are The JB's" and "The Grunt" (a tune later to be much sampled like the Funky Drummer). The Godfather made two number one hits, "My Thang" and "Papa Don't Take No Mess." The Godfather's "Funky President" and "Get Up Offa That Thing" both rated No. 4 on the R&B chart.
James Brown and his Fabulous Flames appeared on the Ed Sullivan Show in 1966. James Brown was also included in the Rock & Roll Hall of Fame (as evident by the 1964 T.A.M.I. Show Documentary) in 1986; as well as, the UK Music Hall of Fame in November 2006. He was also inducted into the National Rhythm and Blues Hall of Fame in 2013. James received a Grammy for Lifetime Achievement in 1992 and received the 2003 Kennedy Center of Honor Award.
In 1973, The Godfather produced two scores, "Black Caesar" (a blaxploitation film) and "Slaughter's Big Rip-Off." In 1974, he produced a No.1 R&B single and a No.1 album by the same name "The Payback." The Godfather later went to Kinshasa in the Congo, to perform there as a build up to the "Rumble in the Jungle" fight between Muhammad Ali and George Foreman. In 1975, James Brown produced, directed and hosted the variety show, "Future Shock" in Atlanta, Georgia. The show ran for three years.
He appeared in several motion pictures like, "The Blue Brothers" (1980), "Rocky IV" (1985), cameo in the Jackie Chan's film, "The Tuxedo" (2002), Tony Scott's, "Beat The Devil" (2002). The Godfather also has appeared in sporting events such as, World Championship Wrestling 2000 and SuperBrawl X.
He also appeared at "Edinburgh 50,000—The Final Push" and "Live 8" concerts in 2005, his own, "Seven Decades Of Funk World Tour" (2006), and "Oxegen Festival" in Punchestown, Ireland (2006) in front of 80,000 people.
Throughout the times, The Godfather's beats (as Skill Era Hip-Hoppers would exclaim) continued to be so hypnotic, it made any toddler with soul, jump out of his seat and break into his or her little dance. . .
Driving syncopation made The Godfather's tunes the favorite amongst bars, jukebox, cabaret, dance-hall selections—only to become desired sampling material in the 1980s (because of their popularity among party people) amongst numerous Hip-Hop artists; including the invincible microphone fiend, Rakim.
It takes a lot to stay relevant in the music industry for 50 years, but The Godfather, "The Original Trouble Man," proved he was the right man for the job. And as being a fellow alumni of people, born under punches, I refuse to elaborate on The Godfather's run ins with the authorities. He was born under the hammer and well aware of the "demonstrative punitive gavel" when he evaded arrest. However, I will say, in the state of kingliness and being an international gift to humanity, The Godfather departed this life on Christmas Day, December 25, 2006.