Jan Gaye: RIP (+ Let's Get It On Review + Full Original album)
It has been said by "those in the know," that then teenaged Jan Gaye was the inspiration and "muse," behind the creation of what is one of the most passionate and sensual albums of all time…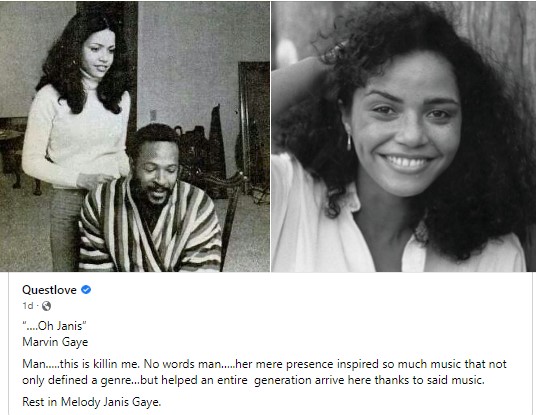 Were you a fan of the album "Let's Get it On," by Marvin Gaye? Maybe you were too young? Maybe you were born in the 1970's?
If that is the case, there is a distinct possibility that you may well have been conceived to the sounds of this legendary album.
It has been said by "those in the know," that then teenaged Jan Gaye was the inspiration and "muse," behind the creation of what is one of the most passionate and sensual albums of all time. You simply can't celebrate this album, without celebrating Jan Gaye!
May she rest in peace…
LET'S GET IT ON: CD DELUXE (Review from 2001)
I will go out on a limb and suggest to Soul-Patrol that this CD Deluxe set is the BEST release of the year 2001!
(and yes, I know that the year isn't over with yet)
There has been a LOT of really good music released this year and I have been privleged to hear quite a bit of it.
But I'm tellin yall…
right here, and right now….
…..This is the BEST package of music that you can possibly spend your hard earned dollars on right now
You actually get 4 Marvin Gaye Albums with this CD Deluxe set
Here is a quick synopsis…
DISC: 1
(ALBUM #1) * "THE ORIGINAL LET'S GET IT ON ALBUM"
Just as you remember it, only digitally remasered
1. Let's Get It On
2. Please Stay (Once You Go Away)
3. If I Should Die Tonight
4. Keep Gettin' It On
5. Come Get To This
6. Distant Lover
7. You Sure Love To Ball
8. Just To Keep You Satisfied
(ALBUM #2) * "SESSIONS"
A bunch of alternate takes of songs that you are familiar with from other Marvin Gaye material that you are already familiar with something "completely unexpected" for you fans of the Miracles 
9. Song #3 (Instrumental)
10. My Love Is Growing
11. Cakes (Instrumental)
12. Symphony – Undubbed Version
13. I'd Give My Life For You – Alternate Version
14. I Love You Secretly/The Miracles
15. You're the Man – Alternate Version
16. You're The Man – Alternate Version 2
17. Symphony – Demo vocal
DISC: 2
(ALBUM #3) * "DEMOS, ALTERNATE MIXES & MORE"
It's an "alternate" version of the original album and includes something VERY special for those of you who are collectors
1. Let's Get It On – Demo
2. Let's Get It On (Part III) A.K.A. Keep Gettin' It On – Complete
3. Please Stay (Once You Go Away) – Alternate Mix
4. If I Should Die Tonight – Demo
5. Come Get To This – Alternate Mix
6. Distant Lover – Alternate Vocal
7. You Sure Love To Ball – Alternate Mix
8. Just To Keep You Satisfied – A Cappella w/Alternate Vocal
9. Just To Keep You Satisfied/The Originals (1970)
10. Just To Keep You Satisfied/The Monitors (1968)
(ALBUM #4) * "WORKING THE GROOVE"
Imagine if you will for a moment that we were living in a "parallel universe" of some kind.
A "parallel universe" where Marvin Gaye had NEVER made the "What's Going On" LP, but instead had continued to record what would have been the next logical stage of the pop music he was making for Motown in the late 60's. So it's a look at what Marvin Gaye would have sounded like during the 1970's, if he had continued to make "standard pop music".
This may well be the most interesting of the "four albums"
11. Where Are We Going? Alternate Mix
12. The World Is Rated X – Alternate Mix
13. I'm Gonna Give You Respect
14. Try It, You'll Like It
15. You Are That Special One
16. We Can Make It Baby
17. Running From Love (Instrumental Version)
18. Mondata (Instrumental)
19. Running From Love (Instrumental) – Version 2
20. Come Get To This – Live From Oakland
–Bob Davis
Lets Get It On (FULL ORIGINAL ALBUM)