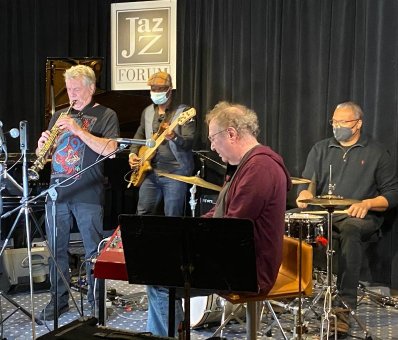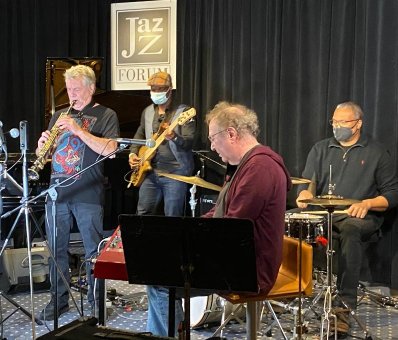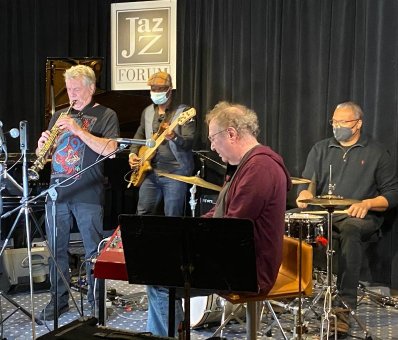 I had a chance to attend this outstanding show(online) last night.
It was an unusual show, in that it was a combination of an educational event (with Jason providing "the story behind the story" of each song) followed by a live performance of each song, performed by the "crack" ensemble that Jason had put together for the event. Because it was streamed, I got the chance to view/hear it all from the comfort of my own home.
The highlight of the show was Jason's presentation of the Miles Davis classic from Bitches Brew: STREET VIBE, which Jason gave us the background on, plus told us that the entire show was dedicated to Keith Jarrett. Then the band proceeded to give us a SLAMMIN rendition of STREET VIBE!
Overall I think that the format & presentation of "The Extraordinary Journey of Jason Miles: A Musical Biography," provides us with a glimpse into the future of the way we will be watching online jazz shows in the future.
Below is a brief summary
Jason Miles – Originals + the music of Miles Davis, Sting, Luther Vandross, etc plus Jason's "musical biography" between songs, with stories of his work with Miles Davis, Sting, Luther Vandross, etc.
Personnel
Jay Beckenstein-Sax…leader of Spyro Gyra
Richie Goods-Bass
Gene Lake-Drums
Set list
Cactus
Miles to Miles
She Walks this Earth
Because It's Love
Winelight-with Band
Mr Magic
Street Vibe
Stay tuned…..
–Bob Davis
Album Review: Global Noize – Jason Miller/DJ Logic (Feat: Meshell Ndegeocello, Billy Martin, Vernon Reid, John Popper, Cyro Baptista, Bernie Worrell, Karl Denson, Christian Scott & Others)
(Jazz/Funk)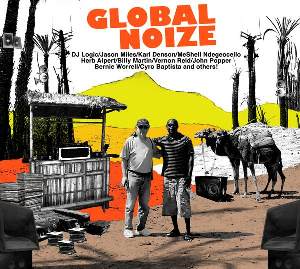 This is flat out the best release that I have heard to this point in 2008. And it will forever occupy a permanent spot on the shelf where my musical collection is kept. I will return to this album over and over again till I am no longer able to. I suppose that using the notion of an album review is just as good a place as any other to explain exactly why that is.
Most of the time when I am listening to music, I do so as a part of the 'soundtrack of my life". That is to say that the music is playing, but listening to the music is not the primary activity. The music is secondary, but it enhances whatever activity that I am currently engaged in (the primary activity.) However there are times when I am listening to music I am not interested in it as part of the "soundtrack of my life." I am listening at that moment specifically with the intention and desire to have "my mind blown." I am listening in order to help facilitate an escape from whatever my current reality is. I am trying to change something that is in my life and having "my mind blown" is a mechanism that I can use to often clear out the cobwebs inside of my brain and help me to obtain a different perspective on life.
There is a relatively small group are artists that I will typically turn to at those times when need to hear life altering music. Artists that fall into this category for me are names like Miles Davis, Jimi Hendrix, Santana, Weather Report, Return To Forever, Stevie Ray Vaughn, Sly & the Family Stone, Mandrill, Chuck Berry, Passport, Sun Ra, Kool & the Gang, EWF and a few others. There is a kind of spirituality for me that lurks not far from the surface of the instruments of this music that has a healthy effect on my mind, body and soul. This impact is difficult for me to put into words, however it is a very real thing despite just how intangible it may be. It has nothing to do with lyrics, its totally about the music and it's power to rejuvenate thought processes within myself that lay dormant. It also has nothing to do with activities that involve other people. It is however all about a what seems to be a personal relationship or a bond that forms between myself and musicians that I have never met and are unlikely to ever meet. And for me it's really all about that kind of experience and need to recreate it that draws me back to the music of those artists during times when I need to use music to help me to look within myself for the assistance that I need to answer questions that aren't obvious.
The album "Global Noize" by Jason Miles & DJ Logic and an all star cast of great instrumentalists – Meshell Ndegeocello, Billy Martin (Medeski, Marin & Wood) , Vernon Reid (Living Colour), John Popper (Blues Traveler) Cyro Baptista (Herbie Hancock), Bernie Worrell (Talking Heads, Parliament Funk), Karl Denson (Karl Denson's Tiny Universe, Lenny Kravtiz), Christian Scott & Others is exactly that kind of an album. Within the first 30 seconds of hearing the very first track on the album, I knew that this was going to be one of those kind of albums that would stay with me for a lifetime. It will make you dance, be still, yell, be silent, laugh, cry, think and become numb all at the same time. It makes you feel like you are a citizen of the world and makes you feel all alone at the same time. This is the type of music that has served me well during multiple phases of my own life, ever since I have been a teenager. And continues to serve me well today, long after my memories of the specifics of when I was a teenager have long since faded from my memory.
Global Noize isn't the kind of an album that you even care about individual tracks/songs. The album itself is a complete and non stop experience in the type of "escapism" (as per James Brown) that allows you to become immersed in an external world of pure audio delight of 100 percent BLACK MUSIC that helps in bringing you closer to your own thoughts and emotions. The music itself is a near perfect blend of all of the various types of instrumental music that I personally like (jazz, funk, rock, world) blended in such a manner that it actually has no genre to speak of whatsoever except to call it "human."
Albums like this allow me to clean out all of the thoughts in my mind that are preventing me from thinking about the things that I need to be thinking about and moving forward with positive action. And even at my own advanced age, anything that brings additional clarity to my thinking and behavior is certainly a most welcome addition to my musical library.
In short, the album "Global Noize" offers a kind of "clarity in thinking" to the listener, that for me is achieved by just a small number of artists that I have listened to over the years. This is extremely personal listening and at a price tag that is a whole lot cheaper than an hour of therapy. It's not the kind of an album that you need to listen to every day, but it is the kind of album that when you need to unleash it's power, you need to have it on the shelf, even if you don't think that you would ever need this type of therapy.
And that is why for my money (and yours as well) "Global Noize" by Jason Miles & DJ Logic is the best album that I have heard thus far in the year 2008.
–Bob Davis
Concert Review: Global Noize @ Highline Ballroom/NYC – 4/7/2008 (OR MORE INCOHERENT RAMBLINGS OF A FUNKATEER WHOSE MIND IS BLOWN)
(Jazz/Funk/World)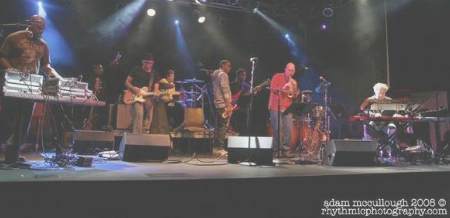 All I got to say for the moment is that yall who claim to be down wit da FUNK had betta not go to sleep this year. Cuz this is the year that yall have been waiting for.
For the second week in a row I have had my…
FUNK
CLOCK
CLEANED

You know that feeling when you go to a show and you can still hear the music from the show, playing inside of your head the next day…… (and there are NO DRUGS INVOLVED?????)
YUP….right now the music of GLOBAL NOIZE is STILL BANGING AROUND IN MY HEAD nearly TWELVE HOURS LATER.
Ok, I know that yall have never heard of GLOBAL NOIZE.
However you may remember that I told you that GLOBAL NOIZE was…. THE BEST ALBUM I HAVE HEARD THUS FAR THIS YEAR!!!!!!!
And that was based on me listening to a CD-R I got from the record label a month or so ago. All it took was a single listen for me to come to that conclusion. And to IMMEDIATELY add several tracks from the album to NuSoul @ RadioIO.com http://www.radioio.com/channels/nusoul
Here is how Shanachie described it in their press release….
"Jason Miles & DJ Logic Join Forces to Obliterate Musical Borders on New Shanachie CD Global Noize:
All-Star CD Serves Up An Intoxicating Brew of Jazz, Electronica Funk and World Music Featuring Some of Music's Most Creative Players: Meshell Ndegeocello, Billy Martin (Medeski, Marin & Wood) , Vernon Reid (Living Colour), John Popper (Blues Traveler) Cyro Baptista (Herbie Hancock), Bernie Worrell (Talking Heads, Parliament Funk), Karl Denson (Karl Denson's Tiny Universe, Lenny Kravtiz), Christian Scott & Others"
Let me tell yall…
As exciting as that may sound….
:::THAT IS NOTHING COMPARED TO THE CD::::
AND
THE CD IS NOTHING
COMPARED TO THE SHOW
Last night I got to witness this SPECTACULAR CONFIGURATION IN PERSON
IT WAS AN AUDIO & VISUAL EXPERIENCE THAT IS HARD TO DESCRIBE

>From an audio perspective it was like having…
The Miles Davis Band / Weather Report / P-Funk / Return to Forever / Antonio Carlos Jobim / Eddie Harris & Les McCann / Temptations / Passport / Tower of Power / Mahavishnu Orchestra / Lonnie Liston Smith / DJ Kool Herc
ALL ON STAGE AT THE SAME TIME
All under the direction of Jason Miles and DJ Logic
From a visual perspective it was kinda like being at that MONSTER CONCERT that you always imagined taking place at THE FOOT OF THE PYRAMIDS or perhaps inside of a BROTHEL/OPIUM DEN IN MARRAKECH, MOROCCO, just chillin out & relaxin on one of those "flying carpets, hovering six inches off the ground, while you soak it all in"
Here you had Jason Miles and DJ Logic up front "conducting things" on synthesizer/keyboards & turntables respectively. Then in the back you had Bernie Worrell in full PURPLE "sun ra esque wizard of woo" funk regalia, tiny Meshell Ndegeocello dressed in black literally hiding and almost out of sight thumpin away on the bass, cool as a cucumber Christian Scott with the shades strategically balanced on top of his head, and then flippin the shades down over his eyes as he pulls up to the microphone and buries the microphone inside of the swept up Dizzy Gillespie style trumpet he used last night. Add to this singers from India, scantily clad belly dancers from Morocco doing an incredible spiritual/erotic "sword balancing" dance. This show was also a feast for the eyes as well!!!
Could I write more about this????
Well maybe, but I'm not going to right now.
I really can't
That's cuz it's all kinda like basking in a type of an indescribable "glow". The "glow" isn't finished yet. And I don't wanna do too much right now that might cause it to come to an end any sooner than it needs to.
You wanna know how good this show was????
There were at least two other Soul-Patrollers in the house last night @ Highline Ballroom that I observed…
**Dr Brookenstien – he spent the night dancing all over the club and when I tried to speak with him at various points during the evening, he was mumbling to himself. (it will be interesting to see what he has to say about the show)
**Randall Grass – was pounding away on the table during the entire show, just like it was a set of congas
Of course Randall is biased….LOL
But Brookenstien isn't and he was still mumbling to himself after the show was over, just as I'm certain almost everyone else who was there last night was as well, just like I am this morning. http://www.myspace.com/globalnoizejazz
–Bob Davis
Album Review: Jason Miles – Soul Summit (Featuring: Bob Babbit, Karl Denson, Richard Elliott, Steve Ferrone, Mike Mattison, Maysa, Jason Miles, Susan Tedeschi, Reggie Young)
(Great Black Music From The Ancient To The Future)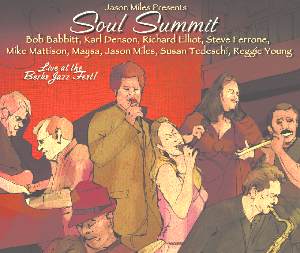 For all practical purposes I reviewed this newly released album a year ago. You can read what I wrote about it here. For the past few years musical visionary Jason Miles has been on a one man crusade to save Black music from destroying itself, by helping it to remember what it once was. Very quietly (unfortunately) over the past few years, he has put out an exciting series of "CTIesque" albums that on the surface might appear to be "tribute albums." However these albums are less tributes than an opportunity to reexamine the majestic artistry of like Marvin Gaye, Miles Davis, Grover Washington Jr, and others inside of a contemporary context. Jason's albums are meant less for those who are old enough to remember and more for those who aren't old enough to remember.
Soul Summit is a live recording of a magnificent concert that I was fortunate enough to attend in the spring of 2007 @ the Berks Jazz Festival. With the vocals anchored by singers like Susan Tedeshi & Maysa Leek and heavy duty funk players like Steven Feronne, Karl Denson and others, the Soul Summit concert is nothing less than a modern day re-creation of the great stage shows that one could see damn near on a daily basis at legendary venues like the Apollo, the Howard, the Royal, the Uptown and others that once formed the golden jewels of what was known as the "chitlin circuit". As I listen to the album in 2008 I am taken back in my mind's eye to the concert itself and the clarity that being a year removed brings to me. This album wasn't recorded inside of a crumbling ghetto music palace, in front of ghetto residents who paid $1.50 to get in 40 years ago. It was recorded in a modern acoustically perfect, pristine theater in suburban Reading, Pa in front of a suburban audience that paid a healthy penny to see the show. In other words it was recorded in front of a portion of it's intended audience (the people who never visited the "golden jewels of the chitlin circuit") as a live show and will most likely find its way to that intended audience as a recording as well. Now that is a good thing, but it's the "other portion" of the intended audience who were neither at the show, nor or they likely to hear this album, that Jason Miles really wants to reach and that would be the people who were far too young to ever even think about going to places like the Howard, the Royal, the Uptown, etc. Those are the real people who need to hear this album, because if they could ever experience and absorb this kind of artistry, their lives just might be changed forever, and with that the future course of Black music itself might just escape from the cesspool that on most days in 2008 that it feels like it's destined for. n
Look for these songs playing as as "buzz cuts" on Nu Soul @ RadioIO.com
–Bob Davis
Concert Review: Soul Summit @ Berks Jazz Festival in West Reading Pa (3/24/2007)

This show took place on 3/24/2007 and was a part of the Berks Jazz Fest at the 1,200 seat Scottish Rite Cathedral in West Reading PA.

 

It was a special all star aggregation of musicians assembled by our own Jason Miles called "Soul Summit". The whole idea was to do an evening of Soul/Funk music within the context of a two week long "smooth jazz" extravaganza. It was a badd azz 90 minute show. Our girl Maysa Leek was there and turned it out as well.

Here is the line up for the show: World Premiere Concert Soul Summit Featuring

Jason Miles
Susan Tedeschi
Maysa Leak
Richard Elliot
Mike Mattison
Karl Denson
Steve Ferrone
Reggie Young
Sherrod Barnes
Barry Danielian
David Mann

Soul Summit Group Shot Backstage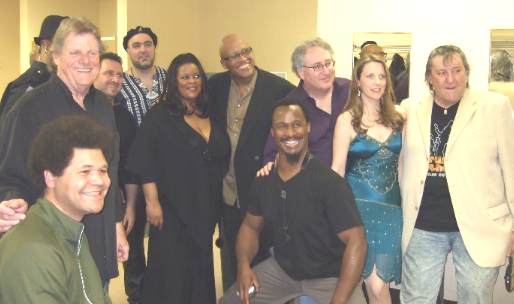 I really enjoyed this concert!
There were tributes to legends like Jr. Walker & the All Stars, Irma Thomas, Dusty Springfield (Susan Tedeschi) and others. However the highlight of the show was the James Brown Tribute (featuring I Feel Good, I Got The Feeling & Sex Machine), which closed out the show.
Our girl Maysa Leek "channeled Lyn Collins" during the James Brown set, but it was really Karl Denson who turned out!
Not only did he make the aggregation sound like "the JB's" on sax, but as he emerged from the horn section in the back to come out front and take over the lead vocalist role, Karl Denson slid across the floor (a' la James Brown), just like a "sex machine".
Of course as all of this was transpiring, I was up on my feet grooving to this stank azz funk. However I did notice that I was virtually alone inside of the 1,200 seat Scottish Rite Cathedral (which appeared to be full to my eyes).
NOBODY WAS DANCING
I looked around to see if there was indeed a sign posted that said
"NO DANCING PERMITTED"
But there was no such sign.
Then I remembered two very important facts:
1. The concert was in "West Reading, PA" and not in "Reading, PA". I have spent quite a bit of time during my life in the city of Reading and its surrounding areas. It is indeed a "tale of two cities" & it's not a pretty "tale" at all.
2. This was a "smooth jazz" crowd (which by definition is
"DevoidOfFunk")
Anyhow…
The show ended and I bolted backstage to see if I could talk to the performers and to congratulate them on a great show. As I was "bolting", I noticed in the corner of my eye a tall/slender white woman calling out my name. I stopped, turned around and saw that it was our friend Kayte Connelly (Former Executive Director of the Berks Jazz Festival & the R&B Foundation). We hugged and without missing a beat Katie said "I thought that had to be you when I saw a Black dude standing up, dancing & and writing in a notebook at the same time during the show, I gotta get you backstage…"
(and that was exactly what she did…….lol)
Once backstage Jason Miles introduced me around by saying… "This is Bob Davis of the REAL SOUL-PATROL, everyone here needs to get to know him"
Karl Denson & Steve Ferrone Backstage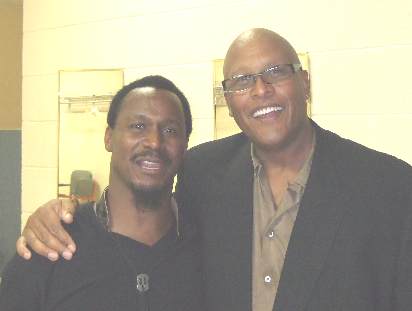 – I interviewed Maysa Leek and congratulated her for making Soul-Patrol.com's best of 2006 for her album "Sweet Classic Soul". Maysa told me that she's got another solo album (remember she's also a member of Incognito) coming out soon!
http://www.maysa.com
– I interviewed Karl Denson and we had a wide ranging discussion mainly focused around the topic of "How come Black people don't support Black Music anymore?" I told Karl that is just so happens that I know a whole bunch of Black people who support Black music and best of all "I know where they live….".
http://www.myspace.com/karldensonstinyuniverse
– I interviewed the legendary funk drummer Steve Ferrone (Passport, AWB, Pat Metheny, Duran Duran, Eric Clapton, Anita Baker, George Benson, Jonathan Butler, Whitney Houston, Chaka Khan, Freddie King, Marcus Miller, Jeffrey Osborne, Paul Simon, Bernie Worrell, Jaco Pastorius, etc). Steve Ferrone was well aware of Soul-Patrol and he told me that he's got a LIVE CD that he wants to get into my hands. (I can hardly wait)
http://drumrollrecords.com
We all took some pictures and then the backstage area quickly emptied out.
Jason Miles & I walked out into the lobby we talked about the 2007 Soul-Patrol Convention and he said that he would be there. I said you betta be to get your award cuz your name is on the flyer….lol
Jason then said…
"You mean TWO awards Bob, cuz I also won one in 2005…"
I said…
"My bad….you are correct…
"What's Going On Tribute To Marvin Gaye" (2006)

"Miles To Miles" (2005)"
Jason Miles was indeed selected to Soul-Patrol's "Best of" TWO YEARS IN A ROW!
Look for him at the 2007 Soul-Patrol Convention in May and when you see him, thank him.
Jason Miles & Maysa Leek @ the Soul Summit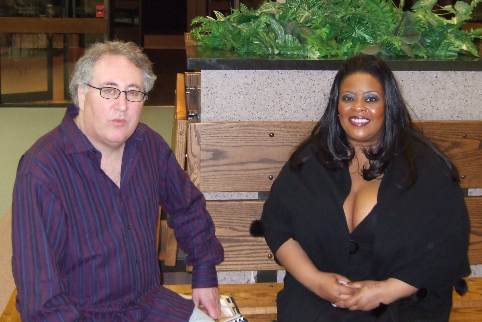 Quiet as it's kept, Jason Miles is doing a whole lot more than most to make sure that the legacy of Black music is something that indeed will have a future. Not only has he done award winning tribute albums to Marvin Gaye & Miles Davis two years in a row, but the staging of this "Soul Summit" concert as a part of the Berks Jazz Festival was truly a great thing. Onstage during the show Jason made several thoughtful comments regarding the still onging crisis in New Orleans as well as the need for these type of concerts to connect people together. I enjoyed the heck out of the show and the good news is that there are going to be more of these type of concerts across the country (and we will let you know about them).
In the meanwhile check out Jason Miles online at: http://www.jasonmilesmusic.com
As I left the Scottish Rite Cathedral and drove back towards Route 422 I decided to take a detour and cruise around the city of Reading for a little while. The city of Reading is pretty much a "hell hole" (not unlike places like Camden, Chester and other places where the industry has left, leaving both the economy & the people "depressed".) I drove past Reading's most famous "landmark" the long deserted station of the Reading Railroad on Chestnut & 7th (made famous by the Monopoly board game, during a time when both the railroad & the city were "industrial giants"). I looked outside of my car window in horror as I drove down streets that looked like "someone forgot to turn on the street lights" at repeated scenes of large groups of young people with nothing to do, hookers, pimps, drug dealers, etc. I wondered if the music that I had just heard at that wonderful STANK FUNKY concert, just an hour before might make a difference in the lives of the people that I saw on the streets of Reading, PA, near and around the site of one of the most famous places in American popular culture (The Reading Railroad Train Station)?
Although the "Soul Summit" concert had taken place less than two miles from Chestnut & 7th. It might has well have been on another planet.
I don't think it's the fault of the concert organizers or anyone else. "It's just the way things are in 2007"
I do however think that there is something wrong with our society that we can't somehow figure out a way to move these "two worlds" just a little closer together?
My view is that if we can find a way to move these "two worlds" closer to each other we will do two things
– Save our culture
– Save ourselves
NP: "What's Going On"
–Marvin Gaye
CD Review: Jason Miles: "What's Going On" (Songs of Marvin Gaye)
**Jason Miles: "What's Going On" (Songs of Marvin Gaye)
(Jazz/Soul/Neo Soul)
On the surface it would be easy for me to dismiss this CD as being "fluff". However I think that in 2006 we have to look deeper into the possibilities of what something like this impending mass popularity that this CD offers.
The legacy of Marvin Gaye has always been a puzzle to me. Obviously Marvin Gaye is one of the greatest examples of the kind of music that we hold near and dear to our hearts at Soul-Patrol. And of course there is hardly a human being on the planet who isn't willing to admit that they aren't a fan of some phase of Marvin's music. However Marvin Gaye has also become something of an icon that is paid "lip service" to and while it's politically incorrect to ever say anything bad about him, in reality he isn't really as popular or his music as institutionalized as one might think. I suppose that paying tribute to Marvin Gaye is always a good thing to do, his music deserves to be expanded into areas and exposed to people who really might not be hip to his greatness. And I would imagine that this CD will end up being a huge hit on "Smooth Jazz Radio". It's got all of the right hooks in it to make quite a bit of noise in a commercial sense, in fact this CD could even be marketed to the sometimes confused "neo soul scene". And I suppose that's where its real value lies. The potential for this CD ro reach deep within the iPod headsets of younger people is a very real thing.
"What's Going On" (Songs of Marvin Gaye) is the type of an album that makes for good driving music, background music at a gathering like a coattail party, art galley show or even a corporate reception. (Although I'm not quite sure that Marvin Gaye himself would have been exactly welcome at a "corporate reception"). It's good "buppie" music and it features the talents of well known/popular artists like Marcus Miller, Herb Alpert, Bobby Caldwell, DJ Logic ,Chiara Civello, Mike Mattiso and Dean Brown.. I could even see the music from this CD being used in TV commercials, movie soundtracks, ring tones and other highly lucrative endeavors.
I suppose that I will never quite be satisfied with ANY "Marvin Gaye Tribute", simply because I want the REAL Marvin Gaye. It's kind of like the wave of Jimi Hendrix tributes in the recent past. There is so much actual Marvin Gaye material available to the public thanks to the great reissue program at Universal/Motown, featuring the Marvin Gaye CD Deluxe packages ("What's Going On", "Lets Get it On" and "I Want You"), that actually are improvements on the original LP's from the 1970's and help us to truly understand the context of the situations that drove Marvin. Those CD's represent what I want younger people to hear from Marvin. I want them to feel the raw passion and intensity of a confused mad genius, during a confused time in American history. Marvin was a true artist who was searching for answers to the riddles of love, race, culture, war and everyday life.
Marvin Gaye was willing to explore all of those topics while at the same time exposing his own personal insanity and insecurity for all to see like an open sore. By allowing all of us to see the confusion, conflict and contradictions of his own existence, Marvin Gaye forced all of the rest of us to look inside and take stock of our own personal confusion, conflict and contradictions. By doing so, Marvin Gaye became an artist who actually had a major impact on our society and changed it for the better. I want all of that passion to be transported into the minds and hearts of younger people and I want them to get angry enough accept the responsibility to change our society, so that they will have a society of value in the future as opposed to the valueless society they are creating today. I'm not really sure that the power of Marvin Gaye's music and ideas can ever truly be represented outside of the context of his own voice. Therefore I want younger people to hear Marvin Gaye, dong Marvin Gaye music.
However I also realize that it's highly unlikely that I will get what I want. Younger people aren't inclined to seek out the best of Marvin Gaye in it's "raw form" on their own, because they just think of him as another "oldies artist". Those who do tend to focus on only his hit records, without probing deeper. Maybe in 2006 the best way to get younger people to truly embrace Marvin Gaye is to first get them to embrace an album like "What's Going On" (Songs of Marvin Gaye)? No doubt this will become a popular album and we will be hearing it in many forms and in many places over the next year. My hope is that all of those who hear it will use it as a platform to seek out the actual music of Marvin Gaye.
And if that can happen, then I appluad Jason Miles for making this album. This is what he accomplished with his last CD "Miles To Miles", where he opened up similar possibilities for the music of Miles Davis and we named it as one of "Soul-Patrol's Best of 2005."
–Bob Davis
CD Review: Jason Miles – "Miles To Miles" (Jazz/Funk)
**Jason Miles – "Miles To Miles"
(Jazz/Funk)
Well, Well Well…….This is a special to ALL of you "MF's" (Miles Fans) out there. PLEASE DO NOT SLEEP ON THIS ALBUM. The legacy of Miles Davis is certainly an ongoing topic of interest here on Soul-Patrol. That's because Miles Davis is one of our "core artists". As such we know that without the music of Miles Davis, that thing we commonly refer to as "jazz", simply doesn't exist at all within the context that Soul-Patrol defines it. That's because Miles Davis "The Prince of Darkness" means so much to us on a cultural/spiritual level. What Jason Miles has done with the new CD "Miles To Miles", is to take the music of Miles Davis and not reform or reshape it (that would be heresy), but to simply go back to the 1980's timeframe of Miles Davis and extend it to 2005 Featuring an all star lineup including: Gerald Albright, Marc Antoine, Bob Berg, Michael Brecker, Randy Brecker, Maria de Burros, Karls Denson, Tom Harrell, Karsh Kale, DJ Logic, Keiko Matsui, Me'Shell Ndegeocello, Nicholas Payton, David Sanchez and more. If you are a fan of Miles Davis in the 1980's period, this album is essential to own if you are a Miles Davis fan. And if you aren't a Miles Davis fan, this would be a good one to pick up on to find out just what all of the fuss is about…
–Bob Davis earthjuice@prodigy.net
Click here to enter your suggestions
Jason Miles, Global Noize, Sly Reimagined, DJ Logic, Meshell Ndegeocello, Billy Martin, Vernon Reid, John Popper, Cyro Baptista, Bernie Worrell, Karl Denson, Christian Scott, What's Going On (Songs of Marvin Gaye), Miles To Miles, Soul Summit, Berks Jazz Festival, Nona Hendryx, Maysa, Karen Briggs, Andy Snitzer, Alex Bugnon, Maya Azucena, Jay Rodriguez, Nick Moroch, Amanda Ruzza, Gene Lake, Ian Cook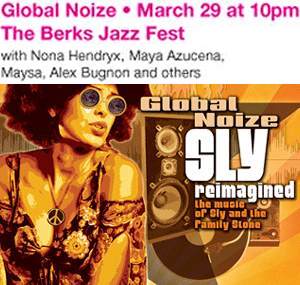 As I drove from New Jersey to Reading Pa, the site of the Berks Jazzfest on rainy Saturday afternoon, I had the album Global Noize – "Sly Reimagined" playing in the car CD player. You see I knew that since I knew that the primary reason for taking the drive was that I would be seeing Global Noize. That in and of itself was no big deal, since I have seen Global Noize perform many times. In fact I would dare say that I have seen Global Noize perform live more times than anyone reading this. They are perhaps one of the top 2-3 artists that you can possibly see live if you are a fan of FUNK music.
What made me anticipate this show so much is because I knew that they would be performing most, if not all of the songs from their innovative and highly acclaimed 2013 release called "Sly Reimagined." To me one of the very best kind of concerts one can possibly attend is one where the artist performs an entire album. Since I knew that I would be writing this review I wanted to do a comparison between the studio and the live versions of the album.
Well in hindsight that makes absolutely no sense. That's because as good as the album is, there is absolutely no comparison between the album "Sly Reimagined" and the concert that I saw on 3/29/2014. That's because the concert that I saw on 3/29/2014 was one of those mind bending/mind blowing/life altering experiences that one doesn't easily forget. It turned out to be one of the best concerts I have ever seen, In fact I have been wearing the same Sly & the Family Stone baseball cap I wore that night, everyday for the past week.
I just don't want to lose the vibe that's in my mind and in my heart from that night.
Viva La femme
Maya Azucena on lead vocals (in place of the ultra-sultry ) and featuring Karen Briggs on electric violin that, who along with drummer Gene Lane took this funky joint from Global Nozie's 2012 album called; Prayer For The Planet to a whole nother level. I closed my eyes and swore that I was listening to the Mahavishnu Orchestra from 1973. It sure as hell sounded like John McLaughlin, Billy Cobham and Jerry Goodman. But of course it wasn't. However playing some MONSTER FUNK of that ilk, as the very first song, lays down a gauntlet that sets expectations VERY high.
Fun
As soon as Viva La Femme was over, ringleader Jason Miles took the microphone and announced to the audience that; "it was now time to have a little fun." Still on lead vocals was Maya Azucena. Mah homegirl from Brooklyn did not let us down as she sang the familiar lyrics;
"Fun.When I party, I party hearty, Fun is on my mind"
"Fun.Put a smile on your face, Leave that bummer behind"
Fun.There's a sister and there's a brother, Havin' fun with each other"
It took the audience a moment to realize what was happening. We just went from Mahavishnu Orchestraesque fierceness to something that sounds like a funky nursery rhyme. And I loved it!!
The Same Thing (Makes You Laugh, Makes You Cry)
The band segued into some of the wisdom of Sylvester Stewart. What is he talking about here? We may never know. All we know is that we all wished that Brotha Sly had taken some of his own advice.
You Can Make It If You Try
This song, the old "pull your self up by your bootstraps song," appears on the surface to be an anthem that even the Republicans might adopt? Instead it was a catch phrase that then candidate Barrack Obama used many times over during the 2008 Presidential campaign. I remember the first time I saw Obama use it in one of his speeches. I'm like
(holycrapheisquotingslystone) Up on stage Global Noize has morphed once again. Now they appear for all practical purposes like they are the "GREATEST GIRL GROUP WHO EVER EXISTED." Standing in front of me now are Maya Azucena, Nona Hendryx of LaBelle and 2014 Grammy nominee Maysa (formerly of Incognito.) While they stand there trading Sylvester Stewart's legendary lyrics of "self-empowerment," the rest of Global Noize has now returned to the highest echelon of FUNK, the place where Sly & the Family Stone took an entire generation to. And they were just getting started!
Stand
Next up is the AWESOME song called STAND. You know the song that quite literally transitions from Soul to Funk three-quarters of the way thru, almost as if to trumpet the arrival of FUNK music itself to your consciousness. And as all that FUNK starts winding and twisting its way thru your body, you listen to the words. They are telling you not to be a punk. To take a STAND "for the things that you know are right." As I am intellectualizing about all of that I look up to seen "GREATEST GIRL GROUP WHO EVER EXISTED" (Maya, Maysa & Nona) still on stage and when that "transitional part comes" (you know the part when the song flips from Soul to Funk!) Maya, Maysa & Nona start dancing like they are on Soul Train. Hell I start to jump up myself, but the seats are so close I can't really get up. So I just dance in my chair. The audience goes nuts!!!
Family Affair
Yeah we all know that "blood is thicker than the mud." And of course we know that The original Sly & the FAMILY Stone, was at it's core a "family group." And by family group I mean to say they were no different than the Jacksons, the DeBarges, Five Stairsteps, Cowsills and many others. Clearly there was much more than just music that formed a bond between Sylvester, Freddie, Rose (and sometimes Vet.) In the song "Family Affair," Sly Stone's genius lyrics are clearly vignettes about his own family. However the topics are so universal and so identifiable, that they resonate with us all and could easily be lyrics about our own families as well. Underneath the lyrics the monster groove makes it easy for us to roll with each individual story and such is the genius of the song. "Family Affair" is so elegant in its simplicity, that people from 6 to 60 love it. In short, "Family Affair" is just about as close to being a "perfect song." As such you might be wondering why Global Noize would even want to touch it? Well, that's exactly what I was thinking to myself, when I heard the first few notes. As I am looking at my notes (and my Twitter feed) it all comes back to me. I wrote both on my crumpled up piece of paper and my Twitter feed "THIS IS THE REAL SH*T/" And I wrote it for good reason. Global Noize not only completely and utterly CRUSHED the song, as I stood back for a moment and looked at Global Noize on stage, I saw Blacks & Whites & Men & Women on stage, but I also saw Hispanics, I saw Europeans and despite the fact that Falu was missing from the cast, I could feel that Middle East/Far East vibe as well. What I saw on stage was the total family of humanity. Which of course is where the Family Stone would have taken the family of mankind to, had they been able to continue to pursue the music. You see "Family Affair" was the next step after "Everyday People." And Global Noize takes us to the next step beyond. That's why they are badd enough to do "the perfect song" in 2014. (Shout out to Amanda Ruzza on bass)
In Time
From the 1973 album called "Fresh," which is regarded as pretty much the last gasp for Sly & the Family Stone. However the song "In Time," is a tasty and funky little morsel that was very clearly an influence on Shuggie Otis, Prince and others, later in the 1970's. Although Sly & the Family Stone itself had literally run out of time, they left us this gem. And of course Global Noize TORE IT UP, and did so in the most unlikely of ways. In my notes I wrote down; "Is that Maysa or is that Ella Fitagerald?" That's because our friend Maysa Leak reached waaaayyyyy down and did some scat singing from another universe.
Thank You For Talking To Me Africa
One of the things I always liked about Sly Stone is that he seemed to like "covering himself." On may of his songs for example you hear echoes of the song "Dance To The Music." However perhaps his most famous cover of himself can be heard in the song "Thank You For Talking To Me Africa," where he "covers" "Thank you fa letting me be myself." Of course while, Thank you fa letting me be myself," is upbeat & positive, somehow "Thank You for Talking to Me Africa," is deep, dark & disturbing, despite having the same exact lyrics as "Thank you fa letting me be myself." In addition of using re-using the lyrics of "Thank you fa letting me be myself," "Thank You For Talking To Me Africa," also seems to borrow much of the groove from the ultra phunky song "Sex Machine," from the Stand album. Thank You For Talking To Me Africa was perhaps the best song on the album "There's a Riot Going On, " and for my money is one of the greatest songs in the history of FUNK music! Global Noize wasn't afraid to takle it. In fact Nona Hendryx absolutely destroyed it vocally and the band crushed it. I howled with delight as I listened to it.
Jam For Joe (George)
Jam For Joe is a slammin joint that appears on the very first Global Noize album from 2008. It is of course dedicated to the late/great Joe Zawinul and as you might guess, it sounds like something you might hear on a Weather Report album. Before playing the song Jason Miles announces that he is changing the name of the song to "JAM FOR GEORGE," in honor of his friend the late/great George Duke.
As I stated earlier…
This was one of the BEST concert experiences I have ever had. In fact it was so good I didn't want it to end. I went backstage not so much to congratulate the performers, but instead to try as I might to keep the vibe of the concert going. But even after a few minutes of that I could feel the energy starting to dissipate. I then left the venue as quickly as I could, despite the fact that there were more shows going on that night. I didn't need or want to listen to any other music. I didn't even want to listen to the "Sly Reimagined" album in the car. I didn't want ANYTHING to interfere with the great show that was now on "continuous replay," inside of my head.
In fact nearly 1 week later I still feel that way, in fact I'm still wearing that baseball cap…..