Jimmy Reed
Selling more records than Muddy Waters, Howlin' Wolf, Elmore James, or Little Walter brought the rewards of fame, and no one was more ill-equipped to handle it than Jimmy Reed….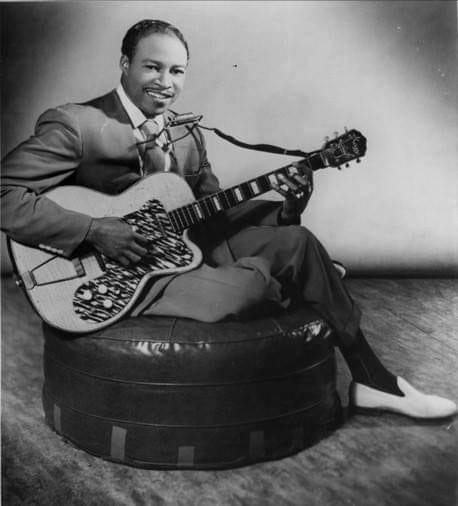 By Dianne Washington
On this date in 1925, Jimmy Reed was born. He was an African American blues guitarist and singer.
There is simply no sound in the blues as easily digestible, accessible, instantly recognizable, and as easy to play and sing as the music of Jimmy Reed. He was born on a plantation in or around the small burg of Dunleith, Mississippi, sticking around the area until he was 15, learning the basic rudiments of harmonica and guitar from his buddy Eddie Taylor.
Reed moved to Chicago in 1943, but was quickly drafted into the Navy, where he served for two years. After a quick trip back to Mississippi and marriage to his wife Mary (known to blues fans as "Mama Reed"), he moved to Gary, Indiana, and found work at an Armour Foods meat packing plant while simultaneously breaking into the burgeoning blues scene around Gary and neighboring Chicago. The early 1950s found him working as a sideman with John Brim's Gary Kings and playing on the street for cash with Willie Joe Duncan, a shadowy figure who played an amplified, homemade one-string instrument called a Unitar. After Reed failed an audition with Chess Records, Brim's drummer at the time improbably enough, future blues guitar legend Albert King, brought him over to the newly formed Vee-Jay Records where his first recordings were made.
It was here that he was reunited and started playing again with Eddie Taylor, a musical partnership that would last off and on for the rest of Reed's life. Success was slow in coming, but when his third single, "You Don't Have to Go," backed with "Boogie in the Dark," made the number five slot on Billboard's R&B charts, the hits pretty much kept on coming for the next decade.
Selling more records than Muddy Waters, Howlin' Wolf, Elmore James, or Little Walter brought the rewards of fame, and no one was more ill-equipped to handle it than Jimmy Reed. Signing his name for fans was the total sum of his literacy. That, combined with a backbreaking road schedule once he became a name attraction, and his own self-description as a "liquor glutter," Reed started to fall apart.
His devious schemes to tend to his alcoholism and the aberrant behavior that came as a result of it quickly made him the laughingstock of his show business contemporaries. Those who shared the bill with him in top-of-the-line R&B venues like the Apollo Theater still shake their heads and wonder how Jimmy could actually stand up straight and perform, much less hold the audience in the palm of his hand. Little wonder, then, that when he was stricken with epilepsy in 1957, it went undiagnosed for an extended period of time, simply because he had experienced so many attacks of delirium tremens, better known as the "DTs." His best-known songs "Baby, What You Want Me to Do," "Bright Lights Big City," "Honest I Do," "You Don't Have to Go," "Going to New York," "Ain't That Lovin' You Baby," and "Big Boss Man" have become an integral part of the standard blues repertoire.
Because his style was simple and easily imitated, his songs were accessible to just about everyone, making him one of the most influential blues-men of all. His bottom string boogie rhythm guitar patterns, simple two-string turnarounds, harmonica solos (all played in a neck rack attachment hung around his neck) and vocals were a formula that proved to be successful and influential, both with middle-aged Blacks and young White audiences for a good dozen years. Jimmy Reed records hit the R&B charts with amazing frequency and crossed over onto the pop charts on many occasions, a rare feat for an unreconstructed blues-man.
His slow descent into the ravages of alcoholism and epilepsy roughly paralleled the decline of Vee-Jay Records, which went out of business at approximately the same time that his final 45, "Don't Think I'm Through," was released. Jimmy Reed finally received proper medical attention for his epilepsy, and he quit drinking. But it was too late and he died on August 29, 1976 trying to make a comeback on the blues festival circuit.