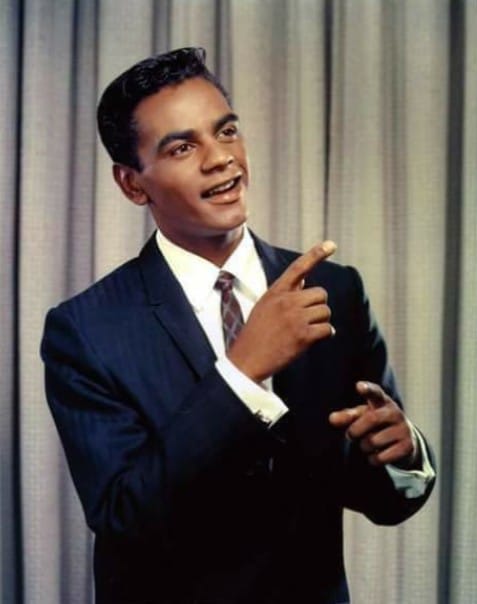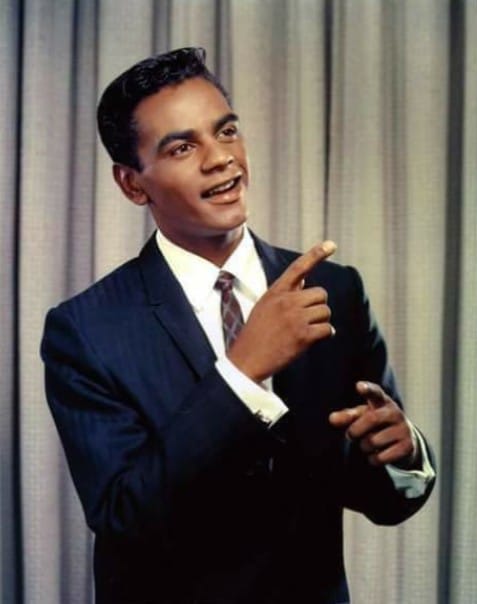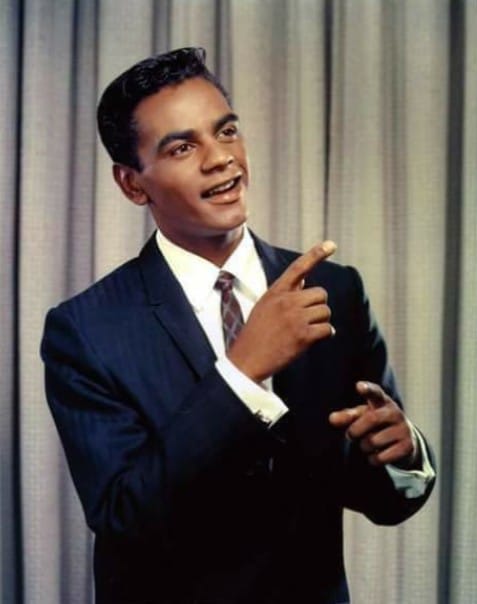 John Royce "Johnny" Mathis (born September 30, 1935) is an American singer of popular music. Starting his career with singles of standard music, he became highly popular as an album artist, with several dozen of his albums achieving gold or platinum status and 73 making the Billboard charts to date. Mathis has received the Grammy Lifetime Achievement Award and has been inducted into the Grammy Hall of Fame for three separate recordings.
Although he is frequently described as a romantic singer, his discography includes traditional pop, Brazilian and Spanish music, soul, rhythm and blues, show tunes, Tin Pan Alley, soft rock, blues, country music, and even a few disco songs for his album Mathis Magic in 1979. Mathis has also recorded six albums of Christmas music. In a 1968 interview, Mathis cited Lena Horne, Nat King Cole, and Bing Crosby among his musical influences.
Born John Royce Mathis in Gilmer, TX., he is the son of Clem Mathis and Mildred Boyd. He was raised in San Francisco, and is one of the last and most popular in a long line of traditional male vocalists who emerged before the rock-dominated 1960s. Johnny Mathis studied with an opera coach as a young boy, and was almost lured into the profession. His other inspirations were crossover jazz vocalists of the 1940s, Nat King Cole, Billy Eckstine, and Lena Horne. Mathis concentrated on romantic readings of jazz and pop standards.
Though he started with a series of singles-chart activity, Mathis later made it big in the album market, where a dozen of his LPs hit gold or platinum and over 60 made the charts. While he focused on theme-oriented albums of show-tunes and traditional favorites, he began incorporating soft rock by the 1970s and remained a popular concert attraction well into the 1990s.
Mathis was an exceptional high-school athlete in San Francisco, but was wooed away from a college track scholarship and a potential spot on the Olympic squad by the chance to sing. He was signed to a management contract by club owner Helen Noga, who introduced the singer to George Avakian, jazz producer for Columbia Records. Avakian signed him and used orchestras conducted by Teo Macero, Gil Evans, and John Lewis to record Mathis' self-titled debut album in 1957. Despite the name talent and choice of standards, it was mostly ignored upon release.
Columbia A&R executive Mitch Miller decided the only recourse was switching Mathis to Miller's brand of pop balladry, and the formula worked like a charm; the LP Wonderful, Wonderful spawned a Top 20 hit later in 1957 with its title track, which was followed by the number five It's Not for Me to Say and his first number one, Chances Are. From that point on, Johnny Mathis concentrated strictly on lush ballads for adult-contemporary listeners.
Mathis moved away from show-tunes and traditional pop into soft rock during the 1970s, and found his second number one single, Too Much, Too Little, Too Late, in 1978. Recorded as a duet with Deniece Williams, the single prompted Mathis to begin trying duets with a variety of partners (including Dionne Warwick, Natalie Cole, Gladys Knight, and Nana Mouskouri), though none of the singles enjoyed the success of the original.
Mathis continued to release and sell albums throughout the 1990s, in his fifth decade of recording for Columbia, among them 1998's "Because You Loved Me: Songs of Diane Warren." Mathis has more than 50 gold and platinum records and has the longest run for an album on the billboard pop charts, 480 weeks.
Mathis received the Lifetime Achievement Award in 2003, by the Academy of Recording Arts and Sciences. This Special Merit Award is presented by vote of the Recording Academy's National Trustees to performers who, during their lifetimes, have made creative contributions of outstanding artist significance to the field of recording. In 2013 Pacific Pioneer Broadcasters honored Mathis with the Art Gilmore Career Achievement Award, presented at a luncheon in Studio City, CA.