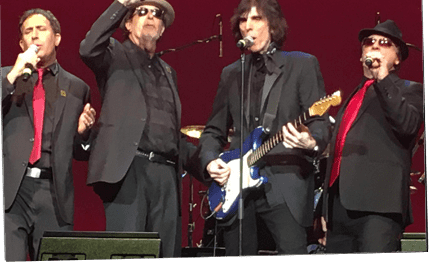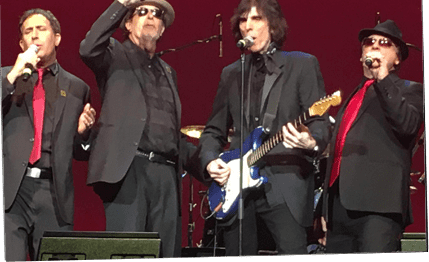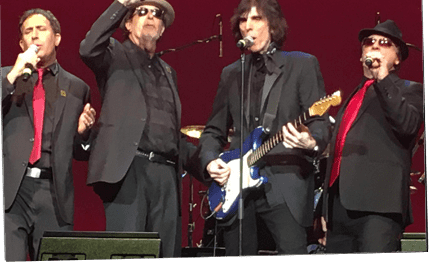 This concert review generated a whole lot of controversy in the doo wop community when it was first published back in 2004.
–White doo wop fans who read the review, suddenly realized that I just might not be a "racist."
–On the other hand Black doo wop groups wrote/called, telling me that because of this review it would become much harder for them to now get work.
Nevertheless, this review brought me to the attention of a whole bunch of folks for a variety of reasons.
(it was also the first time that I ever saw the late Angel Rissoff perform live….)
Concert Review: Kenny Vance and The Planotones – Live in Coney Island 
by Bob Davis
I went to a lily white high school (that is, except for the 24 of us that attended via a federal forced busing program). In my high school during the early 1970's, there were 3 distinct social groups among the student body. (Nobody get mad. These are the names they called each other.)
FREAKS: Counterculture/hippie wannabes. This group pretty much stayed high most of the school day and staged protests against the war in Vietnam in front of the building almost every day.
JOCKS: Athletes, cheerleaders and their fans. These were the "Ken and Barbie" types who also scored very high on their SATs.
GREASERS: These were the guys who majored in things like auto body repair, print shop, TV repair, etc., their girlfriends majored in things like beauty care, and they really did wear their hair all slicked back 1950's style. These guys usually had their own custom-made hot rods (remember the "muscle cars?"), with serious combo AM radio/8-track systems. Guess what type of music they were into? DOO WOP.
For the purposes of this review I would like to focus for a moment on the "Greasers." We all know what happened to the "Freaks" and the "Jocks." They are the people who are currently running this country right into the ground.
Yup, while everyone else at the school was tripping off of Crosby, Stills and Nash ("Freaks") or the Partridge Family ("Jocks"), these "Greasers" were grooving to Dion & The Belmont's, Frankie Valli, Johnny Maestro, etc. Later in the 1970's, of course, these were the people who evolved into the "Tony Manero types," but that is a whole other story.
In high school, I always thought these guys were an interesting phenomenon, since they were easily 10 years behind the times in terms of music, fashion and politics, etc. For example, these were the guys who volunteered to go to Vietnam.
Well, last Friday night I met up with this group of people at a show featuring a well-known NYC doo wop cover group called Kenny Vance and The Planotones. This show was the last of the summer doo wop shows given at the Coney Island Aquarium. I decided to go to the show because I had heard how good Kenny Vance and The Planotones were, and I wanted to see them for myself. I had seen the movie "Looking For an Echo," and I know that they did the title song and also performed all of the songs in the movie. I also wanted to go, because it was being held in Coney Island so I knew that the crowd would mostly be "local" (Coney Island, Sheepshead Bay and Bay Ridge).
I was not disappointed. It was one hell of a good show.
Of course the real secret is that Kenny Vance and The Planotones are truly much more than a "cover band." Lead singer Kenny Vance was one of the founding members of Jay and The Americans, and since the group broke up, he has been a part of just about every musical movie that has ever been made about the 1950's in NYC. If you go to their website, you can read his very impressive resume.
As I entered the venue (actually a very large tent), I looked around at the crowd (about 300, I would estimate), and everybody there seemed to be in the range of late 40's to early 60's. Of course, I was the only Black person there, but it mattered not, I was invisible to them. They were there for one reason. This crowd was there to see Kenny Vance and The Planotones throw down. They weren't disappointed, and neither was I.
In fact, Kenny Vance and The Planotones did a SERIOUS cover of the Impressions It's Alright, and when they got to the part of the song where they sing…
You got soul and everybody know
That it's alright
Whoa, it's alright
… They not only sung those words like they meant them, so did the audience…and with that I forgot that I was the only Black person trapped inside of a tent full of 300 "Greasers."
Kenny Vance is a badd mf. He sings in a register that is about the same as William Hart of The Delfonics used to be able to sing in, and he can hold that note just about as long as Marvin Junior of The Dells. He KILLED every song and had the audience on their feet for almost the whole show. I looked around at the crowd and said to myself, "Yeah, this is what happened to the "Greasers."
I smiled and thought these were hardly culture bandits. These people were the real deal. These really were the guys who wore the rolled up T-shirts with a pack of cigarettes in the sleeve back in the day (and some still did). They aren't on the Internet, and they don't care about forums like this one. What they do care about is the music. They knew the words to EVERY song, they sang them, and they danced.
Meanwhile, Kenny Vance and The Planotones were cranking out KILLER versions of familiar 1950's music that you would expect, but there was more. Kenny Vance also has this way of moving on stage. It's not really dancing, but instead they are so highly choreographed moves that they appear to just be his natural mannerisms. He leaned, posed and vamped exactly on cue, and the audience ate it up. He talks between each song, reminiscing about the very neighborhood where the show is being performed that night, describing how he first encountered the sounds of rock n' roll while strolling down the Coney Island boardwalk in the summer as a teenager. Excellent oral history!
Then all of the sudden, I heard that all too familiar greasy low down bass, that stank azz nasty single pluck of the guitar then the chopsticks on piano. I said to myself, "Oh sh*t, these dudes ain't badd enough to do The Dells 1969 version of Oh What A Night." And I was right, they weren't. They did The Dells 1955 version, although the music was from the 1969 version. They would have to be truly badd to do Chuck Barksdale's spoken word intro.
At that moment, I decided that I had to get their CD. They finished up the show with their signature song, Looking For An Echo, the crowd gave them a standing ovation (I was also standing and applauding), and with that, Kenny Vance thanked the crowd for coming and reminded them that in coming to the show that they were upholding their responsibility to "keep the music alive." (Gee, doesn't THAT sound familiar?)
I laid back, waited for the crowd to thin out, and then went up front to see if I could purchase a CD. When I got there, I asked the guitarist, and he said that they weren't allowed to sell any CDs at the Aquarium and that I would have to go to their website to get one (which I will do).
I was disappointed about the CD, however, I walked away smiling because of the great performance I had just witnessed. If you ever get a chance to see Kenny Vance and The Planotones, don't even think twice about it.
Just go and when you do, know that you are going to have your mind blown!