Laura Nyro, Gonna Take a Miracle, LaBelle, Wedding Bell Blues, Stoned Soul Picnic, Eli's Coming, When I die, Bronx born Doo Wopper, Funky Whitegirl,Fifth Dimension, Blood Sweat and Tears, Three Dog Night

Laura Nyro, Gonna Take a Miracle, LaBelle, Wedding Bell Blues, Stoned Soul Picnic, Eli's Coming, When I die, Bronx born Doo Wopper, Funky Whitegirl,Fifth Dimension, Blood Sweat and Tears, Three Dog Night
Concert Review: Reinventing Laura Nyro (NYC 12/9/06)
To me Laura Nyro was one of the greatest singer/songwriters of my lifetime and if you are unfamiliar with her name, you certainly are familiar with the hit songs she wrote from the catalog of artists like the Fifth Dimension (Wedding Bell Blues, Stoned Soul Picnic), Blood Sweat and Tears (& When I die), Three Dog Night (Eli's Coming, etc). And of course it's Laura Nyro's legendary 1973 cult album "Gonna Take a Miracle" (one of the best albums in the history of Soul music) produced by Gamble & Huff (backed by LaBelle – Featuring our own Sarah Dash) that really made most of us initially stand up and take notice of Laura Nyro. Initially Laura Nyro was portrayed a quintessential "hippie chick". However one listen to "Gonna Take a Miracle" reveals that at the foundation of this "hippie chick" was a SERIOUS "Bronx born Doo Wopper". Listening to Laura Nyro's solo albums reveals that despite the folk/pop singer veneer, lies the heart, soul and spirit of "Ultimate FunkyWhitegirl".
From a musical perspective Laura Nyro in my mind, is behind only Jimmy Castor in representing the total landscape of what being a New Yorker is all about.
This show was 180 degrees different that the last "tribute show" I attended featuring the music & vibe of Jimi Hendrix. The focus as always for a tribute was on "Nostalgia", however this kind of "nostalgia" was different, and from a period of time 10 years prior to that of the time of Jimi Hendrix. Instead of being held in a "tourist trap themed nightclub" in Times Square, this event was held in a venue that was like taking a trip back in time to a 1950's "lower eastside beatnik coffeehouse".
In fact the performance space of the "University of the Streets" is located in on the second floor of a tenement style walk up on E. 7th street in NYC's Lower East Side. The space features stadium style bench seating, creaky 50 year old hardwood floors, high ceilings, exposed pipes and no heat. I arrived late, right before the stat of the very first song, where I was warmly greeted by Soul-Patroller Rob Darnell. I walked inside I quickly found a seat next to our own Baron Keels. As I smiled and looked around, I half expected Lenny Bruce, Jack Keuroac, Alan Ginzburg and Manaryd G. Krebbs to walk in the door….lol
Inside of a space holding about 80 people, with every seat occupied ready and raring to hear the beautiful music of the "Ultimate FunkyWhitegirl" Ms. Laura Nyro, as performed by The Poetic Notion Chorus Band and Soloists directed by Rob Darnell. One of the things that made me smile was the fact that both the Poetic Notion Chorus Band and Soloists as well as the audience was about 50 percent integrated. I think that Laura Nyro would have liked that. The overall vibe of the people was in fact similar to that of the Hendrix show. In fact I would say that the vibe/timeframe was a direct precursor of that for the "vibe" that enabled the creation of the artist we know as Jimi Hendrix, despite the fact that Laura Nyro was a contemporary of Jimi Hendrix.
So what was the actual show like???
Imagine if you will a 3 piece jazz combo (Rob Darnell/EJ Sharpe – keyboards, Mike Czejak – drums & Jessie Martin – guitar) fronted by a talented chorus of 7 female singers (Meryl Zimmerman, Melissa Collum, Corinne Goodman, Lisa Roma, Sandy Cleary, Dania Reid, Nikkie Schmiegelow) going non stop thru the catalog of Laura Nyro. The singing was magnificent and several of these women were able to literally "channel Laura Nyro" during their solos.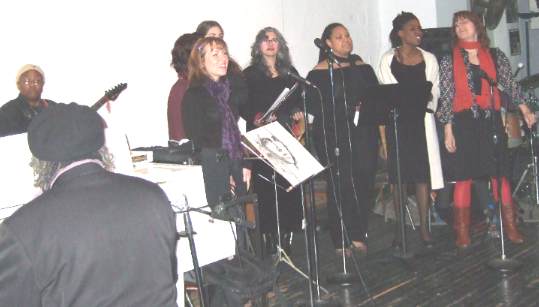 Of particular note was a young woman named Meryl Zimmerman, who not only physically resembled a young Laura Nyro, sounded vocally similar but also seemed to "channel" the spirit of Laura Nyro. At the conclusion of her solo take on the song "Woman of the World", Baron and I looked at each other and said…."SHE NAILED LAURA NYRO"…
Here is the set list:
– Are you Ready For a Picnic
– Sweet Blindness
– Woman of the World
– Smile
– Lucky
– I Am Blues
– Poverty Train
– Walk the Dog Light The Light
– My Innocence
– The Confession
– Eli's Coming/Wedding Bell Blues
– Save the Country
– Angel in the Dark
– Lite a Flame
– A Wilderness
– Triple Goddess Twilight
– Serious Playground
– Children of the Junks
– Emmie
– And When I die
– Are You Ready For a Picnic (pt 2)
– Stoned Soul Picnic
The only complaint that I have is that the set didn't include any songs from "Gonna Take a Miracle" (maybe cuz they were all covers?). I hope that at some point in time that the The Poetic Notion Chorus Band and Soloists directed by Rob Darnell, will record a tribute album to Laura Nyro. In my opinion the public deserves to here their interpretations of the music of Laura Nyro.
Needless to say, this show was off the hook and one that was ably aided by it's environment. The second floor theatre of a place called "University of the Streets", was the perfect setting to pay tribute to an artist whose music, persona and more has always been the personification of urban america.
R.I.P. – Laura Nyro ("Ultimate FunkyWhitegirl")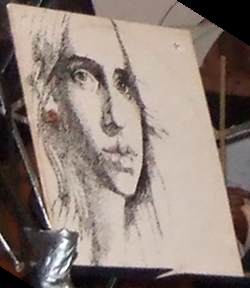 Click here to enter your suggestions and feedback