Lenny Kravitz – It's Time For a Love Revolution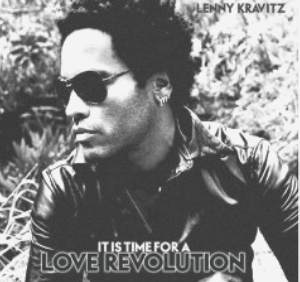 Lenny Kravitz – It's Time For a Love Revolution
Album Review: Lenny Kravitz – It's Time For a Love Revolution
(Boring Azz Pseudo Beatles/Soft Rock/Elevator Music)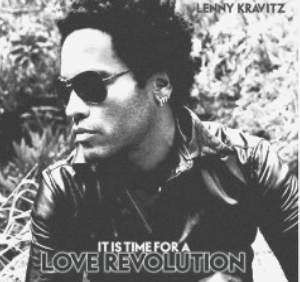 If I told you that there are two songs out of fourteen tracks on an album that have any musical value whatsoever, would you pay $18.99 just to get those two songs during the great Amerikkkan recession of 2008? I would truly like to be able to start this review off by telling you that this album is the bomb. However I can't do that with any sense of responsibility for your pocketbook in these times of economic uncertainty.
We all have at least one member of our family that is like Lenny Kravitz's music. We love them dearly, but they just won't do right. They lead their lives by "skating." They never actually end up on welfare, homeless or addicted to crack. They usually have a job, but not always. They usually take care of their children, but not always. Their phone is usually shut on, but not always. Every once in a blue moon, they do something great and they make us smile, because for a brief moment it looks like they are about to fully embrace the potential that we all knew that they would ever since we knew them as kids. And then just as quickly they turn around and revert to their by now predictable behavior. You know that they can do better, they just don't, and very possibly never will. The worst part is that YOU KNOW, that THEY KNOW, that THEY CAN DO BETTER, but choose not to for reasons that aren't clear. The easiest thing to do is to say nothing and let that family member continue to "skate", but you also know that if you say nothing it really isn't in anyone's best interest.
I keep waiting for the music of Lenny Kravitz to suddenly become what I think he has "promised" us that it would be, way back when we first heard of him, we have given him damn near TWENTY YEARS TO KEEP THAT PROMISE. You see I have a problem with the music of Lenny Kravitz, and I realize that it's my problem and not his. I keep wanting Lenny Kravitz to stand up and become the great, universal fusion artist that will lead us to a musical promised land of some kind, where it's not only safe to fully embrace rock/funk/soul, but it's actually encouraged. But in the end, that is my problem and not Lenny's, because it's is up to me to deal with the reality of the music of Lenny Kravitz, as opposed to my own personal fantasy of what I think that his musical vision should be. I want him to produce the best album of the century, yet it always seems like I am still waiting for his first album, because his last album always feels like it was a "demo." I keep expecting "Sly Stone", and getting "Herman's Hermits." But that's my problem, not Lenny's…
Lenny Kravitz on paper is the perfect artist for this time in history. Musically he should represent quite literally the same type of "universal fusion" as Barack Obama represents politically. Unfortunately for Lenny he doesn't seem to be capable of creating a good album precisely at the moment in time that history demands that he does. As a music fan I am disappointed that Lenny has turned in a terrible album. However as a cultural commentator, I am even more disappointed that Lenny missed out on his chance to unify all of the people who potentially he can, thru his music. This was certainly his moment to do so. Perhaps this moment in time will come again? (but I doubt it).
Check out Lenny Kravitz – It's Time For a Love Revolution at: Lenny Kravitz – It's Time For a Love Revolution
Look for one of these songs to appear as "buzz cuts" on Nu Soul @ RadioIO.com
–Bob Davis

Lenny Kravitz released a new album in May called "5". John Book one of our Urban Sounds "Special Contributors", wrote an essay in anticipation of this album and a review, just after it's release.
We thought you would like to read them both…
Waiting for "Lenny"
John Book – Special Contributor, Urban Sounds
It's a few hours away before I wake up and pick up my copy of Lenny Kravitz's fifth album, simply called "5". As I've said in my previous posts, I've been playing a lot of his music lately. I'm currently on "CIRCUS", which has a lot of acoustic work and is on a slight country/rock tip, or at least in a Led Zeppelin/Pink Floyd sort of way.
I have been a Lenny Kravitz fan since "Let Love Rule", that song moved me in many ways and I immediately went out to pick up the album. I had been curious before, when actress Lisa Bonet was going out with a musician who went bythe name of Romeo Blue. Very new wave
But when "LET LOVE RULE" came out, the music and entertainment industry was at a crossroads. Kravitz had a lot for peace and love, so many thought it was a throwback to the 60's and 70's. "Let Love Rule" came out 20 years after Woodstock, considered to be the last summer of love. People were throwing John Lennon comparisons to him as if he was the fifth Beatle. And whether he wanted it or not, to many he was still Lisa Bonet's boyfriend.
But critics loved "LET LOVE RULE", not only for its retro-vibe and sound, but for its richness and honesty. Virgin Records heavily pushed their new talent, for there were a number of videos for this album, including two versions of "Let Love Rule", "I Built This Garden For Us", "Mr. Cab Driver", and the eerie "Be". Quite a lot for an untested debut artist. Nonetheless, the method worked, and his concerts would be packed with fans singing for peace and love.
While "LET LOVE RULE" was remarkable from all aspects, most saw Kravitz as a rock artist, or to be more blunt a "black rock artist". While that is true, he was much more diverse than that, which he proved in "MAMA SAID". The first single, "Always On The Run", was one hell of a funky track, complete with a fat horn section reminiscent of Stevie Wonder's "Superstition" and a guitar solo from (now former) Guns N' Roses guitarist Slash. Slash had said that he often saw Kravitz during high school, and while they never really talked, both were known as the big black rock freaks of Hollywood High School. They later found out they also shared a love of a green leafy substance.
Anyway, Kravitz's music was more complex, well performed, (he pretty much defined what a "solo" artist is by playing all of the basic instruments), and it was with this album he saw his audience grow, with the help of such hit singles as "It Ain't Over 'Til It's Over" and "Stand By My Woman". But the album was littered with influences, ranging from Curtis Mayfield ("What Comes Around Goes Around"), Rolling Stones ("Stop Draggin' Around"), and Sly & The Family Stone ("It Ain't Over 'Til It's Over").
Album #3 was the one that finally made Kravitz a household name, with a video and song that has become his trademark song, perhaps a double-edged sword considering it's not one of his best. But "Are You Gonna Go My Way" took him to the top with a song and video that signified party, party, party. Some argued that there weren't many black people in the video (apart from the lady who was dancing her butt off big time), maybe Kravitz was pulling away from his roots. Well, considering his roots are both rock and soul (his father is Jewish, his mom was the late Roxie Roker, a/k/a "Helen Willis" from The Jeffersons), one would be hard to say what roots he was shying away from. All lies, since "ARE YOU GONNA GO MY WAY" continued on with more musical diversity and soulful songs, including the reggae flavored "Eleutheria". "Heaven Help" was sort of on the Cat Stevens tip, while "Believe" had Kravitz looking towards the future by looking to the heavens.
By the time Kravitz came out with LP #4, "CIRCUS", fans weren't sure what to think. Some said there wasn't enough funk or soul, some saying they wanted more rock. Fortunately he gave it all to the fans, in more ways than one, in the awesome "Rock And Roll Is Dead". Kravitz seemed to be more angry with songs like "Don't Go And Pull A Bullet In Your Head", but he even went the Led Zeppelin/Pink Floyd route with the country-tinged "Can't I Get You Off My Mind".
Still, some wanted more, which is why "CIRCUS" did not sell as much as his first three albums. Perhaps this put Kravitz back in the lab to reconfigure his plan.
Immediately after the release of "CIRCUS", Kravitz had told everyone that he would be working on two different albums. One would be strictly rock & roll, while the other would be a tribute to his funk and soul influences. The funk & soul album, according to Kravitz, would also have a few gospel songs.
But that project seems to have been put on the shelf for now, since in two days Lenny Kravitz will be releasing his fifth album in 10 years, aptly titled "5". Early reviews have said its a good one, and the first single is classic Kravitz.
I am one fan who is looking forward to hearing "5". There are a lot of things I like about his music. Much of his music is a throwback to the 70's, and that's not a bad thing. Remember, Kravitz was doing what so many R&B artists are doing now, and that's bringing back that classic good vibe to the music. Maxwell, D'Angelo, Erykah Badu, Eric Benet… they all have Kravitz to thank for at least making that classic sound acceptable again (not that anyone rejected "good" music to begin with).
I also liked how he records. Besides playing most of the instruments in the studio, he also uses old speakers, microphones, and recording equipment, thus resulting in a sound that's more "HOUSES OF THE HOLY" than "12 PLAY". Listen to any of his albums with a good set of headphones. He mixes like it was still the 70's, complete with odd stereo separation (i.e. a guitar or bass completely on one channel), tape mishaps, etc. Quirky stuff.
While I have yet to see him in concert, I have enjoyed all of the live B-sides he has come out with, where he usually breaks out even more and plays from the heart. Plus, he has come out with an impressive amount of non-LP tracks, including "Spinnin' Round Over You", "B-Side Blues", "Light Skinned Girl From London", and great covers of Curtis Mayfield's "Billy Jack" (from the "ALL MEN ARE BROTHERS" tribute album) and Kiss' "Deuce" (from the "KISS MY A$$" tribute album).
John Book – Special Contributor, Urban Sounds
my review
LENNY KRAVITZ
(Virgin)
RATING: * * * * 1/2
John Book – Special Contributor, Urban Sounds
The first thing I noticed when I first heard "5" is that it sounds totally different from his first four albums. Of course, that's a good thing, but while many have said that Kravitz has always driven on the sure path of rock and soul, he has never really been as diverse as he is on "5".
This is Kravitz's first album in three years since "CIRCUS". Back then he had promised to come out with a rock album and a soul/funk album within months of each other. That project has been put on the side for now, but "5" could very well be a hint of that soul/funk album.
"5" begins with the very solid "Live", before going into the Cameo/Prince-like dance groove of "Supersoulfighter". That's right, ol' Lenny has finally made it into the 80's decade, which he returns to a number of times on this album, including the very new wave-ish "Black Velveteen". Things turn into a Prince-meets-Tricky-meets-Gary Numan sound with "Take Time", an eerie sound played with a slowed down drum loop where he says we should all love each other, and make sure to watch for our children, for they are our future.
That's right, drum loops. Kravitz has always had a fetish for old recording equipment, but this time he is playing around with some digital equipment. However, the samples are also created by Kravitz himself, so no lawsuits here.
Lyrically, he is still telling people to look for that "one love", but he seems to be at his best when things are at a one-on-one (read "personal") level. Case in point: the beautiful "Thinking Of You". The song is about his mom, the late actress Roxie Roker, but rather than sob into pity, he hopes his mom is watching him and hoping wherever she is, she's having a great time as well. An odd approach, but one that words in his favor. If "Always On The Run" was about celebrating the greatness of his mom, "Thinking Of You" is a warm message of farewell, a nice "thank you" note.
Love is explored in various ways on "5". For his daughter, we have "Little Girl's Eyes", for his daughter Zoe. Then there's the first single off the album, "If You Can't Say No". While he wishes for all of us to let love rule, sometimes reality hits us in the face with truth:
"I know that you are in love with me/
But I also know your kind/
Baby you got a lot of nerve/
So just try to keep me in mind"
Musically, Kravitz seems more relaxed to let things flow, if you will. Perhaps it was the surroundings of the recording sessions (Compass Studios in the Bahamas) that provided the influence. He has managed to include more influences this time around, to make the album a bit more distinct from his previous works. Not that his last three albums were bad, but you can hear the difference in songwriting and playing throughout, and you know this wasn't just an album slapped together for the masses.
Check out "Straight Cold Player", where Kravitz and the band (including drummer Cindy Blackman) just have a party jam inside the studio. Most of the songs are still put together and played entirely by him, but once in awhile you got to let the band (whom he features on tour) go wild. He knows his music is still his own, but like his past work, doesn't mind getting others involved to taste and add to the recipe.
My favorite song is the impressive "Take Time", where Kravitz plays a guitar solo that I can only compared to tears. It's very bluesy, add the dark synths and the slowed down Tricky-like beats, and you got perfection. This will be on my Top 10 list of great albums this year.
John Book – Special Contributor, Urban Sounds