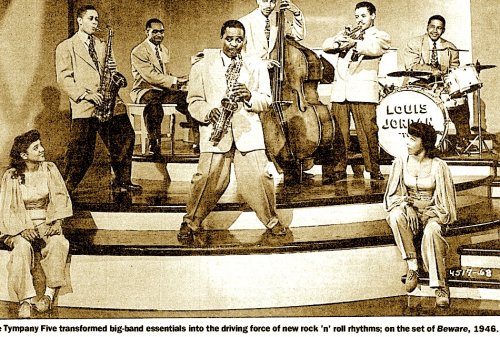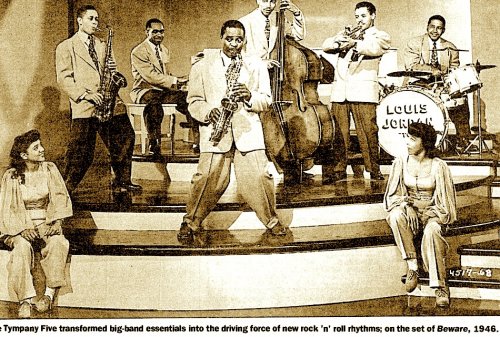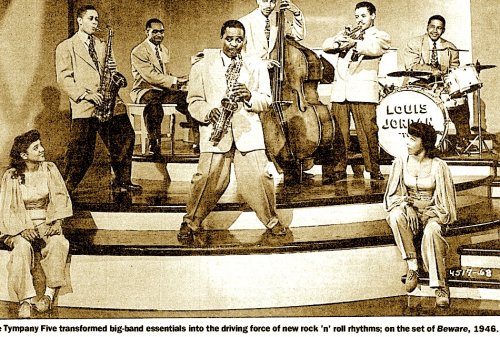 One day on the Eighth of July 1908, a man named Louis Jordan, was made flesh, in Brinkley, Arkansas. Son of Jim Jordan, a band leader and music teacher, Louis studied clarinet at age seven—under his father's guidance.
His father was part of a Vaudeville minstrel troupe called, Rabbit's Foot Company. Jim Jordan taught his son how to play saxophone—having him play alongside his father as a performer. It was Fat Chappelle who managed the Rabbit's Foot, and Jim Jordan & son, along with several others who performed the music.
Vaudeville was the main style of entertainment for that era—dating from 1890 to the 1930s. Vaudeville consists of a sort of situation-comedy form of entertainment which evolved long before television was invented; Loaded with satirical skits and short plays of comedy—buffoonery, horseplay; dance and showmanship accompanied by music.
Most, if not all, Vaudeville performers were multi-talented (Sammy Davis Jr. for example)—playing several instruments, along with various ways of captivating. Some performers trained animals—sang—were acrobats, jugglers, comedians, and dancers. Vaudeville represented a real complete variety show for the people's amusement.
Live orchestra and big band came before the era of Vaudeville, representing an earlier form of mainstream entertainment. Big Band originated during the 1910 and so forth. After the Vaudeville era, came the Golden Age of Radio to amuse the populace. This consists of drama, suspense, comedy and over-the-air soap operas to amuse the crowd; lasting from 1930 to the 1940s,
When Big Bands also became prominent, radio became interwoven into the daily life of average Americans like television is today—supplying news and entertainment to a nation wrestling with an economic depression and the weight of World War II.
Family members and couples during the Golden Age of Radio were seen gathering around the radio to hear their favorite shows—with actors reading scripts over the air.
Programming was very different from the radio broadcasting we hear today. And as well, the skill set of performers and dee jays were different—representing a much more multi-faceted and versatile point of view than what we see today.
Gradually, live Classical music had broken down from full orchestra into Big Band units; which by the 1930s were becoming even smaller units—such as duos, trios, quartets, quintets, sextets—bands to fill-up smaller venues playing Black music (or Race Music), now known as Jazz.
Doo Wop, Rock and Roll or Rhythm and Blues hadn't been invented yet—and young folks listened and danced to Big Band Orchestras which played Jazz to separate Black and White audiences during the time of segregation.
During the Vaudeville era, while playing clarinet, young Louis Jordan developed an interest in saxophone. Louis paid for the sax by running errands all over Brinkley. Before long, Louis Jordan landed his first job while on vacation, playing with the Ruby Tuna Boy Williams' Belvedere Orchestra at the Green Gables in Hot Springs, Arkansas; at the tender age of 15.
While attending Arkansas Baptist College in Little Rock, Louis Jordan majored in music, while playing on the Arkansas Baptist College Baseball team. After school, after hours, Louis Jordan performed with Jimmy Pryor's Serenaders.
Now most of you know that Michael Jackson watched James Brown as an idol in his youth; modeling some of his style after Mr. Dynamite. Well, Mr. Dynamite and Little Richard marveled over Louis Jordan in their youth. Now this phenomena might be too remote for the music enthusiast of today to know about; but Louis Jordan was the idol of his age.
Louis Jordan set the standard for the youth as a consummate Black performer for the new types of Black music being ushered in during the earlier years of the 30s, 40s—extending onwards. And besides being familiar with Vaudeville standards of entertainment and listening to performances on radio—rambling road trips were very useful for Louis' imagination.
These trips exposed his ears to New York Jazz, Chicago and New Orleans Jazz, Delta Blues, Big Band and Swing—all while studying his major in music at Arkansas Baptist College. After which, Louis Jordan moved to Philadelphia to begin his after college career.
When Louis came to Philadelphia in 1930, he worked with trumpeter Charlie Gaines Orchestra, then tuba player Jim Winter Band before going to New York for a recording session with pianist Clarence Williams's band. From there, Louis Jordan worked with drummers, Kaiser Marshall and Joe Marshall before linking up with Chick Webb.
Chick Webb, a drummer who led a 13 piece Swing Orchestra took Louis Jordan on board. Chick Webb's Orchestra featured singer/scat artist Ella Fitzgerald. Chick employed Jordan as a sideman, singer and frontman/announcer in his band.
Louis Jordan's first recording with the orchestra was a song called, "Gee, But You're Swell." And while in Chick's employ, Louis Jordan honed his skills as a frontman. Afterwards, Chick Webb, upon learning his talented saxophonist was going to leave the band while taking a few members with him, fired Louis promptly.
Jordan then moved to New York City and started his own group—originally called the Tympany Four; which then became the Tympany Five. Tympany Five had a hard driving adaptable Swing sound—labeled as Jump Music or Jump Blues by some—which got the listeners out of their seat jamming to his beat. Louis's patented jump and shuffle rhythms were often imitated, but never really duplicated.
Louis Jordan's lyrical skills were crisp and humorous, witty and fun. His showmanship demonstrated that Louis could incorporate anything he had seen and heard—including tuning-up his early Vaudeville years. With the radio shows of the Golden Age starting to gain momentum, Louis Jordan's live performances with the Tympany Five were sizzling all over the Harlem club scene; landing the group a record deal with Decca Records.
The Decca label gave Louis Jordan listeners clear across the country (with its' wide distribution).
During the 1940s, the Tympany Five put out 57 singles to grace the R&B charts: "Ain't Nobody Here But Us Chickens," "Caldonia," "Choo-Choo-Ch' Boogie," "Beans and Cornbread," "Saturday Night Fish Fry," Blue Light Boogie," and "Ain't That Just like a Woman" were all gigantic hits.
After 1943—for seven years—Louis enjoyed number one status on the R&B charts for one hundred thirteen weeks. Dubbed the "King of the Jukebox," Louis Jordan tunes were heard everywhere— and many times, nearly every song on the jukebox was his.
This notoriety gave Louis a crack at being a Hollywood star, featuring Jordan in a soundie: film-shorts with accompanying sound and speech was a new thing in the 40s; being a little like a music video today. Jordan filmed a sizable amount of enjoyable film-shorts during the late 1940s. Louis films were short on plot, but long on visuals and wits; featuring top hits. Their appeal was so good, Louis Jordan landed spots in featured films like Swing Parade and made a cameo appearance in a wartime musical, Follow the Boys.
The wit and humor from his Vaudeville professionalism, gave the Tympany Five mass appeal, affording the group a crossover radiance. Jordan's adaptability and imagination kept him in league with the newest innovations in music—namely mixtures of vocalese from the Jazz Bebop scene; combined with kindred elements of Doo Wop, Rock & Roll and Soul.
Being a multi-instrumentalist, songwriter and bandleader, the combination kept his compositions intriguing.
Louis Jordan may have not been the originator like Miles Davis, but his adaptability kept him viable in the midst of the new styles of Race Music (Black Music) evolving in the late 30s, 40s, and 50s. No wonder when the 60s arrived, the critics would label Louis Jordan a chief architect and pioneer of the R&B idiom.
He was 'greased lightning in a bottle.' He was "old pizzazz turned new." His showmanship was old professionalism turned new. Louis Jordan was adaptivity with a smile on his face. His jumping shuffling rhythms with his whole band rocking was imitated left and right in the forties: Hot sax riffs and street corner jive and humor which eventually gave birth to jibing or 'vocalese' in BeBop Music; Screams and shouts which would greatly influence Little Richard and James Brown: 'Young Lions' who would help give birth to other dynamic entertainers like Jimi Hendrix and Michael Jackson. Louis Jordan was among the first Black entertainers who sold Jazz-Swing, Jump Music in the Pop category.
His appearance on the Decca label was laced with a certain buoyancy of strong influential developments. His Decca contemporaries included Louis Armstrong, Ella Fitzgerald and Bing Crosby. In Philadelphia, he linked up with pianist Clarence Williams before the orchestra of drummer Chick Webb; polishing his vocal skills along the way from 1936 to 1938.
The sizzling saxophonist first 78 record strike, "Honey in the Bee Ball," got his group top billing as, "The Elks Rendezvous Band," named after the Harlem Hotspot where they frequently performed. Jordan's transition into the frontman for the Tympany Five, a quintet which featured well-known musicians just increased his popularity: Wild Bill Davis, guitarists Bill Jennings and Carl Hogan, Bill Doggett; bassist Dallas Bartley, as well as drummer Chris Columbus, all passed through his combo: Not to mention all of his 18 number one hits of 1940 and comparisons to the showman Fats Waller…. As a matter of fact, Fats Waller, a popular Jazz pianist of the 20s and 30s which employed witty word play, which would later be employed extensively in BeBop Vocalese or Jibing style of Jazz, largely influenced Louis Jordan's performance and showmanship.
Louis Jordan specialized in dance music for the Jazz Black Music World. Sensationalized performances, humor and enactments allowed Louis Jordan to emerge as one of the first successful crossover artist in American Popular Music (Nat King Cole being another). Louis was very skilled in humorous storytelling, employed it in his songs and that gave his music and performances a multiracial appeal.
A turning point in Louis Jordan's career came in a beer joint called, "The Fox Head Tavern" in Cedar Rapids, Iowa. Away from the major cities, Louis was free to experiment. So Louis Jordan unleashed a large repertoire of Blues and new songs. By the time Louis Jordan made it back to the big city, his new approach became a sensation. January 1942, Jordan was on the charts with a Blues standard called, "I'm Gonna Move to the Outskirts of Town." From this point on, Louis Jordan was rarely missing from Harlem Hit-Parade. During the next ten years, Jordan recorded over 54 Rhythm & Blues best-sellers. Material for the band during the time came from variety of Black and White songwriters. When the group found things they like, they'd make an arrangement up and they'd play it to the one night show crowd; however, the songs the audience requested over and over again were songs that the group recorded.
During this time, Jordan's group soon produced hits, "What's the Use of Getting Sober (When You're Gonna Get Drunk Again)," "Five Guys Named Moe," and "G.I. Jive" [a Blues Boogie for entertaining WW II troops].
In 1951 Louis Jordan tried his hand with a big band; much to his chagrin. And even though his singles were still selling with regularity, they weren't doing as well as it used to by the end of the year 1953. So in the beginning of 1954, Jordan switched over to Eddie Mesner's Los Angeles based Aladdin label.
But alas, time had passed the innovator by—"Dad Gum Ya Hide Boy," "Messy Bessy," "If I Had Any Sense," and all other music sound good—all things considered; but it didn't have the mass-appeal the younger R&B generation desired. So in 1955 Louis Jordan went to the short-lived "X" imprint on the RCA brand, where he attempted one more time to remain relevant with the tune, "Rock 'N' Roll Call."
Louis Jordan and his Tympany Five, through his adaptability, reunited the innovations in Race Music to prove Black Music is a fluid experience to Black people concerning their music icon. Jordan (like Doo Wop) with his incursions of shuffled Jump rhythms and Blues Boogie into the Jazz Swing genre, along with his adaptability to embrace the contribution of his fans—Little Richard (Rock and Roll) and James Brown (Doo Wop/Soul)—allowed him to become a bridge and become the father of Rhythm & Blues.
Important early Rock & Roll musicians all acknowledged their debt to Jordan to understand our music including Bill Haley, Little Richard, Chuck Berry, Ray Charles, etc. If you listen close to "Beware, Brother, Beware," you can hear the birth of Rap lyricism coming up. . .