Mable John Passes, a Personal Remembrance
I just want to say that Mabel John was a dynamic personality. She didn't take no sh*t and she could sho nuff dish it out.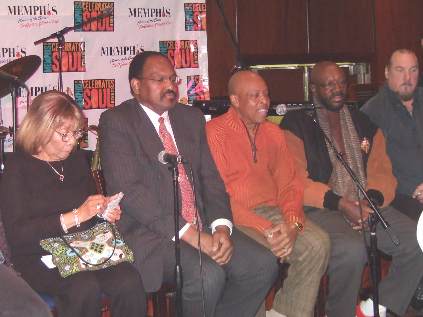 Mable John Passes, a Personal Remembrance
My heart is broken
Mabel John has passed away.
You can read more of the details of the passing of the GREAT Mabel John at the following link at the Detroit News website
Today I am here to tell you that my heart is broken over her passing.
You see Mable John meant more to me, than simply being the first (& perhaps only) artist signed to both Motown and Stax
You see Mable John meant more to me, than being the sister of the GREAT 1950's R& B singer 'Little" Willie John.
You see Mable John meant more to me, than being the singer of the great song, Mable John – "Your Good Thing (is about to end)"
First time I met Mabel John, I was at a press conference in NYC for the Stax museum…That's where the picture you see here comes from (L-R: Mabel, Al Bell, David Porter, Isaac Hayes & Steve Cropper)
The PR director of the Stax museum (Tim Sampson) says to me: "there are some people here I want to introduce you to..,"
One of those people was Mabel John…he starts to introduce me to her and she interrupted him and says…
"you don't have to introduce me to Bob Davis. I get his emails every day. And he is just about the only motherf*cker out there in the music industry that's telling the motherf*cking truth…"
"I don't want just meet him, honey come over here and give me a big hug and a kiss, you deserve it…"
While I was hugging her she whispered in my ear and said; I know you have to meet all of these other folks here, but don't take too long. I want you to come sit next to me before we run out of time, I got some sh*t I wanna talk about with you…"
And of course THAT is EXACTLY what we did.
And I would tell you what she told me, except right now I don't feel like thinking about it.
(Maybe one day when I have more time & space I'll tell you?
But I will tell you the following……If I had been single, I would have married Mabel John, right on the spot 🙂
In closing I just want to say that Mabel John was a dynamic personality. She didn't take no sh*t and she could sho nuff dish it out.
However, at the same time she was gentle, yet regal in how she carried herself. Of course, I met her several times after that first encounter and talked with her frequently. But I'll always remember that initial encounter first and foremost. If you are looking for an analogy, its similar to the way Black women believed in Barrack Obama, almost as if he were their own son. She believed in me so much, that I couldn't help but believe in myself, just a little bit more. And in my book, if you can do that for people, there isn't much more that anyone can ask of you!
More Mabel….
by Julius Freeman
Sending my condolences to you & to her family & loved ones. I to, was fortunate enough to have Dr. Mable John on a couple of trips to Detroit, but I certainly didn't get to speak with her to the extent that you did.
I knew of her history, but didn't really know about most of her music until 1991, when I bought the The Complete Stax-Volt Singles 1959-1968 Vol. 2 compilation, followed by Vols. 2 & 3 when they were released.
I knew about Your Good Thing by Lou Rawls, but I'd never heard her ORIGINAL 1966 version before that CD compilation. When I heard it, Isaac's opening piano figure knocked me out. The tuning of that piano made it sound as though he'd borrowed it from Scott Joplin.
I loved that song, but, there was another song which was quite similar that I liked even more, I'm A Big Girl Now. Hayes & Porter was all over that song, especially Isaac's tinkling on the piano. I loved the phrasing of the background singers & their harmonies supporting Mable.
She kicked the hell out of both vocals & while her voice wasn't what many considered to be "classical" ala Aretha, etc., Mabel's voice & approach was more than effective & for me, all of those songs, including You're Taking Up Another Man's Place, Don't Hit Me No More & Same Time, Same Place, her voice & approach was perfect for those songs. I had those songs on repeat on my CD at work & I mean EVERY DAY for more than a month.
Her 1992 compilation, Stay Out Of The Kitchen with her Stax material was a great discovery, as was the 2004 compilation, My Name Is Mable: The Complete Collection, featuring her Motown sides. There was some great material there, especially BOTH versions of "Who Wouldn't Love A Man Like That, the original, which was released in the year of my birth.
Then, was her brief period as a Raelette, circa 1970 – 72 & a listen to her body of work makes me wonder what more she might've given us, had it not been for the fact that there were other female singers atr Tamla/Motown & even Stax, who were considered to be "higher" up on the totem pole.
Could it have been a matter that Mable's soul was more steeped in Blues, as opposed to anything that had a hope of crossing-over? That, I don't know. But what I DO KNOW, is that we really should've heard more from Mable & that she should be more than a "footnote", for having been the first female signed to Tamla Records.
Mable was one of those people who I wished that I had a chance to know better & longer.
The best thing that I can say about Mable is that Mable was down-to-earth & more than that, she was REAL.
May she R.I.P.!
I love these harmonies, those key changes & that piano!!
Official Bio – Mabel John
Mable John, the first woman signed to Berry Gordy's Tamla Record label and a former leader of Ray Charles' Raeletts, passed away on August 25, 2022, at her home in the Los Angeles area. She was 91 years old. John was also the sister of famed 1950s crooner Little Willie John who is best-known for his recordings "I Need Your Love So Bad" and "Fever."
The oldest of ten children, John was born November 3, 1930, in Bastrop, Louisiana. Her parents moved their large family to Detroit for better economic opportunities during her youth. Most of the family sang in church for fun. John began singing blues around the city in her twenties and opened for artists such as Billie Holliday at the Flame Show Bar. One of her buddies was an up-and-coming songwriter named Berry Gordy. "He had no money and no way of getting around, but he had these people who wanted to hear his songs, so I drove him around," John says of Gordy peddling his early songs. One of those tunes, "Lonely Teardrops" eventually became a hit for Jackie Wilson and Gordy's career was on the way.
When one of Gordy's songs "Got A Job" didn't attract a buyer, Gordy decided to produce the record himself and then get a major label to distribute it. Recorded by Smokey Robinson & the Miracles, it was released via End Records, but bombed due to a lack of promotion. John and Robinson thought the record would do well if Gordy started his own label and marketed the records right. They nudged him to found Tamla/Motown in 1958 and the rest is history. John was the first female to record for the label. She sang bluesy songs such as "Who Wouldn't Love a Man Like That" in 1960 and "Action Speaks Louder Than Words" in 1961. The Primettes (aka The Supremes) sang back-up vocals on her 1962 cut, "I'm Finally Through with You," and The Temptations sang behind her on 1961's "Take Me."
Although, none of John's Tamla singles ever hit the national charts, she developed a following and sold-out shows at the Apollo in Harlem, the Howard Theater in Washington, D.C. Sensing that Tamla/Motown was more geared towards popcorn soul than to the blues she was most comfortable singing, John left the label in 1964. "I didn't feel that Motown was a place where I could survive," she once said. Chicago DJ, Lucy Cordell, then took John to the STAX Records which specialized in southern soul and blues. She was paired with the budding songwriting duo of Isaac Hayes and David Porter. They didn't have a song for her, so she told them stories about her philandering first husband, and they weaved those stories into the song, "Your Good Thing Is About to End." The spooky piano ballad showed John almost talking the song rather than singing it. "I've never considered myself a singer," John once said, "I'm a storyteller." It reached No. 6 on the Billboard R&B Singles chart in 1966. Over the years, it's been covered by Lou Rawls, Bonnie Raitt, Boz Scaggs, Etta James, and Captain & Tennille.
John scored other classic southern soul song with "You're Taking Up Another Man's Place" which peaked at #38 on Cash Box's black music chart in 1966. Years later, Aretha Franklin and Etta covered it. John once said that Hayes and Porter wrote Sam & Dave's 1967 smash "When Somebody is Wrong with My Baby" for her. "It was the first time that Stax found a ballad which really suited Sam & Dave," she recalled. "So, they released their version rather than mine." John recorded other memorable cuts for STAX such as the Ashford & Simpson-penned "Runnin' Out" and the concert favorite, "Able Mable"; but never scored another chart hit. "They had Sam & Dave, Isaac Hayes, Johnnie Taylor, Otis Redding," she said years later." That's a lot of people for a small company to promote… But I did well for myself, and I can't complain."
The late Chicago DJ Lucky Cordell remembered John's stage show vividly years later. "What Mable had was an ability to identify with or to make the people identify with her," he said. "She had that ability to reach out into an audience and you really felt she was singing to you. She talked to the women, 'Girls, you know what I'm talking about' and somebody'd say 'Yeah!' Then, she had a little thing going where the women understood each other… She didn't do drugs, I don't think she even drank, so her performances were always the best that she could give."
John's brother, Little Willie John, who was in prison for stabling a man to death, died under mysterious circumstances in 1968 at the age of 30. "Willie and I had a bond between us that was closer than any I had with any other relative, and all of my family is very close," John once said. "But Diana [Ross] saved the day. I don't believe I could have gotten through that day without her help. She even had to dress me because I was so upset."
Ray Charles, who lost his mother at a young age, started calling John to comfort her and eventually coaxed her out of her depression by asking her to become the leader for The Raelets
in 1970. Charles began to send them on the road on their own, traveling to various overseas venues. They appeared on national TV programs such as "The Carol Burnett Show," a Barbra Streisand special, and "American Bandstand." Aside from several singles, The Raeletts released one album during this period, Yesterday, Today, Tomorrow, for the Tangerine Records label. The set produced two Top 40 R&B hits with "I Want to Do (Everything for You)" and "Bad Water."
In 1976, John left the Raeletts to attend ministry school. In 1989, she became an associate pastor at the Sanctuary of Praise Church in Los Angeles. Later, she founded her own Joy in Jesus Ministries which did an annual holiday event called "Christmas All Over LA" where John would give participants a holiday meal, clothing, and everyday necessities that had been donated by celebrity friends such as Valerie Harper, Dennis Weaver, and Ernest Borgnine. She was profiled by CNN in 1996 for her charity work.
Over the years, John was also proved to be an astute businesswoman too. She handled accounting for her late husband's supermarkets in Chicago and she founded Otis Music, a BMI-affiliated publishing company which controlled songs that have been recorded by Natalie Cole, Simply Red, Aloe Blacc, Ray Charles, Leann Rimes, and John herself.
John recorded her first gospel album, Where Can I Find Jesus, on her own Meda Record label in 1992 and did a sophomore set, Sanctified Blues, in 2007. In her later years, she became friends with esteemed writer David Ritz. With him, she co-wrote a trilogy of fiction books for Random House that were loosely based on her life experiences: Sanctified Blues (2006), Stay Out of the Kitchen (2007), and Love Tornado (2008). In 2007, she played Bertha Mae in her first feature film "Honey Dripper" which starred Danny Glover, Stacy Keach, and Charles S. Dutton.
All of John's early music was out of print until 1991 when the hugely popular, critically-acclaimed The Complete Stax-Volt Singles: 1959-1968 CD box set of rare recordings brought renewed interest in lesser-known Stax artists such as John. As a result, Concord Records repackaged her Stax sides as the compilation album, Stay Out of the Kitchen, and Universal Music assembled the My Name is Mable: The Complete Collection of her Tamla/ Motown sides. In 1992, John was honored with the Rhythm & Blues Foundation's Pioneer Award for her vast career achievements. John appeared as herself in the documentaries 20 Feet from Stardom (2013) and Harlem to Hollywood (2018).
Survivors include John's son Limuel Taylor, daughter Sherry Archar, Paul Collins, and grandson Jesse Jr. She is also survived by three great-granddaughters Jasmine, Lindsey, and Leslie; and her last brother, Mertis. There is also a large extended family of nieces and nephews.
Media Contact: Bill Carpenter (202) 441-9870 / carpenterbill@me.com