Macy Grey
In 2001, Gray won the Grammy Award for Best Female Pop Vocal Performance for "I Try", which was also nominated for "song of the year" and "record of the year".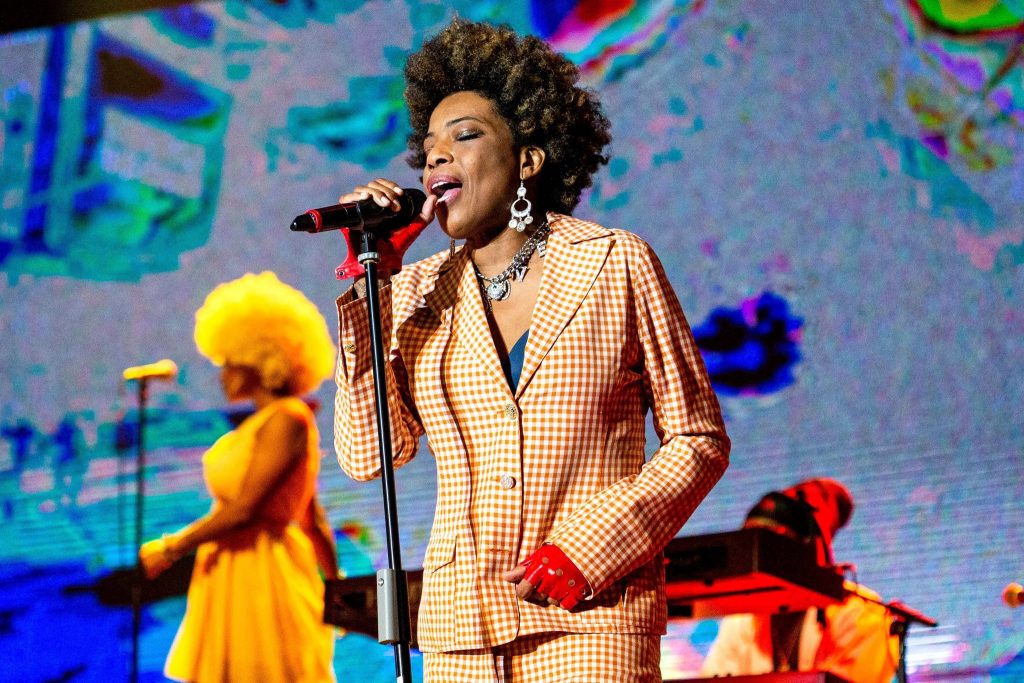 By Dianne Washington
Macy Gray (born Natalie Renée McIntyre; September 6, 1967) is an American R&B, jazz and soul singer, songwriter, musician, record producer, and actress, known for her distinctive raspy voice, and a singing style heavily influenced by Billie Holiday.
Gray has released six studio albums, and received five Grammy Award nominations, winning one. She has appeared in a number of films, including Training Day, Spider-Man, Scary Movie 3, Lackawanna Blues, Idlewild and For Colored Girls. Gray is best known for her international hit single "I Try", taken from her multi-platinum debut album On How Life Is.
In 2016, Gray made a large artistic leap by changing labels to record an album produced with binaural sound. Stripped (Chesky Records, 2016) marked the singer's first steps into the world of audiophile recordings.
Natalie McIntyre was born in Canton, Ohio, the daughter of Laura McIntyre, a math schoolteacher, and Otis Jones who left when she was a baby. Her stepfather was a steelworker, and she has a sister who would become a biology teacher. She began piano lessons at age seven. A childhood bicycle mishap resulted in her noticing a mailbox of a man named Macy Gray; she used the name in stories she wrote and later decided to use it as her stage name.
Gray attended school with Brian Warner (later known as musician Marilyn Manson) although they did not know each other. She attended more than one high school including a boarding school which asked her to leave due to her behavior.
She attended college at the University of Southern California and studied script-writing.
While attending the University of Southern California, she agreed to write songs for a friend. A demo session was scheduled for the songs to be recorded by another singer, but the vocalist failed to appear, so Gray recorded them herself.
I started forming bands and writing songs just for fun and then I really got into it and got attached to it. Then a friend of mine asked me to be a singer in his jazz band. He gave me all these jazz CDs and I studied all these different singers and I kind of taught myself how to sing for a gig, but I didn't take it seriously until later.
She then met writer-producer Joe Solo while working as a cashier in Beverly Hills. Together, they wrote a collection of songs and recorded them in Solo's studio. The demo tape gave Gray the opportunity to sing at jazz cafés in Los Angeles. Initially, Gray did not consider her unusual voice desirable for singing, Atlantic Records signed her. She began recording her debut record but was dropped from the label upon the departure of A&R man Tom Carolan, who had signed her to the label. Macy returned to Ohio but in 1997 Los Angeles based Zomba Publishing Senior VP A&R man Jeff Blue, convinced her to return to music and signed her to a development deal, recording new songs based on her life experiences, with a new sound, and began shopping her to record labels. In 1998, she landed a record deal with Epic Records. She performed on "Love Won't Wait", a song on the Black Eyed Peas' debut album Behind the Front.
Gray worked on her debut album in 1999 with producer Darryl Swann. Released in the summer of 1999, On How Life Is became a worldwide smash. Despite the first single "Do Something" stalling on the charts, the release of the second single "I Try" made the album a success for Gray. "I Try" (which was originally featured in Love Jones and the Jennifer Aniston-starring romantic-comedy Picture Perfect in 1997) was one of the biggest singles of 1999, and subsequent singles "Still" and "Why Didn't You Call Me" ensured the album became triple platinum in the US, quadruple platinum in the UK, and in Canada.
In 2001, Gray won the Grammy Award for Best Female Pop Vocal Performance for "I Try", which was also nominated for "song of the year" and "record of the year". She then collaborated with Fatboy Slim, the Black Eyed Peas, and Slick Rick (on the song "The World Is Yours", from the Rush Hour 2 soundtrack), as well as acting for the first time, in the thriller Training Day. In August 2001, Gray was booed off the field at the Pro Football Hall of Fame exhibition game after forgetting the lyrics to the American national anthem.
Gray was married to Tracy Hinds, a mortgage broker, for about four years, but they divorced when her career was about to begin. They have three children: Aanisah, Mel, and Happy.
Along with her unique voice, she has a somewhat unusual appearance. Standing 6 feet (1.8 metres) tall, she has also worn her hair dramatically and for some part of her career was known for noticeable and creative wigs.
She opened the Macy Gray Music Academy in 2005.
After her quick rise to fame as a musician and songwriter, Macy Gray was featured on television and feature films, performing her music and/or appearing as herself or in cameos. However, she also began acting in small roles as well.
In a July 2022 interview on Piers Morgan Uncensored, Gray was asked how she would define a woman, to which she answered "boobs and a vagina". She went on to state that she did not support the inclusion of transgender women in women's sports. In the days following the interview, she said that her words had been misunderstood, along with rejecting criticism she had received online for her views. In a subsequent appearance on the Today television show, she stated that "being a woman is a vibe".
In an opinion piece published in MarketWatch in June 2021, Gray called for a redesign of the United States flag stating that it "no longer represents democracy and freedom". Her suggestions included two additional stars for Washington, D.C., and Puerto Rico, the white stripes to be recolored off-white and the stars to be given a variety of colors.