Many Moods of Mayfield: The Claudine Soundtrack's Understated Greatness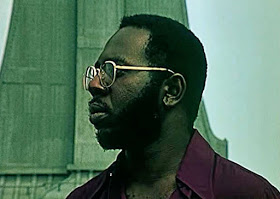 As another luminary of Black Star Power walks through heaven's door, another link in my childhood chain is broken. Is becomes was. History's pulse quickens, anxious to be documented before being overtaken by the sands of time.
As Diahann Carroll tributes flood social media, my mind is transported back to Carroll's cinematic tour de force, Claudine. Momentarily leaving her Fifth Avenue Bergdorf sheen behind for an anti-star trip across 110th Street to Edgecombe Avenue, Carroll nailed her role as the Harlem single mother navigating her brood through poverty's turbulent waters set to a moving soundtrack that was the wing beneath the movie's wings.
Friends and neighbors, they graciously gave me access to their massive record collections when I visited. Thumbing through the racks, I rediscovered music that conjured up long lost memories banished to the corners of my mind. I could always count on seeing the Claudine soundtrack mixed in between Songs In The Key of Life and Wake Up Everybody—albums that were staples in every Black household back in the 1970s.
Written and produced by singer-songwriter-producer Curtis Mayfield and performed by Gladys Knight and the Pips, Claudine couldn't have been crafted by a better team of kindred spirits. Theirs were a music hi-lo mix that was a match made in heaven. Mayfield's voice registered just above a whisper but the songs he wrote spoke volumes. Gladys and the Pips soulful simplicity powered by gritty lead vocals and flashy showmanship.
Mayfield was fresh off the success of Superfly (1972), the crown jewel of six movie soundtracks he'd record from '72 to '77. Superfly set the tone for future film scores full of tightly wound narratives in total lock-step with film scenes that were near precursors to the music video.
For the Superfly album Mayfield played the role of ghetto troubadour spinning tales of the cocaine trade. This time he needed a female muse. Gladys Knight was the perfect choice to bring his songs to life. The writer in Mayfield liked Knight's way with interpreting a lyric and bringing it to life. More than just preening back-up dancers, the Pips were hype men before the term existed. They injected call and response, harmony and timing to punctuate Gladys' lead.
"The righteous way to go
little one would know
or believe if I told them so
you're second to none
the love of all mankind
should reflect as some sign
of these words I've tried to recite
they're close but not quite"
—"The Makings of You"

Reviving the dreamy The Makings of You—recorded four years earlier for his debut album, Knight serenades her man, pouring it on thick right from the start: "add a little sugar/honeysuckle and a great big expression of happiness." A sultry chuckle escapes from Knight's throat as she works her way through the song. Mayfield's lyrics are seductively circular. They dance around the topic of love, alternating between obsession and admiration. His trademark poetic brevity aims for the heart and Knight hits the target every time: "its been a miracle/for what you've done/ please stay right by my side/two can be one".
"Society gave us no choice
tried to silence my voice
pushin' me on the welfare line
I'm so tired, I'm so tired
of tryin' to prove my equal rights"
—"Mr. Welfare Man"
On Mr. Welfare Man, Mayfield masterfully condenses public assistance's complexities. With each verse, Knight deftly leaps from one emotion to another. One moment she's tired and weary ("I know I've made some mistakes/for goodness stakes/why should they help mess up my life?"). Seething and defiant the next, Knight lobs lyrical bombs that are classic Mayfield introspective genius:
"They keep sayin' I'm a lazy woman/don't love my children/and I'm mentally unfit
I must divorce the man/cut all my ties with him/cuz his ways/ they make me sick
Holding me back/using your tact/to make me live against my will (hard sacrifice)
If that's how it goes, child, I don't know/I can't concede my life's for real
It's like a private eye for the FBI/envious as the Ku Klux Klan
Though I'm of pleasant fate/ it's hard to relate/I'll do the very best I can"


To Be Invisible finds Mayfield exploring author Richard Wright's social invisibility theme from his novel Invisible Man: "to be invisible/will be my claim to fame/a girl with no name/that way I won't have to feel the pain." As the song picks up steam, Knight calls out America for its shortcomings: "life so preciously/just don't seem to be/as free as they claim to be."
As she pours out her heart, the words flow like tears: "a world that seems not for me/so privately I'll be invisible/that way I won't have to explain a thing/if you know what I mean/I won't even have to be here on the scene." Knight laments the indignity of being "inconspicuous/I must behave myself/ for somebody else/who may have a little fame fortune and wealth." By the song's end, Knight resigns herself to her fate with a haunting whisper that's triumphantly defiant as it is tragically deferential: "So I'll be invisible, invisible, invisible."
Knight dishes out advice on Hold On: "he's looking out the side of his eye/at every girl that passes him by/girl hold on/ you're asking too much/allow him to look/as long as he doesn't touch." On Make Yours A Happy Home, Knight pledges her love: "I wanna be what pleases you/ as long as there is peace with you." When she passionately embraces her man flaws and all you can feel it: "you don't have for me/ no superstar/I love you just the way you are."
On and On plays up Gladys and the Pips' vocal chemistry. Thanks to its funky vibe and catchy hook, the song zoomed up the charts, helping Claudine album go gold and reach the number one spot, the group's third in two years.
Richard Tufo's arrangements inject Mayfield's songs with a buoyancy that keep his messages on an even keel. Mr. Welfare Man's razor-sharp indictments are softened. To Be Invisible's teeters just over the brink of tragedy without falling over the edge. Instead of abrupt endings and fade outs that signal their ending, the songs linger like episodic cliff-hanger scenes allowing listeners to sample Mayfield's food for thought and savor its poetic textures.
Welfare's burst of brass and strings never fail to transport me back to the scene where Claudine frantic races to hide her contraband during an unexpected visit from her intrusive social worker. I can still see her dancing in her cramped apartment—a cup of wine in hand to cut the dust of disappointment when Rupe is MIA for his surprise party. As Claudine boogies to Gladys and the Pips ('huggin' and-a-lovin/gettin' with the kissin'), she shuts her eyes tight and lets On and On numb her pain.

Released during a time when R&B revolved its own orbit and the support of its core audience was its greatest reward, Mayfield's third-eye poetry helped elevate a cult classic film to the pantheon of Black cinema. They say a picture is worth a thousand words. Mayfield painted visual masterpieces with far less. Maybe Shakespearewas right. Brevity is thesoul of wit.