Marcus Machado – Voodoo Child Jam + Interview (Hendrix Flat Session)
Marcus Machado is an exciting young artist that we are quite happy to introduce to you, especially during the month of September as we remember the late/great James Marshall Hendrix.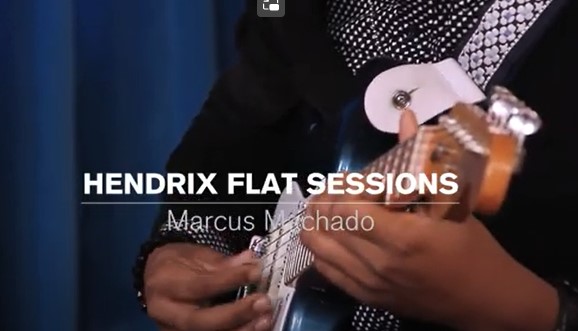 Marcus Machado is an exciting young artist that we are quite happy to introduce to you, especially during the month of September as we remember the late/great James Marshall Hendrix.
Marcus has some new music out (Blue Diamonds) which we will soon be featuring on Soul-Patrol, but before doing so, I wanted to address one of the more "frequently asked questions," that have been coming my way for years:
Q: Bob, how come it seems like none of these younger artists seem to be willing to pick up where the "masters left off? "Seems like every time I hear something new, it sounds like the only thing that influenced it, is last week's garbage!"
A: My answer is always the same; "That's because you've been looking for love in all the wrong places,"
Take a listen to the YouTube link below. I'm quite positive that you won't have any problem identifying one of Marcus's key influences! (let me know who you think it might be?)
Guitarist Marcus Machado plays his version of Jimi Hendrix's Voodoo Child (Slight Return) and talks about the influence Hendrix had on him. Filmed at the Hendrix Flat at 23 Brook Street, Mayfair.
MARCUS MACHADO- BIO
Marcus Machado was named "Next Young Gun" by Rolling Stone Magazine in 2016 and since then he has not disappointed in becoming one of the most in demand young guitar players in the world both in the studio and on the road. Marcus recently has secured endorsement deals with D'Angelico Guitars, Beetronics, Tech 21 and D'Addario as well as performing on stage and/or in the studio with such contemporary luminaries as Anderson.Paak, Robert Glasper, Lalah Hathaway, Pete Rock, and Georgia Ann Muldrow.
In the last 2 years, Marcus has collaborated with Multiple Grammy Award Winner producer/keyboard player Robert Glasper on the music score for the Emmy Award winning SHO documentary 'Apollo" and the NAACP Award winning documentary "Mr. Soul" which pays tribute to Ellis Hazlip and his groundbreaking early 70's TV show "Mr. Soul." The film was released in early 2021 and made it to the Oscars shortlist. Marcus collaborated with Lalah Hathaway and Robert Glasper on the film's track title "Show Me Your Soul."
Marcus also produced the film score for the critically acclaimed documentary "Contact High" which "spotlights the legendary photographers who have played critical roles in bringing hip-hop culture imagery onto the global stage."
The last 2 singles that Marcus has released "I Can't Lose" featuring Jermaine Holmes (from D'Angelo's Vanguard) and the funky instrumental "Dig" will both be featuring as part of the soundtrack for the independent film festival award winning "Blue Diamonds" which Marcus has produced. Marcus was also requested to perform the national anthem by both Madison Square Garden for the New York Knicks & Oracle Arena for the Golden State Warriors, both in front of sold out crowds of over 20,000 fans
For 2021 Marcus released a collaborative project with supergroup Th1rt3en feat. Pharoahe Monch, Daru Jones and Marcus Machado with a classic rock -hip hop album Called " A Magnificent Day For An Exorcism" which charted at #5 on the charts on its first week release. Since then the group has continued to soar with hard hitting movie like videos from leading singles "Fight" & "Cult 45." Also the group was featured on on the Stephen Colbert Show and NPR Tiny Desk Concert with a electrifying performances.
It didn't stop for Marcus as he stepped out his own with his debut album "Aquarius Purple." Since the release it's been non-stop with raving reviews. The album was only released on vinyl, through Soul Step records and within 57 secs. The album sold out for the limited edition and the purple vinyl limited edition also sold out within an hour. "Aquarius Purple" is making its way for digital release on April 30th on all streaming platforms.
Marcus also has a production team called Mach 7 Muzik with his sister Vicky Casis. They have been on a hot streak since last summer in 2020 releasing 2 projects "Black Summer" and "Black Summer Again" which features an array of different hip-hop rappers from NYC. it didn't stop for Mach 7 Muzik as they created QSTV, a bi-weekly show which features all creatives, artists, musicians to have a platform to showcase their talents through the pandemic. QSTV can be watched on Youtube, Twitch and Facebook. "As Buzz Music recently said 'Marcus preferred sound does not stop with one genre."