Nas
Nasir bin Olu Dara Jones was born in the Brooklyn borough of New York City. His father, Olu Dara (born Charles Jones III), is a jazz and blues musician from Mississippi. His mother, Fannie Ann Little died 2002.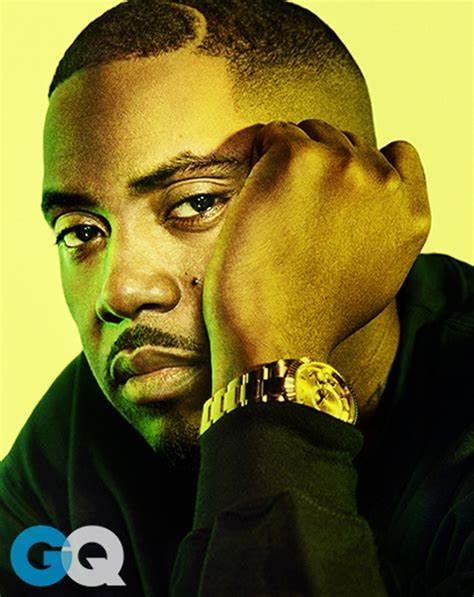 On this date in 1973, Nas was born. He is a Black is a Black rapper, songwriter, entrepreneur, and investor.
Nasir bin Olu Dara Jones was born in the Brooklyn borough of New York City. His father, Olu Dara (born Charles Jones III), is a jazz and blues musician from Mississippi. His mother, Fannie Ann Little died 2002. She was a Postal Service worker from North Carolina. He has a brother, Jabari Fret, who raps under the name Jungle and is a member of the Bravehearts. His father adopted the name "Olu Dara" from the Yoruba people. "Nasir" is an Arabic name meaning "helper and protector", while "bin" means "son of" in Arabic.
As a young child, Nas and his family relocated to the Queensbridge Houses in the borough of Queens. His neighbor, Willy "Ill Will" Graham, influenced his interest in hip hop by playing him records. His parents divorced in 1985 and he dropped out of school after the eighth grade. He educated himself about African culture through the Five Percent Nation (a splinter group of the Nation of Islam) and the Nuwaubian Nation. In his early years, he played the trumpet and began writing his own rhymes. His great-great-great-grandmother, Pocahontas Little, was a slave who was sold for $830. He owns the marriage certificate of his great-great-great-grandmother, Pocahontas, and great-great-great-grandfather, Calvin.
His musical career began in 1991, as a featured artist on Main Source's "Live at the Barbeque". His debut album Illmatic (1994) received universal acclaim from both critics and the hip-hop community and is frequently ranked as one of the greatest hip hop albums of all time. Nas's follow-up It Was Written debuted atop the Billboard 200, and stayed there for four consecutive weeks, and made Nas internationally known. On June 15, 1994, Nas's ex-fiancée Carmen Bryan gave birth to their daughter, Destiny. She later confessed to Nas that she had a relationship with Jay-Z, also accusing Jay-Z of putting subliminal messages in his lyrics about their relationship together, causing an even bigger rift in the feud between the two hit rap music giants. From 2001 to 2005, Nas was involved in a highly publicized feud with Jay-Z, popularized by the diss track "Ether".
Nas signed to Def Jam in 2006. In 2006, MTV ranked Nas fifth on their list of "The Greatest MCs of All Time". In 2010, he released Distant Relatives, a collaboration album with Damian Marley, donating all royalties to charities active in Africa. His 11th studio album, Life Is Good (2012) was nominated for Best Rap Album at the 55th Annual Grammy Awards. In 2012, The Source ranked him second on their list of the "Top 50 Lyricists of All Time". In 2013, Nas was ranked 4th on MTV's "Hottest MCs in the Game" list. About.com ranked him first on their list of the "50 Greatest MCs of All Time" in 2014, and a year later, Nas was featured on the "10 Best Rappers of All Time" list by Billboard.
He is also an entrepreneur through his own record label; he serves as associate publisher of Mass Appeal magazine and the co-founder of Mass Appeal Records. Nas is a spokesperson and mentor for P'Tones Records, a non-profit after-school music program with the mission "to create constructive opportunities for urban youth through no-cost music programs." He is a cousin of American actress Yara Shahidi. In 2005, he married R&B singer Kelis in Atlanta after a two-year relationship. Kelis gave birth to Nas's first son on July 21, 2009, the couple's divorce was finalized on May 21, 2010. In January 2012 Nas was involved in a dispute with a concert promoter in Angola, having accepted $300,000 for a concert in Luanda, Angola's capital for New Year's Eve and then not showing up. As of the end of the month, Nas returned all $300,000 and after 49 days of the travel ban, Allocco and his son were both released.
On March 15, 2012, Nas became the first rapper to have a personal verified account on Rap Genius where he explains all his own lyrics and commenting on the lyrics of other rappers he admires. In 2013, it was announced that Nas would open a sneaker store in Las Vegas called 12 am RUN as part of The LINQ retail development. In July 2013, he was honored by Harvard University, as the institution established the Nasir Jones Hip-Hop Fellowship, which would serve to fund scholars and artists who show potential and creativity in the arts in connection to hip hop. In 2018, Kelis accused Nas of being physically and mentally abusive during their marriage. Nas replied to the accusations on social media, accusing Kelis of attempting to slander Nas in the time of a custody battle and accusing Kelis of abusing his daughter. Nas has released over twelve studio albums, with seven of them certified platinum and multi-platinum in America. Nas is a fan of the New York Mets and English soccer team Everton FC.