Ohio Players – Reviews + Interviews
Soul-Patrol Interviews: Leroy "Sugarfoot" Bonner of the Ohio Players. Ohio Players History Good/Bad/Ugly: Members, Westbound Records, Mercury Records, Sugar's Health, What's Next for the Ohio Players, etc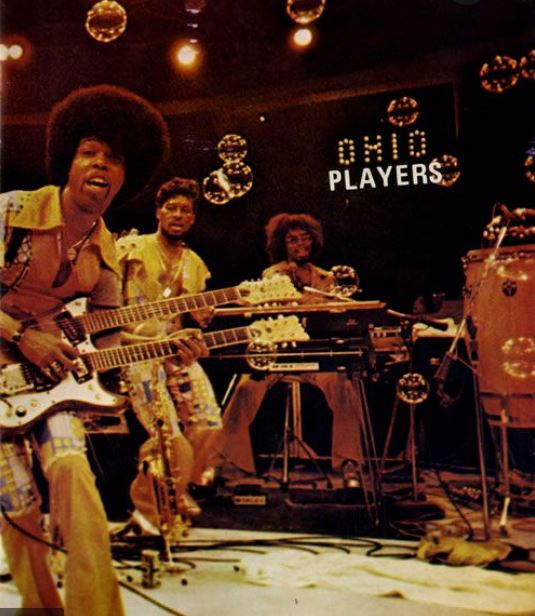 Concert Review: Sugarfoot's Ohio Players, (Masters Of Funk) @ Dell Music Center in Philly (July 5th, 2010)
Bob Davis, Sugarfoot and ELP backstageThe newly refurbished Dell Music Center (formerly the Robin Hood Dell East-Essence of Entertainment) is up and running and running. The venue has all new seats, a good but not great sound system (surely that'll work itself out as we go along) and some really nice landscaping. This will all make summer concert-going in the heart of North Philadelphia enjoyable while maintaining the same low-budget ticket costs of years gone by.
The worlds of soul, r&b;, funk, jazz and even contemporary gospel will all joyously collide here and Soul Patrol will be on the scene giving you all some nice reviews of this classic black music. There will be two concerts promoted and produced by outside concerns called Platinum Productions. Kudos to Platinum Productions in keeping their promises of giving full access to Soul Patrol as we continue in our quest to bring you loyal Soul Patrollers reviews, information and images of the proceedings therein. Their other concert will feature Teena Marie and Keith Sweat.
The Masters of Funk are merely 2010's version of the old UNITED WE FUNK tours of the 90's and early new millennium. These tours usually cater to the 70's funk crowd and have included the likes of The Gap Band, SOS Band, Lakeside, Confunkshun, The BarKays, The Ohio Players, The Dazz Band, Slave and others that neatly fit into the post-funk-pre-hip-hop music that ushered in and subsequently ran concurrent with disco and the emerging hip-hop/rap scene.
Tonight's lineup was really no different with one notable exception: Sugarfoot's Ohio Players.
Having said that I now will get into a masterful yet truncated Sugarfoot's Ohio Players set. First of all let it be said here that Leroy 'Sugarfoot' Bonner is easily one of the great soul/funk icons of all time and as it turns out a wonderfully honest and loving human being. His awareness of all around him and his need to include that into the context of his compositions both musically and spiritually make him one of my funk heroes. We interviewed Mr.Bonner and it should be up on the Soul Patrol site by week's end. I wont say anything else personally about the man because I don't want to take away from this beautifully conducted interview involving myself, Bob Davis and Mr. Bonner.
There's always a headliner of the actual Masters themselves. This band is the only band that shows up in complete and they take the stage as a band unto themselves. Other Masters Of Funk may perform with them but mostly it's just that band's set. This occurred before with The SOS Band and tonight this role was reserved for Sugarfoot's Ohio Players.
Weaving in and out of the Master's set smoothly, this version of the Ohio Players is soooooo good that it makes one wonder if we can get a Night with Sugarfoot's Ohio Players-all to themselves playing ALL of the hits.
As George Clinton, Stanley Clarke and Charlie (Uncle Charlie) Wilson have done previously Mr. Bonner has assembled some fine YOUNG (clearly no one over thirty) musicians. He's trained em, taken all of their chops and finely honed them to fit laser-like through the eye of a needle and in so doing has created a musical entity that comes as close to any of their recordings LIVE as any of the older Ohio Players groups have EVER done.
Ohio Players Onstage at the Dell eastThey KILLED Fopp, Skin Tight, I Want To Be Free and of course Fire. There was a new arrangement on Fire that was so hip and filled with musicality that it almost made me forget the original. They also played Love Rollercoaster. The crowd clearly was pleased immensely. It was clear from the opening notes that this wasn't going to be like OP shows of the past. The horns and rhythm section were TIGHT, Sugar's vocals were clear and lucid but unfortunately were often defeated by the system and most notably whatever the sound engineer was doing.
The problem here is that it's all a bit loud and with no distinction. The presence of really great musicians helps to overcome this somewhat with their musicality, dynamics and overall professionalism but in 2010 this should absolutely NOT be a problem of any note.
Hire A Band
Peace
Lawrence Perry
Ohio Players Overview
You've probably seen the funky intergalactic Intel Pentium commercials with "Love Rollercoaster" playing on the soundtrack. That's the Ohio Players. (The Red Hot Chili Peppers also covered the song for the Beavis & Butthead film sndtrk., which got a lot of MTV play.)
The Ohio Players GOLD is always easy to find, if you want the choice hits on one CD. I think a double-disc anthology is also available. If you're seeking the cream of '70s funk, the Ohio Players deserve your attention as well as anybody. Sly Stone is an obvious influence on them, but what funk music since 1970 hasn't been influenced by Sly?
Hard to say. It seems that the Ohio Players went through a number of phases in their career, just like any popular group did in the 70's.
There is an album on the Edsel label called "OBSERVATIONS IN TIME", which is a reissue of an album they recorded for Capitol Records in 1968. You could probably compare this to the early Parliaments singles during the 60's, as it shows a group in their prime, still starting out and trying to impress the world. The choices of covers are interesting: "Summertime", "Over The Rainbow", and "Mother In Law". This is a soul group trying to make moves, a far stretch from their early days as the Ohio Untouchables but showing promise.
Then the group got signed to Westbound Records in Detroit. There are many fans who live by these albums, a mix of soul, some funk, and even some jazzy moments. Many hip hop artists have sampled the Westbound albums countless times, especially the slow squeal of "Funky Worm" (7″ version).
Eventually the group was signed by Mercury Records. Not their first on a major, but the first time as major superstars. The move gave us such classics as "Fire", "Skin Tight", "Fopp", "Sweet Sticky Thing", and "Love Rollercoaster". The first few albums on Mercury were still knee deep in the funk, the smooth ballads (I'm sure many can still sing the lyrics to "Let's Love"), and the disco jams. It was their "GOLD" album that highlighted their success on Mercury so far.
The albums they came out with after "GOLD" were good, but (at least to me) not as impressive as their early work.
Some of them have done solo work over the years, most notable Junie Morrison, who eventually hooked up with the P-Funk mob in the late 70's. Sugarfoot collaborated with Herbie Hancock called "Five Alive" in the mid-80's, thus raising awareness of the Ohio Players once again.
There have been a few reissues, compilations, and live albums released in the last few years, and one of the best is the "JAM" CD on Mercury. Pick it up.
These words are very true!
The Ohio Players were during the period when Sly became "unpredictable" and the emergence of Parliament probably the most commercially successful of the Funk bands with many hit records. They often get lost in the discussion; however you are correct. I saw them perform when they were at their height in 1974, they really "TORE THE ROOF OFF THE SUCKER!!
I'll NEVER forget how the Ohio Players absolutely ROCKED the Pittsburgh Civic Arena that night….
And when they played the song
FIRE!, FIRE!, FIRE!, FIRE!, FIRE!, FIRE!, FIRE!, FIRE!,FIRE!
People went WILD…..it was a great show (Weather Report followed them)
Once again the comparison is with P-Funk. At the beginning of the 70's the Ohio Players were kinda like a "soul band", then they went off into a kind of "psychedelic blues/soul" band like Funkadelic was and they were even on the same label (Westbound Records).
Their hits during this period (Pain, Pleasure, Funky Worm, etc) were for the most part heard only on Black radio…..
A few years later, I suppose they saw the handwriting on the wall and changed up again to more of a "crossover funk" (not unlike the sound of Parliament) with BIG hits like Fire, Love Rollercoaster, I Want To Be Free, FOPP, Coo She Coo, Everybody Disco, etc.
Then they fizzled out!
The Funkadelics in DC were never upstaged by anybody…
There was a similar concert in 76′ at Cole Field in Maryland where the Terps play featuring Bohannon, Natalie Cole, being the headliner.
Bohannon somewhat held his own, but Natalie, could not survive the funk… She got laughed at and walked out on.. Since there were two dates she was wisely put on in the middle and the Funk mob came on last..
In DC opening for the Funk it was a case of usually "you go first isms."
They headline cause they almost always "won the crowd over"
Yes you truly were young that that gal on the "Honey" lp is "all that"..
Yes and it was true as urban legend that the screams were that of someone being murdered in an adjacent studio..
It was revealed later it was Sugafoot As the story was reported the Players saw this as a "controversial" angle to sell records neither confirming or denying the story. OP was one of the best bands to use overdubbing to create a sensual palette to their recordings. Put on your headphones and you'll hear lots of subtle nuisances. To a greater or lesser degree, they ran out of creative gas never were quite able to sound live like they did on their Mercury recordings… Back then they were accused of using studio tricks that they could not replicate live..
Were they funky live. Hell yeah, but their Mercury were very smooth, which left many in the audience dismayed Seeing them live when they were on Westbound and Mercury there were stark contrasts..
Back then you had to sound like your record live, and during the Mercury period they didn't, which between stiff LP's and perceived erratic performances, caused their undoing.
But for many old the "old school "crowd OP has warm place on their hearts and live with decent "horn" section they can still kick it when they have to..
Makes perfect sense. Like some, I was exposed to the Ohio Players with their work on Mercury, more specifically the "HONEY" album. It wasn't until a few years ago where I decided to go check out some of their earlier works, and I liked it a lot.