Our Uncle Sam: The Sam Cooke Story From His Family's Perspective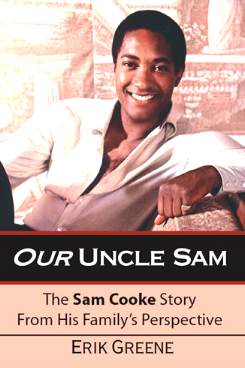 Sam Cooke: Soul Music Pioneer
* Our Uncle Sam: The Sam Cooke Story From His Family's Perspective
* Soul-Patrol Presents: Sam Cooke – "Live at the Harlem Square" 1963
* Sam Cooke Commentary, Questions and Analysis e
Sam Cooke
A great vocalist and stylist, he moved black music into the mainstream and was also one of the earliest singer/songwriters working in the soul tradition – to that extent, he was a prime early mover in the Black artist's struggle to begin to control his own destiny.
Listen to the performance of his own 'A Change Is Gonna Come' and fail to be moved by it and it probably means you shouldn't really be reading anything about soul or blues music – you can't be interested!!
Although he died of gunshot wounds inflicted in a Los Angeles hotel; his reputation has continued to grow ever since and his importance and the sheer enjoyment of his music should not be underestimated.
We would like to take this moment in time to not only pay homage to the musical genius of Sam Cooke, but also to introduce to you a brand new book entitled "Our Uncle Sam: The Sam Cooke Story From His Family's Perspective" , recently published by one of our Soul-Patrol members, named Erik Greene. Erik is the nephew of Sam Cooke and his book gives us for the very fist time the perspective of Sam Cooke's family on his life, career and death (still one of the great unsolved mysteries of the 20th Century).
As you read this issue of the Soul-Patrol Newsletter, please take a moment to click on the links about the book and check out the online chapter that Erik has provided for us.
Obviously much has been writen about Sam Cooke in the past from "mainstream sources", however one of the things that we know is that the "mainstream" often has an "agenda" and doesn't get the facts correct. That's because they very often don't go to the source…
–Bob Davis
earthjuice@prodigy.net
Sam Cooke: Soul Music Pioneer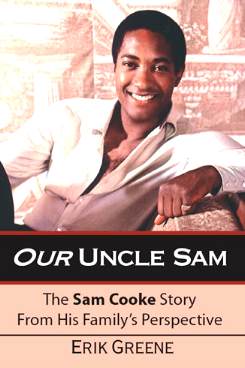 Some of the greatest advancements in modern music are credited to an artist who died over 40 years ago, yet only lived to be 33. Now his dynamic achievements are remembered in his most intimate biography to date, "Our Uncle Sam: The Sam Cooke Story From His Family's Perspective" (Trafford Publishing, $22.50, www.ourunclesam.com), written by his great-nephew Erik Greene.
After six years as the reigning voice in gospel music, Cooke burst onto the pop scene with the 1957 release of his million-selling single, You Send Me. The song's innovative blend of Gospel, Pop, and R&B earned him the title of "The Man Who Invented Soul" and stayed on the charts an amazing 26 weeks, rising to #1 in both the Pop and R&B markets. The next single he'd release, I'll Come Running Back to You, soared to #1 on the R&B charts as well. Cooke would eventually chart an amazing 34 Top 40 R&B hits over his eight year pop career, with most like You Send Me and I'll Come Running Back to You written by Sam himself. Cooke also wrote and recorded such classics as Chain Gang, Only Sixteen, Cupid, Wonderful World, Having a Party and A Change is Gonna Come, and was among the original inductees into the Rock and Roll Hall of Fame.
In addition to being an accomplished singer, songwriter and producer, Sam Cooke is remembered as the first artist to take a political stand and refuse to sing to segregated audiences. He also recognized the politics of the music industry early in life. At a time when record labels often left even the most talented and successful artist broke and penniless, Sam Cooke was one of the first artists, black or white, to buck the system and demand ownership of his career. He signed an unprecedented deal with RCA in 1960 after coming to the agreement they let him retain control of the copyrights to his music. Sam Cooke was one of the first artists to capitalize on the crossover appeal of popular music by intentionally recording songs that targeted both the black and white markets. He was the first African-American artist to own a record label, and he established his own management company and music publishing company as well. Even more remarkable, he did all of these things before his 34th birthday.
In "Our Uncle Sam", Greene not only emphasizes Sam Cooke's accomplishments in music history, but gives the reader an inside look on the childhood influences that drove him to excel. Sam adopted his winning attitude from his strict but loving father, the late Rev. Charles Cook, Sr., who taught his children to never give less than their best effort and stressed the importance of family unity. "My mother and father were both family oriented, and they instilled in us 'all for one and one for all'," Sam's youngest sister Agnes remembers. "We were a very tight, close-knit family. If you had a problem with one of us, you had a problem with all of us." The Sam Cooke saga is a remarkable one, and is best retold by his closest family members. "Our Uncle Sam" not only contains the intimate memories of his brothers, sister, nieces, nephews, children and stepson, it includes many never-before-seen photographs of the artist and his family
"I have read Erik's book," long-time Sam Cooke fan Don Piper admits, "and I truly acknowledge him for his commitment to the project and the effort he took in putting it together. I am grateful to him for taking the time to share the stories and points of view of family members whose voices would otherwise be unheard."
It's a First Class book," North Carolina's Lawrence Calvin comments. "It's a #1 seller! (I'm) positively proud of you, and Sam without question is proud of you!"
For over 40 years music fans around the world have waited over to hear the inside story. Now, their wait is over.
Erik Greene is the grandson of Sam's oldest sister, Mary. "Our Uncle Sam: The Sam Cooke Story From His Family's Perspective" can be ordered through www.ourunclesam.com or by calling (888) 232-4444 toll-free in the USA and Canada. Readers from the UK can use the ourunclesam.com website or ring 44 (0) 1865 722 113. Shipping is available worldwide.
Soul-Patrol Presents: Sam Cooke – "Live at the Harlem Square" 1963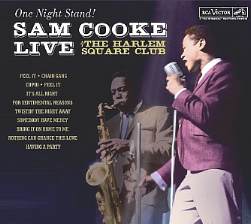 This album is an absolutely essential CD for ALL Soul music fans to own!
It's the rich tapestry of the music, sound and persona of Mr. Sam Cooke, perhaps as you have never heard him before, if your only exposure to his music was his lengthy list of pop music hit recordings. Listening to this album will completely change your view of Sam Cooke forever. That's what happened to me the first time I heard it, back in the 1980's.
One of the very first CD's that I ever purchased, back in the mid 1980's when it came out was "Live at the Harlem Square". That CD had a profound influence on me! Growing up during the early and mid 1960's the music of Sam Cooke had always been around me. My grandmother had been a big fan of Sam Cooke's ever since his Gospel days and his music (both Gospel and Secular) was always being played in her house whenever I was there. However upon hearing the CD ""Live at the Harlem Square" in the 1980's, my impression of Sam Cooke was changed forever.
Michael Jackson is sometimes referred to as the "King Of Crossover", for his accomplishments during the 1980's. Without taking away from what MJ accomplished, I dare say that Sam Cooke had accomplished the very same feat, over twenty years before Michael Jackson did so.
One of the things that face all Black Americans are the issues surrounding the challenge of existing/prospering in an integrated society. For better or for worse, how we face these challenges on an individual level tend to define us. The way that most Black Americans face this is to quite literally develop multiple sets of personalities. In effect we tend to "act one way around other Blacks" and we tend to "act a different way around Whites". Doing so isn't really a matter of choice, it's really a matter of survival and keeping the two things in balance is not an easy thing to do. For Black Americans, one of the worst things that they could possibly be accused of is going too far over to the other side ("Uncle Tom"). On the other hand, a refusal to "assimilate" will be frowned upon by the larger society and most likely lead to economic disaster and worse (jail, police brutality, death). America demands that Black Americans in effect have multiple personalities in order to survive and that is a heavy burden for both Black & White Americans to carry.
– If you listen to the album "Live at the Harlem Square", what you get is a hard core "chitlin circuit" style performance that seems totally out of place for 1963. It's literally the merging of the "sacred" with the "secular". The songs are familiar, yet they are done with a power/groove that suggests and predicts the future style of someone like Al Green in the 1970's, more commonly known as "Southern Soul". In effect you get Sam Cooke "acting one way around Blacks".
– If you listen to the album "Sam Cooke at the Copa", what you get is the sound of a major pop music superstar giving a fantastic live performance of his familiar material in a mainstream setting. In effect you get Sam Cooke "acting a different way around Whites".
In my mind, these two albums serve in a way as bookends and as a perfect metaphor for the very same "assimilation challenge" that Black folks faced in 1963 and continue to face in 2005.
Sam Cooke was certainly faced with those challenges as an artist who wanted to be true to his roots, yet also wanted to be heard by as many people as possible. He was successful in accomplishing both, but it must have been a heavy burden to carry…
–Bob Davis
earthjuice@prodigy.net
Sam Cooke Commentary, Questions and Analysis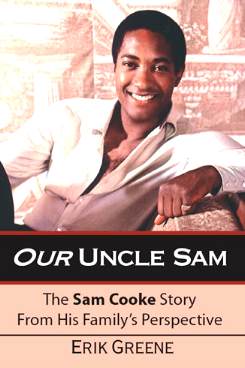 Soul-Patrol's Sam Cooke web page was first put up back in 1997. I put it up because I had some things that I wanted to say about Sam Cooke, his influence and his potential for being an artist that not only could change music, but could also change people (and our society). I was (and still am) convinced that Sam Cooke's death was not what it appeared to be, but that in fact he had been assassinated because he was moving forward in ways that the powers that be, did not like. I truly believe that Sam Cooke was murdered and that he was murdered by people who also saw the potential that Sam had to not only change people, but also to change some of the fundamental ways that the music business operates
Over the years many people have written in to me with questions/comments relative to the ongoing legacy and controversies surrounding Sam Cooke. Here are some of them…
–Bob Davis
earthjuice@prodigy.net
– Over the years I have learned that this "Mr. Klein" who was prominently featured on the VH-1 Sam Cooke Special a few years ago has held up the release of "A Change Is Gonna Come". Some of the people who have written to me over the years have suggested that he is a "culture bandit" and is only interested in making money from the legacy of Sam Cooke. During tonight's show there were several commercials advertising samcooke.com. I checked out this website and of course it is simply an advertisement for a "new" Sam Cooke release…..lol I wondered if the members of the Cook family were going to get PAID and also how this url was obtained?
– It was like "they" didn't want to deal with the implications of his death and the reasons why he might have been assassinated. That said, what was equally frustrating, is that while we get a sanitized hour of Sam Cooke, we have to see ads for a 2 HOUR bio-pic on DAMN MC Hammer. How the hell does Hammer warrant a 2 hour examination and Sam Cooke gets one. Of course we now the answer is that the folks who can make such distinctions between the genius of Cooke and the spectacle of Hammer, don't have the access to media outlets and the finances to do our own "cinematic" examinations of Cooke, Miles, Hendrix, Phyllis.
– I also think it`s funny that both Sam Cooke and Jackie Wilson have been called the "Black Elvis" by so-called "black music critics"! So let me get this straight, first there was the white Elvis, the originator of R&B/ Rock and Roll and then came the two "Black Elvises" Sam Cooke and Jackie Wilson. That`s interesting, considering that both Jackie Wilson and Sam Cooke had achieved great popularity with their vocal groups (Dominoes and the Soul Stirrers) before anybody had ever heard of the white Elvis. They should start calling Elvis the "White Sam Cooke" or the "White Jackie Wilson"! In my opinion, and from a historical chronological perspective, that would be more correct. But I guess that`s never going to happen. Actually it`s probably only a matter of time before they start calling Chuck D and Tupac the "Black Eminem"!!
I'm a Sam Cooke fan too. I'm surprised people don't talk about Sam more often. That man was so influential for male singers. People tend to forget that. It would be easy to even create a Vocal Family Tree of singers influenced by Sam Cooke.
– A Change Gonna Come: Interestingly the song that received airplay was edited to take out reference to: "I go to the Movies and I go down town……they don't want me……..hanging round…." It was felt that that part of the song was too inflammatory given the civil rights struggles going on at the time……although many think A Change is Gonna Come relates to Sam's untimely death, it really was a civil rights song, pure and simple
– Well, as hard as it may be to believe, Sam Cooke was a man. A Human! Yes, he was a man of undeniable talents, & he possessed a voice that will NEVER be matched, in my opinion. And The circumstances surrounding his death will always be in stark contrast to the "Voice" that oozed from our radios, into our homes, & into our hearts. Forever. I guess what I'm saying is that he left us a beautiful, vibrant legacy that shall see more tomorrows than you or me. But it was his LIFE that created that legacy, not his death or its sordid circumstances.
– The thought of comparing the late Sam Cooke to Rod Stewart is ridiculous! They are two VERY DIFFERENT singers, no comparison. All the singers we love have something different and unique about them that's why we like them. Yes, I have records by Sam and I have records by Rod. But they are not alike. Saying Rod is a "soul" singer? Yes, some of Rod's earlier recordings were very soulful, but to call him a "soul" singer, I don't know about that. Tammy Wynette and Patsy Cline sang in a very soulful way. (Yes, I feel Tammy & Patsy were very soulful singers). But they weren't "soul" singers. They sang from the heart and I guess you could say that about Rod.
– Help me out here. Is it true that Sam Cookes' wife owns the film rights to any potential Sam Cooke film and refuses to allow one to be made. I remember reading such a notion some where in the seventies in Right On! or some other kid-fanzine I was reading at the time. I can't help but notice that there are no movies available or in production about the man. In the seventies, a popular comedian (who looked/favored Sam Cooke at the time) was pegged to play the murdered (in my opinion) star. That comedian still performs today but his name escapes me. I'll post it when I remember it. He wears berets' a lot these days. I think one of the things that diminishes Sam Cooke's spotlight.
– He was definitely a pioneer with taking an active part in his career with a publishing company, crossing over from gospel to secular music. What I admired most that he did not change his style and his image. He had his audience come to him. I was not aware that he was good friends with Malcolm X and Muhammad Ali. After watching I wonder if his murder was actually an accidental shooting or was this an attempt to silence this great artist? Also when did his good friend marry his widow? Was this a situation that was going on while Sam was alive? I know he was on the road quite a bit but was not Bobby Womack touring with him also? And did he Bobby adopted Sam's children, I noticed that his daughter Linda 's name was Linda Cooke Womack! How did Sam's fans take the news that his Widow married Bobby? And last did Sam's family get his royalties?
– Sam's association with Ali and Malcolm X was inevitable. He refused to get jacked by the industry, and his anti-establishment wings were spreading, even as he sought the mainstream audience. Man, he was going for it ALL like a mother!
Interesting stuff, eh? Well, I don't have the answer to any of these questions relating to Sam Cooke, but I do know where you can find the answer to many of them….
Our Uncle Sam: The Sam Cooke Story From His Family's Perspective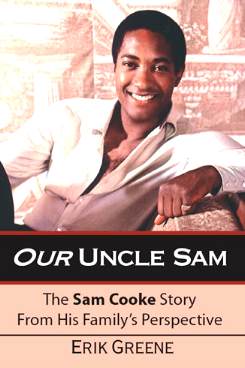 Our Uncle Sam: The Sam Cooke Story From His Family's Perspective
–Bob Davis
earthjuice@prodigy.net
---
To Subscribe To The Soul-Patrol Newsletter: