P* Funk Review – Review of Funk by Rickey Vincent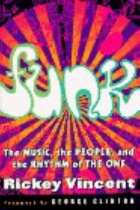 Funk – The MUSIC, the PEOPLE, and the RHYTHM of THE ONE
by Rickey Vincent
Foreword by George Clinton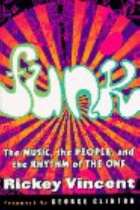 This book is the most comprehensive and thoughtful book that I have yet seen on the subject of Funk music. As I read through this book, it felt very different than most other books that I have ever read. The feeling I was having was a very personal one because this subject is one that is very close to my heart & (ex. another book that gave me this same feeling as I was reading it was the Autobiography of Malcolm X)
Rickey Vincent NAILED it…………BIG TIME !!!!
The Concept
You see this book really isn't about music at all !!!
Oh yeah it has TONS and TONS of information about bands, songs, lyrics, concerts, record companies, etc for sure. It contains many pictures of FUNK artists that I have never seen before and a fairly detailed and creative discography section. But for me that's not what the book is about. The "sub-title" (The MUSIC, the PEOPLE, and the RHYTHM of THE ONE) is really what the book is about.
What Rickey Vincent has really done with this book is to tell the story of Black folks who came of age in the 1970's. This is the generation of people who were the beneficiaries of the blood, sweat & tears of the American Civil Rights Movement. The "children of the 70's if you will !!!
During the same timeframe that Rickey Vincent is writing about I was in H.S., College, etc. that is why I felt that he was talking directly to me, as he was writing. I was actually in attendance at some of the concerts he mentions and at one time owned a copy of almost all of the music described in the book. In my mind I could very easily see this being turned in to either a movie or a TV miniseries.
The book is 361 pages long and I read it over a weekend. If you have any interest in the history of Black people and/or Black music I would strongly urge you to purchase and read this book. And if you do……be sure to put on some of your favorite FUNK on the box while you are reading it…….& be sure to turn the VOLUME up REALLY LOUD. That's because this book really requires a soundtrack to accompany your reading.
One of the questions that we have been attempting to answer on our FUNK Bulletin Board on Prodigy has been "Is FUNK a type of music or is it a state of mind?".
Rickey Vincent has given us an entire book to give us his answer to that question.
The Music
Before you go walking away from this review thinking that the book is some type of "sociological textbook" or simply an execrcise in nostagia, let me say just a few things about the music itself that Rickey Vincent is talking about.
This style of music that became extemely popular during the 1970's that is commonly refered to as FUNK is detailed in the book from both historical and stylistic perspectives.
The book is organized in to a time line starting from:
– Predynastic (gospel, r&b, blues/rock, jazz)
– First Funk Dynasty soul, black rock, jazz/rock)
– Second Funk Dynasty (funky soul, united funk bands, jazz/funk)
– Third Funk Dynasty monster funk, funky soul bands dance funk jazz/funk)
– Fourth Funk Dynasty (naked funk, black noise, funky pop)
– Fifth Funk Dynasty (p-funk hip hop, political rap, gangsta rap, funk rock, new jack)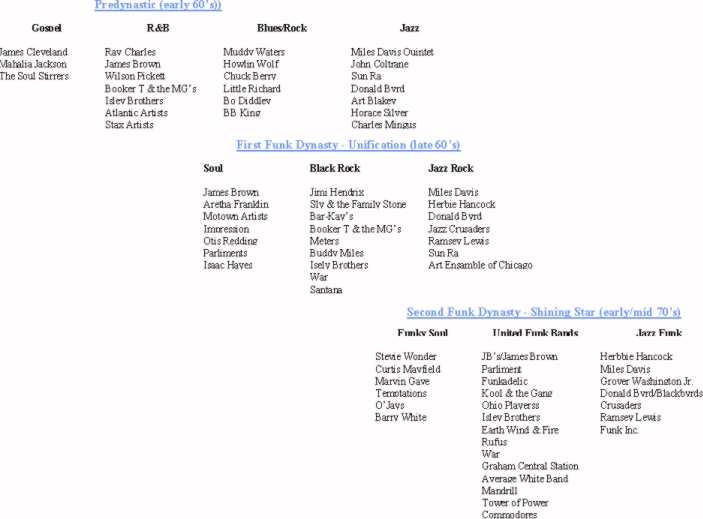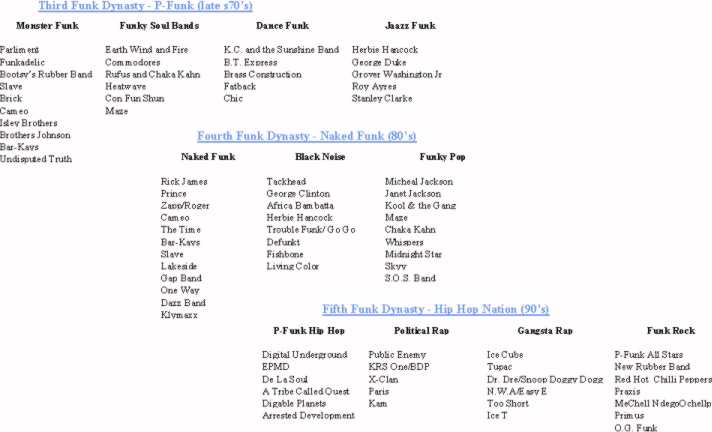 As you can see, Rickey Vincent has attempted to classify the past, present & future of funk. In the book he discusses each one of the artists and their music as reflected by the charts above. While I don't agree with all of the placements, I think that the attempt to do so is an important thing because it recognizes that Funk does in fact have a past, present and future. James Brown is probably the "hero" of this book. Rickey Vincent has restored the "Godfatha" to his rightful place in history as the "father of funk".
Well your probably sick of me by now……..JUST READ THE DAMM BOOK !!!