P*Funk Review -GAP Band – You Dropped A (funk) BOMB, Gap Band: 20th Century Masters

New Compilation Album From The Gap Band:
Gap Band: 20th Century Masters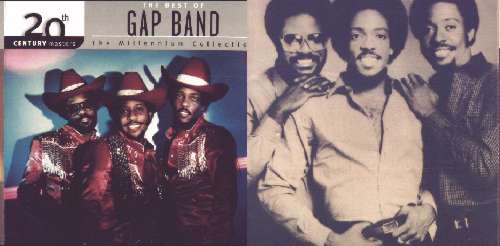 Surprise, surprise….
I'm not going to try to tell you that there is any hidden "social message" here on this album.
(cuz there isn't any….lol)
If you are looking for social or political messages in your FUNK (don't look for it with the Gap Band). This songs of the Gap Band exist for one reason and ONLY one reason…
PARTAYYYYYYYYYYYYYYYY TIME, PARTAYYYYYYYYYYYYYYYY TIME, PARTAYYYYYYYYYYYYYYYY TIME, PARTAYYYYYYYYYYYYYYYY TIME, PARTAYYYYYYYYYYYYYYYY TIME, PARTAYYYYYYYYYYYYYYYY TIME, PARTAYYYYYYYYYYYYYYYY TIME, PARTAYYYYYYYYYYYYYYYY TIME, PARTAYYYYYYYYYYYYYYYY TIME, PARTAYYYYYYYYYYYYYYYY TIME,
(after all this was the 1980's…..lol)
As a matter of fact, if you want to see some Black people get all sweaty in a hurry, play this compilation album at your next house party!
ALL of the songs here are classic party jams
Yes, play the ENTIRE album because ANY compilation album of Gap Band material might as well just be labeled ….
"….a sweatbox in a jewel box"
Here is a review of each of the tracks…
1. BURN RUBBER (WHY YOU WANNA HURT ME)
oh ok now…
Rev up mah cycle, cuz this party is about to get started off on the "good foot" because as soon as you hear that motorcycle start to rev up, Black folks will be ON THE DANCE FLOOR, SHAKIN THEIR RUMP
2. OUTSTANDING
This is one of the few "classic funk" attempts at a slow jam that actually works in my opinion, but they should have put this cut a little deeper into the album
3. I DON'T BELIEVE YOU WANNA GET UP AND DANCE (OOPS!)
This song is the "sing along song"…
"Oops upside ya head, say oops upside ya head…."
4. PARTY TRAIN
This is the one they used to play on the Soul Train TV show all of the time as folks would be dancin down that "soul train line"
5. YOU DROPPED A BOMB ON ME
Not to be confused by the Trouble Funk song of the same name, but it's just a FONKY and will make you continue to sweat and if indeed someone has been smart enough to simply run the album at a house party, this is the point where the floor will appear to be actually moving
6. EARLY IN THE MORNING
That dumb rooster crowing at the beginning of this song is one of the most STANK moments in FUNK history, I wonder if they ate the bird when they were thru with it?
LOL
7. YEARNING FOR YOUR LOVE
Another slow jam.
One thing Charlie Wilson never seems to get credit for is being a true SOUL vocalist in the tradition of the crooners like Teddy P, David Ruffin, etc.
Now I'm not saying that he is as good as them, but much like Rick James, he just isn't given much credit for being a flat out good singer
8. SHAKE 0
I always liked the horns at the beginning of this song, and right after the slow jam they serve as an invitation to get sweaty once again (if for some reason you didn't continue to sweat during the slow jam…..lol)
"…got me a coupla dollars, and guess what I'm gonna do….shake, shake, shake, shake mah booty"
9. SEASON'S NO REASON TO CHANGE
Another slow jam, the Gap Band truly is versatile their slow jams are at least as good as the Comodores!
10. STEPPIN' (OUT)
Starts out with a nice little funky latin groove "go head, go head" (kinda reminicent of Earth, Wind and Fire?)
Bouncy and fun
11. HUMPIN'
Starts out with some "countryfied shit" at the beginning and then…
…..STANK ASS
………..SYNTHYSIZER
and then…
WHERE ALL THE HUNGRY PEOPLE AT?
WHERE DEY AT?
Obviously inspired by P-Funk, I have absolutely NO IDEA what this song is supposed to be all about, but it is my favorite song on the album and if indeed you have chosen to play this album at your house party, as soon as "Humpin" is over and the room goes quiet, you will notice a room full of "sweaty Black people", yelling at you to…
"run that shit again…."
"humpin in the key of one…"
GAP Band – "You Dropped A (funk) BOMB on me"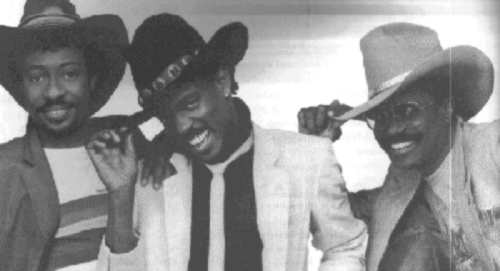 HISTORY OF THE GAP BAND – (Courtesy of Charles Kupperman)
The first Gap Band album, "Wizard's Holiday", came out in 1974. I have a promo copy with a press kit and photos, so it included a lot of information on the early band's line-up.
The early Gap Band was a fairly large band, along the lines of most other 70's funk combos, with a large horn section etc. The music on that first album was written by the Wilson brothers (Charlie, Ronnie and ??) for the most part, but the producer, whose name I forget, wrote the words, which are awful. The producer had apparently discovered the band.
They had at least two more 70's albums, which are far better than their 80's work. There was a weird re-issue of some of their 70's stuff which showed three kids breakdancing. Avoid that — somebody remixed the 70's stuff to take out the real instruments and put in more synthesizers in line with their 80's sound.
Their second album has some true classics, like "Not Guilty" and "Knucklehead Funkin'". In general, they were going for a Sly Stone/Stevie Wonder sound on these early albums, which are unfortunately hard to find.
Then they moved to Total Experience records in 1979 and started being produced by Lonnie Simmons. Their albums started being numbered (ignoring most of the 70's output) and the band was pared back to just the three Wilson brothers. Their music became mostly synthesizers, and very repetitive hooks and beats. Their lyrics and concepts became very derivative of P-Funk. Although I love "Party Train" and one or two other songs.
In the mid-80's, the Wilson brothers lost creative control over the Gap Band's outlet, and were forced to release some stuff that they later claimed was sub-standard, and which they didn't write. Eventually, they broke free of this and bounced back with an album called, I think, "Through Train".
Charlie Wilson had a brief solo career in the early 90's, which didn't go very far.
The Gap Band released a new album "Ain't Nothin' But a Party" in 1995, including a new version of "You Dropped a Bomb on Me" and a duet with George Clinton. It was very much in the Dallas Austin mode.
GAP BAND DICOGRAPHY (Courtesy of Stephen M. Clark)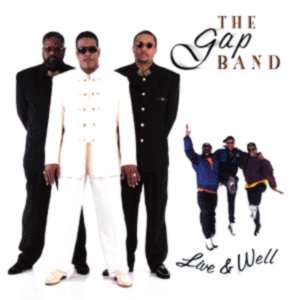 ALBUMS
1974 Magician's Holiday Shelter #2111
1974 Momma's Boys Shelter #2???
(Don't believe this ever existed, but is referenced in liner notes on 1994 "Best of")
1977 The Gap Band Tattoo #2168
1979 The Gap Band Mercury #3758
1979 The Gap Band II Mercury #3804
1980 Gap Band III Mercury #4003
1982 Gap Band IV Total Experience #3001
1983 The Gap Band V – Jammin' Total Experience #3004
1983 Strike a Groove Passport #6026
1984 Gap Band VI Total Experience #5708
1985 The Best of The Gap Band: Gap Gold Total Experience #24343
1985 Gap Band VII Total Experience #5714
1986 The 12″ Collection Mercury #26808
1986 The Gap Band 8 Total Experience #2700
1988 Straight From the Heart Total Experience #2710
1989 Humpin' Mercury #38167
1989 Round Trip Capitol #90799
1994 The Best of Gap Band Mercury #522457
1994 Testimony Latique #71665
(billed as The Gap Band (featuring Charlie Wilson)
1995 Ain't Nothin' But a Party Raging Bull #2003
1996 Live & Well Intersound #9183
SOLO PROJECTS
1985 Billy and Baby Gap Total Experience #5713
(solo project by Baby Gap – includes backgrounds by Charlie Wilson)
1992 You Turn My Life Around MCA/Bon Ami #10587
(solo project by Charlie Wilson — CD includes bonus track "Please Believe Me")
SOUNDTRACKS & MISCELLANEOUS NON-ALBUM SONGS.
1976 "This Place Called Heaven" A&M #1788
(I have promo-only 45. Supposedly, commercial single contained B-side "Hard Time
Charlie", but I have no proof that single was commercially released.)
1984 Krush Groove Warner Bros. #25295
(soundtrack includes Gap Band's "Love Triangle")
1984 A Total Experience Christmas Total Experience #5707
(includes Gap Band's "This Christmas", "The Christmas Song (Chestnuts Roasting on an Open
Fire", and "I Miss You Most of All at Christmas")
1987 Penitentiary III RCA #6663
(soundtrack includes Gap Band's "Sweeter Than Candy" – later included on "Straight From
the Heart")
1988 I'm Gonna Git You Sucka Arista #8574
(soundtrack includes Gap Band's "I'm Gonna Git You Sucka" and "You're So Cute")
1992 Boomerang La Face #26006
(soundtrack includes Charlie Wilson's duet "Give U My Heart" with Aaron Hall)
For More on the Gap Band Click Here

Click here to enter your suggestions