Album Review: The Sound of Philadelphia – Gamble and Huff's Greatest Hits

Philadelphia Jazz,Soul,Blues, MFSB, O'Jays, Harold Melvin & the Bluenotes, Intruders, Archie Bell & the Drells, TSOP , Teddy Pendergrass, Lou Rawls, Patti LaBelle, The 3 Degrees, People's Choice, Billy Paul, Orlons, Bunny Sigler, Bobby Eli, Billy Paul, Barbara Mason, Giant Gene, Jerry Blavat

Album Review: The Sound of Philadelphia – Gamble and Huff's Greatest Hits
(Classic Soul/Funk)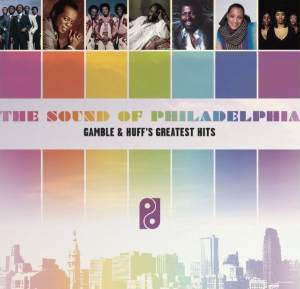 Sometimes I think that as music fans we get too sophisticated for our own good. Many people would see an album like this featuring: The O'Jays, Harold Melvin and The Blue Notes, Teddy Pendergrass, Lou Rawls, Patti LaBelle, The 3 Degrees, People's Choice, The Intruders and Billy Paul and pass it by, with the idea that either they already have these songs or that they have heard them all before. On one level they would be correct, however I do think that it's useful to be able to go back and listen to a compilation like this, because the whole is indeed larger than the sum of it's parts. And one of the things that makes it so is the contribution of MFSB underneath of it all (but more on them later).
Here is my track by track review…
O'Jays: Love Train – This song is the Black American version of kumbaya.
O'Jays: Backstabbers – is a song of betrayal, certainly not a new topic in Black music or in Black music. What is different about this song is just how cool the O'Jays sound and how MFSB seems to do a call & response with Eddie Levert. It's just an ultra cool song with a pretty heavy message that operates on both a personal and a societal level at the same time
Harold Melvin and the Blue Notes: If You Don't Know Me By Now – One of the things that is rarely stated about Teddy P. is that a big part of his power wasn't just that he could mesmerize the ladies. Teddy's voice had a quality to it that made him sound just like someone that you knew. He sounded just like your uncle, you cousin, your father, your friend, etc. The advice that Teddy gives on this song sounds earnest, heartfelt and we want to follow his advice because of how it sounds.
Harold Melvin and the Blue Notes: The Love I Lost – Even today, this song will automatically fill up a dance floor because of the groove of MFSB. However it's also a great example of how a great song can tell a great story and tell it in context.
MFSB: TSOP (featuring the Three Degrees) – This of course is a great funk jam, a TV theme song that ultimately became a hit record on the charts. This song almost sounds like a western, but a western that is perhaps taking place in West Philadelphia, because it's so damn funkee. This song is "Philadelphia's Green Onions", it's their song of worldwide conquest & domination. When the Three Degrees come in and say; "let's get it on, it's time to get down". They are subliminally saying to the rest of the world that, if you can't come this strong, just get outta the way and they are doing it with some STONE COLD FUNK.
Billy Paul: Me and Mrs Jones – Of course this is the ultimate "cheating song". It's jazzy groove, the smoothness of Mr. Billy Paul and the great lyrics, makes one wonder if the song is derived from Nancy Wilson's "Guess Who I Saw Today."
The Three Degrees: When Will I see You Again – From a topical perspective, this song is really a throwback to the 1960's when Black females begged, instead of demanded on wax. I never liked the song, because lyrically it seemed so out of step with the times. However maybe it wasn't? Maybe it has to do with a Black woman trying to have a family and not yearning for her independence? Maybe what Gamble & Huff were shooting for here is that the Black family is really the most important thing and it's really thru the strength of character of the Black woman that makes it possible? Of course none of this is actually stated in the song, so maybe I am barking up the wrong tree here. But I'd like to think that Gamble & Huff were actually trying to accomplish something subversive/subliminal with this song.
People's Choice: Do It Any Way You Wanna – This was a monster club smash, on the surface it ain't about nothing cept getting sweaty in the club. However in reality this is indeed a subversive/subliminal song. This song is an exercise in "behavior modification" (Philly Style)!!! It starts out innocently enough with this groove that almost sounds like the old "skate, bounce skate" type of funky beat. Then ever so softly and smoothly you hear a very soothing male voice chant over and over again "do it any way you wanna do it, do it anyway ya wanna". And it's repeated dozens of times in a soothing monotone. Then suddenly the stakes are raised with the entrance of a truly wicked B3 organ on top of that "skate, bounce skate" beat. And then for the rest of the song, that whole "do it any way you wanna do it, do it anyway ya wanna" continues to be repeated, only now instead of it being at a sound level of "2", it's now up to about "5". When you are on the dance floor and you are dancing to the song, all of this subliminal stuff is actually quite hypnotic. And by the time it's over, if you don't feel empowered to change your life, then you are beyond help!!!
Intruders: I'll Always Love My Mama – This of course is the "national anthem of mothers day", featuring the Intruders sounding even cooler than the O'Jays. However it is also one of MFSB's finest moments ever. They are funkin so hard on this song, that it's the flip side that is the REAL JOINT here. And back in the day, house party DJ's in my neighborhood knew this because they would ALWAYS flip the 45 over and play part 2 of this song for teenaged crowds.
O'Jays: Use Ta Be My Girl – To my ears listening to this song there isn't much here. Just a tired old story about a 'lost love". In fact to me, it sounds like the O'Jays are just calling it in. However this isn't really a "listening song", it's really a great hustle record. And that's it's real purpose in life IMHO.
Lou Rawls: You'll Never Find Another Love – Now this was also a great hustle song, however in reality it doesn't get much better than this in the world of Black music. I wonder if this song has ever been covered? It wouldn't surprise me if it never has been. I mean, who would want to be compared to Lou Rawls at the very height of his vocal abilities, backed up by MFSB, singing the ultimate begging song?
Mcfadden & Whitehead: Ain't No Stoppin Us Now – I realize that "Lift Every Voice and Sing" by James Weldon Johnson is the official "Negro National Anthem". However ever since the late 1970's it has been replaced in the hearts & minds of Black Americans by "Ain't No Stoppin Us Now". I can't think of a wedding, graduation party, retirement party, BBQ, Fish Fry, rent party, etc that I have attended in the Black community since this song first came out that this song doesn't get played. And I am willing to bet that will still be the case 50 years from now! If Mr. Obama wins the presedency, is their any doubt in your mind that this song will not be played at the Inuguration?
Teddy P: Close the Door – There isn't much analysis needed here. It's Teddy P. 'bringing this day to a pleasant end". And he's doing it exactly how he wants to
Patti LaBelle: If Only You Knew – Almost sounds like it doesn't belong on the album. However I suppose that it's fitting way to end the album, since this was the last big hit for the Philadelphia International record company.
Now I know that if you have read this far, some of you are saying, "ok so what's the point, we already knew all of this…". Well the point is that listening to all of these hit songs all together speaks to a concept that we left behind as Black folks. Gamble and Huff took the idea of Motown and brought it to a higher level musically, lyrically, and socially. And they did it in a positve manner that didn't offend other ethnic groups. The whole point was to embrace what we were as Black people, not run away with it and express it in multiple ways thru songs that everybody could relate to. Looking back on all of these songs in a collective manner brings all of it back together for me.
Is this an essential album for you to own? It's got a tacky "cut out bin" type album cover and no liner notes (although if you buy it I suppose that you can use this review as liner notes).
If you are a person who remembers when these songs first came out, then you probably don't need to buy this, you can just make up a mixtape. However, if you are a person who knows a younger person who has never heard all of these songs together, it is probably essential for them to own a copy. And it's probably even more essential that the very first time that they listen to it, that you are there to explain just what it was all about!!! This album is currently selling for $10.99 at Amazon.com and it's a great deal from a finacial perspective.
–Bob Davis
Look for these all of these songs playing on Classic RnB @ RadioIO.com
ALBUM REVIEW – A Soulful Tale of Two Cities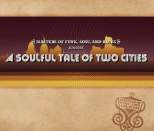 This is a very interesting album. One of the biggest trends in Soul music over the past few years has been that complete "cover albums" have become more and more popular. Some people don't like this trend, because they want to hear completely brand new music. Others don't like the trend, because they think that for some reason these songs "shouldn't be touched" and want them treated as "museum pieces frozen in time". Still others feel that Classic Soul artists shouldn't be releasing any new albums and feel that fans should kinda/sorta be content with the music these artists produced 20 – 50 years ago
However in my opinion the whole idea of having artists who didn't originate classic songs "re-do them in their own style" speaks volumes about both the greatness and timelessness of the songs themselves. This is why we sometimes use the term "Black American Standard Music" to describe the phenomena, treating this music as "standards" is exactly what we should do, in my opinion. What's so terrible about taking on the responsibility for elevating the culture we have created?
The two disc set called "A Soulful Tale of Two Cities" takes this idea even a step further and has artists associated with the "Motown Sound" doing songs that were originally done as a part of the "Philly Sound". And conversely has artists associated with the "Philly Sound" doing songs that were originally done as a part of the "Motown Sound".
Overall the results are very good however for my ears Ted Mills ("Just My Imagination"), Barbara Mason ("My Baby Loves Me") and Bobby Taylor are the stars of the two disc set. Ted Mills and Barbara Mason are two of my favorite singer's period, so their outstanding performances were certainly no surprise. However the real discovery on this album for me was the amazing Mr. Bobby Taylor. As amazing as this might sound, in my opinion after listening to his renditions of "Love Train", "Sunshine", and "Sadie", he could easily be the lead singer for either the O'Jays or the Spinners.
Standout cuts include "The Girl's Alright" (featuring Phil Hurtt), "Just My Imagination" (featuring Ted Mills), "My Baby Loves Me" (featuring Barbara Mason), "Ain't No Stopping Us Now" (featuring Ali "Ollie" Woodson), "Didn't I Blow Your Mind This Time" (featuring Carolyn Crawford), "Love Train" (featuring Bobby Taylor), "Close the Door" (featuring Lamont Dozier), "Sunshine" (featuring Bobby Taylor), "Sadie" (featuring Bobby Taylor), "When the World is at Peace" (featuring George Clinton, Bobby Taylor, Kathy Sledge, Ali "Ollie" Woodson & Kim Weston)
Overall I would say that this is an album worth having if you are a person who thinks that these songs are a part of "An American Songbook" that has yet to be placed on the bookshelves, but that already exists in the hearts and minds of millions of people around the world. Hopefully the album will find it's audience and when that audience discovers the album, that they will support it in numbers that will enable these artists to create a "A Soulful Tale of Two Cities (Vol 2)"
http://www.soulfultale.com
Look for these all of these songs playing on NuSoul @ RadioIO.com
–Bob Davis
earthjuice@prodigy.net