Remembering Betty Wright
A "compilation" of Betty Wright's "Greatest Soul-Patrol Hits." If you don't like "compilation albums," you might not like this web page. But I have a feeling that you will.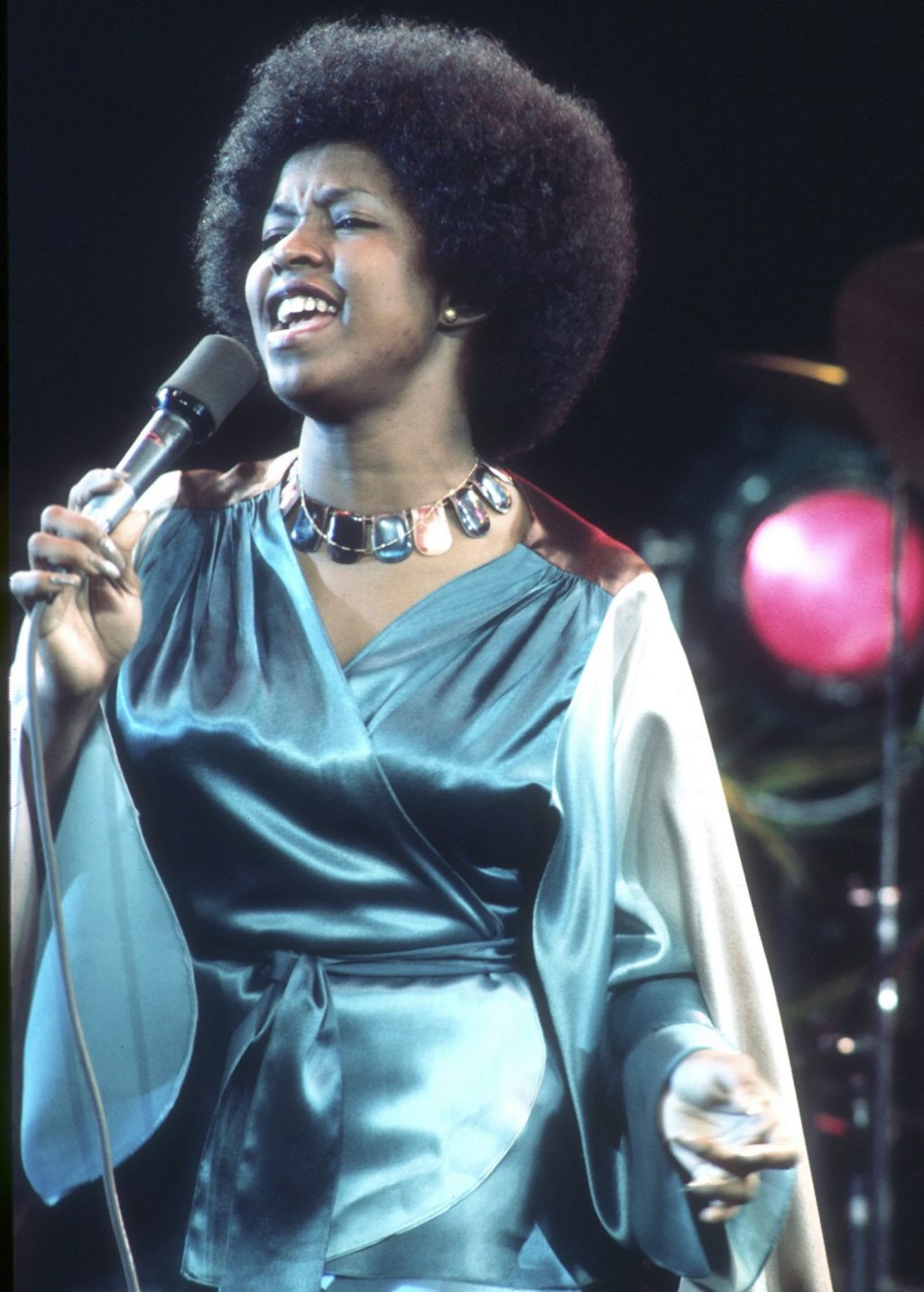 EDITORS NOTE: This article is a "compilation" of Betty Wright's "Greatest Soul-Patrol Hits." If you don't like "compilation albums," you might not like this web page. But I have a feeling that you will. First up is a "combo report" from myself and Baron Keels about an event hosted by yours truly (on my birthday,) featuring Betty Wright from Billie Black's in NYC back in 2011. Next up is a personal Bio of Betty Wright from her friend, our own Dianne Washington. The finally an ancient multi part concert review (sora like a James Brown single) from our friend Carlton Smith, in his unique style (w/cameos from Roger Troutman, George Clinton, Peter Brown, Bar-Kays and more.)
Betty Wright @ Billie Blacks in NYC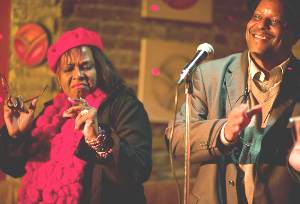 Just wanted to thank our friend Randy Thomas (of Universal), the folks at S-Records and of course the fabulous Betty Wright for allowing me to host her Listening Party/Forum/Live Performance on Wednesday evening at Billie Blacks in NYC the other night. Not only is she one of my favorite artists of all time, but Betty Wright holds an esteemed place in the history of the Soul-Patrol.com website. Soul-Patrol.com's Betty Wright page is one of the first artist pages that I ever did, way back in 1996. It is also the very first webpage that I ever had a publicist (Jason Mitchell) contact me and ask me to make corrections on, because I had misstated several facts. Not only a good lesson learned for me as I was just starting out, but Jason ultimately became a fan of the site and helped me out quite a bit during the early years of Soul-Patrol.com.
So I found myself on the stage at Billy Black's on my birthday, emceeing the show, leading a Q/A session with the audience and talking trash with 2010 Grammy Award nominated Betty Wright (for the song "GO"), one of my all time favorite artists. Hell, I even have pictures to prove it…..LOL
Could I have possibly come up with a better way to spend my birthday (1/19)??? (I can't think of one)
That is all I am going to say, anything else that I would put down on paper would be far too self serving, because obviously I am not quite able to be an objective writer in this case. And it's a good thing that you don't have to depend on me to say anything more about this since our friend Baron Keels was in attendance and he's going to be able to give you all a much more objective description than I can….
–Bob Davis
(stay tuned for Baron's report…)
Baron's Report
NYC Soul-Patrol Event: Meet & Greet + Listening Party + Q&A Forum w/ 2010 Grammy Nominee & Soul Music Legend BETTY WRIGHT @ Billie Black's 271 West 119th StreetI get to the place. it was another cold night. i get in, i see the listmeister, but I don't see Betty Wright. He tells me that Ms Wright is only singing one song. I thought to myself, this ain't gonna be good. There was a lot of women there ready to hear her sing.
A few minutes later, Bob comes up to the stage & says it's his b-day. but since this was a special day, he was glad to be in the city & he introduced ms wright to the stage. She was sitting all the way in the back, that's why i didn't see her : ) she came up, & had the crowd sing happy b-day to Bob Davis. She also mentioned she is here to promote Mary j Blige's domestic abuse charity. If it was anything else, she would be back in miami enjoying the heat. She played a few songs from her new cd. answered a few questions. I didn't know she was part of this show called now explosion. The only thing I remember about it is the the theme & psychedelic special effect. She answered mine about her association with the do you want to get funky with me album by peter brown, she was a featured singer (that was her singing the hook on dance with me).
Here's a little know fact about Betty Wright. She was singing professionally since she was 11. Discovered George & Gwen McCrae, her sister was the background singer on "That's the way i like it." She helped mold the TK Records sound of 70s. She now works with acts like Snoop & Joss Stone. These were the song we listened to.
I shouted out for her to play "Girls don't do what the guys do." Instead, she played this song called "Hollywood": an updated version of that g.d.d.w.t.g.d. tonight again is a more to date up of tonight's the night. Its a nice romance steppin song. Baisden should play this on his show. Then she sang this song called, "GO." it's a song on domestic violence. Before she sang it, Ms. Wright said the Grammy people heard & threw it in the ballot for r&b female song of the year. it I wonder if Kiss or Bls will play this? Or if Mary J will leave happy music and come back and sing this? The night wasn't over, remember i mentioned women were not going to be happy if she going to sing one song? Well, they weren't: ) .
They were like, i paid $20.00. I want hear another song. she said if folks would contribute to the mjb fund, she would do one. A lady gave her 50 bucks to do "Clean up woman." She sang it & most of the crowd was happy. It was an interesting night & i was not disapointed. thanks y'all : )
–Baron Keels
SIHP my friend, miss you much.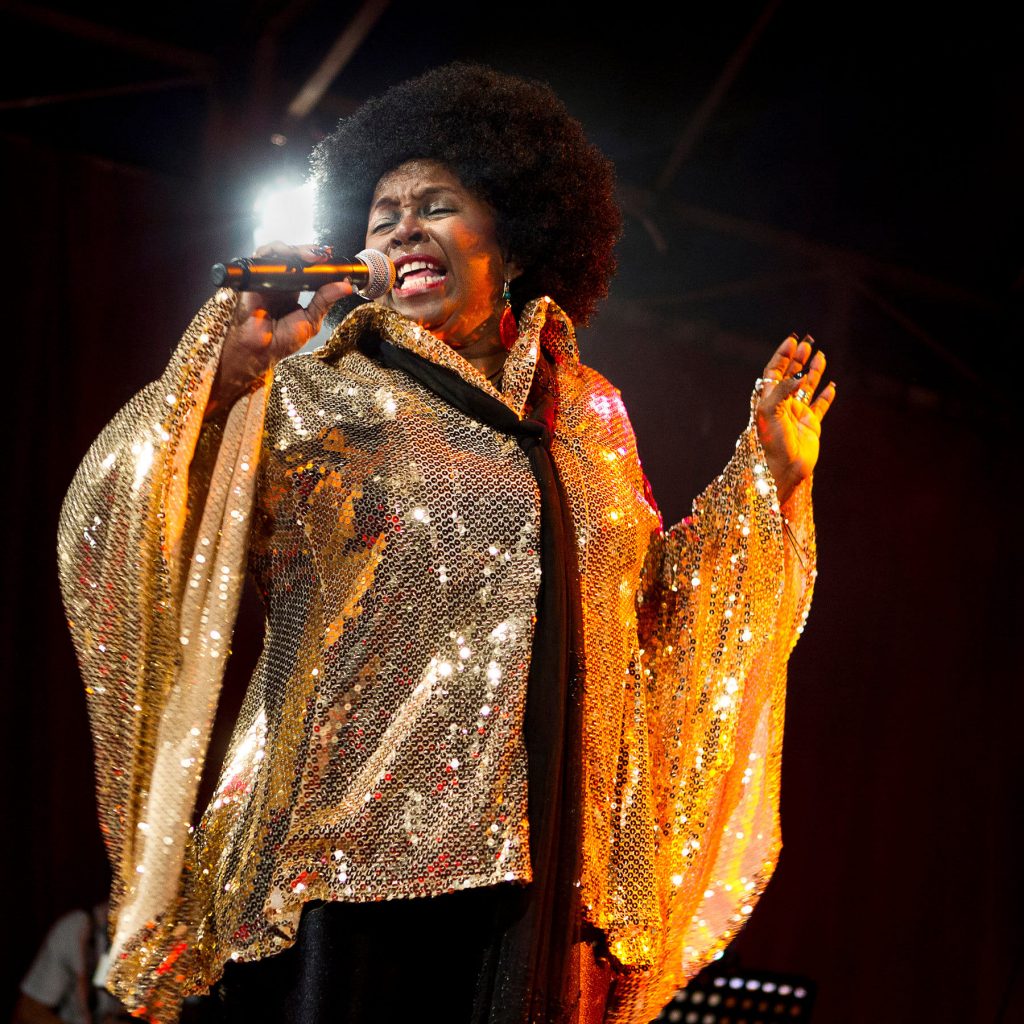 By Dianne Washington
I sooo miss my sis, the Diabolical Betty Wright! We used to be up all times of the night cutting up! Miss you severely sis!
Betty Wright
Bessie Regina Norris (December 21, 1953 – May 10, 2020), better known by her stage name Betty Wright, was an American soul and R&B singer, songwriter and background vocalist. Beginning her professional career in the late 1960s as a teenager, Wright rose to fame in the 1970s with hits such as "Clean Up Woman" and "Tonight Is the Night". Wright was also prominent in her use of whistle register.
Born in Miami, Florida, as Bessie Regina Norris on December 21, 1953, Wright was the youngest of seven children of Rosa Akins Braddy-Wright and her second husband, McArthur Norris. Wright began her professional career at the age of two when her siblings formed the Echoes of Joy, a gospel group. Wright contributed vocals on the group's first album, released in 1956. Wright and her siblings performed together until 1965, when she was 11 years old.
Following the group's break-up, Wright, who was already using the name Betty Wright, decided to switch musical styles from gospel to rhythm and blues, singing in local talent shows until she was spotted by a Miami record label owner, who signed her to her first label (Deep City Records) in 1966, when she was 12. She released the singles "Thank You Baby" and "Paralyzed", which found Wright local fame in Miami. In 1967, the teen was responsible for discovering other local talents such as George and Gwen McCrae, helping them sign with the Alston Records label TK Records, part of Henry Stone's recording and distribution company. Her first album, My First Time Around, was released when she was age 14. Her first hit single was "Girls Can't Do What the Guys Do". In 1970, while still in high school, she released "Pure Love" at the age of 16.
About a year later, Wright released her signature song "Clean Up Woman", written by Clarence Reid and Willie Clarke and recorded when she was 17. The record reached number two on the R&B charts, where it stayed for eight weeks. It crossed over to the pop charts, peaking at number six and staying on the Billboard Hot 100 for 14 weeks. It eventually sold over 1 million copies and was certified gold on December 30, 1971, nine days after the singer turned 18. Wright struggled with a successful follow-up until 1972 when the single "Babysitter" (one of Wright's first compositions) reached the top 50 of the Hot 100 and peaked at number six on the R&B charts. Another hit that emerged during this early period was 1973's "Let Me Be Your Lovemaker", which peaked at number 55 on the Hot 100 and number 10 on the R&B chart, it was the first instance (after "Babysitter") where Wright showed off her powerful whistle register vocals. Another successful composition was the proto-disco number "Where Is the Love" (co-written by Wright, with producers Harry Wayne Casey and Richard Finch, from KC & The Sunshine Band). This peaked at number 15 on the R&B chart, number-two on the dance charts and crossed over to the UK, peaking at #25, leading Wright to perform overseas. Wright later won the Best R&B Song Grammy Award for composing "Where Is the Love".
Wright was married three times and had five children. In 1976, Wright married Jerome McCray and together they had a daughter. Wright and McCray divorced in 1981. Wright was married to Patrick Parker from 1982 until 1983 and together they had two children. Wright was married to Jamaican musician Noel Williams, better known as King Sporty, from 1985 until his death in 2015. Together Wright and Williams had two children. Her son Patrick Parker Jr. was killed on Christmas Day in 2005 in a shooting incident.
Wright died from cancer, on May 10, 2020, at her home in Miami, aged 66. The news of her death was first announced by her niece. Just two days earlier, fellow singer Chaka Khan had made a plea on Twitter saying "Calling all my #PrayWarriors. My beloved sister, Betty Wright @MsBettyWright, is now in need of all your prayers."
POST ABOUT BETTY WRIGHT FOR THE "MUSIC HEADS"!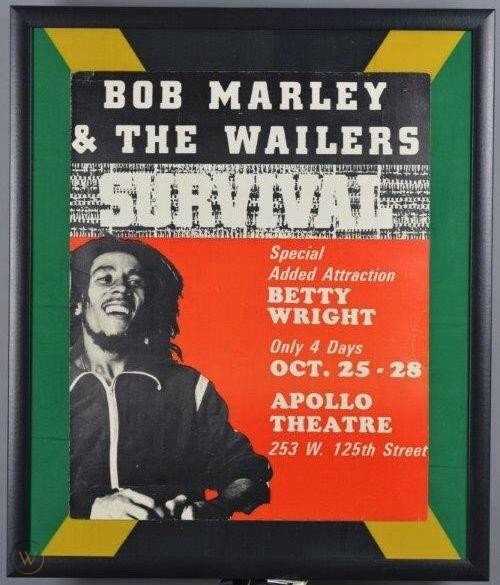 By Carlton Smith
And by "music heads" I mean those amongst us who delight in the detailed minutiae of our musical heroes every waking moment on and off stage. What color socks do they wear, what flavor toothpaste, what brand of mayonnaise, etc.
"Music heads" want to know ALL of that inane bullshit that in a lifetime of intelligent conversation will NEVER come up lest we're talking to one another!
LOL!
As a pre-teen I would attend shows at the Apollo theatre every week and then come home and write down what I saw on stage.
I'd write down what the artists wore, sang, said, did, etc.
I still have those notes!
I'm finishing up my book "ALL THAT MATTERS IS THE MUSIC" even as we speak.
Here are a couple of excerpts that I wrote about Betty Wright.
Here goes:
"…..I first saw Betty Wright onstage in 1972 at the World famous Apollo theatre. The marquee read as follows"
JOE SIMON
THE STYLISTICS
JIMMY BRISCOE & THE LITTLE BEAVERS
BETTY WRIGHT
Betty Wright opened the show, and she stood onstage in all of her afro'd glory in a multi colored top with black hot pants and thigh high boots and she was as funky and as soulful as she could be. She ripped up, "Girls You Can't Do What The Guys do And Still Be A Lady" then she went into "Clean Up Woman" and as soon as those opening guitar chords hit the place went wild.
She even paraphrased and name checked James Browns latest single, "I'M A GREEDY MAN",
"…Imma tell you just like Soul Brother Number One James Brown said I'm not talking just to tease; good strong women don't grow on trees…".
She was beautiful!…"
I wrote that when I was 12 years old.
I LAST saw Betty Wright onstage in 1978 at Madison Square Garden.
Allow me to digress for a quick second on this musical flight of fancy, I'll bring it back around to Betty in just a second.
That night the Bar Kays led by the preeminent front man that was Larry Dodson literally mopped the floor with George Clinton and Parliament Funkadelic.
The Bar Kays were hot on the heels of a big hit single, "LET'S HAVE SOME FUN" and that night they fought the perfect fight.
Their costumes, choreography, attitude, showmanship, etc. were all on point and they were firing on all cylinders.
They were a well-oiled machine and that night they were unstoppable. Their set ended with their drummer taking a hellacious drum solo that concluded with a river of saliva flowing from his gaping mouth as he looked like a man possessed and his drums sticks were set ablaze.
I mean that y'all.
He had pom pom drums sticks and a roadie set the furry part on fire and for the last twenty seconds of his solo he beat those drums unmercifully and ended with said mouth full of spit and a deranged look in his eyes as I along with all of Madison Square Garden went apeshit.
From that moment on they may as well have given George Clinton the keys to the Garden and told him to lock up the joint when he was through.
P-Funk took to the stage already seven rounds behind on the scorecards. They needed a knockout to win, and they tried as hard as they could, but they just didn't have it this night.
They brought Bootsy Collins onstage, and he tried to raise a little hell, but when that failed to ignite the masses, Bootsy or someone in their infinite wisdom decided to call out onto the stage a pre Warners Brothers records/"More Bounce To The Ounce" Roger Troutman – later of Zapp fame. But at this juncture in his career he wasn't "ROGER OF ZAPP yet. He was some guy in a white jumpsuit acting a tad corny onstage as HE tried to rouse us from our slumber.
For a second I thought he was going to start juggling and bouncing a beach ball on his nose, THAT is how desperate he seemed in his quest for our approval.
I would remind him of this many years later when I ran into him and his brother George on Seventh Avenue one night. He told me I had a great memory. We laughed and went our separate ways.
At one point I looked back and he and his brother George were walking lockstep with both of their hands thrust into the pockets of their trench coats, jheri curl afros and looking like twins.
Knowing how tragically that story ended is indeed a sad memory, but I can actually draw it from memory that is how poignant it looked it retrospect.
But back to the Garden in '78, Bootsy insisted we chant his name which we did.
"..ROGER!!! ROGER!!!.."and then after about three seconds we all had a collective epiphany – "…who the f**k is Roger?…".
In two years "MORE BOUNCE TO THE OUNCE" would be released and no one would have to ask us to chant his name. We would do so willingly of our own volition!
Yes but this night in spite of all this there was NOTHING the mighty P-Funk could do. They had lost Glen Goins on vocals and rhythm guitar, and they seemed decimated.
They would redeem themselves later in the year with the MOTOR BOOTY AFFAIR show at the Palladium on 14th St.
So you're asking where does Betty Wright fit into all of this?
Opening the proceedings that night was the one hit wonder (and I use that term with NO disrespect intended) was Mr. Peter Brown of "Do Ya Wanna Get Funky With Me?" fame.
Betty Wright was his background singer.
Peter was nice and kind and pleasant. He was engaging enough and that would have been fine for the Bottom Line or The Bitter End (two legendary clubs here in NY) but for a cavernous hall like Madison Square Garden you needed to have an outsized, larger than life onstage persona ala Rick James, James Brown, or Larry Dodson.
Peter try as he might couldn't capture the crowd who was still filing in and looking for their seats, in some cases ARGUING about their seats,
"…yo my man! That's 5C and 7C? That's me and my girls seats man! You gotta get up!.."
"…where WE gon' sit?…"
"….on a hospital gurney if you don't get up outta them seats home slice!…"
P-Funk always did attract a rather…ahem…boisterous element!
So Peter was trying to make the best of his twenty minutes as he dutifully ran through what would be the next couple of singles from his debut lp. Nothing caught fire.
Then he gave the nod for his Miami cohort Ms. Wright to step up to the plate and once again just as she'd done six years earlier and 91 blocks North of Madison Square Garden at the Apollo theatre, she broke into a wide grin as those guitar chords for "Clean Up Woman" kicked off and everybody and their mammy's mammy sang along at the top of their lungs.
Betty took us to church with her classic and she knocked it out of the park and then Peter batted clean up with his hit single, "Do Ya Wanna Get Funky With Me".
Now we got a show going.
GOD BLESS YOU SISTER BETTY WRIGHT!
Somewhere in my memorabilia collection I have not one, not two, but a handful of these flyers for Bob Marley's lone appearance at the Apollo theatre.
The opening act?
BETTY WRIGHT.