Grammy Legend James Mtume Honored In Philly With Street Bearing His Name (Updated Info)
Presenters include longtime veteran Philly radio personality Dyana Williams, performances by Tony winning R&B legend Melba Moore & legendary jazz group, the Heath Brothers band (note- James Mtume's father was sax man Jimmy Heath).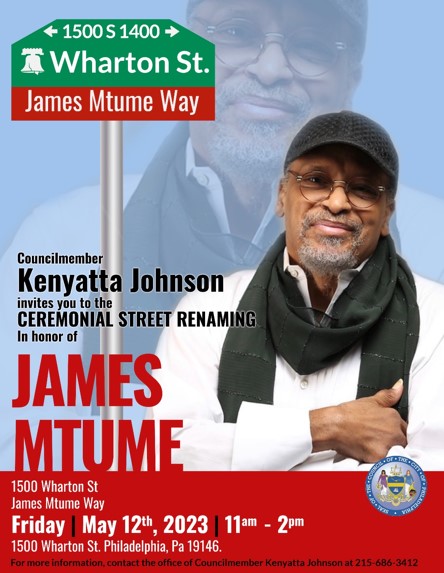 Grammy Legend James Mtume Honored In Philly With Street Bearing His Name (You should attend if you can and if you do, let me know?)
UPDATE:
Presenters include special guest speaker longtime veteran radio personality Dyana Williams as well as performances by Tony winning R&B legend The Marvelous Melba Moore and survivors of the legendary jazz group, the Heath Brothers band (note- James Mtume's father was saxophonist Jimmy Heath). 
The departed hit maker receiving tribute from his hometown on May 12th, 2023
One year after his passing in January 2022, noted two-time Grammy winner James Mtume (known for hits such as "Juicy Fruit" and producing for Roberta Flack & Donny Hathaway, Stephanie Mills) will be honored in his hometown of Philadelphia, PA with a street bearing his name.
The event will take place on Friday, May 12th, 2023, from 11 am to 2 pm ET. The 1500 block of Wharton Street in South Philadelphia will carry the namesake of Mtume, who was born and raised in South Philly.
Faulu Mtume, the son of the music legend, humbly accepts this honor on behalf of his father's estate. "It's beyond words just how great this is, the City of Brotherly Love showing a mighty love for my father, a Philly native," says Faulu Mtume. "Wharton Street is where his journey into music, social activism and politics had begun. The roots for all three are there."
Born and raised in Philadelphia, James Mtume earned musical fame, starting in jazz with greats such as Miles Davis during the early 1970's as well as with father, saxophonist Jimmy Heath. Years later, Mtume teamed up with fellow songwriter/producer Reggie Lucas, producing hits for Roberta Flack & Donny Hathaway ("The Closer I Get To You", "Back Together Again"), Phyllis Hyman ("You Know How To Love Me) and Stephanie Mills (the Grammy winning "Never Knew Love Like This Before"). By the 1980's, with the band carrying his namesake, Mtume scored with the number one R&B hit, "Juicy Fruit", in 1983. He went on to work on movie and television soundtrack work (the film "Native Son" as well as the "New York Undercover" TV series) as well as co-host the New York City-based talk radio series, Open Line.
James Mtume passed in January 2022 after battling cancer. He was 75.
For media inquiries, contact Double XXposure – angelo@dxxnyc.com
Remembering James Mtume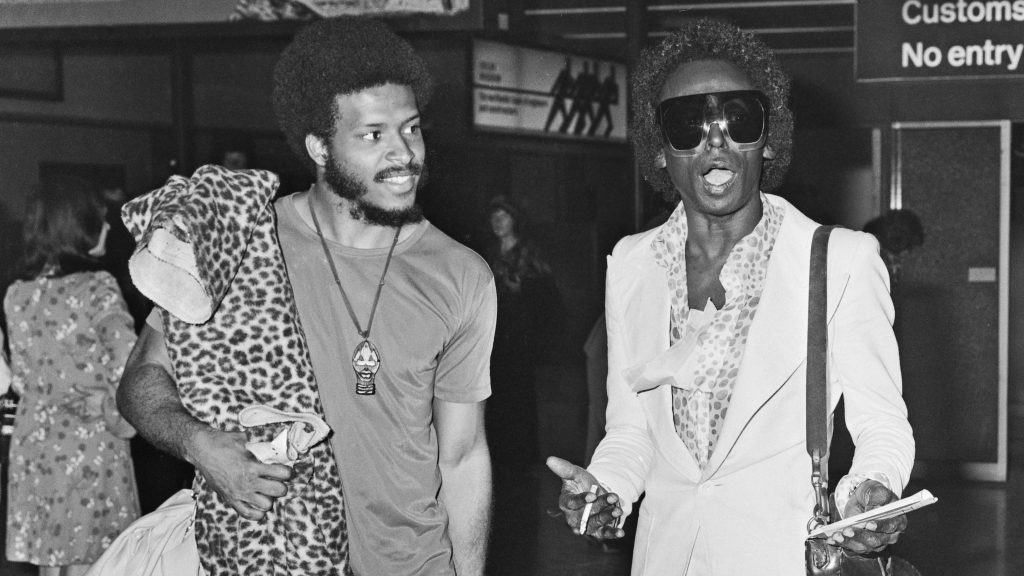 Telling me that James Mtume passed away, for me is just like you just told me that Willie Mays had passed away. Mtume was one of my heroes and one of my mentors. The first thing that I should tell you is that you should suspend whatever your current ideas about just who and what James Mtume was and let me suggest a different Paradigm for you to think about him from. I would suggest that you begin to think about James Mtume as one of Black Culture's great 20th/21st Century renaissance Men.
My first encounter with James Mtume was in 1973, as a teenaged freshmen at the University of Pittsburgh. It all started with listening to the Miles Davis album called "On the Corner," over and over again in smoke filled rooms late into the night. "On the Corner" is sometimes described as "the ultimate freakout." I would suggest to you that if that is true, then the track called "Black Satin," is the highlight of the album and James Mtume (on percussion) is the star of the song. In fact it was his solo towards the end of the track that I would lift the tone arm manually to repeat over and over again when I listened to the LP. In other words James Mtume has literally been inside of my head since I was 17 years old. Of course it was the "freakout nature" of the album and the song that first appealed to me. Over time I learned that "On the Corner" represented a higher level of what we would call today "Afrocentric Thinking" and at the heart of that thinking was the 1970's Miles Davis Band, with the percussion of James Mtume right at the center of what on the surface appears to be chaos. However, upon closer inspection, and despite the fact that there are no lyrics/vocals in the music of the the 1970's Miles Davis Band (Be sure to check out "Dark Magus") , it stands today as no less of a revolutionary force than James Brown, P-Funk, Sun Ra, etc in the evolution of Afrocentric thinking. In fact one of my objectives in creating the Soul-Patrol website, was to give myself a platform to write about the 1970's Miles Davis Band and it's influence on Black thought/culture. On the website I have gone into exhaustive detail in describing the influence of the band not only on myself, but Black culture in general. If you have been following the site for a while that is something painfully obvious.
My next encounter with James Mtume was in the 1980's, and the hit songs "Juicy Fruit" & "You, Me and He." These two songs were huge hit records, not in Jazz, but instead in the "Urban Adult Contemporary" area. When I first heard them on the radio, I had to do a double take and with a little research I soon learned that it was the very same Mtume who was already burned into my brain. No doubt you are already familiar with these two songs.What I didn't realize was by the mid-late 1970's with longtime musical partner Reggie Lucas (also a member of the 1970's Miles Davis Band,) Mtume forged a path combining soul, jazz and funk (he called it "Sophistifunk"). The result was a slew of hit productions with Roberta Flack/Donny Hathaway ("The Closer I Get to You", "Back Together Again"), Phyllis Hyman ("You Know How to Love Me") and Stephanie Mills ("Whatcha Gonna Do With My Lovin'", "Never Knew Love Like This Before").
Next was in the 1990's while watching the TV show "New York Undercover," which as you all might recall, was all about the adventures of two NYC Undercover police officers, one Puerto Rican and one Black. The show was somewhat formulaic except for one aspect. At some point during each episode the two officers would wind up at a Manhattan nightclub which featured live Soul/Jazz. This gave the producers the chance to have "cameo" performances from well known Soul/Jazz artists (ex Brownstone, Chaka Khan, Michael DeLorenzo, 112, Xscape, Barrio Boyz, Gerald LeVert and Mary J. Blige.) Upon close inspection of the credits James Mtume was the Music Supervisor of the show. And seeing this each week would make me smile.
Then sometime in the early 2000's I got an email from James Mtume. He wanted to thank my for the various pieces I had written on the website about Miles Davis, On the Corner and his participation. Soon we were exchanging emails several times each week. Those emails soon turned into phone calls and the two of us became friends. When Mtume found out that I had been a Political Science major in college and that had informed much of my writings about music, he then asked me if I wouldn't mind being a guest on his weekly radio show in NYC called "OPEN LINE," on 98.7. Of course I agreed to do so. That turned into me becoming a semi regular on the show. During that period of time "Toomes" and I would talk frequently on the phone about every topic under the sun and of course he provided me with all kinds of advice relative to the website and became one of its biggest supporters. He even volunteered to participate in several of the Soul-Patrol Conventions and I'm sure that a few of you met him at those events.
He was the REAL DEAL and I will miss him quite a bit….