Review – Love to Love You, Donna Summer
DISCO: "THE LAST TIME AMERICA VOLENTARALY INTEGRATED ITSELF"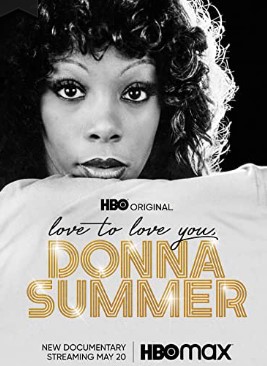 Promo:
Donna Summer creates music that takes her from the avant-garde scene in Germany to the glitter and bright lights of dance clubs in New York; features never-before-seen home video footage and interviews with friends, family and colleagues.
My Take:
I was really looking forward to watching this documentary. I was a fan of Donna Summer (not a huge fan, but still a fan, my favorite was "Spring Affair.") However, when the documentary ended, it felt to be like it was only the beginning. Just an introduction to Donna Summer.
Donna Summer was a HUGE star. At her height, she was probably the world's biggest Black female music performer. Just for context, I would suggest that she was bigger than artists like Aretha Franklin, Diana Ross or Dionne Warwick at the time. She was bigger than artists like Whitney Houston, Mariah Carry or Anita Baker would later become. Beyonce is the only recent female artist who is as big as Donna Summer was IMHO. While its true that Donna Summer wasn't a movie star (although she could have been,) she didn't have to be. She was on TV frequently and whenever she was the was the headliner. She played at venues like Radio City Music Hall (not the Apollo,) for a week. The documentary left me with no sense of this enormity.
I have written before about how I would often spend my Saturday's, back when I was a "little colored boy in the projects," and I would spend the day inside of the Brooklyn Public Library. Part of that time was spent in the reference section reading the "coffee table sized books," there that couldn't be checked out of the libary. Those books had titles like "25 Significant Negroes in American History," or "The 20 Most Important Negro Scientests," or "10 Negro Leaders in American History," "The 25 Most Important Negro Entertainers," or "15 Great Negro Athletes," etc. These books were "anthologies," with a dedicated section/profile for each person, usually containing several huge pictures of each person and a relatively short biography detailing the life story and accomplishments of the person. These books were really reserved for only the "biggest of the big," and it's how I first learned about people like Duke Ellington, Booker T. Washington, Benjamin Banneker, W.E.B. DuBois, Langston Hughes, Billie Holiday, Lena Horne, Jim Brown, General Benjamin O. Davis, Jackie Robinson, Louis Armstrong, Sammy Davis jr, etc. Perhaps you have read or seen these books yourselves?
Nowadays when someone Black passes away one of the first things that comes to mind for me is to ask the question; "Was big enough to be profiled in one of those reference books?
Sometimes they are.
Most times they aren't.
Donna Summer was big enough to have been profiled in one of those reference books.
The documentary doesn't leave me with any clue about this.
The documentary also didn't:
Tell me how she literally became the ICON for a powerful thing called DISCO.
("THE LAST TIME AMERICA VOLENTARALY INTEGRATED ITSELF")
Tell me anything about artists who influenced her.
Tell me anything about artists she influenced (ex-Madonna.)
Her spectacular vocal talent
Tell me why she didn't become a movie star?
Tell me anything about her decline in popularity.
Tell me anything about her later years.
etc.
My understanding is that the documentary was produced by her daughter. But come on yall, if your gonna make a documentary about Donna Summer, Im certainly willing to watch it.
But please, next time MAKE AN ACTUAL DOCUMENTARY ABOUT DONNA SUMMER!