Review – Public Enemy – What You Gonna Do When The Grid Goes Down?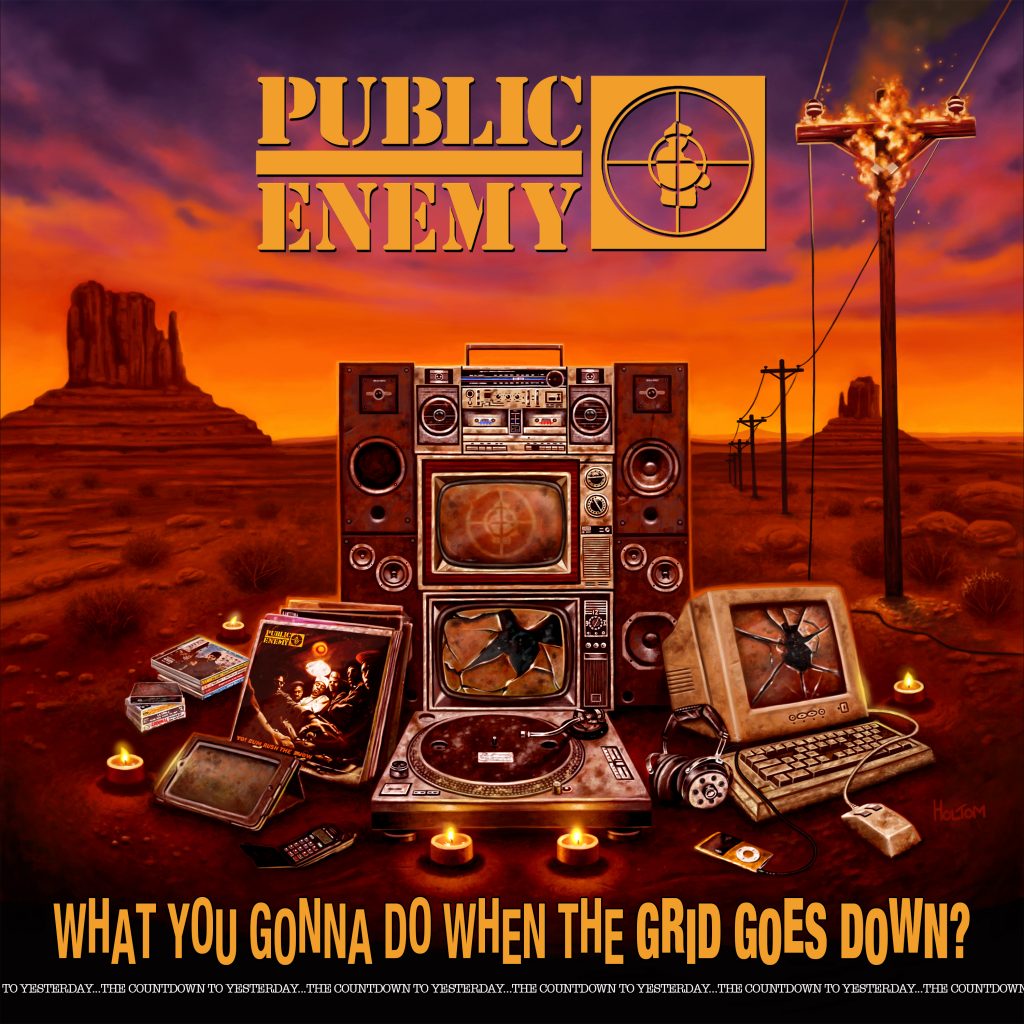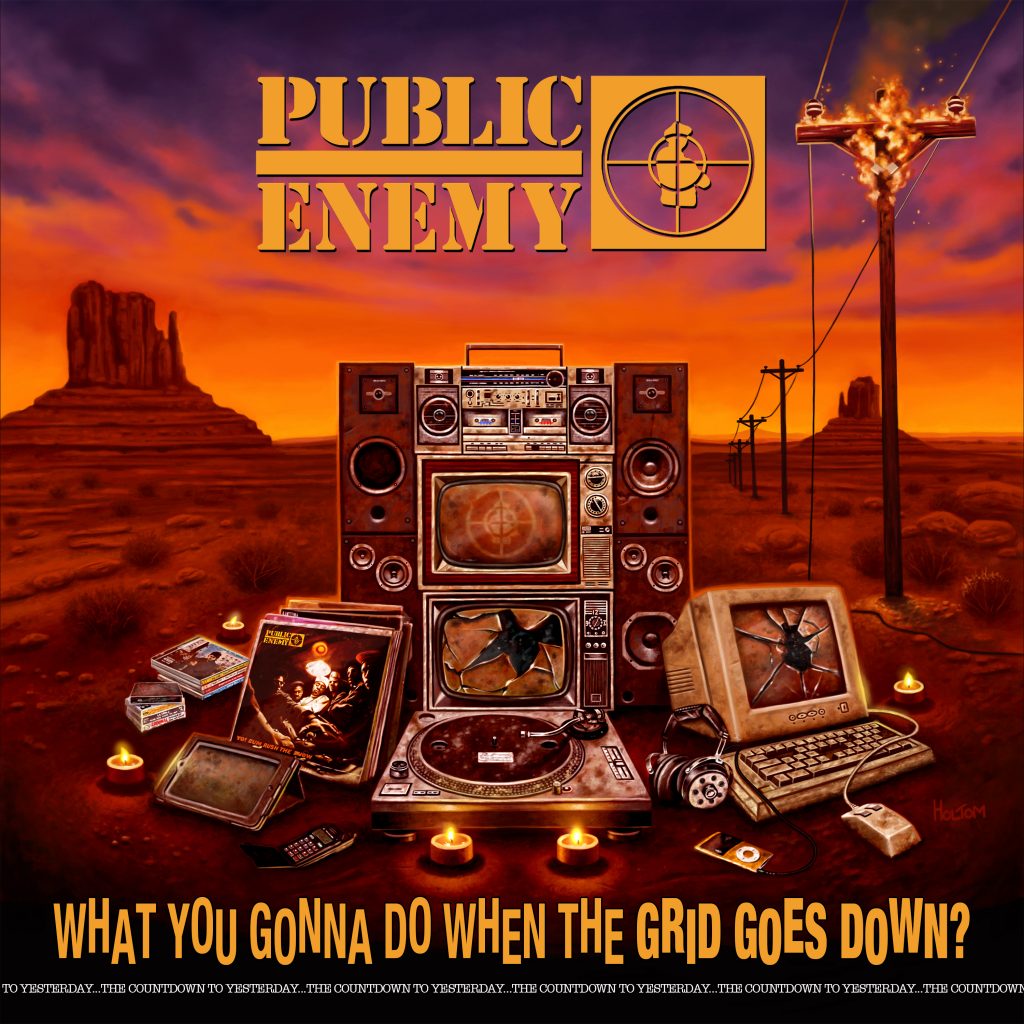 PRESS RELEASE: Public Enemy will release their latest album What You Gonna Do When The Grid Goes Down? this Friday, September 25. The legendary group's first release for Def Jam Recordings in over two decades features a powerful lineup of guests including Nas, YG, Rapsody, DJ Premier, Black Thought, Questlove, Cypress Hill, Run-DMC, Ice-T, PMD, George Clinton, Daddy-O, Jahi, The Impossebulls, Mark Jenkins, S1Ws Pop Diesel and James Bomb, and Beastie Boys'Mike D and Ad-Rock.
The announcement of What You Gonna Do When The Grid Goes Down? and their return to Def Jam — a cultural institution that they helped build — was heralded around the globe with the group's iconic logo projected onto some of the world's other most iconic cultural institutions including the Eiffel Tower and Moulin Rouge in Paris; Parliament, Marble Arch & Tate Modern Museum in London.
The album is led by the single "Fight the Power: Remix 2020," re-conceptualized by Public Enemy with Nas, Rapsody, Black Thought, YG, Jahi and Questlove for the 2020 BET Awards in June, and officially released as a single along with the album announcement last week. It also includes Public Enemy's recent single, "State of the Union (STFU)," produced by DJ Premier. The track holds nothing back as it calls out Donald Trump and his destructive reign.
There are really only 3 things that you need to know about this album.
Chuck D & Flava Flav remain one of the top duo's in the history of Black music. Perhaps the very best since the heyday of Sam & Dave. This fact positions the two of them as the perfect messengers for the times we find ourselves in today.
2. My friends we are in a world of trouble, on multiple fronts, on multi-dimensional layers.
3. Public Enemy connects the dots together, by getting to the heart of the matter and helping us to understand all of the connections & disconnections.
Huh?
You say that you already knew that?
Really?
(Think Again!)
You didn't really know this or if you did, you thought it was just an abstract thing.
(It isn't)
For example, 30 years ago, when Public Enemy told you that our biggest problem that we had to come to grips with was "Fear of a Black Planet," yall thought it was "cool & cute" phraseology.
What you should have done is understand that its at the core of the American sickness, and until its fundamentally addressed, everything else will be tainted.
Healthcare
Voting/Elections
Education
Roe vs Wade (Abortion)
Police Brutality
The Economy
Gentrification
etc.
The root cause of why these items are problems, when they should be oppurtunities, is "Fear of a Black Planert."
If you don't understand it, don't worry about it.
Go and talk with your kids.
They understand it.
That's why they are out in the streets, in a multi racial/multi-ethnic coalition, on a nightly basis, protesting the current state of affairs, under the umbrella of "Black Lives Matter."
Public Enemy connects all of these dots together.
Pay attention. ("You love Black Panther, but not Fred Hampton")
Take the first single off of this album, a remix/update of "Fight the Power."
I'm not sure if the BLM movement needs an "anthem?"
But I've heard a lot of you out there say that it does.
That's what this remix/update does.
Have you watched the video yet?
(I put it right here on this page for a reason yall…..lol)
Every one of those societal ills of 2020, that I mentioned earlier are identified in the video.
And the dots between them all are connected.
It's hard hitting and in your face. Don't let the presence of "guest stars," in the video fool you.
They are there to reinforce the message and make sure that you understand those "connections & disconnections" in the context of 2020.
And of course the track is FUNKY as hell.
In fact, speaking of FUNK, our friend George Clinton makes an appearance in the first/title track of the album, "What You Gonna Do When The Grid Goes Down?" just to remind us that Public Enemy is always going to be FUNKY.
It's a perfect way to set off the proceedings!
The central question of the album:
What You Gonna Do When The Grid Goes Down?
Guess what, when that "grid goes down," and you have no cable TV, no Cellphone, no washing machines, in fact no devices of any kind….
If you haven't addressed the "Fear of a Black Planet," you won't be able to survive.
Obviously I think this is an excellent album.
Perfect message for 2020.
Starring the perfect messengers.
And I just told you why.
Now it's up to you to actually listen to the album, watch the videos so that you can absorb the message.
Maybe this time around, you will understand that the message isn't an abstraction.
It's reality!
Here is the track listing….
When The Grid Go Down… [feat. George Clinton] 1:31
GRID [feat. Cypress Hill & George Clinton] [Explicit] 4:32
State Of The Union (STFU) [feat. DJ Premier] [Explicit] 2:54
Merica Mirror 0:8
Public Enemy Number Won [feat. Mike D & Ad-Rock & Run DMC] [Explicit] 5:25
Toxic [Explicit] 3:11
Yesterday Man [feat. Daddy-O] [Explicit] 3:03
Crossroads Burning 0:12
Fight The Power: Remix 2020 [feat. Nas & Rapsody & Black Thought & Jahi & YG & Questlove] [Explicit] 4:57
Beat Them All [Explicit] 2:52
Smash The Crowd [feat. Ice-T & PMD] [Explicit] 3:06
If You Can't Join Em Beat Em [Explicit] 0:50
Go At It [feat. Jahi] [Explicit] 3:21
Don't Look At The Sky 0:9
Rest In Beats [feat. The Impossebulls] [Explicit] 3:57
R.I.P. Blackat [Explicit] 3:35
Closing: I Am Black 0:14