REVIEW – Ready For Love – Arthur Sugar Bear Aiken
Ready For Love is a 12 track album of well written and competently produced R&B music. It's literally some of the best MUSIC of any kind I've heard in a long time.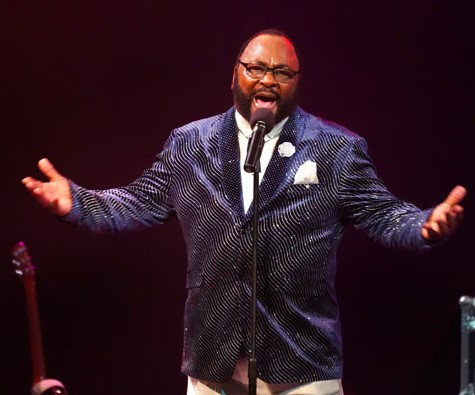 Here in Philadelphia, home of the Philly Sound many of the original procreators of that sound have passed on leaving musical legacy in their wake.
They were from groups like The Intruders, The Delfonics and Harold Melvin and the Blue Notes, the OJays, the Epsilons and Brenda and the Tabulations.
The foundation of the music these artists performed was Rhythm and Blues or as it's called R&B. Since that heyday and the deaths of these artists R&B has enjoyed an evolution if not a transformation of sorts. Not all of it is necessarily good either but it's still alive and, in some cases, doing well.
One such case is the album Ready For Love by Philadelphia's own Arthur "Sugar Bear" Aiken.
Mr. Aiken is a North Philly native who according to his bio has been singing for 50 years. Of late he's been handling the lead vocalist chores (i.e. Teddy Pendergrass) for today's incarnation of Harold Melvin and The Blue Notes. Like Teddy, Sugar Bear's rich baritone exudes power and crackles with male sexual energy recalling some of the greats which preceded it.
Ready For Love is a 12 track album of well written and competently produced R&B music. It's literally some of the best MUSIC of any kind I've heard in a long time.
First of all, the overwhelming majority of male singers' vocal range seems to be exclusively tenor in nature. Either high or midrange tenors. We're talking a steady diet of Michael Jackson, Babyface, Neo, Maxwell, Usher and Chris Brown Put another way there's' been little to no Eddie Levert, Marvin Junior, Chuck Jackson, Teddy Pendergrass, Rick James or Jerry Butler. And it's been this way for a while now.
So, imagine my glee upon receiving and listening to this wonderful compilation of music! There's something for everyone here. Line dancers would have to be enamored with The Philly Slide Yes, it has the typical 'one step back….' Type lyrics but the chord progression involved is unusually sweet. It's also sung so genuinely it doesn't' feel like the typical line dance tune of this nature.
There's a delicious Cha-Cha tune in the spirit of Hello Stranger called Smooth that just glides out the speakers urging you too to slide on the floor, grab your partner and move yourselves sensually with the groove. There's one small 'negative' criticism I have: Theses tunes are written so well they would've benefitted Greatly from having something like an MFSB if not just real musicians playing these parts.
Arthur's vocals demand accompaniment commensurate with the power and skill he's demonstrating. Then there's the funky Disco Soul of Crazy Sexy. It's straight out the MFSB/Salsoul school of straight ahead, hardcore dance music. If he was a female, it'd be House. Sugar Bear is percolating on this one. Urging, shouting, affirming, CRAZY…. SEXY!!!
He covers Whip Appeal as well. Except this puts the tune in a whole nother stratosphere. Face gives up the Lance Romance approach. Sweet, affected, loverboy tempts and teases his lover to 'whip it on him'. Sugar Bear demands if not dares her.
There's no pretty boy Floyd stuff goin on here. This is a full-grown man tellin, not askin or romancin! This is a man in control. It's refreshing in times masculinity has been canceled or deemed toxic. There's a swingin little social commentary on gun violence called If Black Lives Matter. It's and interesting take on the recently featured slogan Black Lives Matter. It challenges us all to do better 'if black lives really matter' It's a helluva take and reminds me of Edwin Birdsong's WAR meets MFSB All Stars Clean Up The Ghetto. Many of the other tunes fall neatly between the 'hits' already mentioned. The title tune Ready For Love has got such a memorable hook – 'ready for love' – you'll be singing it over n over. It's The OJays meets The Whispers. What a nice little Slow Drag. I don't want to say this is 'old school' because I believe if there were young artists who were made more aware of this kind of singing, they'd do it. But shows like The Voice and American Idol have provided the 'accepted' template for male vocalizing today.
However, if these tunes and this artist got the kind of airplay Tems and Whiz Khalifa got for instance I'm sure we'd have a different conversation. Ready For Love is killer. Arthur "Sugar Bear" Aiken got what it takes to make HITS!